At Indianapolis zoo's new center, you can try to outwit an orangutan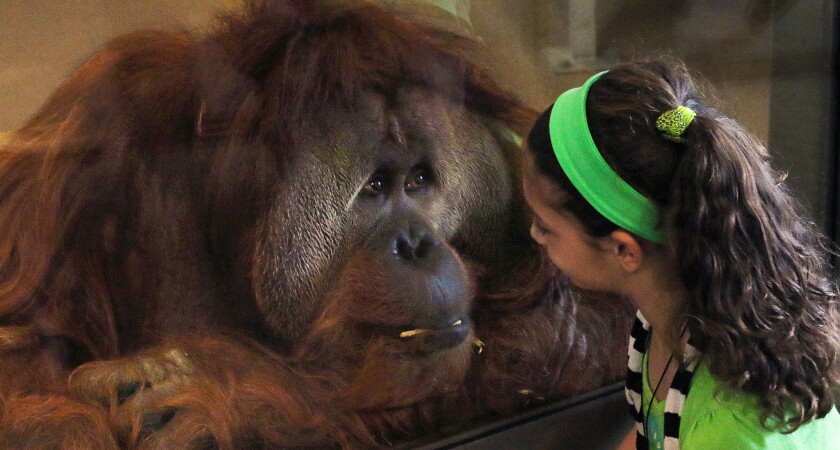 Think you're smarter than an orangutan? You can find out by matching wits with our closest primate relative at a center opening Saturday at the Indianapolis Zoo.
Guests can use several interactive kiosks at the Tim M. Solso Learning Studio to collaborate on tasks with orangutans, which recognize abstract symbols and Arabic numerals, said Rob Shumaker, the zoo's vice president of conservation and life sciences. "Everything is structured around learning, memory or problem solving," he said.
Although it may seem as though the primates are using a touch screen, they're actually pressing the enclosure's glass to trigger infrared lights that signal their answers.
The studio is part of a $26-million, 4-acre Simon Skjodt International Orangutan Center opening Saturday. It was created to meet the intellectual, social and physical needs of orangutans, whose name in Malay means "people of the forest."
Orangutans are one of the world's most endangered species because of habitat loss and a slow reproductive cycle, Shumaker said. "Babies stay with their moms for up to a decade, so the interval between births can be 7 to 9 years," he said.
Visitors can visit AzyandFriends.com to find their orangutan match. Shumaker and I both matched Lucy, a 30-year-old, 117-pound orangutan that lost about 100 pounds by improving her diet and exercising more.
The Orangutan Center is included with zoo admission, which changes daily to prevent crowding. Weekdays average $13.50-$17.95, and weekends range from $20-$27.
Info: Indianapolis Zoo, 1200 W. Washington St., Indianapolis; (317) 630-2001.
---
Get inspired to get away.
Explore California, the West and beyond with the weekly Escapes newsletter.
You may occasionally receive promotional content from the Los Angeles Times.