Six Flags Magic Mountain pushes back debut of Green Lantern coaster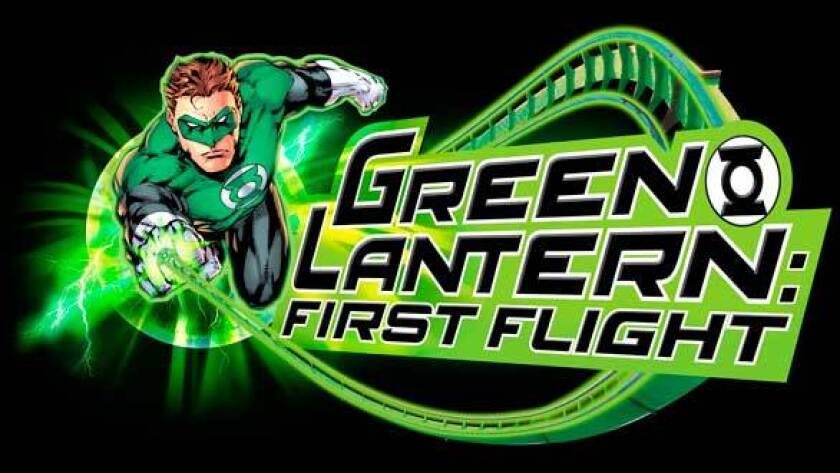 Los Angeles Times Staff Writer
It looks like we'll have to wait a little longer for what I've dubbed the "most anticipated new roller coaster of the summer."
Photos: Green Lantern coaster takes shape atSix Flags Magic Mountain
For the second time in as many months, Six Flags Magic Mountain has pushed back the opening of the rocking and spinning Green Lantern roller coaster. It is now scheduled to make its debut July 1 after the Valencia amusement park postponed planned premieres in May and June.
We can probably cut Magic Mountain some slack, though. The park updated Superman: Escape from Krypton in March and added the Road Runner Express kiddie coaster over Memorial Day weekend. Green Lantern: First Flight, the park's 18th coaster, will make Magic Mountain the undisputed "Roller Coaster Capital of the World," breaking a tie for the most coasters with Cedar Point in Ohio.
Park officials said the delay in Green Lantern's debut was not caused by mechanical issues but rather last-minute design changes to the coaster's loading station.
Crews have completed construction on the vertical, emerald-green track and continue to assemble the five throwing-star-themed coaster cars, with on-track testing expected to begin soon. A 10-foot-tall lantern icon near the ride's entrance will glow green at night.
The Green Lantern's vertical zigzag track sits on a compact footprint near the Batman and Riddler's Revenge coasters. The new-concept, fourth-dimension coaster, similar in style to X2 but much tamer, will reach a top speed of 37 mph over 825 feet of serpentine track during the two-minute ride.
Upon boarding a train that straddles the track, riders face in two directions, forward and backward. A chain lift carries each car up an inverted curved section to a height of 107 feet. From there, the suspended trains rock back and forth on the straightaways and rotate head over heels as the cars plunge over freefall drops.
The Intamin ZacSpin coaster is making its U.S. debut at Magic Mountain. The Grona Lund theme park in Stockholm added an identical ZacSpin called "Insane" last year, with smaller versions of the ride also operating in Spain and Finland.
---
Get inspired to get away.
Explore California, the West and beyond with the weekly Escapes newsletter.
You may occasionally receive promotional content from the Los Angeles Times.