Top travel destinations for 2015
Hallstatt, Austria, a UNESCO World Heritage site.
(Larry White / For the Times)
Numerous Star Wars scenes were filmed in Ong Jmel, Tunisia. An international gathering of fans of the franchise met in the country in May.
(Fethi Belaid / AFP/Getty Images)
Chapman's Peak Drive, winding south from Cape Town, is one of the world's most famous coastal routes.
(Kari Howard / Los Angeles Times)
Balinese dancers perform as they take part in a cultural parade in Bali in November.
(Made Nagi / EPA)
The Legislative Palace in Montevideo, Uruguay, was dedicated in 1925.
(Federico Corral)
The Ponte de Dom Luis I spans the Douro River in Porto, Portugal.
(Thomas Swick)
Taipei's skyline.
(Sean Pavone Photo / Getty Images/iStockphoto)
A calm sunrise on Grand Traverse Bay.
(Deb Perry / Getty Images)
Stavanger, Norway, at night.
(Getty Images/iStockphoto)
A hiker on an Inca road on the trail to Choquequirao.
(Alex Robinson / Getty Images)
Torres del Paine National Park encompasses mountains, glaciers, lakes and rivers in southern Chilean Patagonia.
(Marion Faria / Getty Images)
The Octagon is the domed central space in Galleria Vittorio Emanuele II, a 19th century glass covered retail arcade, a landmark of Milan.
(Krzysztof Dydynski / Getty Images)
An underground bedroom in the Desert Cave, located in Coober Pedy in the outback of Southern Australia.
(The Desert Cave Hotel)
The La Danta pyramid, 230-feet-tall, is one of the largest on earth. It is shaped like a triad but most is still underground. Only the top is visible.
(David Kelly)
The Virunga Mountains in Rwanda are home to wild gorillas.
(Andy Rouse / Getty Images)
A full moon is seen behind the Marina district towers in Dubai, United Arab Emirates.
(Kamran Jebreili / Associated Press)
The city walls of Khiva's Ichon-Qala are the result of centuries of reconstruction.
(Getty Images)
Nicaragua's Cathedral of Granada is a bright yellow neoclassical church originally built in 1583, destroyed in the 19th century, and rebuilt in the early 20th century.
(Rosemary McClure / Los Angeles Times)
Downtown Los Angeles with the Staples Center in the foreground.
(Wally Skalij / Los Angeles Times)
Zebras at a watering hole in northern Namibia.
(Martin Harvey / World Wildlife Fund International)
Joggers and walkers make their way onto the Ann and Roy Butler Hike-and-Bike Trail at Lady Bird Lake in Austin.
(Ricardo Brazziell / TNS)
The Metropolitan Orthodox Cathedral in Timisoara, Romania.
(Vadim Ghirda / Associated Press)
Men walk on the beach after surfing at Capo di Feno on the French Mediterranean island of Corsica.
(Pascal Pochard-Casabianca / AFP/Getty Images)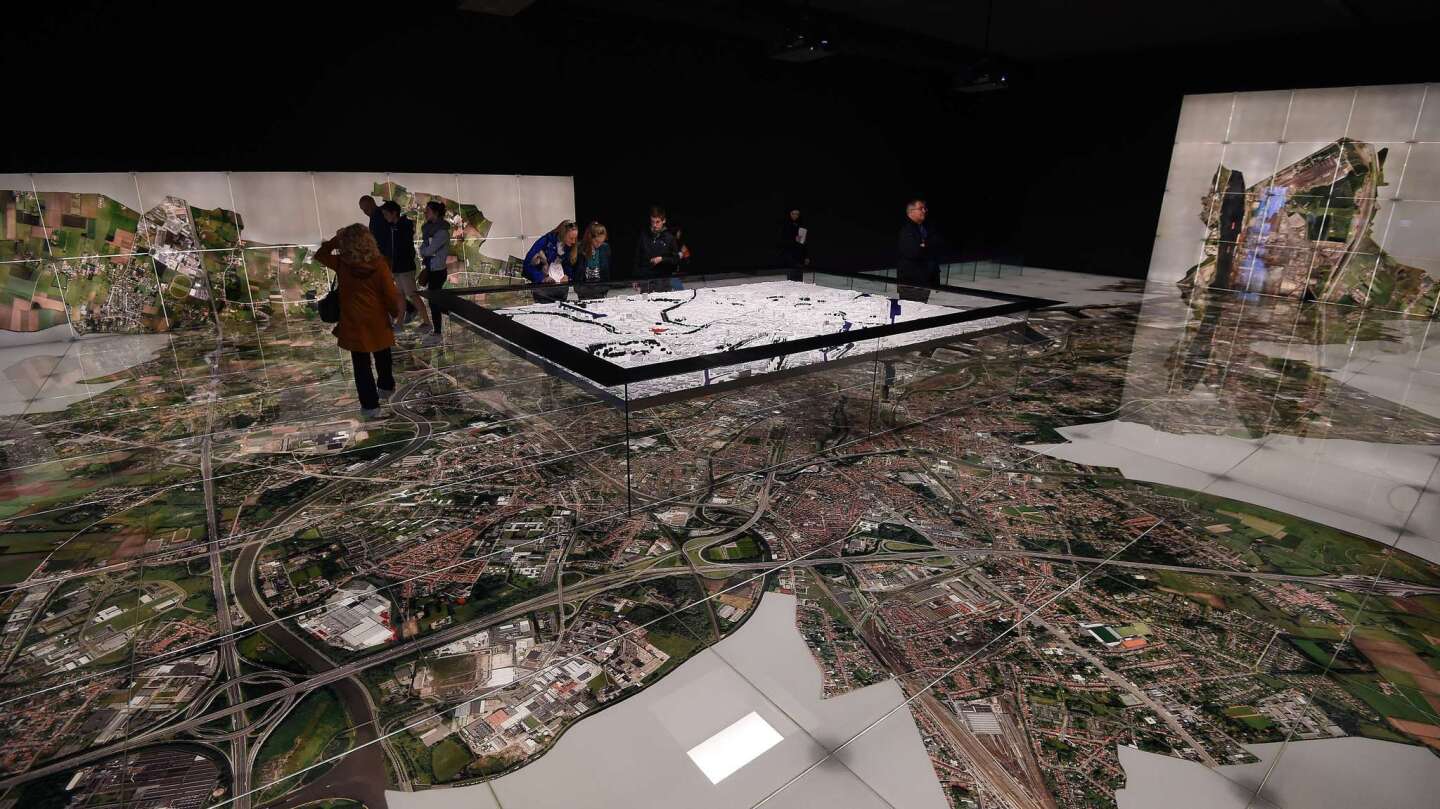 Visitors walk on an aerial map of modern Bruges at the Stam Museum in Bruges, Belgium.
(Emmanuel Dunand / AFP/Getty Images)
Where should you travel in 2015? If you want to make the most of your budget, consider Tunisia, Samoa or Uruguay. Lonely Planet includes these three spots in its list of best value destinations for 2015. If you're like me and you're too lazy to renew your expired passport, how about Wildwood, N.J., or Nags Head, N.C.? They topped TripAdvisor's list of upcoming U.S. destinations for 2015.
To help you decide where to go in the new year, here are more destination recommendations from Lonely Planet, TripAdvisor and others:
Lonely PlanetBest value destinations
Tunisia
South Africa
Shanghai
Samoa
Bali
Uruguay
Portugal
Taiwan
Romania
TripAdvisor
Travelers' Choice Destinations on the Rise - U.S.
Wildwood, N.J.
Nags Head, N.C.
Prescott, Ariz.
Telluride, Colorado
Pompano Beach, Fla.
Traverse City, Mich.
Avalon, Catalina Island
Waikoloa, Hawaii
Knoxville, Tenn.
Gulf Shores, Ala.
Travelers' Choice Destinations on the Rise - World
Da Nang, Vietnam
Sihanoukville, Cambodia
Limassol, Cyprus
Ao Nang, Thailand
Bodrum City, Turkey
Naha, Japan
Hurghada, Egypt
Kazan, Russia
Manaus, Brazil
Eilat, Israel
National Geographic Traveler
Corsica
Medellín, Colombia
Koyasan, Japan
Maramures, Romania
Haida Gwaii, Canada
Oklahoma City, Okla.
Tunis, Tunisia
Choquequirao, Peru
Sark, Channel Islands
Hyderabad, India
More destinations at National Geographic Traveler
Travel + Leisure
Fez, Morocco
Catskills, N.Y.
Rotterdam, Netherlands
Puerto Plata, Dominican Republic
Wasatch Mountains, Utah
Istanbul, Turkey
Chengdu, China
Milan, Italy
Prince Edward County, Canada
Oman
More destinations at Travel + Leisure
Frommer's
Dong Van Karst Plateau Geopark, Vietnam
South Dakota
Gallipoli, Turkey
Asheville, N.C.
Málaga, Spain
Argentina
Belgium
Chaco Culture National Historical Park, New Mexico
Austria
Washington, D.C.
More destinations at Frommers
Fodor's
The Arctic
Hudson Valley and the Catskills, New York
Namibia
Guatemala
Florida Panhandle
Newfoundland, Canada
Norway
Piedmont, Italy
Patagonia, Chile
Romania
More destinations at Fodor's
CNN
Bahamian Riviera
Mons, Belgium
Downtown Los Angeles
Faroe Islands
Coober Pedy, Australia
Singapore
Salta, Argentina
Milan
Mekong and Irrawaddy rivers, Southeast Asia
Abu Dhabi, United Arab Emirates
Travelzoo
Brazil
Puerto Rico
Texas Hill Country
Cruising Asia
Dubai, United Arab Emirates
Huffington Post
Lake Malawi, between Malawi and Mozambique
Pacific Islands and Micronesia
Churchill, Canada
Texas
Hyderabad and Gujarat, India
Rwanda
Uzbekistan
Nicaragua
Madagascar
Taiwan
More destinations at Huffington Post
U.S. News Travel
Paris
London
Barcelona
Maui
New York City
San Francisco
Puerto Rico
Sydney
Rio de Janeiro
Bora Bora
More destinations at U.S. News
---
Get inspired to get away.
Explore California, the West and beyond with the weekly Escapes newsletter.
You may occasionally receive promotional content from the Los Angeles Times.