Ireland's Wild Atlantic Way makes a magical coastal adventure by car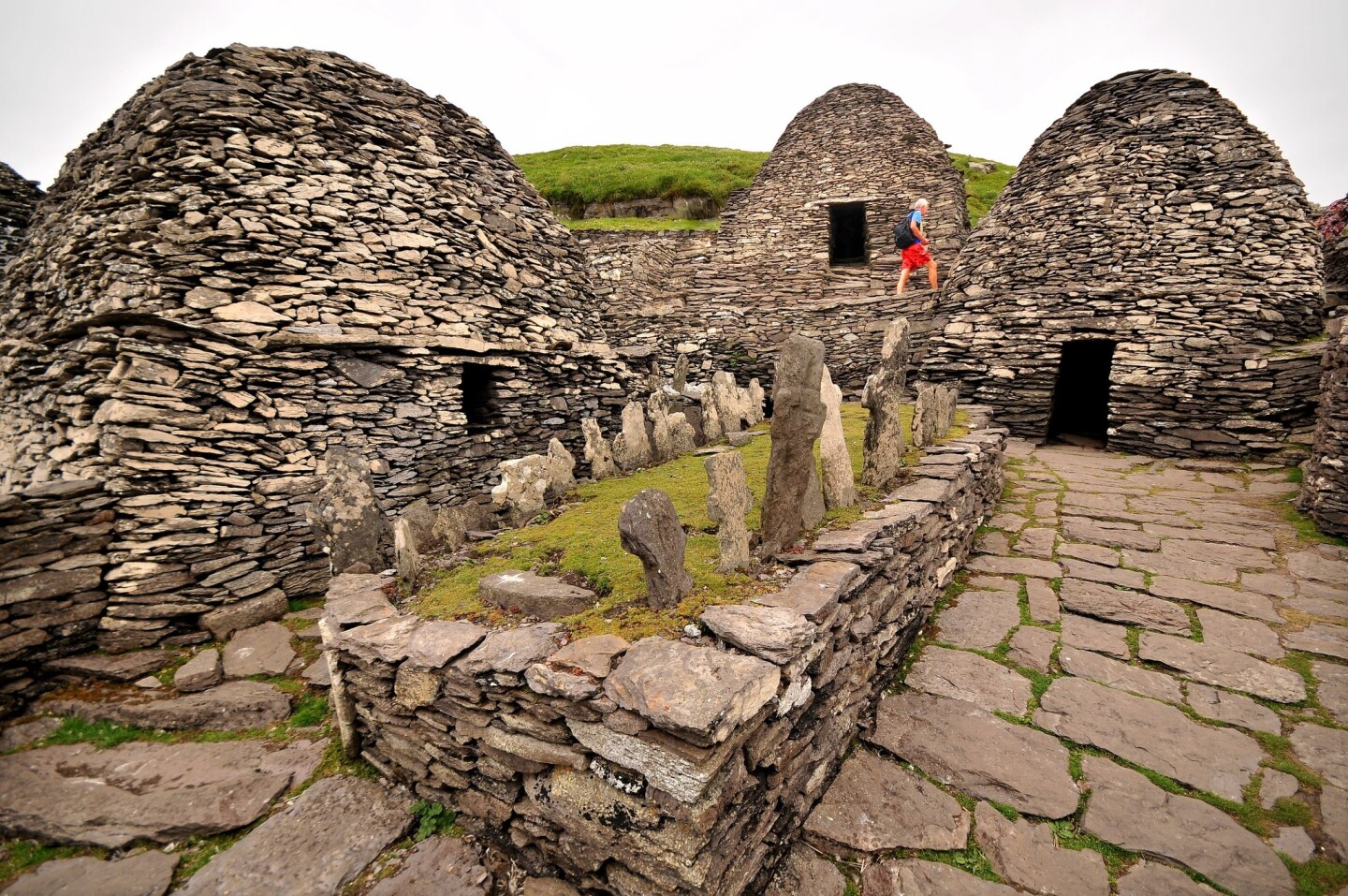 Skellig Michael, an island about 8 miles off the coast, has beehive-shaped structures that were built by Christian monks and date back to the 7th century.
(Margo Pfeiff)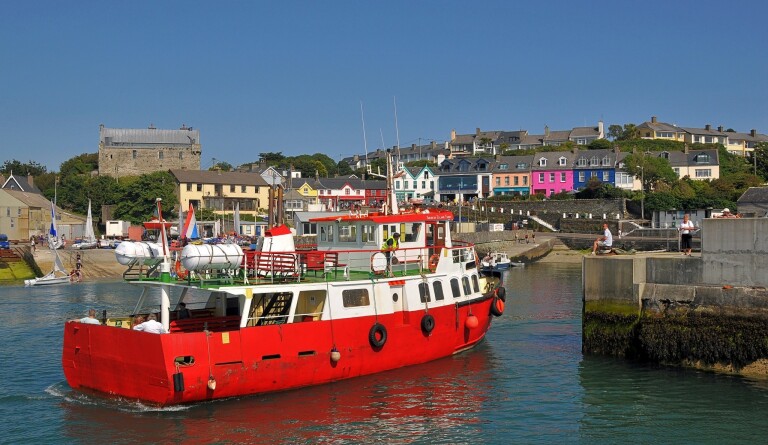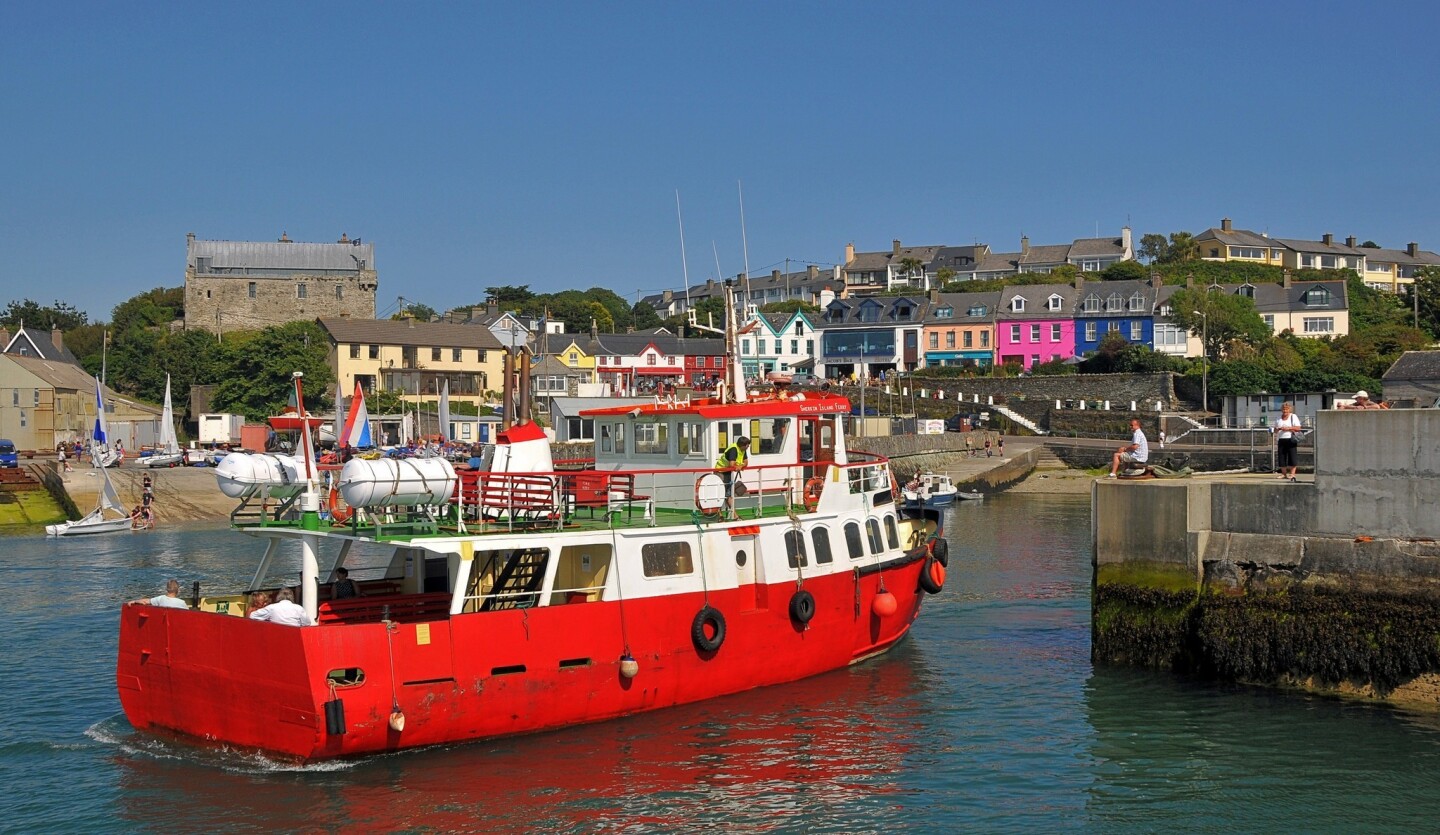 The old port of Baltimore, Ireland, is a jumping-off point to the islands.
(Margo Pfeiff)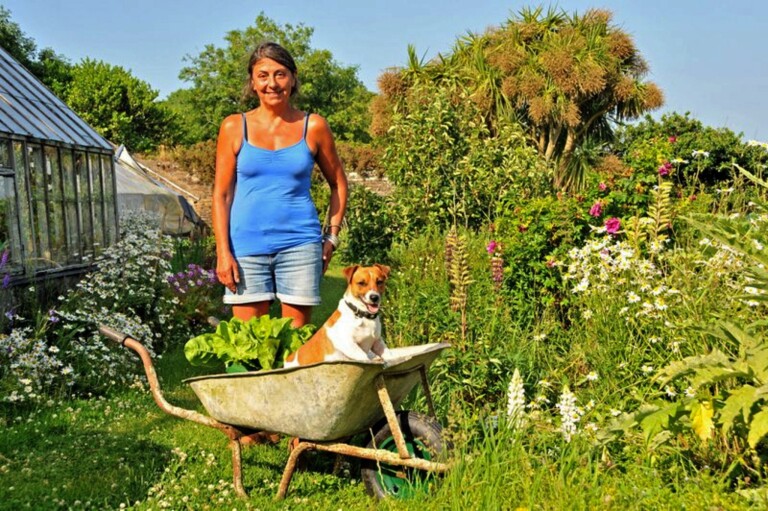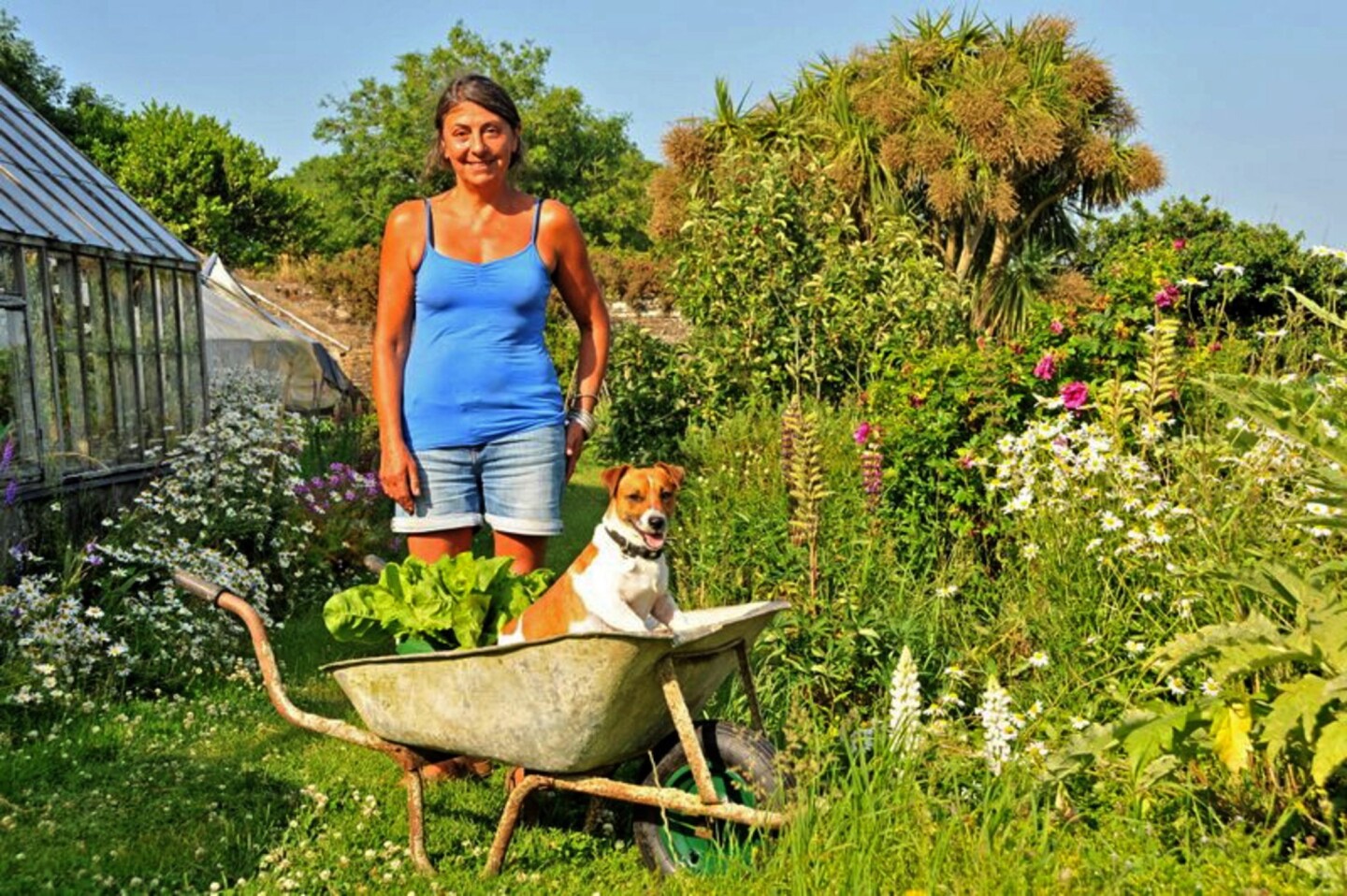 In County Cork, near the ruins of Timoleague, Karen Austin shows off her 1-acre organic garden, which is part of the Lettercollum Kitchen Project.
(Margo Pfeiff)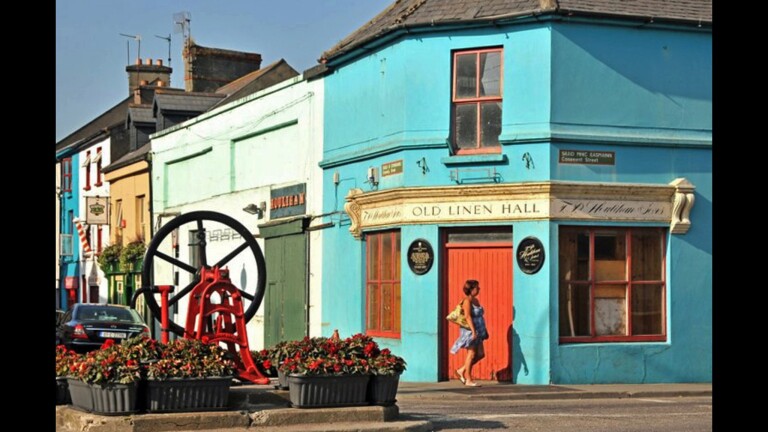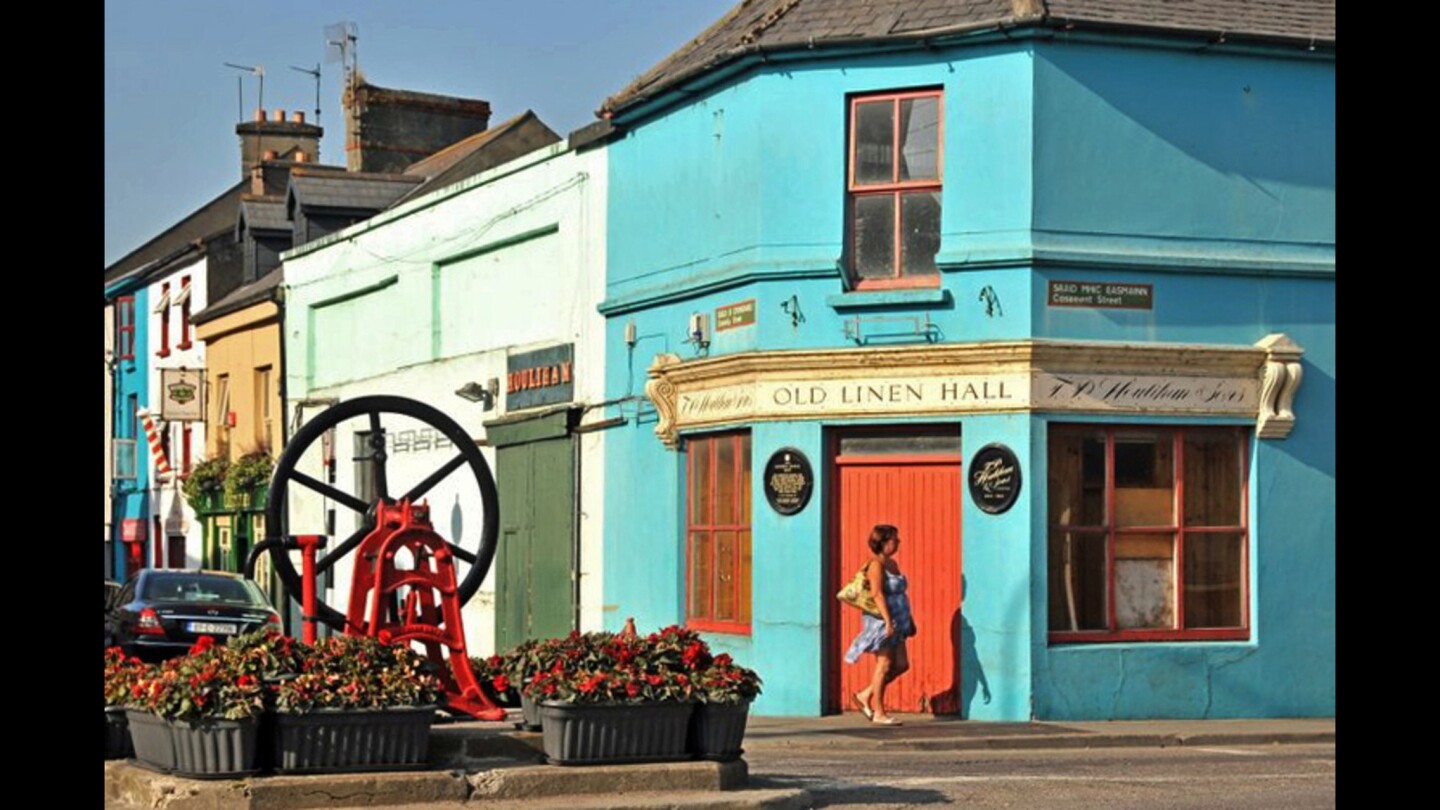 Colorful row shops in the southwestern Ireland town of Clonkilty.
(Margo Pfeiff)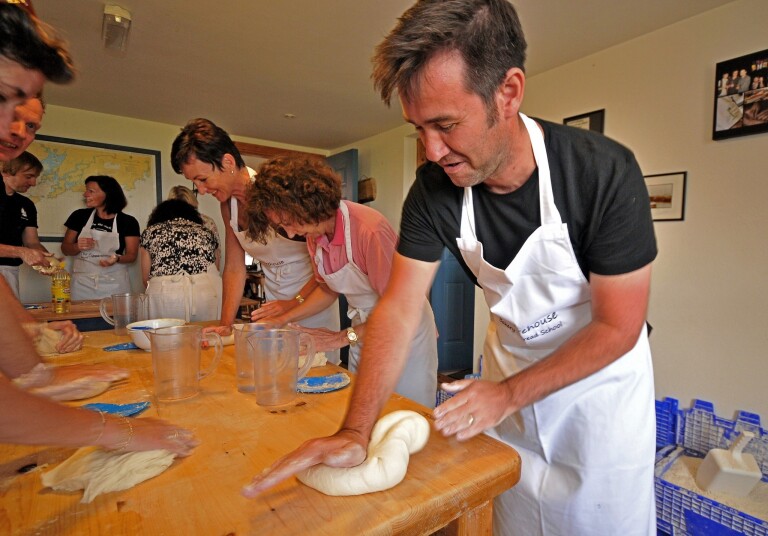 Students learn to knead dough at the Firehouse Bakery and Bread School on Ireland's Heir Island.
(Margo Pfeiff)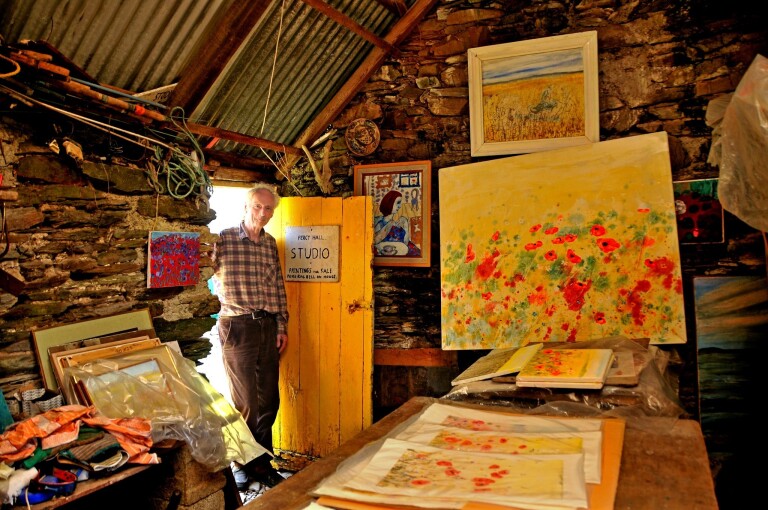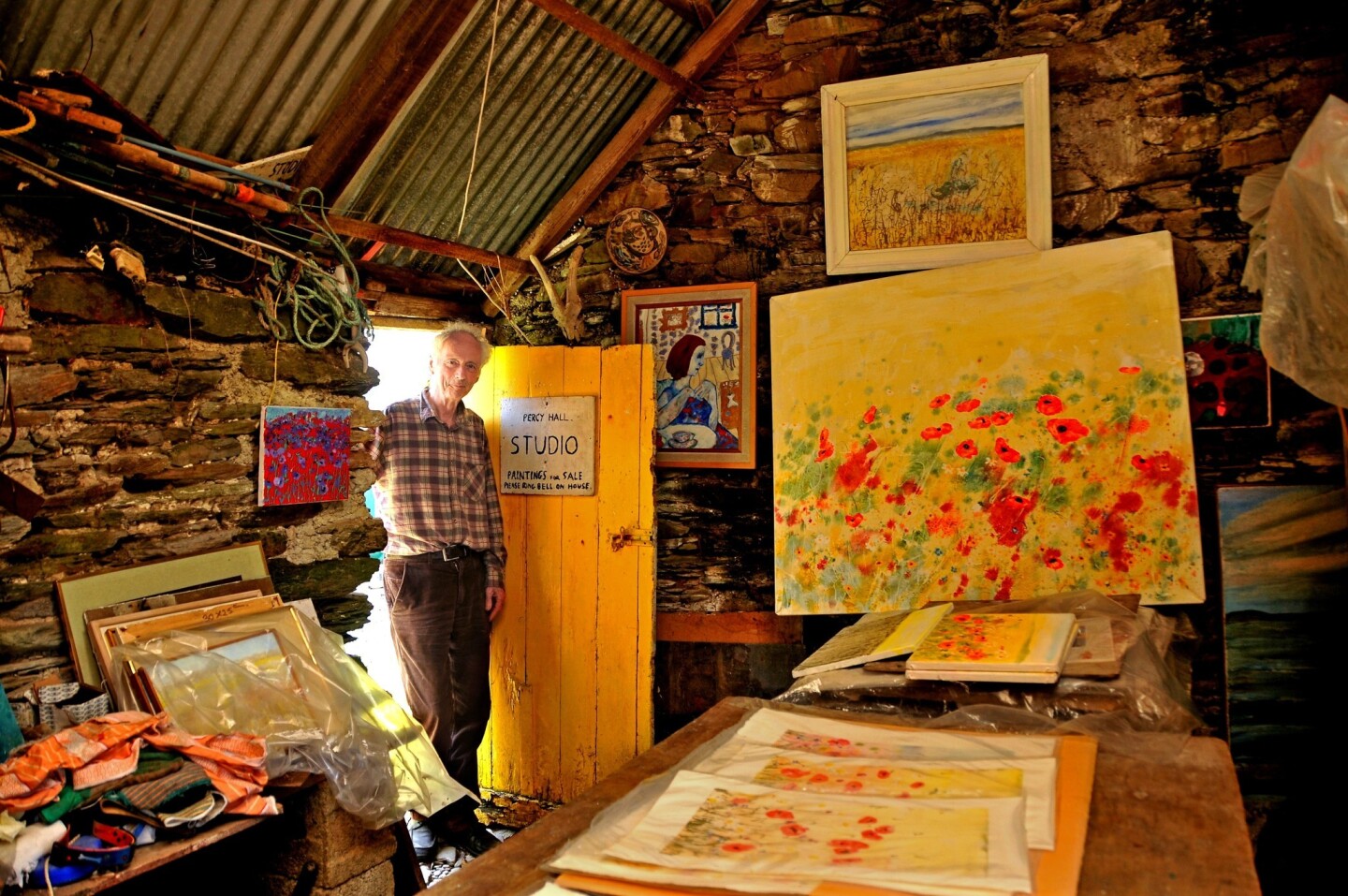 Local painter Percy Hall shows off his stable/studio.
(Margo Pfeiff)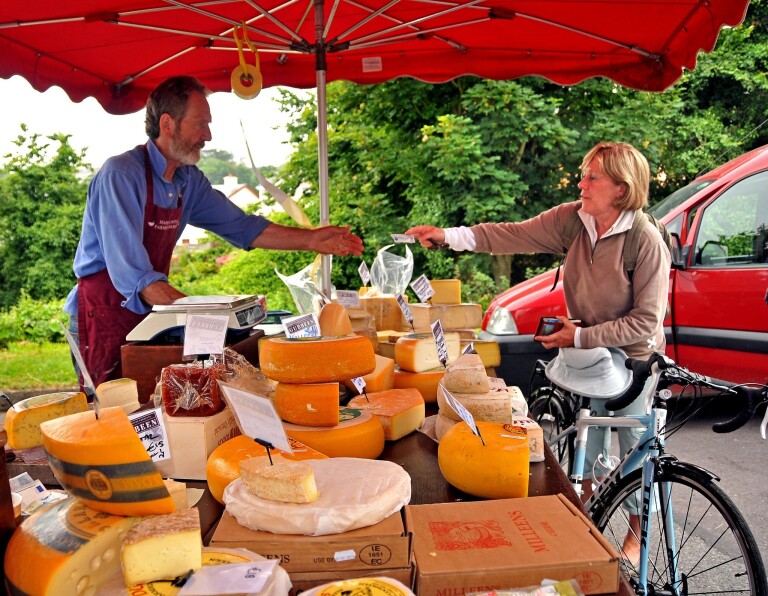 A local cheese stand at the town of Schull's Sunday farmers market.
(Margo Pfeiff)
Driving down the streets of Schull.
(Margo Pfeiff)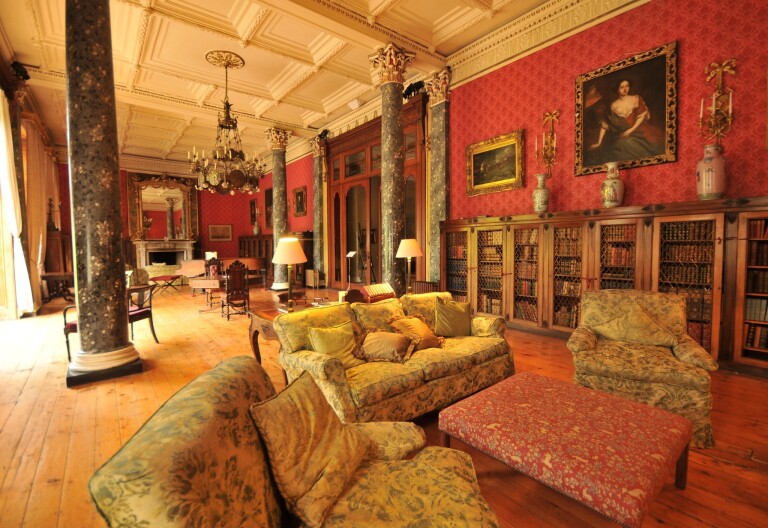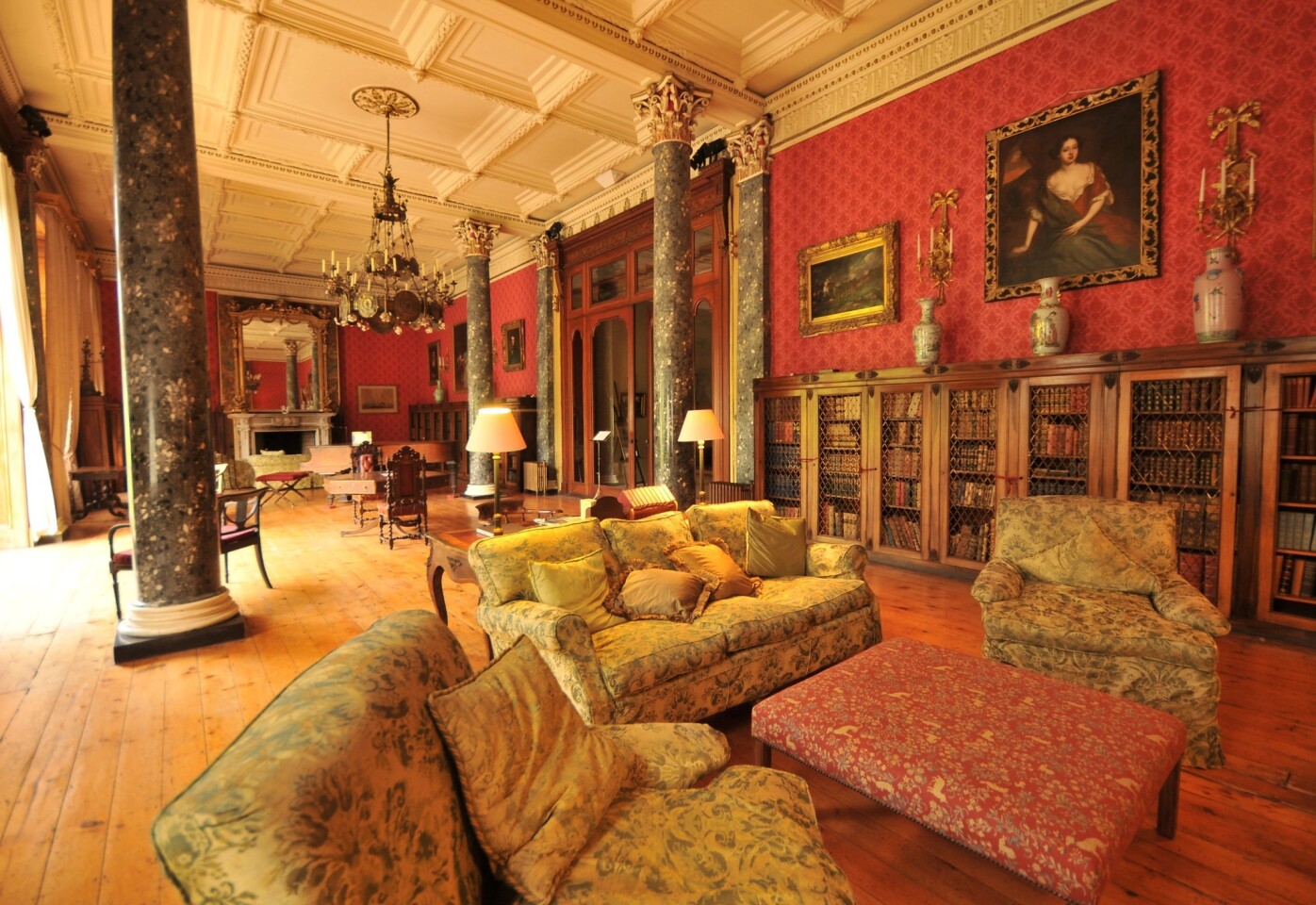 The 60-foot-long library at Bantry House, an estate with B&B accommodations.
(Margo Pfeiff)
Grand Bantry House is open for tours, garden visits and overnight accommodation.
(Margo Pfeiff)
A view of Cape Clear Island.
(Margo Pfeiff)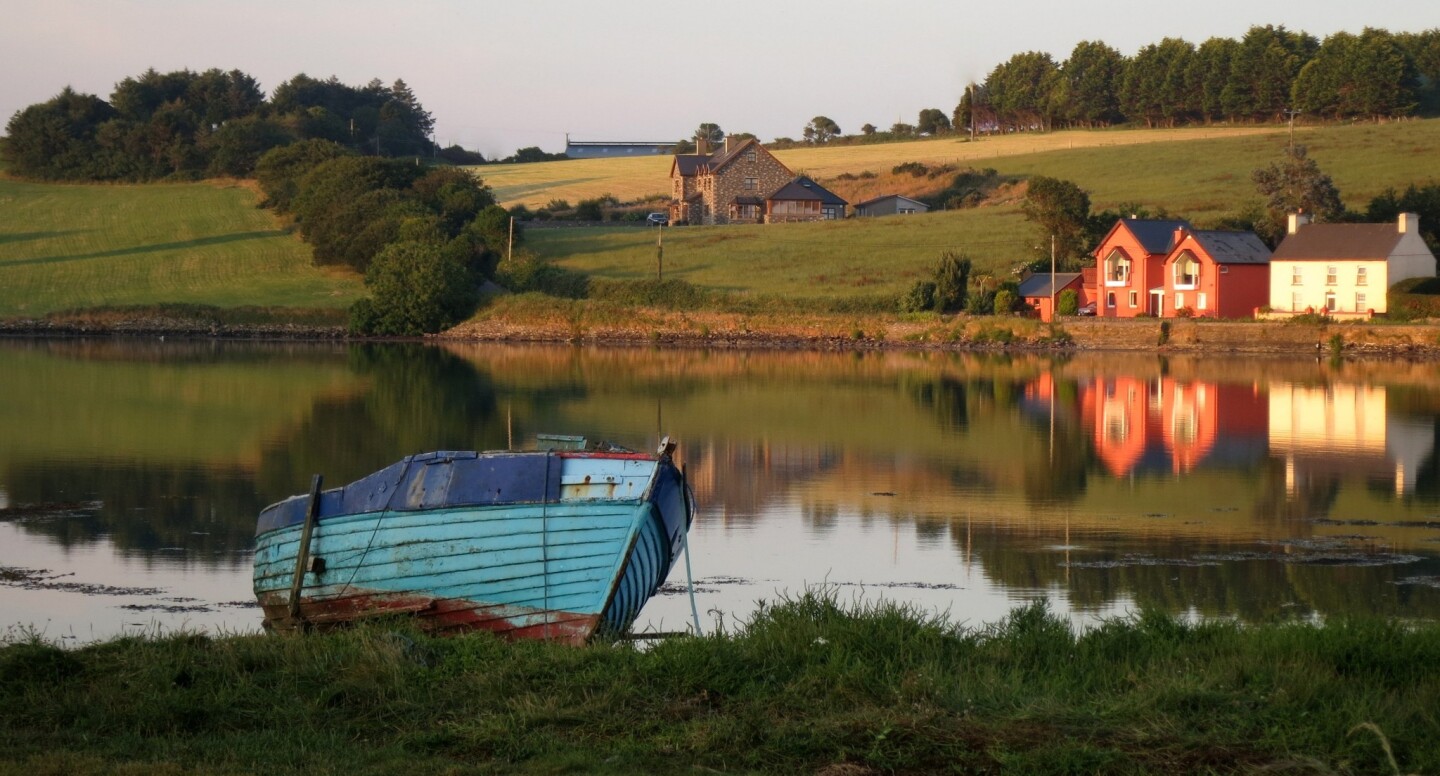 The tiny village of Reen Pier sits along the scenic coastline of southwest Ireland.
(Margo Pfeiff)
Reporting from Castletownbere, Ireland —
The winding roller-coaster route along Ireland's raggedy-edged west coast has a proper new name: the Wild Atlantic Way, an ideal drive for fall.
Meandering 1,600 miles from the Inishowen Peninsula near Derry in the north to Kinsale, in the south, it skirts storm-lashed cliffs, stalwart ruins, hidden beaches, grand estates, tiny villages and dozens of islands.
I explored the WAW's southwestern corner, kicking off in the gourmet hub of Kinsale, which was bustling with its popular arts festival known for its pop-up exhibits. My destination was Castletownbere, toward the northwest. Though it's just a two-hour drive on the main road, I took a week along the scenic, zigzag coastal route, first reacquainting my brain with left-hand shifting and navigating roads so narrow that hedges brushed my side-view mirror when I squeezed past oncoming cars.
I came for my favorite combo of travel activities — road-tripping through foodie country and exploring laid-back countryside on foot or by bike. I poked around don't-blink villages, such as Timoleague and its serene 1240 Franciscan abbey, and paused for pints of creamy Guinness, soda bread and smoked trout lunches in simple pubs.
I sailed to tranquil island outposts, strolled through the formal gardens and lush woodlands of the 97-acre Inish Beg estate, and nibbled local cheeses and homemade charcuterie with their makers at farmers markets. What I didn't expect — though I should have in this land of leprechauns — were the little jolts of Irish magic along the way.
____
Ireland's rugged islands in Cork, Kerry counties set a tranquil pace
According to the Irish Islands Federation there are 33 inhabited islands with populations ranging from one to 800. I chose a handful belonging to the counties of Cork and Kerry, day-tripping to quiet places where folks spend their days at a slower pace.
Remote and rugged, they are home to fishermen, farmers, artists and urban refugees who live alongside the history of prehistoric settlers, Vikings, past battles and plenty of sheep and cows.
The old port of Baltimore, with its jelly-bean-colored row houses, is the jumping-off point to islands brimming with watchtowers and battle-bashed castles, some with cannonballs still embedded in their walls. On a sunny morning aboard the 40-minute ferry to Cape Clear Island, there were only leaping dolphins in waters that have witnessed centuries of piracy and plunder.
Once ashore, I laced my boots and walked the headland trails with sea views and lighthouses, following old stone walls draped in runaway roses. I finished with a ploughman's lunch in cheery Ciaran Danny Mike Sean Eireamhain O'Driscoll's pub — Ireland's southernmost — listening to locals speaking Gaeilge, the Irish language. For the return sail, I bought a dish of Bailey's-flavored goat's milk ice cream from a blind local farmer.
Five minutes by ferry from the mainland, Heir Island is another rural speck that took less than an hour to explore. Gourmet cuisine is hardly what you'd expect on an island 1 1/2 miles long and with a population of 25 — and no pub or post office. But a few "blow-ins" — outsiders — are serving up just that.
Fine dining has been taking place at Island Cottage restaurant for 25 years, with a view across to Jeremy Irons' Kilcoe Castle. Chef John Desmond — who has Michelin three-star experience and taught cooking in Paris — serves locally sourced meals in a traditional Irish stone cottage that seats 22, with a kitchen barely bigger than a boat's galley. In the off-season he offers cooking classes for a maximum of two students.
Before leaving the island I dropped in to chat with local painter Percy Hall in his stable/studio. He looked at his watch. "You've time for wine," he announced, and we sipped a glass inside his centuries-old stone waterfront cottage until my boat sailed me back to reality.
From Baltimore I wound my way seaside to Castletownbere for a pontoon boat float to Bere Island. With a rental bike from Brendan Murphy's 1908 general store, I tackled narrow, hilly roads that are part of the 120-mile Beara Way walking and cycling route circling the Beara Peninsula.
Along the way I lounged on a sandy beach beneath a Martello tower, a small round British fort, and pedaled in search of a Bronze Age tomb and a 10-foot-tall, 4,000-year-old stone standing in the exact center of the island that was — happily — near Sullivan's pub. As locals manned a pool table or sat glued to bar stools talking soccer, I tucked into just-caught cod with chips and blissfully mushy peas.
____
Southwest Ireland home to a thriving culinary culture
Ballymaloe, a 400-acre estate-turned-cooking school / restaurant in East Cork, ushered in Ireland's culinary renaissance in the 1980s. Since then, the southwest of Ireland has gone on to annually produce 70% of the country's artisanal goodies, and cooking schools have become as ubiquitous as purple heather.
In this unpretentious region, you don't have to dine deluxe to eat well. Small country inns such as Skibbereen's West Cork Hotel, where fresh crab cakes melted in my mouth along with locally smoked salmon and mackerel, strive to serve regionally sourced food and even list producers on their menus. And driving through picture-perfect towns with names such as Ballinspittle and Castelfreke I came across rural roadside delis and even gas station lunch bars serving Durrus artisanal cheese and local charcuterie on their homemade bread.
Near the friary ruins of Timoleague, Karen Austin shows off her 1-acre organic garden surrounded by ancient stone walls, part of her 1860 Lettercollum House, a funky space filled with local art.
"We revamped the old stables and dairy into a cooking school using all this," she said, sweeping her arms from apples to quinoa to free-range chickens. "It's an enormous day of eating and recipes." The school is part of her Lettercollum Kitchen Project, which includes a gourmet shop in the nearby town of Clonakilty that sells produce and organic cuisine fresh from their garden.
Over on tiny, foodie Heir Island, Patrick Ryan was a 29-year-old with a law degree he had never used when he decided to follow his bliss, studying with a Dublin chef and setting up the Firehouse Bakery & Bread School down the road from the Island Cottage restaurant.
I signed up for his one-day bread course, hoping it would reveal why my dough never rises and my pizzas are tough as leather.
While we measured and kneaded, Ryan guided us through his creative twists on local Irish soda bread. "When the dough's in the pan, cut an X in the top to let the fairies out, then stick a knife in each quarter to kill the rest," he said, stabbing the loaves.
It's old Irish folklore, he admitted, "but you never know…"
Despite its remote location, the school, which shares space with the local sailing club, was an instant hit when it opened in 2012 and no wonder, with its wood-fired, clay-oven-baked flatbreads, focaccias, sourdough loaves, cinnamon swirls and killer pizzas. The hands-on class broke my baking curse. Or perhaps it was those fairies.
Almost every village I passed through hosted a weekly farmers market, and on Sunday morning it was Schull's turn. The lovely foodie fishing town is home to Gwen's Chocolates, which makes sweet magic, and Hackett's Bar, a very old, character-rich gastropub. Amid the market bustle I sampled smokehouse meats, craft charcuterie and local cheeses such as Gubbeen, chatting with the cheese makers at their stall.
As I left the market I spotted a stand of carved, twisted wooden sticks. "Unicorn wands," said the sign. I picked one up.
"How do you use them?" I asked. The vendor's startlingly blue eyes sparkled.
"Now that," he whispered mysteriously, "is entirely up to you!"
____
High points of Ireland trip include Bantry House, Skellig Michael
Magical moments and heart-stopping experiences are always part of an Ireland trip.
My first occurred halfway through a nighttime kayak excursion on Castlehaven Bay near Kinsale. Suddenly, diamonds dripped from my paddle and streamed off my bow wave, flecks of light like underwater fireflies mirroring the star-speckled sky. My brain knew it was marine phosphorescence created by microscopic critters in the glassy water beneath me, but still, when a fish swam past, perfectly outlined in glitter, my heart leaped and I broke out in goose bumps.
Days later at regal Bantry House, I met Sophie Shelswell-White, ninth generation of the family that built the sprawling estate surrounded by tiers of formal gardens. Sipping tea on a patio overlooking the bay and islands her ancestors once owned, Sophie explained that her grandmother was one of the first to open an Irish estate to the public in 1946 to help cover costs.
Bantry offers tours of the palatial Baroque interior, high teas each afternoon and posh B&B accommodations in the revamped former servants' quarters. That's where, that evening, I poured myself a drink from the honor bar and relaxed on an antique sofa in the 60-foot-long library, alone among the pillars and with just moonlight to illuminate ghostly portraits from the past.
The grand finale occurred on the tiny pyramid-shaped island of Skellig Michael, where dense clouds of gannets rode thermals and legions of baby puffins scurried around me as I huffed and puffed my way up 600 near-vertical stone steps. At the summit was the bizarre, breathtaking sight of a cluster of beehive-shaped structures built with stone slabs by seventh century Christian hermit monks.
The wild Atlantic often prevents boats from making the 45-minute voyage from Portmagee to the jagged pinnacle eight miles offshore. I was lucky. When we nudged alongside Skellig Michael's sheer cliffs and leaped ashore, it seemed impossible that monks rowing leather-hulled boats 1,500 years ago could have reached this place and carved three steep routes to the summit.
For six centuries they eked out a life here in stone huts, oratories and a chapel, surviving on fish, seabird eggs and the contents of a walled garden. Today there are just two archaeologists and countless seabirds. A UNESCO World Heritage Site, Skellig Michael is Ireland's Machu Picchu.
With the rhythmic step-climbing, the high-cliff vertigo and an aura of spirituality, it exudes the same calming effect — less a visit than a pilgrimage. If there were a competition for Ireland's ultimate getaway, bragging rights would go to the monks.
____
THE BEST WAY TO IRELAND'S WILD ATLANTIC WAY
From LAX, connecting service (change of planes) to Shannon Airport is offering on Delta and United. Restricted round-trip fares range from $684 to $719, including all taxes and fees. Shannon is about 95 miles from Kinsale, the starting point of this trip.
TELEPHONES
To call the numbers below from the U.S., dial 011 (international calling code), 353 (country code for Ireland) and the local number.
WHERE TO SLEEP
West Cork Hotel, Ilen Street, Skibbereen; 28 21 277, www.westcorkhotel.com. Elegant riverside country hotel. Doubles from $130, including full breakfast. The hotel's Kennedy Restaurant serves the best of locally sourced cuisine. Main entrees from $17.
Inish Beg, 28-21745, Baltimore, www.inishbeg.com. Spectacular gardens and woodlands on 97 acres of a private island (Admission $7). Luxury cottage rentals (weekly from $525 double; two-night minimum from $65/night double). Custom cookery courses offered.
Bantry House & Garden, Bantry, Cork; 27-50047, www.bantryhouse.com. Grand estate includes 60-foot library and formal gardens open to overnight guests. Open late March through October for house and garden tours and afternoon tea. From $265 double, including full breakfast.
Casey's Hotel, The Village, Glengarriff; 27 63 010, www.caseyshotelglengarriff.ie. Modernized classic hotel in a charming town on the Beara Peninsula. Double rooms from $50, depending on season. Includes breakfast. The hotel's pub/dining room serves good local food. Main entrees from $11.
WHERE TO EAT
Fishy Fishy Café, Crowleys Quay, Kinsale, 21 4700415, fishyfishy.ie. Award-winning seafood eatery of chef Martin Shanahan of the popular Irish TV series "Martin's Mad About Fish." Main entrees from $20.
Glebe Gardens & Café, The East Village, Baltimore; 28 20232, glebegardens.com. Casual fine local cuisine within a spectacular garden. Open daily for breakfast, lunch and afternoon tea.
Island Cottage Restaurant & Cookery School, Heir Island, Skibbereen; 28-38102, islandcottage.com. Open Wednesdays-Sundays mid-June to mid-September. Four-course set dinner $65 per person. One-day cooking class for two people from $254 (April, May, September, October and November).
Mannings Food Emporium, Ballylickey, Bantry; 27-504 56, www.manningsemporium.ie. A gourmet food shop, deli and cafe specializing in local produce. Open seven days a week in July and August.
WHAT TO DO
Atlantic Sea Kayaking, The Abbey, Skibbereen; 28-21058, www.atlanticseakayaking.com. Guided kayaking trips including starlight/moonlight and seaweed foraging. From $75 a person.
West Cork Food offers custom foodie tours and food-themed holidays to meet local producers and take part in activities such as learning to smoke your own fresh fish. westcorkfood.ie
Lettercollum Kitchen Project, Clonakilty; 23-8846251, lettercollum.ie. Wide selection of full-day cooking classes using produce from the estate's organic garden. $121 per person, including lunch.
Firehouse Bakery & Bread School: Heir Island; 85 156 1984, thefirehouse.ie. Year-round full-day baking classes $180, including ferry and lunch with wine.
TO LEARN MORE
Tourism Ireland: www.ireland.com
West Cork Islands: westcorkislands.com
Wild Atlantic Way: www.thewildatlanticway.com
Cork's Coastal Food Trails: bit.ly/1r6RZZZ
---
Get inspired to get away.
Explore California, the West and beyond with the weekly Escapes newsletter.
You may occasionally receive promotional content from the Los Angeles Times.