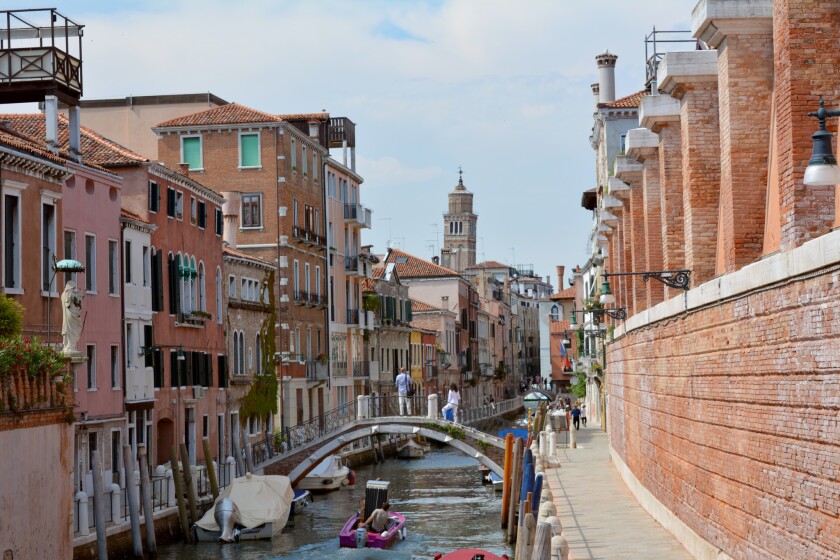 Venice feels a little like Disneyland to me: a fairytale-like destination full of tourists. It's great to behold with fresh eyes, but it can get overwhelming after a few days. To help keep your visit cheery, here are some tips based on a recent trip to the City of Canals:
Dining: Be wary of restaurants with a view or Rosetta Stone-like menus
Before leaving for Venice, a friend living in Milan gave me some advice for choosing a restaurant: If the restaurant's menu is translated into five languages, don't eat there. Well, I ignored her advice and ate at one of these spots because it had a beautiful view of the Grand Canal. How bad could the food be, I thought.
The bread was stale and cold. The waiter too. I ordered fried fish, and I couldn't tell what kind of fish I was eating, but they looked a little like skinny goldfish.
When looking for a restaurant, wander away from tourists spots such as St. Mark's Square or the Rialto Bridge. If it has a view, especially of the canals, don't eat there. Save the view for after your meal. Do browse Yelp for suggestions. I found Yelp fairly reliable in Venice.
Getting around on foot: Follow the signs
Like many other old European cities, Venice's streets seem like they don't make any sense and, consequently, can be difficult to navigate. Street names change frequently from one building to the next, and addresses aren't street addresses (they're based on districts and ascend or descend relative to the location in the district). Some maps (like the one I was using) may omit a street here and there, so you can't entirely rely on those either.
After a few days of wandering, I found that the easiest way to get around on foot was by following the yellow signs around the city. They point to major destinations, like the train station (ferrovia) and St. Mark's Square (S. Marco). The signs will get to the general area, and then you can use a map or friendly shopkeeper to find the precise location.
Don't worry about getting lost either. Central Venice isn't that large, so there's a limit to how lost you can get without a boat. Its streets, while confounding, are picturesque throughout, so even if you get lost, you'll probably end up at some beautiful piazza.
Plan around the cruise ships
On the day I planned to visit St. Mark's Basilica and the Doge's Palace, I had company from about half a dozen cruise ships. Consequently, St. Mark's Square, the locale of these attractions, was flooded with tourists, way more compared with other days.
Plan around these behemoths of the seas. Visit top attractions on days with few cruise ships in port, or get there early. Consult Cruise TT for a calendar of cruise ship arrivals.
Take the water shuttles
The best way to get around Venice is on the ACTV vaporetti (water buses). These public shuttles stop at major destinations such as St. Mark's Square, Santa Lucia Train Station and Rialto Bridge. You'll have an easier time figuring out shuttle routes and timetables than navigating Venice on foot.
When central Venice gets too crowded, take a vaporetto to Murano Island, where artisans have been blowing glass for hundreds of years, or San Giorgio Maggiore Island, whose church bell tower offers great views of Venice.
Each shuttle ride costs about $8, but you're better off with a day pass (about $22) if you intend to explore by boat.
Shopping: You'll have plenty of chances
On the way to St. Mark's Square one day, I passed a leather shop and found a neat orange wallet to replace my 10-year-old trifold. I didn't buy it, and later in the day, I felt like I missed my opportunity.
I didn't. I later stumbled on about five other shops with the same wallet. All the leather shops were clones of each other. The same applies to mask, glass, paper and jewelry shops.
If you find a piece of glass and feel compelled to buy it because you'll never be able to find the shop again, don't worry. It'll be in the next glass shop you walk in.
---