New national monument on Oahu is a 'gift for future generations'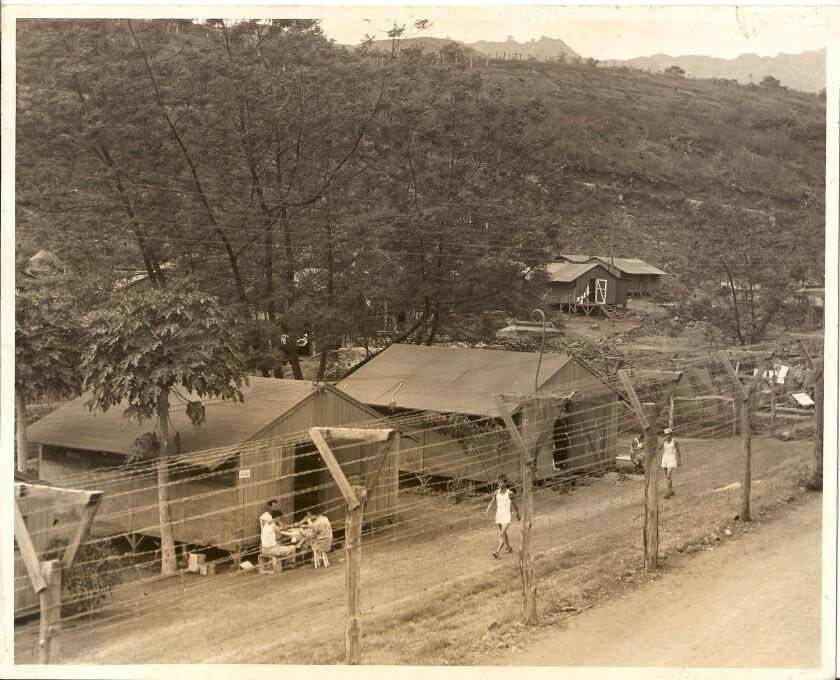 The creation of a national monument on Oahu to remember the internment of Japanese Americans during World War II is a "great gift for present and future generations."
Carole Hayashino, president and executive director of the Japanese Cultural Center of Hawaii, applauded the news that the site of the former Honouliuli internment camp 25 miles northwest of Honolulu is being acquired by the National Park Service.
The center led the effort to create the monument.
President Obama, who was born on Oahu, is expected to make the announcement Thursday, the 73rd anniversary of the signing of the executive order that allowed the internment.
Thousands of U.S. citizens living in Hawaii were arrested within 48 hours of the Dec. 7, 1941, Japanese attack on Pearl Harbor and interned at Honouliuli and other smaller camps in Hawaii, which was then a U.S. territory. After the release of the internees at the end of the war, the buildings were bulldozed.
Over the decades, vegetation has reclaimed the site. Hayashino said "rediscovery" efforts at the site began in 2002.
"Up to then, I think many of us actually forgot the exact location of the camp and forgot about the experience of Japanese Americans who were interned," Hayashino said.
"Archaeological research has taken place in the Honouliuli gulch. They have uncovered some significant landmarks within the gulch. There's the mess hall slab, the remnants of the guard towers and so on."
The cultural center has been taking groups of high school and college students on tours of the site, which internees called "Hell Valley," for the last couple of years. Hayashino doesn't know how long it will take the National Park Service to open the former camp to the public.
She hopes it can be developed on the scale of the former Manzanar internment camp in the Eastern Sierra of California. The Manzanar National Historic Site is along U.S. 395 about 14 miles north of Lone Pine, Calif.
"They have a wonderful visitor center at the Manzanar site, so I can imagine what Honouliuli can be some day," she said.
Manzanar was the first of 10 internment sites on the mainland, which was home to about 120,000 Japanese Americans.
On Feb. 19, 1942, Executive Order 9066 was signed. In signing it, President Franklin Roosevelt gave the secretary of War the power to "exclude" certain people from certain areas. Although some Germans, Italians and Aleuts were detained, the weight of suspicion and thus, detention, fell most heavily on Japanese Americans.
President Ford rescinded Executive Order 9066 on Feb. 16, 1976.
The Japanese center produced a documentary called "The Untold Story: Internment of Japanese Americans in Hawaii."
Follow us on Twitter at @latimestravel
---
Get inspired to get away.
Explore California, the West and beyond with the weekly Escapes newsletter.
You may occasionally receive promotional content from the Los Angeles Times.