Six spots to get great scenics on your Hawaiian vacation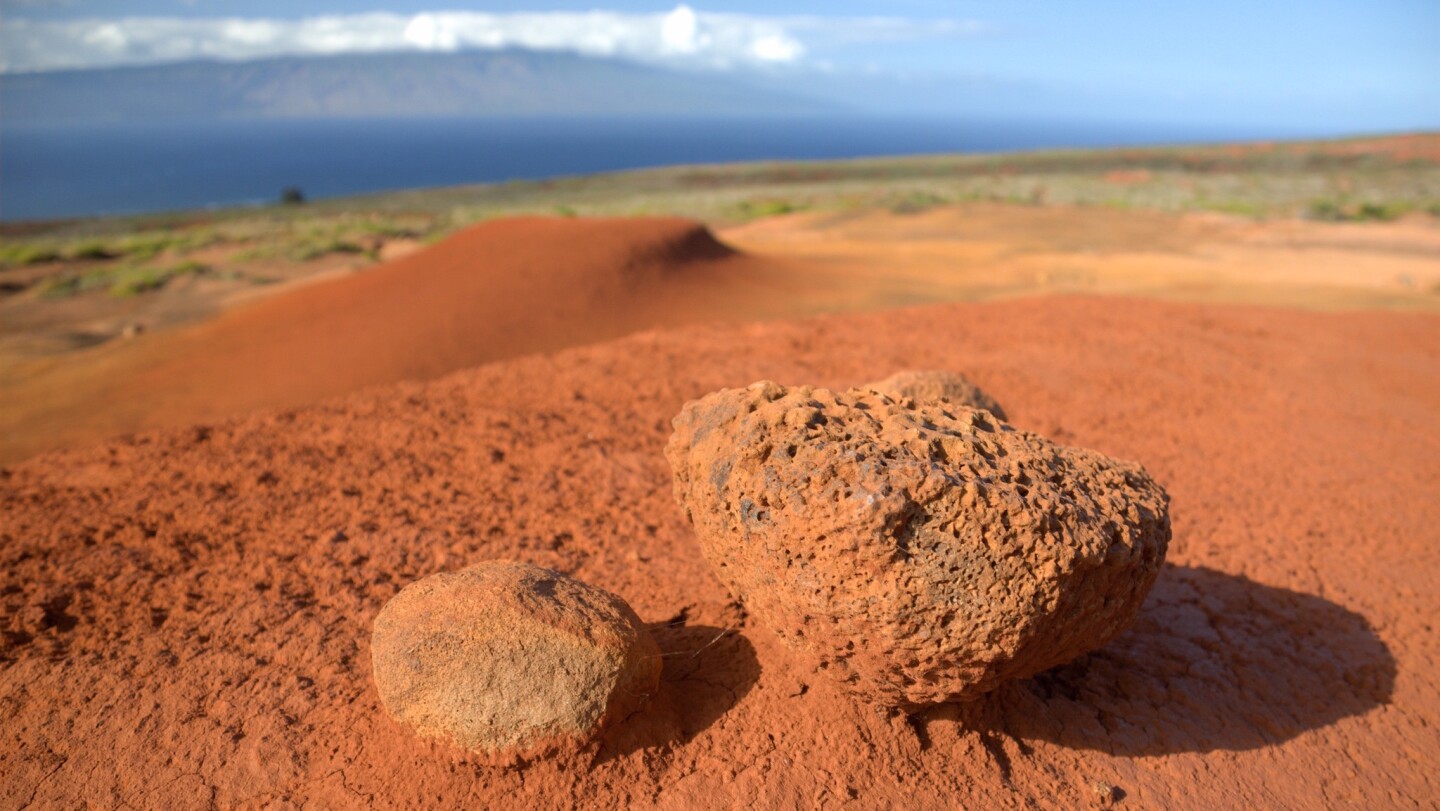 Lanai's Garden of the Gods offers unexpected scenery, the rich reds of its soil contrasting with the blue of the Pacific.

(Aubrey Hord Photography)
The trek along the Pipiwai Trail boardwalk in southeast Maui leads to a breathtaking waterfall.
(Aubrey Hord Photography)
With a red cliff that plummets to the sea, Koki Beach south of Hana on Maui is a favorite backdrop of wedding photographer Aubrey Hord.
(Aubrey Hord Photography)
Palm trees frame the pier and surrounding beauty of the half-moon-shaped Hanalei Bay on Kauai's North Shore, an ideal location for memorable photos.
(Mark Boster / Los Angeles Times)
A pool of molten lava is attracting thousands of extra nighttime visitors to Hawaii Volcanoes National Park. The park can provide a unique backdrop for photos.
(National Park Service )
Baldwin Beach is about two miles from the town of Paia on Maui. It has long, sandy beaches.
(Forest & Kim Starr/Wikimedia Commons)
Besides coming home from Hawaii with a tan, you'll want great photos too. Here are six spots where you can find different and distinctive kinds of Hawaiian backdrops, courtesy of a noted Hawaii photographer.
Aubrey Hord is known for her portraits of such celebrities as Elton John, John Legend and Bruno Mars, but her bread-and-butter work is wedding photography. She has photographed newlyweds against some of the islands' most sumptuous backdrops, many of them off the beaten path.
No marriage license required, of course, to avail yourself of these photographic opportunities. Among her choices for stunning settings
Garden of the Gods on less-visited Lanai. It's a favorite of Hord's.
"It's like walking on the surface of another planet," she said in an email. Lanai, the sixth-largest Hawaiian island and known for its rocky terrain and the bright red of its iron-oxide-rich soil, was once a huge pineapple plantation.
Pipiwai Trail in Kipahulu, in southeast Maui and part of Haleakala National Park. Hord suggested hiking the trail, a four-mile round trip that is moderately strenuous, according to the National Park Service.
"The forest lulls you into complacency with the soft clattering of bamboo," she said. "At the top of the trail there is a waterfall cascading down the crescent cliff."
Koki Beach, south of Hana in east Maui. This is a favorite for Hord and just-married couples.
"It features a vibrant red iron-oxide-rich, exposed cliff at one end which provides a great backdrop," she said.
Other places Hord suggests:
--Hanalei Bay on Kauai's North Shore, part of which served as the stand-in for Bali Hai in the movie "South Pacific."
--Maui's Baldwin Beach, a long, sandy crescent about two miles from the town of Paia.
--Hawaii Volcanoes National Park on the Big Island
"The entire national park is fascinating as we watch new land being created right in front of us," she said.
Hord was recently designated a Certified Professional Photographer by the Professional Photographers of America after a two-year course of study that culminated in what she described as a "grueling" exam.
Follow us on Twitter at @latimestravel
---
Get inspired to get away.
Explore California, the West and beyond with the weekly Escapes newsletter.
You may occasionally receive promotional content from the Los Angeles Times.