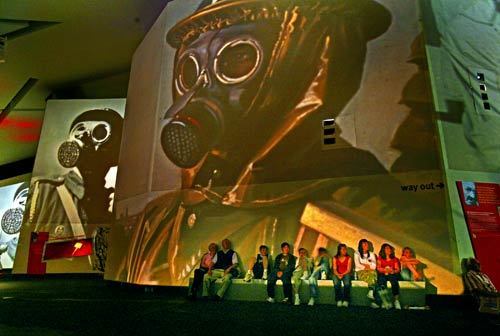 9 Images
Life in Manchester, U.K.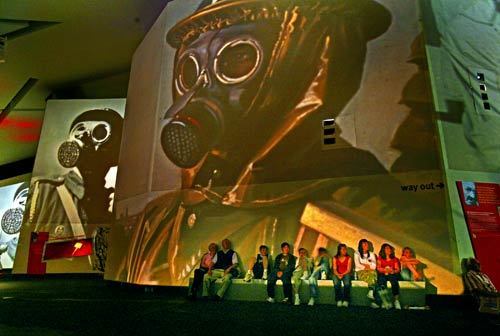 Visitors take in the "Big Picture" audio-visual presentation at the Imperial War Museum North in Salford, which is a short train ride from Manchester's city center. The British museum, according to Times Staff Writer Scott Timberg, is a heavy but somehow entertaining experience, with none of the celebratory spirit that war sometimes evokes.
(Gary M. Prior / For The Times)
Patrons sit a spell outside the bright little deli-cafe Love Saves the Day in the Castlefield area of Manchester. After lunch, walk off those calories exploring the neighborhood, which is home to a working canal that was Britain's first.
(Gary M. Prior / For The Times)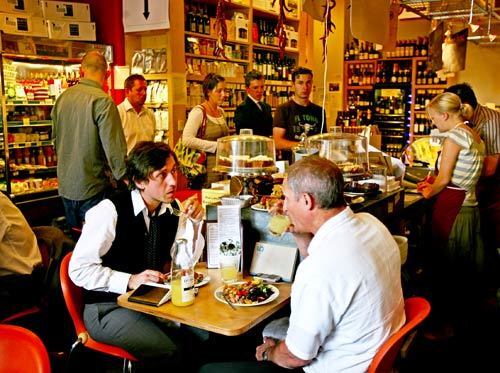 The cappuccinos, baked goods and other goodies pack 'em in at Love Saves the Day in Castlefield. A buff of music trivia? Here's one for you: The popular deli-cafe is co-owned by a former member of the band Simply Red.
(Gary M. Prior / For The Times)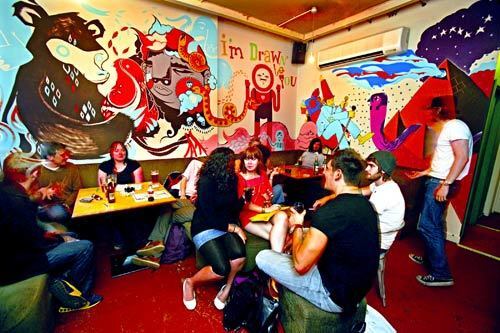 There's nothing at all common about Common in the Northern Quarter. A mural adds a touch of "urban rustic" whimsy at the cafe-bar, where patrons can enjoy a pint along with the melange of music spun by the house DJs.
(Gary M. Prior / For The Times)
The Odd Bar lives up to its name — stop by the pub in the Northern Quarter and you're sure to hear DJs spinning their musical picks, plus perhaps see a strange short film or two or a performance by the cryptic electronica duo One Manned Mule. Fancy a bit of classical instead? Manchester has that covered too. Options include the Hallé Orchestra and performances at the Royal Northern College of Music.
(Gary M. Prior / For The Times)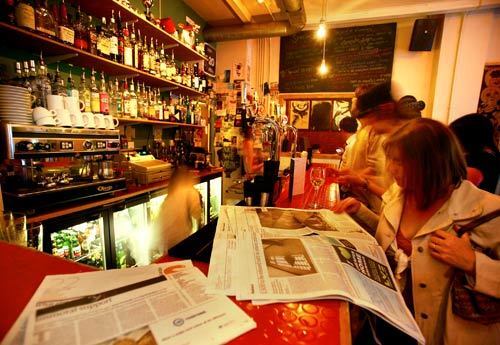 The bar at Common is a nice place to catch up on the day's news. Dave Haslam, author of "Manchester, England: The Story of the Pop Cult City," says the city has been fired by an independent spirit since long before the rock group Happy Mondays.
(Gary M. Prior / For The Times)
Be it lamps, telephones or glassware, cool, retro furniture and accessories are the order of the day at the Pop Boutique. The shop also stocks groovy vintage clothing.
(Gary M. Prior / For The Times)
The Summer of Love was 40 years ago. Pull together your best hippie outfit from those swinging times at the Pop Boutique, whose sign is as trendy as the vintage fashions inside.
(Gary M. Prior / For The Times)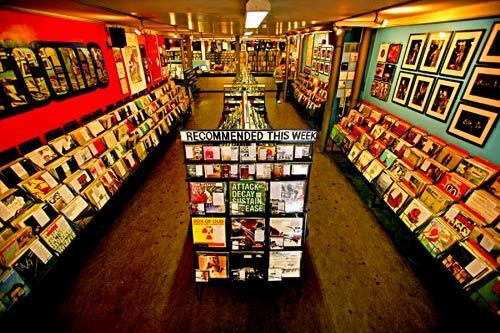 In the funky Northern Quarter, Piccadilly Records seems dedicated to nearly everything non-mainstream — freak folk, experimental electronic and more. The Northern Quarter's Oldham Street is lined with independent record stores, stocked for vinyl diggers, obscurantists and obsessives.
(Gary M. Prior / For The Times)