This man with bushy red hair and beard was a vendor at a market in Dire Dawa, a dusty, dreary town about an hour's drive from Harar in Ethiopia. He claimed, through an interpreter, that the hair color was natural.
(Dean Owen / LAT)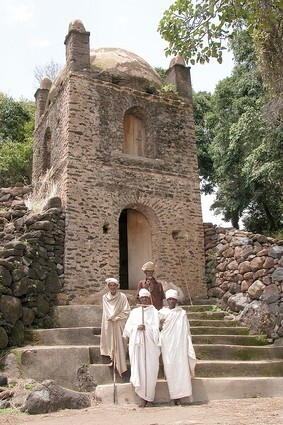 These four Ethiopian Orthodox priests serve the 18th Century Narge Selassie monastery on Dek Island in the middle of Lake Tana in northern Ethiopia. The backdrop is stone archway leading to the monastery.
(Dean Owen / LAT)
On a slow afternoon, street vendors share local news in Harar, the 1,000-year-old walled city in Ethiopia, the fourth most-holy city in the Muslim world.
(Dean Owen / LAT)
Two Ethiopian Orthodox priests confer near the carefully guarded chapel in Aksum where the original Ark of the Covenant, built to hold the Tablets of Law God gave to Moses, reportedly is enshrined.
(Dean Owen / LAT)