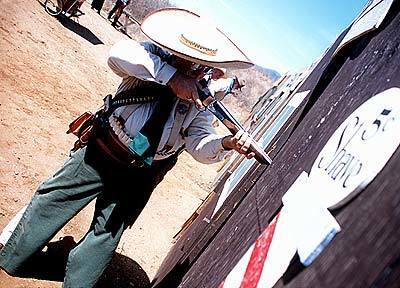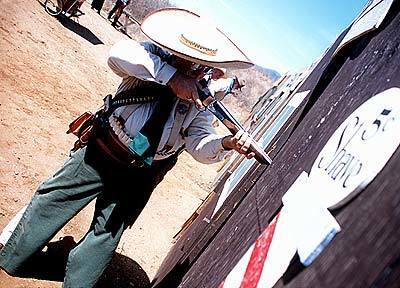 SASS member
Members of the Single Action Shooting Society, like this man on the Pala Reservation in northeastern San Diego County, gather to remember the Old West and fire on targets with rifles, shotguns and pistols.
(All photos by Chris Reynolds)
()
Custom holster
Many Single Action Shooting Society members are women, including Jessika Ming, 27, of Orange, whose custom holster is shown here.
()
Cisco and Ormand
Don Cisco and Donald Ormand, two veteran members of the Single Action Shooting Society, a 60,000-member for-profit organization based on Yorba Linda.
()
Rented shooting range
The cowboys and cowgirls of the North County Shootist Association rent their shooting range, at the foot of Tourmaline Mountain, from the Pala Reservation in San Diego County.
()
Being judged
Competitors in SASS shooting matches are judged on accuracy and speed — and vintage Western wear is mandatory.
()
.357 Colt
"Tex," a cofounder of SASS who is also known as Donald Ormand, displays a .357 Colt pistol.
()
Antique firearms
SASS members use both antique firearms — some worth thousands of dollars — and more affordable replicas, which are often made in Italy.
()
Debbie Gulledge
Molly McRuger, known off the range as Debbie Gulledge of Orange, says she tries to go shooting with her husband every weekend.
()