4 Images
Unexplored Europe
Spas in the Czech Republic
GOING NOWHERE, FAST:
Western-style spa exercise and procedures, such as spinning — here in front of the Marienbad colonnade — laser treatments and hot stone massage, are creeping into the Czech Republic.
(Susan Spano / LAT)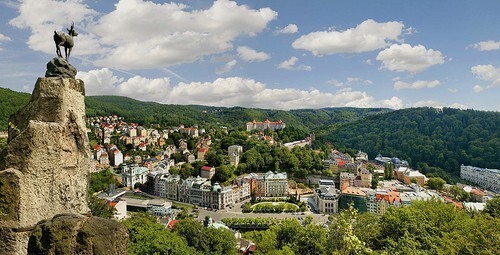 Mountain goat in Bohemia
FROM ON HIGH:
A statue of a mountain goat tops a peak in the hills of Bohemia surrounding the Czech Republic town of Karlsbad.
(Czech Tourism)
Karlovy Vary Spa in Karlsbad
SPAS IN BOHEMIA:
In the colorful town of Karlsbad with the Karlovy Vary Spa to the right.
(JiÌ Matula)
Czech Republic's Thermal Hotel
HEALTH SPRINGS ETERNAL:
The Karlsbad spa (at right in top photo), counts among its former patrons English King Edward VII, Mark Twain and composer Richard Wagner. Above, the pool at the Czech Republic's Thermal Hotel affords views of Karlsbad, also known as Karlovy Vary.
(Susan Spano / LAT)