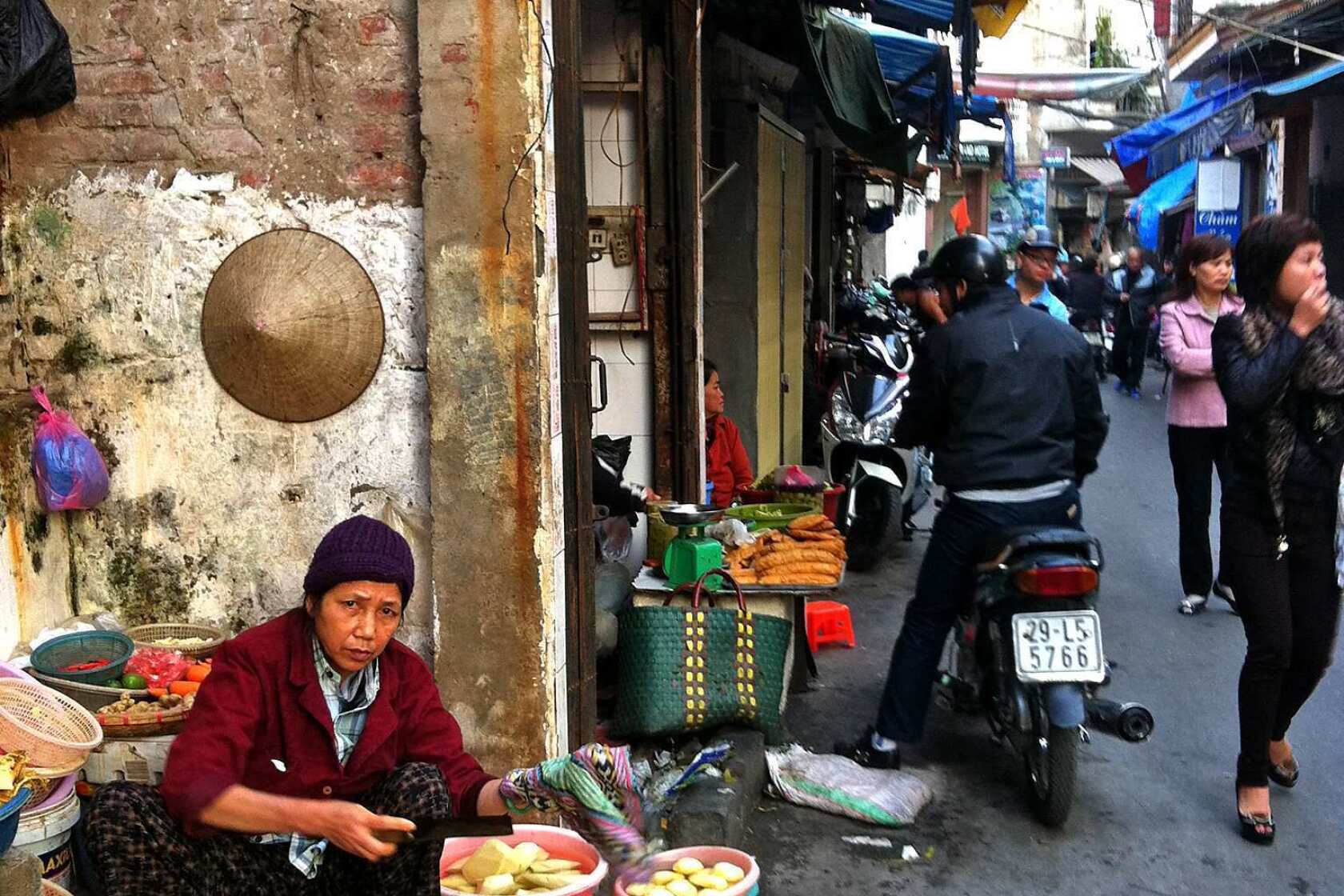 A vendor sells tofu along a narrow street leading to Dong Xuan Market in Hanoi, which is emerging as a foodie mecca. Soup is a way of life here, but finding the perfect bowl is a quest that will lead you throughout the city. Along the way, you'll find religion, history, art and the theater of everyday life.
(Jessica Gelt / Los Angeles Times)
The entrance to Hanoi's Dong Xuan Market is bustling with vendors selling fruit from woven baskets.
(Jessica Gelt / Los Angeles Times)
A piping hot bowl of
bun cha,
from a street stall in Hanoi's Old Quarter. The combination of grilled pork, sweet and savory broth with fish sauce, sliced green papaya, rice noodles and fresh herbs is the signature dish of Hanoi.
(Jessica Gelt / Los Angeles Times)
Women prepare a variety of soups, with a focus on
bun dau
(fried tofu soup), in an alley near the Hanoi Opera House. Broth is kept warm over coals in tin cans and diners squat on small plastic stools to consume their food.
(Jessica Gelt / Los Angeles Times)
Friends enjoy chicken soup made with noodles and served with liver chunks at a street stall in Hanoi's Old Quarter.
(Jessica Gelt / Los Angeles Times)
Motor scooters race through the hectic, narrow streets of Hanoi's Old Quarter. Scooters are the main mode of transport in Hanoi, and drivers stop for no one. Want to cross the street? Do as the locals do and step directly into the fray.
(Jessica Gelt / Los Angeles Times)
A bowl of
bun dau
is served at a street stall in Hanoi's Old Quarter. The light noodle soup with tomatoes, crunchy greens and tender little pillows of fried tofu makes for a satisfying lunch.
(Jessica Gelt / Los Angeles Times)
Halong Bay, a three-hour drive from Hanoi, is a UNESCO World Heritage Site and home to otherworldly caves and cruise ships that serve upscale noodles.
(Jessica Gelt / Los Angeles Times)
A junk cruise ship raises its eye-catching sails as it plies the emerald waters of Halong Bay, Vietnam. A kayak roped to the back of the ship can be rented to paddle to a little islet filled with monkeys.
(Jessica Gelt / Los Angeles Times)
Reporting from Hanoi —
In Hanoi, soup is a way of life — the connective tissue of Vietnamese culture. With noodles, herbs and sinew, it strings together twisting streets and varied lifestyles. Here the bones, crumpled napkins and squeezed limes that litter the ground beneath tiny plastic tables are symbols of a good meal and a life well lived.
I came here in early December largely because of Hanoi's growing reputation as a culinary capital. In 2010, the website Sherman's Travel (www.shermanstravel.com) ranked Hanoi, Vietnam's second-largest city after Ho Chi Minh City, as the No. 2 foodie destination in the world, behind Barcelona, Spain, and ahead of Rome and Tokyo.
Pho — rice noodles in savory broth with a variety of meat and herbs — is Vietnam's national dish, and bun cha — a combination of grilled pork, sweet and savory broth with fish sauce, sliced green papaya, rice noodles and fresh herbs — is the signature dish of Hanoi. Besides these belly-warming staples, you can satisfy your appetite with all manner of noodle soups for breakfast, lunch and dinner.
The abundance of options makes looking for the perfect bowl of noodles in Hanoi a tricky one. It's a quest that will lead you through the city's back alleys, grand French-influenced boulevards and tucked-away neighborhoods. In searching for sustenance, you'll find religion, history, art and the theater of everyday life as it plays out on the scooter-packed streets.
I decided to stick to the city's ubiquitous street stalls, and I vowed to eat whatever was set before me, no matter how mysterious. I did, however, sample some upscale noodles aboard an overnight junk cruise on stunning Halong Bay. The UNESCO world heritage site is a three-hour drive from the city and home to an otherworldly web of limestone islands, caves and emerald waters. And I dumped an entire bowl of soup in an alley when the old woman who served me wasn't looking because I thought I spotted an eyeball staring up at me from the broth.
A bowl of soup on the street in Hanoi usually sells for 15,000 to 25,000 Vietnamese dong — 72 cents to about $1.20 — so eating this way here is a steal. By contrast, a bowl of simple and comparatively bland pho ga (chicken pho) or pho bo (beef pho) at the elegant French colonial Hotel Metropole goes for about $12.50 and comes with a side of wealthy tourists chatting on their cellphones.
To help me gauge which street stalls were superior, I enlisted the help of Mai Thi Thu Trang, a young woman who manages the Arriba Mexican Restaurant & Grill, one of Hanoi's few (and maybe only) Mexican restaurants. Over puffy fried chips and tamarind-based salsa, Trang gave me a bit of advice that guided my quest.
"Places that are good are normally places that old people come to eat," Trang said. "Because they believe in the quality."
Early the next morning, she took me to a stall that she said served some of the best breakfast noodles in the city. It was deep in the Old Quarter, a collection of 36 tightly knit streets that retain the layout and much of the architecture of early 20th century Hanoi, with roots stretching as far back as the 11th century when the city was established by King Ly Thai To.
Historically, each street in the Old Quarter attracted and was named for a type of artisan or merchant, such as silk traders, jewelry makers or blacksmiths, and many of the streets retain these clusters, although commercialism and a thriving tourist trade now define much of the quaint area. Still, strolling the Old Quarter is one of the great joys of Hanoi.
I was particulary taken with the warren-like streets surrounding the Dong Xuan Market, where I ducked into stalls to gawk at buckets of writhing fish, chicken claws and exotic herbs and spices. I bought a puffed sesame baguette and munched on it as I roamed, ending in the cold quiet of the Bach Ma temple, said to be the oldest place of worship in Hanoi.
Trang led me through the chaos of these streets, turning off Hang Buom into tiny Ta Hien Street. There she pointed out a small shop (No. 2C) — about the size of a walk-in closet in Beverly Hills — where a wizened old woman in traditional dress and a conical straw hat sat eating on the high stoop (a good sign). She beckoned me to sit on a knee-high plastic blue stool at a similarly doll-sized table beneath a small framed picture of Ho Chi Minh. A younger woman sat on another stool above two steaming pots.
One pot was filled with broth into which she put noodles plucked from inside a glass case that held bowls of brown eggs, salt, chopped green onions, plates of pig's feet, sliced pork and raw meatballs. I didn't order; she just made a bowl of noodles, broth, a dash of salt, a sprinkling of herbs, pickled garlic, meatballs and slices of soft pork and handed it to me.
The dish, called bun doc mung, was a revelation: The broth was rich and fragrant, the meatballs light and redolent of spices. The soup sustained me well past lunch as I wandered south to Hoan Kiem Lake and stopped at Ngoc Son temple, which is on a little island. I sat for a while, staring at the murky water and hoping to catch a glimpse of a giant lake turtle — a sign of good luck.
With a renewed sense of Zen, I headed to the French Quarter, where the air suddenly felt cooler, thanks to the many trees that shaded the wide boulevards flanked by stately villas and mansions, legacies of an earlier era when Hanoi was the capital of French Indochina.
I splurged on a poolside Henry Graham Greene daiquiri and a one-hour $75 massage at the luxurious Hotel Metropole, which was built in 1901 and is among the most historic hotels in the country. As limp as one of the noodles I'd eaten earlier, I walked to the Hanoi Opera House, which is near the famous "Hanoi Hilton" (Hoa Lo prison) whereSen. John McCain (R-Ariz.) was imprisoned during the Vietnam War.
The gorgeous 900-seat French Colonial-style opera house was built in 1911 and has been lovingly restored after years of neglect. I ate my second-favorite bowl of soup at a stall marked No. 9 in a little alley called Ngo Trang Tien, across from the opera house. Called bun dau, it was a lovely, light noodle soup with a tomato-based broth, dry red chili paste, crunchy greens and tender little pillows of fried tofu that exploded with curd when I bit into them.
Full to bursting, I hopped a motorbike taxi for the 15-minute ride northeast to the Ho Chi Minh Museum, where a severe-looking building houses historic information about Vietnam's beloved leader. In the nearby mausoleum, if you arrive early and are willing to wait in a long line, you can lay your eyes on Ho Chi Minh's embalmed corpse.
As the sun set, I wandered back to the Old Quarter to catch a show at the Thang Long Water Puppet Theater, where skilled puppeteers in rubber boots perform their art in a small pool decorated like a lake. When I emerged I was hungry again, but this time I decided to take a chance. At the busy corner of Hang Bo and Hang Can, I happened on a bustling stall where teenagers snaked in a line down the street, waiting to eat fried chicken feet, dipped in salt and lime juice, and a noodle-based soup in a blood-black broth in which small pieces of chicken and liver floated.
The soup went well with a bottle of lukewarm 333 beer, but it didn't rival the bowl of breakfast noodles I'd eaten that morning on Ta Hien Street, where the wise old woman had beckoned to me with the promise of the glorious day to come.
---