Taking Holland for a spin
Amsterdam's maze of canals creates 90 small islands In the Netherlands' capital.
(Gail Fisher / LAT)
Souvenir clogs add even more color to Amsterdam's floating Flower Market, also known as the Bloemenmarkt.
(Gail Fisher / LAT)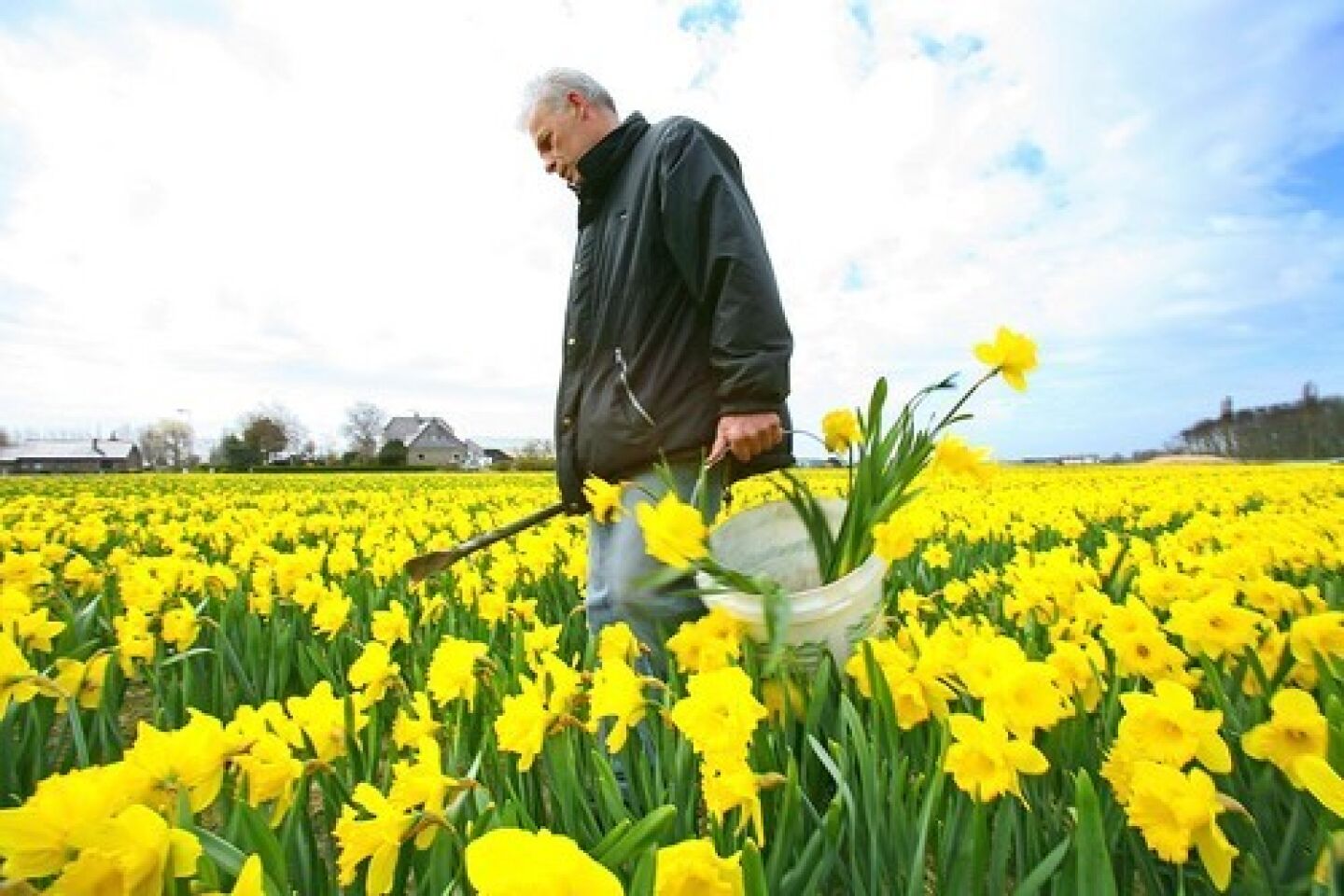 Hans Van Aanholt amid a field of daffodils near Lisse, southwest of Amsterdam.
(Gail Fisher / LAT)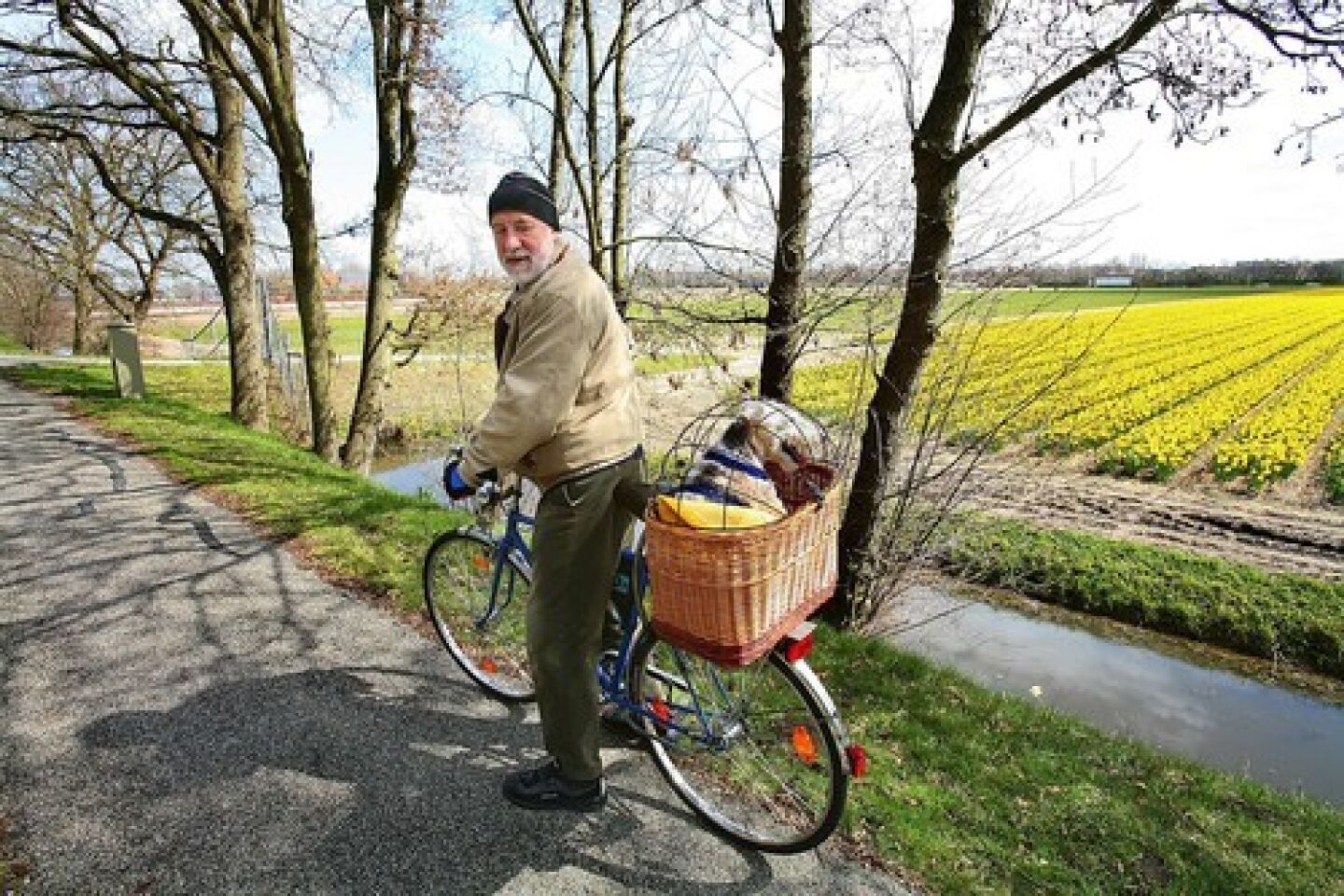 Country roads, like this one near Lisse, in Netherlands' bulb-growing region, are favored by cyclists when the tulips, hyacinths and daffodils are in bloom.
(Gail Fisher / LAT)
Amsterdam's network of integrated bike lanes, dedicated traffic lights and signs and routes link disparate parts of the city.
(Gail Fisher / LAT)
Trees are reflected in a canal outside Alkmaar, Netherlands, where flat terrain and beautiful scenery are particularly well-suited for cycling.
(Gail Fisher / LAT)
Ninety minutes by train from Amsterdam lies Enkhuizen, a quaint coastal town unafraid to air its clean laundry.
(Gail Fisher / LAT)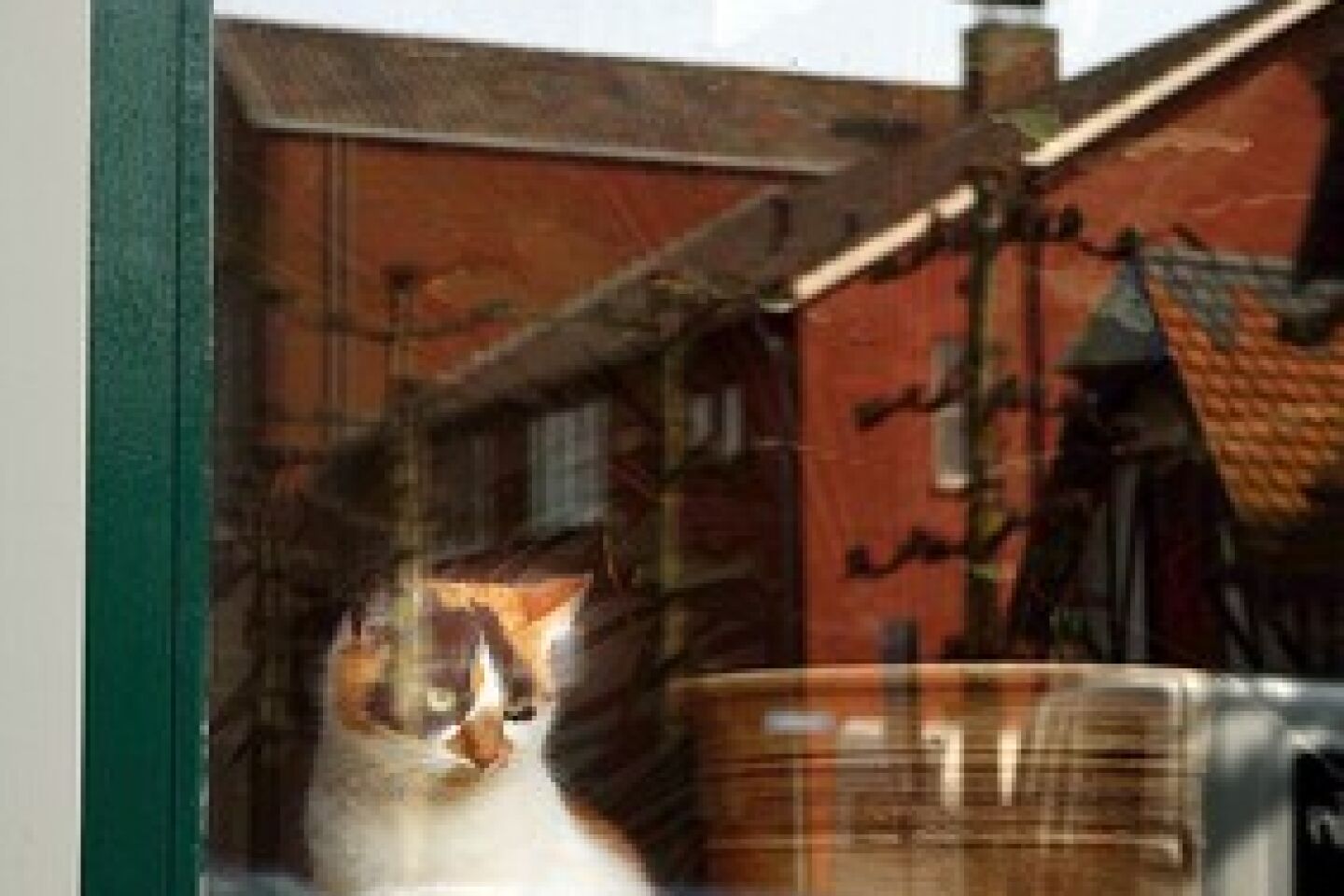 A cat monitors pedestrians from her home in Enkhuizen, Netherlands, once a notable herring port and now a favorite stop for visitors.
(Gail Fisher / LAT)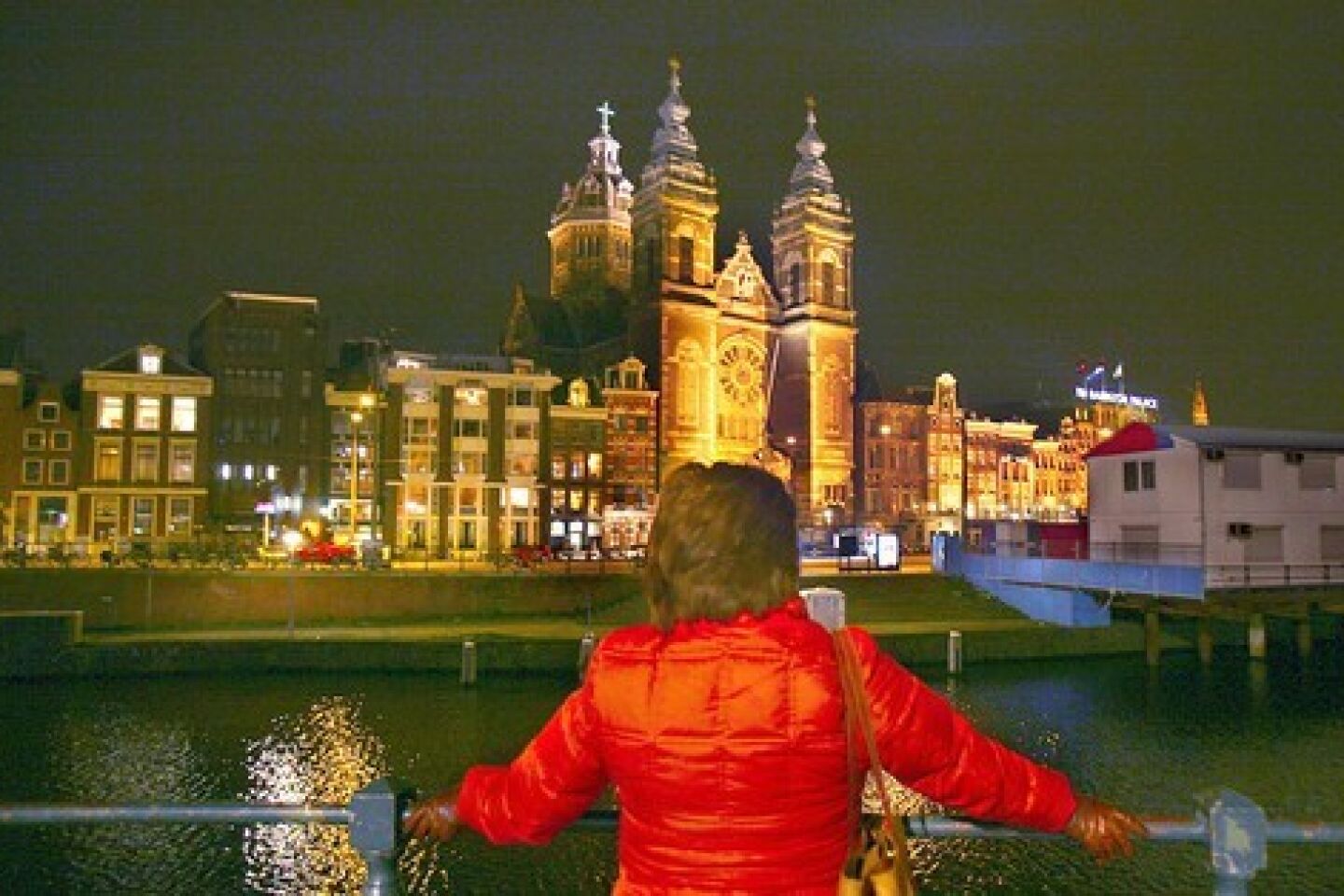 A woman takes in the view from Amsterdam's Central Station, where sailing ships once unloaded cargo.
(Gail Fisher / LAT)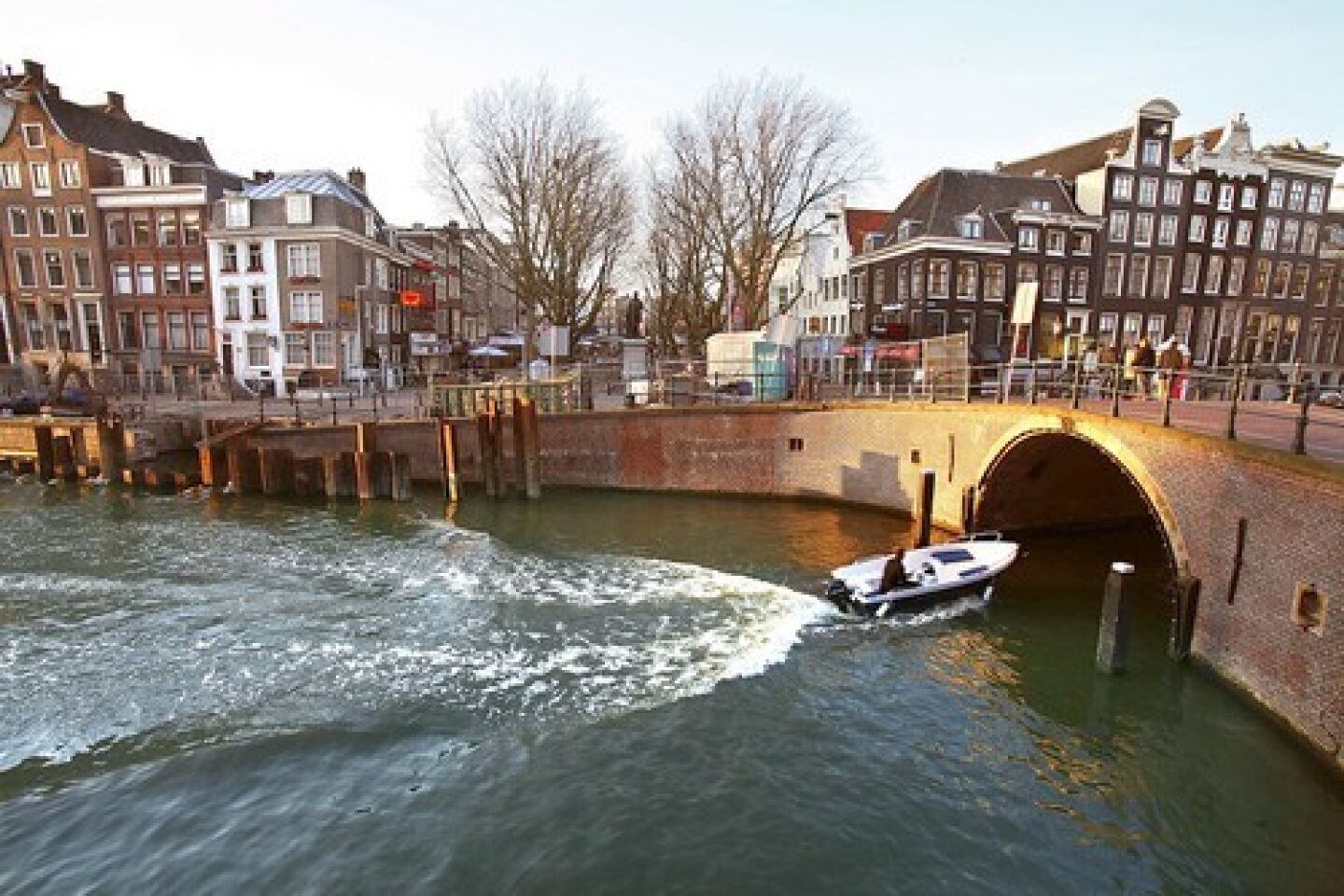 Amsterdam's15-mile network of canals offers alternative transportation for visiting the major museums.
(Gail Fisher / LAT)
Of the thousands of windmills that once dotted the Dutch countryside, only about 95 survive, many in working order. Because most of the Netherlands lies below sea level, the windmills main function was to drain lakes and marshes.
(Gail Fisher / LAT)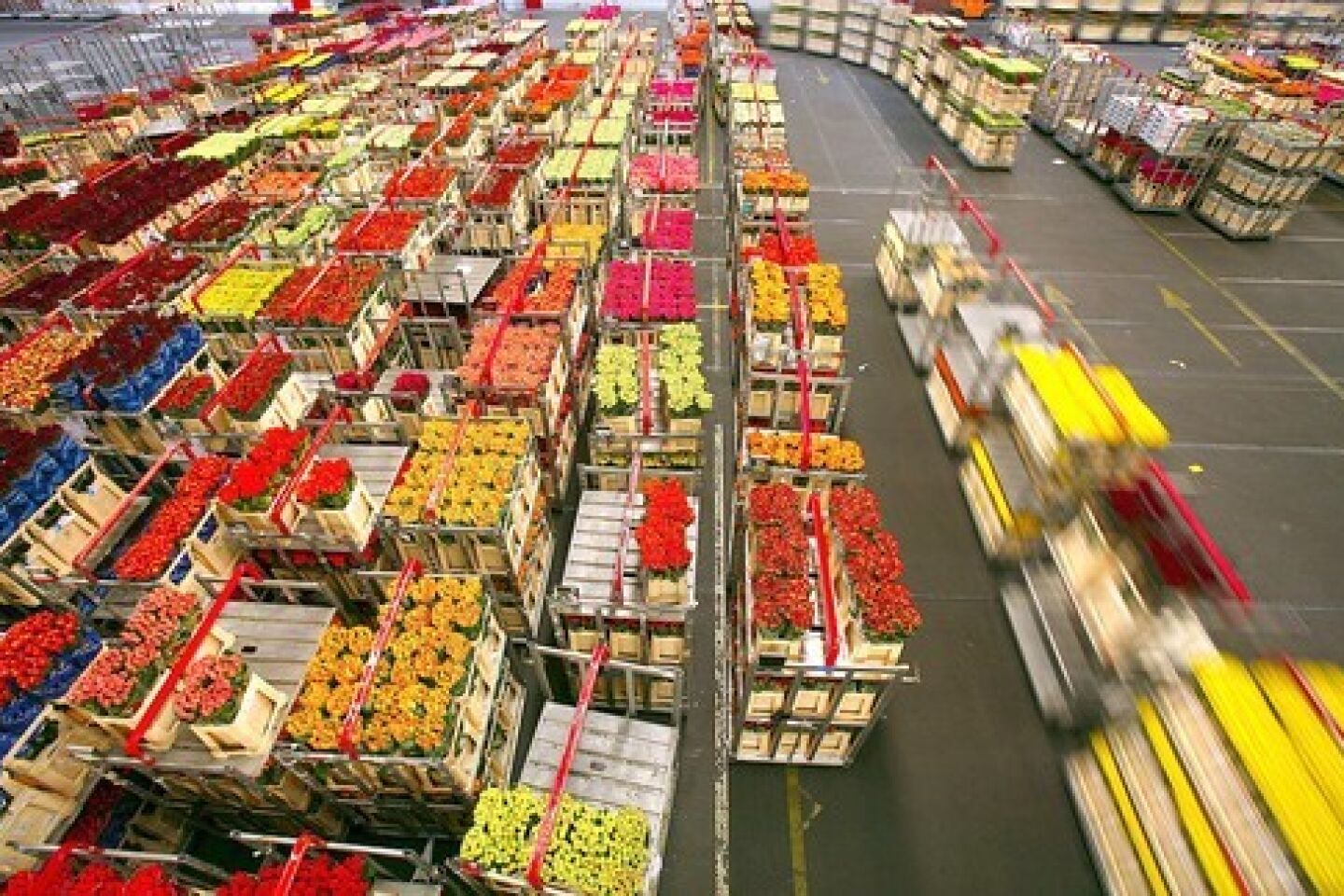 About 3.5 billion cut flowers and 400 million potted plants are sold each year at the world's largest flower auction in Bloemenveiling, Aalsmeer. Visitors can watch the frantic activity from a viewing gallery suspended above the floor.
(Gail Fisher / LAT)
Times Staff Writer
A bicycle bell tinkled and I looked up and saw a Dutchman in a knit cap coming toward me. As he pedaled by, a fuzzy white head popped up from his bike basket. It was a terrier, chin up, ears perked forward, head tilted curiously to one side. Easy-riding Rover, I thought. The dog was probably enjoying the moment as much as I was.
Its master and I were bicycling through the countryside about 25 miles southwest of Amsterdam, watching Holland's famous flower fields flash by. The terrain was flat, the air crisp and clear, the scenery a splash of dazzling yellow and green. Acres of bright daffodils stretched in every direction. I felt as though I had found bicycle nirvana.
---
FOR THE RECORD:
Netherlands: An article about the Netherlands on May 28 in Travel included a reference to Dom Square in Amsterdam. The name of the site is Dam Square. —

---
Perhaps I had. With 13 million bicycles, the Netherlands — or Holland, its regional name — has twice as many bikes as cars and nearly as many bicycles as people. An 11,000-mile system of bike paths, many of which are separate from highways, crisscrosses a nation so small and flat that it's easy to use bicycles to transport people, groceries, even terriers.
It's no wonder the Dutch, along with the Danes, are the undisputed champs of bicycle use. It seems as though everyone rides, including Queen Beatrix and Prime Minister Jan Peter Balkenende.
The country's level terrain and pastoral scenery make it an appealing destination for cycling tourists too, even lightweight riders like me. (My favorite bike trip is two to five hours, with a nice lunch stop somewhere in the middle.) I'm never going to compete in the Tour de France — or even take an organized bike tour — but l get a psychic high from mastering space without the assistance of a gas-powered motor. The rhythms are mesmerizing: the spinning of the wheels, the circular motion of my legs, the measured cadence of my breath.
My plan was to make Amsterdam my base, spending a couple of days exploring the city on foot and a couple of days exploring the countryside by bike. The cycling trips would be short ones. Because I bike about an hour daily at home, I didn't have to worry about training.
The trip was in mid-April, timed to coincide with tulip season, but the weather didn't cooperate. Chilly temperatures delayed the seasonal debut of Holland's famous flowers. I didn't mind. I could see idyllic scenery at my own speed, feeling the wind against my cheeks, smelling the piquant, freshly turned soil.
There was another piquant smell too. I sped up a bit to ride next to my guide, Yvonne Zumpolle, as we biked through cow-studded farmland near the village of Lisse.
"What is that wonderful odor?" I called out.
Yvonne laughed.
"We spray the air with it everyday because tourists like it," she said.
"No, really, what is it?" I pressed.
"Cows," she said. "I think we have as many cows as people here."
I laughed. There were a lot of cows. Handsome black-and-white ones. Just like a tourist poster.
As we rode, I saw other scenes from tourist posters: a windmill standing tall in a flower-filled field, the morning mist rising over a silent canal, picture-perfect farmhouses surrounded by acres of bright green pastureland. All seemed better from bike level.
Business is blooming
MY day had started in central Amsterdam, at the Ibis Amsterdam Centre, a tourist-class hotel with surprisingly nice rooms and surprisingly bad breakfasts. For $160 per night (including the bad breakfast) I wasn't going to complain, because most hotels in this category are $50 to $100 more per night. The hotel was a short block from the train station and the city's tram lines, an easy way to get around this radiant, maze-like city.
I hopped on a tram at 6:15 a.m., bound for the nearby town of Aalsmeer, where tens of millions of flowers and plants change hands each morning at auctions. With other tourists, I strolled along elevated walkways at Bloemenveiling Aalsmeer, a huge international growers' co-op, looking down on tons of field and hothouse flowers — roses, hyacinths, lilies, anthuriums and tulips that were being packed up and hustled off to flower shops around the world. It's a fusion of pinks, purples, oranges, yellows and greens.
Zumpolle, a longtime Holland guide, was waiting with a car when I emerged. I had hired her for two days to help me get the hang of cycling, Netherlander style. We took off for Keukenhof garden, which advertises itself as the "world's most beautiful springtime park." Striking flower-filled landscapes are found around each twist in the walkways. Open eight weeks a year (March 22 to May 20 in 2007), the park is a showcase for Holland's range of bulbs, 7 million of which are planted here each year.
Outside the garden, we found bicycle entrepreneur Kees van Dam, who had stopped his Rent-a-Bike van in the Keukenhof parking lot, seeking customers. He handed me some printed bicycle route maps to choose from: The circular trips were six to 16 miles long; rental prices starting at $8 for the six-mile trip. His stock included tandems, kids' bikes and sport bikes, but most were simple one-speeds.
When I planned this trip, I had wondered how easy it would be to get rental bikes. Zumpolle assured me that wouldn't be a problem: Rentals are available at train stations, hotels, bike shops and from entrepreneurs such as Van Dam. Rates are usually less than $12 a day.
We now cycled to and through the fields of yellow daffodils and purple hyacinths we had seen on our way in.
After our ride, we returned the bikes and headed west in Zumpolle's car (OK, so I cheated a little) to the beach town of Noordwijk Aan Zee, where a wide coastal bike path runs through dunes along the North Sea.
The temperature was in the 30s, with brisk winds and wispy white clouds in a blue sky. On this ride, sand, sea grasses and gulls took the place of farmland, flowers and robins. Occasionally, I would catch sight of the gray, choppy North Sea.
Most of the cyclists I saw were dressed casually, but occasionally a phalanx of sport riders, wearing matching Spandex, would power by me, heads down, legs moving in rhythm.
"Many people have several bikes," Zumpolle said. "They have nice sport bikes for weekends and old, stripped-down bikes they ride to work," she said, explaining that bicycle theft is common in cities. "But really, we are not a country for 18 speeds. Everything is flat."
I asked how many bikes she owned.
"Four; two are racing bikes with multiple speeds," she said, laughing.
"You know what they say: 'A Dutchman without a bike is like a fish without the sea.' "
It was the first of many Dutch proverbs I would hear during my visit. Other gems: "A herring a day keeps the doctor away; two herrings a day keep everyone away."
And "If all fools could fly, the sun would be eclipsed forever."
Why do the Dutch use so many proverbs? I asked.
"We grow up with them," she said. "It's part of our education and tradition."
The Old Master
BACK in Amsterdam, I drew up an itinerary for seeing the city on foot. With its trams, taxis and cars, the city seemed to have too many hazards for a biker, especially a cowardly one.
Topping my sightseeing list: the poignant Anne Frank House, where the teenager hid during World War II and wrote her famous diary; the city's lovely canals; and massive Dam Square, site of the Royal Palace.
Amsterdam's museums ranked high too, including the comprehensive Van Gogh Museum, the Rijksmuseum and the Rembrandt House Museum, all of which are taking part in Rembrandt 400, a yearlong celebration.
Dutchman Rembrandt van Rijn, born in 1606, was one of the world's greatest painters, and Amsterdam is celebrating his life in grand style throughout this year with special museum exhibits and events. The museum lines weren't as long as I expected, and the shows excellent.
At the Rembrandt House, I prowled through the artist's studio, salon and other rooms and found it particularly interesting that he bought the expensive home in 1639, about the same time he received a large commission to paint "Night Watch," probably his greatest work. The massive painting, depicting a group of militiamen preparing to march, takes up a full wall at the Rijksmuseum.
Amsterdam was once the European capital of culture and commerce. During its Golden Age in the 17th century, it was among the richest cities in Europe; wealthy merchants built magnificent mansions along the maze of canals that intersect it, slicing it into 90 small islands.
Tourists visit it today for its cultural treasures, its excellent cafes and its charming canals — and sometimes to taste the forbidden fruits of its red-light district or the coffee shops authorized to sell cannabis.
Bikes are everywhere in the city; thousands are stowed near the Central Train Station, and every post and pole in the city seems to have one bike or several chained tightly to it.
"Amsterdam was made for horses and boats originally," said Els Wamsteeker of the city's tourism bureau. "And now it is for bicycles. We don't like cars."
In living color
I still hoped to see tulips, and Zumpolle had heard that some fields north of Amsterdam were blooming, so we headed in that direction in her car. Our route took us through quaint 17th century ports and fishing villages on Lake IJsselmeer.
One of our first stops was at Enkhuizen, an inviting town on the West Frisian peninsula that still has a flotilla of colorful wooden windjammers. Although we were driving, we could easily have gone by train; its rail station is a terminus on the line to Amsterdam.
From there, we went south to Hoorn, which has a scenic old town and central square, and then to Edam, known for its savory circular cheeses, where we abandoned the car for rented bicycles.
Edam became my favorite stop in Holland. It's a storybook town of cobblestone streets, tidy little shops and rustic canals and bridges.
We rode through the village and countryside, then topped a dike along Lake IJsselmeer's edge. It was overcast and cold, and I could see sailboats straining again the wind on the lake and feel my face turning bright red in the chill.
"Imagine the sun is shining and the sky is blue," Zumpolle said, stopping for a moment to talk.
I could feel a proverb coming on.
"See how the water in the lake is higher than the land on the other side of the dike?" she said, pointing. "Holland is a very low country. Almost half is below sea level; the Dutch had to reclaim it.
"That is why we say, 'God made the world, but the Dutch created Holland,' " she said. We rode about a mile farther, visiting the intensely busy tourist town of Volendam, where giant buses squeeze through tiny lanes and street-side tourist shops hawk T-shirts and wooden shoes. It felt like Disneyland on a holiday weekend.
We pedaled back to slow-paced Edam, where we sipped hot chocolate in the restaurant of L'Auberge Damhotel Edam. The charming hotel, renovated by new owners, had opened only three weeks earlier. It was the best bargain I found in the Netherlands; doubles start at $140 a night.
The day's bike ride had been bracing and fun. As I cupped the steaming mug of chocolate, I thought about my trip. I hadn't pedaled past any tulips, but I'd cycled through fishing villages, along a rugged coastline and through fields of daffodils. I'd found big variety in this small country. And I'd found bicycle nirvana.
*
Begin text of infobox
Going Dutch
GETTING THERE:
From LAX, KLM offers nonstop service, United has direct service (stop, no change of plane) and Continental, Northwest, Lufthansa, Delta, United, British and Air France offer connecting service (change of planes). Restricted round-trip fares begin at $880.
TELEPHONES:
To call
the numbers below from the U.S., dial 011 (the international dialing code), 31 (country code for the Netherlands) and the local number.
WHERE TO STAY:
Ibis Amsterdam Centre, 48 Stationsplein, 1012 AB, Amsterdam; 20-638-99-99, https://www.ibishotel.com . This centrally located high-rise has small but efficient rooms, most with harbor or city views. Good value, but the hot breakfast entrees are cold. Doubles from $160 per night, including breakfast.
L'Auberge Damhotel Edam, 1 Keizersgracht, 1135 AZ Edam; 299-37-40-31, https://www.damhotel.nl . Charming historic building in Edam was renovated and opened as a hotel in March. Restaurant and cafe. Doubles from $140, including breakfast.
Hotels van Oranje, 20 Koningin Wilhelmina Blvd., 312202 GV Noordwijk aan Zee; 71-367-68-69, https://www.hotelsvanoranje.nl . Luxury convention-style hotel in popular North Sea beach town. Close to dunes bike path. Doubles from $230, including breakfast.
WHERE TO EAT:
Humphreys Restaurant, 23 Nieuwezijdskolk, 1012 SB Amsterdam; 20-422-12-34, https://www.Humphreys.nl . Popular Netherlands chain. Three-course nightly specials, including salad or appetizer, entree and dessert, $24.
Moti Mahal Indian Restaurant, 34 N.Z. Voorburgwal, 1012 SB Amsterdam; 20-625-03-30. Colorful, centrally located restaurant has a large menu featuring Indian favorites. Entrees from $17.
Sea Palace, 8 Oosterdokskade, 1011 AE Amsterdam, 20-626-47-77, https://www.seapalace.nl . Pagoda-style, floating Chinese restaurant. Great city view from the water. Entrees from $21; set menu from $35.
DETAILS:
Bloemenveiling Aalsmeer, 313 Legmeerdijk, 1430 BA Aalsmeer; 297-39-39-39, https://www.aalsmeer.com . The world's largest flower auction center. 7-11 a.m. Mondays-Fridays. Adults $5.75, children 6-11, $3.20.
Rembrandt 400. For a listing of special events in Amsterdam and Leiden, Rembrandt's birthplace, this year, see https://www.rembrandt400.com .
Yvonne Zumpolle, tour guide-manager, 17 Herman Colleniusstraat, 9718 KR Groningen, Netherlands, 50-31-13-177, e-mail zumpolle@home.nl.
TO LEARN MORE:
Netherlands Board of Tourism and Conventions, (888) 464-6552, https://www.holland.com .
— Rosemary McClure
*
Easy riding in the Netherlands
Several companies offer bike-and-barge tours, which spend a week traveling along the country's canals, stopping for daily rides. Other tour groups offer organized weeklong rides. Or cyclers can use Amsterdam as a base. Here's a sampling of easy trips. (Detailed info on the routes is available from MacBike; see below.)
Trips
Waterland bicycle tour:
By taking a ferry behind Central Station, hardy cyclers can see the countryside and bike as far as Marken (about 28 miles round trip).
Amstel-windmill tour: Cycle along the scenic Amstel River, seeing thatched-roof Dutch houses, windmills, dikes and houseboats. Begin at the Waterlooplein, cycling seven to 15 miles round trip.
Hans Brinker tour: This tour, named after the fictional boy who plugged a leak by putting his finger into a dike, rambles through green countryside, heading to Spaarndam. Begin at Central Station, cycling 22 miles round trip.
Resources
MacBike:
T12 Stationsplein, 20-624-83-91,
https://www.macbike.nl
. This large bike rental and repair company has four locations in Amsterdam, including one in front of Central Station. Open 9 a.m.-5:45 p.m. daily.
Yellow Bike: 29 Nieuwezijds Kolk, 1012 PV Amsterdam, 20-620-69-40, https://www.yellowbike.nl . Bike rentals or organized city or countryside bike tours offered March-November. Open 8:30 a.m.-5:30 p.m. daily.
— Rosemary McClure
Get our L.A. Goes Out newsletter, with the week's best events, to help you explore and experience our city.
You may occasionally receive promotional content from the Los Angeles Times.