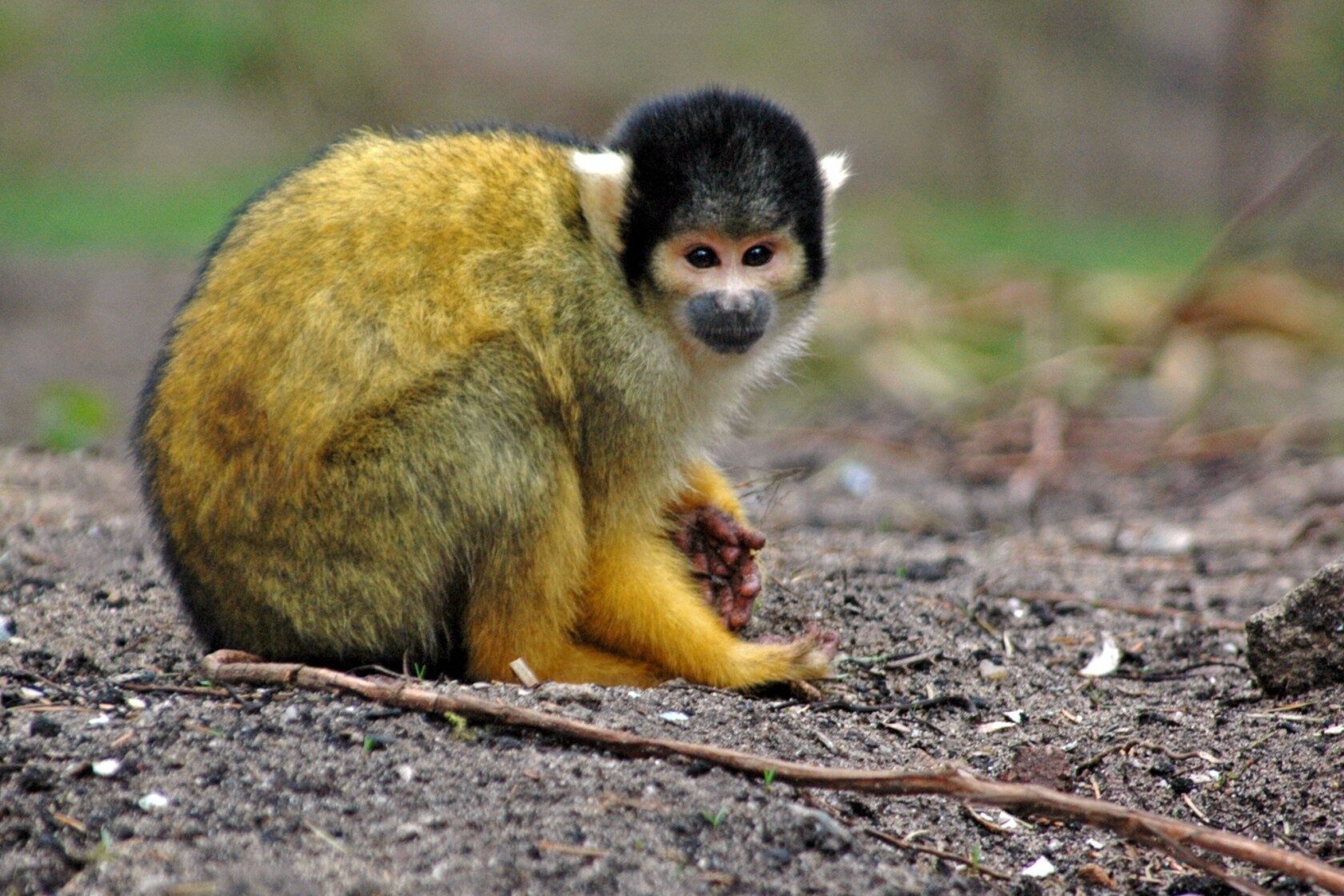 Various primates, including this squirrel monkey, are allowed to freely roam the Apenheul primate park in Apeldoorn, Netherlands.
(Cara Mia DiMassa)
Cara Mia DiMassa's older daughter makes a connection with a baby gorilla at the "Gorillas innen," a special gorilla house.
(Cara Mia DiMassa)
Ring-tailed lemurs are among the more than 200 primates that roam freely among visitors at Apenheul park.
(Cara Mia DiMassa)
Some primates are friendly enough to jump on a sleeve or shoulder, under the watchful eye of the Apenheul staff. Here, Cara Mia DiMassa's husband and two daughters admire a squirrel monkey up close.
(Cara Mia DiMassa)
Visitors get an up-close look at a ring-tailed lemur. About a half-million people visit the park each year.
(Cara Mia DiMassa)
The entrance to the Apenheul primate park in Apeldoorn, Netherlands. When it opened in 1971, the Apenheul was the first zoo in the world where monkeys and other primates could roam freely and live in an open, forest setting.
(Cara Mia DiMassa)
APELDOORN, NETHERLANDS — Dozens of black-and-yellow squirrel monkeys scampered around us, some running above on high ropes, others swooping in close to us as we walked.
This was one of the many delights of the Apenheul, a primate park in rural Netherlands where monkeys, apes and lemurs are allowed to run free.
The squirrel monkeys hopped easily onto the arms and shoulders of park visitors, who snapped pictures of the spectacle with cameras and phones. Our daughters, ages 4 and 8, squealed. Green-clad docents schooled them in proper primate behavior. (Keep your fists closed, for example, so the monkeys don't think you are about to feed them.)
Our daughters moved in closer, carefully approaching one group of monkeys that had gathered on a low wall. Annika, our older one, stuck out a bent arm toward one of them. She cooed and coaxed. After a few tries, the squirrel monkey tentatively climbed onto her arm, then stayed there contentedly. Annika beamed.
Planning a family visit to the Netherlands often centers on Amsterdam and will, most definitely, include challenges and counter-programming. Yes, there are spectacular museums, canal houses and the ghost of Anne Frank, but a visit with young children in tow requires vigilance in certain districts and coffee shops.
But travel 60 miles southeast of Amsterdam and you will be rewarded with family-friendly destinations. On a recent trip to the Netherlands, my husband, daughters and I found elaborate climbing structures and playgrounds awaiting us at many tourist destinations, including the phenomenal Burgers' Zoo outside of Arnhem and De Hoge Veluwe, the more-than-13,000-acre national park where a stable of bicycles provides the only form of transportation. "Pancake houses," where menus include a variety of scrumptious pannekoeken from savory to sweet, were ubiquitous in most cities and towns.
Our greatest pleasure came from our visit to the Apenheul, the product of one man's hobby-turned-folly that has become a major tourist draw for the city of Apeldoorn, which sits at the center of the Netherlands.
My husband's great-aunt, who has lived in the area for decades, had been anticipating our visit, and when we arrived at her apartment she took a handful of newspaper clippings from a cabinet, her printed argument that a trip to her city would be incomplete without a visit to the Apenheul.
We took her advice and were rewarded with memories and photographs for a lifetime.
Wim Mager, a Dutch photographer from Rotterdam, bought his first primates — two pygmy monkeys — from a pet store in the 1960s. After the monkeys had a baby and Mager started taking in stray primates, his collection blossomed.
In the late 1960s he began looking for space to house them and in 1971 founded the Apenheul on a half-acre of property in the middle of the Apeldoorn park known as Berg en Bos, or Mountain and Forest.
At first the Apenheul focused on South American primates, but as visitors began to stream in, the park expanded its list to include monkeys, apes and prosimians — primates such as lemurs and bush babies.
Apenheul can be translated as "ape consolation." The park's name stems from the fact that the apes give comfort to the humans who visit them — and vice versa.
Mager envisioned a big, green, natural property where people could encounter primates free of the bars and cages that were typical of most animal enclosures. Such a property, he believed, would allow the animals to enjoy themselves more. And when animals are having more fun, he suggested, visitors can have more fun, too.
The concept was simple but compelling. The park began to expand, growing its space and its list of primates. Today the park, open from late March through late October, hosts about a half-million visitors a year. Placards, maps and other materials were available in Dutch, English and German when we visited. Although we tried to use our limited Dutch at the Apenheul, we found English speakers everywhere, eager to help us as we fumbled along.
Guidance from the green-jacketed park docents started as soon as we stepped through the Apenheul's gates. We were encouraged to place all of our belongings in "monkey-proof" sacks, brightly colored messenger bags designed to keep curious primates out of our pockets and backpacks.
As we walked through the park, we felt as though we were circling the globe on a special kind of safari, spotting animals of all colors and sizes, many with behavior that seemed altogether familiar.
In the bonobo house, an indoor playground of rope, logs and baskets, a 2-year-old bonobo played what looked like a tickle game with two adults.
When a furry reddish creature crossed our path, we thought it looked like a combination of a raccoon and a possum — two animals that make frequent visits to our hillside neighborhood. A lemur, a nearby sign explained.
At the sight of a proboscis monkey — with its Muppet-like features and an unmistakable bulbous nose — our younger daughter, Giuliana, laughed out loud. "These are really ridiculous," she said.
Throughout the park the Apenheul tries to underscore the similarities between humans and primates. Beyond the usual information about evolution, with skulls and skeletons making the physical argument for the relationships between our species, a series of playgrounds challenged young visitors to climb, crawl, walk and move like their primate cousins. A climbing wall near the Berber monkeys and a swinging rope near the orangutan exhibit were especially popular with our daughters.
So, too, were the presence of many baby primates. On our visit, during our daughters' spring break vacations, the springtime effect was in full force. At the orangutan exhibit, a baby clung to its mother's fur as she climbed in and out between the indoor and outdoor play areas.
At the pygmy marmoset space, a baby no bigger than my pinkie finger perched on a grown marmoset's shoulder. The baby had been born less than two weeks before our visit, and as it huddled with three other marmosets under a heat lamp, I could only think of my own little family of four.
Five baby gorillas, four female and one male, had been born at the Apenheul in the previous year, a record for a zoo its size. And though the park's gorillas spend much of the year on a small "island" at a distance from the other primates and visitors, they were still inside "Gorillas innen," a special gorilla house where we could see the babies and their mothers up close.
We were instantly charmed. Save for their size and strength, the baby gorillas seemed to act like typical toddlers, banging their fists for food, enjoying games of tag and cuddling up to their mothers for hugs.
One baby gorilla in particular caught our older daughter's eye. She patiently waited for other guests to clear the area and then put her hand up against the plexiglass in a sign of greeting.
She, and we, were floored by what came next: The young gorilla peered at our daughter for a moment and then placed its hand against the glass on the opposite side, mimicking our daughter's greeting.
Our daughter turned to us, tears in her eyes, visibly moved. "I'll never forget this," she said.
Nor would we.
---