Xian, China, beyond its ancient terra-cotta warriors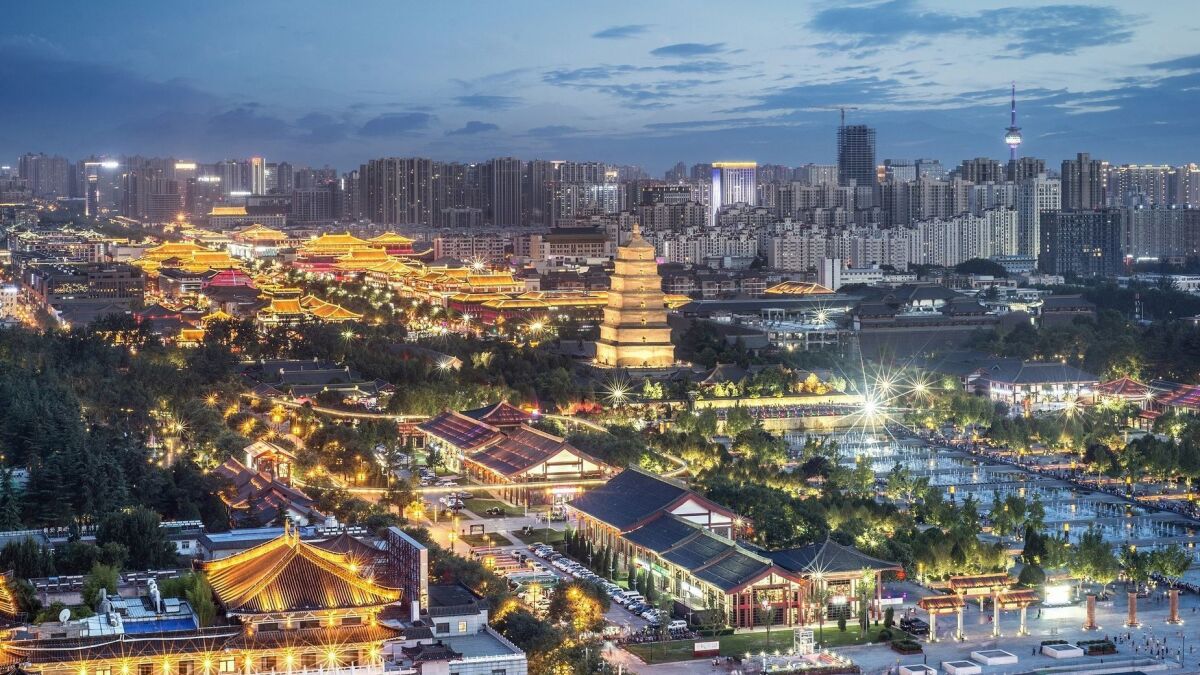 Reporting from Xian, China —
On a rainy morning, pedestrians and cars darted in and out as a bus began climbing a switchbacking road into a steep, narrow canyon that would take us to the base of Mt. Hua, or Hua Shan, as it is known here.
The no-nonsense driver didn't hesitate to lean on the horn at the slightest provocation, his lack of patience suggesting he might not be the person you want at the wheel on a mountain road the wet asphalt abruptly slips into a ravine.
As we ascended into the clouds, it appeared that Mother Nature might be just as cranky as the driver. I checked the trail map I had just picked up at a gift shop, looking for the Plank Walk, my hoped-for destination and the reason for my return here.
By the time we reached a cable car station for the ride to the top, the rocky walls surrounding the building were displaying a dusting of snow, Hua Shan's first of the season.
Silly Southern Californian that I am, I was not dressed for this. Was my trip to Xian, to tackle what is sometimes called the most dangerous hike in the world, a pointless exercise?
Warriors — and beyond
On my first trip to Xian (shee-ahn) in 2002, I came to see what everyone comes here to see: the terra-cotta warriors, an army of life-size clay figures standing guard at the tomb of the first emperor of the Qin Dynasty.
But like many group tours to China, the overall itinerary was perfunctory — a checklist of must-sees that frequently left me wanting for context and unheralded discoveries. I left wondering whether there was more to see.
"Compared with Beijing and Shanghai, Xian has a very long history," said Li Lei, a Beijing-based news reporter at Global Times and a friend. Li was raised in Xian, and she returns often to visit family. "It is said that China's roots are also in Xian. Chinese culture and cultivation started there, and Xian preserves lots of its historic sites very well."
In November, I took advantage of rock-bottom airfares to China, with a goal to see more of Xian — and to try that Plank Walk.
The weather was mild when I arrived, ideal for surveying Xian from the beautifully restored City Wall, a 40-foot-tall edifice that boxes the central city into a rectangle.
I rented a serviceable bike for a few dollars and spent more than an hour circumnavigating the nearly flat nine-mile loop, eye-to-eye with rooftops on one side and modern towers on the other.
The dynastic history of Xian started a few miles northwest of the City Wall, I learned from my Lonely Planet guidebook. Here, 23 centuries ago, Emperor Qin Shi Huang was the first to unify what would become modern China. Xian was the country's ruling capital until the 10th century.
During that time, the Big Wild Goose Pagoda was built a couple miles outside the wall, an elegant seven-story monument that leans perceptibly away from Xian's fashionable new sections. The pagoda, which dates to 652, was the tallest building in central China for more than 12 centuries. Today, monks manage the serene site.
A baseball trip through Japan is just what a jaded MLB fan needed »
From the top of the pagoda, Xian's sprawl reveals itself. My view of this urban area of 8.6 million was muted — smog in Xian can be breathtaking at times — but it was still worth the hike.
I spent the late afternoon riding Xian's sleek, modern subway to other sites worth a gander: the Bell Tower and the Drum Tower (built about 1380 during the Ming Dynasty), adjacent monuments of the same time period at the center of the old city. Originally, the bell would sound at the start of each day, and the drum was pounded at the end. The bronze bell is long gone, but the still-impressive Bell Tower rises at the center of a traffic circle amid a snarl of vehicles. (A subway stop directly below makes it easy to access.)
A block away, the Drum Tower is a kind of gateway to the Muslim Quarter.
Xian was the first city in China where Islam took hold about 1,400 years ago, funneled here by way of the Silk Road along with other cultures and religions. Half a dozen mosques serve a community of 50,000 Muslims; among these is the beautiful Great Mosque, the oldest in China.
It was here that Xian's Silk Road influences started to jell for me.
This marketplace is lined with restaurants and vendors selling a mouthwatering array of snacks — skewers of lamb cooked over coals; chewy persimmon doughnuts; crunchy Arabic bread with a generous helping of sesame seeds; and roujiamo, braised beef brisket stuffed into a sandwich and lathered with chile paste.
The Muslim Quarter is undeniably touristy, with the visitors mostly from China, absorbing a culture that may well be as unknown to them as it was to me. The smells, the energy and the friendly vibe were reason enough for a return visit. The price, less than $10 for a robust and varied meal, was right.
Emperor's guards
The Museum of the Terracotta Army, 25 miles east of the city, was also worth a return visit. The figures are part of the mausoleum of Emperor Qin, China's first ruler, who ascended the throne at age 13 in 246 B.C.
A series of pits contain as many as 8,000 of the clay figures — the first was unearthed in 1974 — and no two are alike. The main pits are still only partly excavated and extend beneath a giant, Quonset hut-like structure that appeared to be bigger than a football field. Archaeological work continues, but only at night to minimize dust for visitors.
It is said that Emperor Qin wanted the warriors to guard him in the afterlife, but they mostly have served as ambassadors for China, touring the world's museums and helping put a face on the country. Swarms of visitors are not uncommon. (Tip: Visit in the late afternoon after the hordes have left.)
Phu Quoc is now a global destination. Is that a good thing? »
"There are two things first-time visitors to China need to experience," my friend Li told me. "One is history. The other is the modern side of China. Xian offers both."
Xian fits well into President Xi Jinping's economic plans for China.
A massive Belt and Road initiative underway is designed to connect China with other parts of Asia, Europe and Africa, that will create infrastructure for a trade network linking two-thirds of the world's population. Xian, in the center of the country, is a natural hub; most of China's biggest cities sit to the east.
That evening, I explored Qujiang New District, an upscale development just southeast of the central city. Here, a royal garden dating to the Tang Dynasty (618-907) is surrounded by swank modern architecture. The development would not be out of place in the U.S.
There was a gorgeous Starbucks complete with a soaring ceiling and acres of wood finishing. At the Xian Brewery, I sipped a citrus IPA and found it a refreshing change from the usual watery, low-alcohol beers served in China.
I wandered into the W Hotel, which opened in August. Unlike other hipster W hotels, which are not my scene, this one was seductive and subdued, and it oozed cool, starting with a voluptuous light installation that hovered over the lobby atrium like a giant pulsing spaceship.
The Plank Walk
Hua Shan, about 75 miles east of Xian, is revered as one of the five great mountains of China. I learned about the Plank Walk on my previous visit, during which I'd ridden a cable car to a crest near the summits, plural because Hua Shan is five distinct granite peaks surrounding a vast dome structure, much of which was visible on that trip.
An extensive network of trails laced the peaks, some cut directly into the stone at angles that would give a Yosemite ranger pause. Men and women of all ages clambered along the cliffs, clinging to heavy metal chains that lined the riskier sections.
The Plank Walk was a side trip near the South Peak. Photos showed a board walkway attached to a dead-vertical cliff face. Hikers would wear a harness and clip onto a cable strung along the route.
I didn't have time on my previous trip.
On this visit, the long West Peak cable car route rose into morning clouds, down into a valley and back up, eventually arriving at a station cloaked in snow and ice. Lacking gloves, hat or scarf, I made my way into a frozen wonderland.
Ice covered most of the paths cut into the granite, leaving them slippery. They were bordered — sometimes on both sides of a knife-edge ridge — by cliffs dropping hundreds of feet into a milky beyond.
Somehow, Chinese in flat-bottomed shoes could navigate these treacherous tracks. I gripped the frozen chains, thinking frostbite or a plunge into the depths was just ahead.
Why Asia? Why now? Here's why, from a writer who now calls it home »
I covered a good bit of Hua Shan's trails this time, ascending three of the five peaks. But when I arrived at the Plank Walk, it was closed for the day.
Still, the long day here — covering miles of wintry tracks — was rewarding, replete with smiling faces of people happy to be exploring China's magnificent scenery on a more micro level.
And the Plank Walk? It just might be reason enough to return again.
If you go
THE BEST WAY TO XIAN, CHINA
From LAX, Hainan offers nonstop service and Air China, American, China Southern, China Eastern, Delta and United offer connecting service (change of planes) to Xian. Restricted round-trip fares begin at $935, including all taxes and fees.
Xian's airport is 25 miles northwest of the city center. If you have not prearranged a transfer with your hotel, taxis are usually the easiest route into the city. Allow at least 45 minutes, and be sure to have a copy of the address of your destination in Chinese characters (few taxi drivers speak or read English). The fare is about $20, slightly more at night. Airport buses to the city center depart every 20 minutes until the last flight of the evening lands; the fare is $4.
A subway line linking the airport with downtown Xian is expected to open later this year.
ENTRY REQUIREMENTS
A visa is required for U.S. citizens visiting China. You can obtain one through a visa service or by applying in person at the Consulate-General of the People's Republic of China, Third Floor, 500 Shatto Place, Los Angeles. It costs $140, whether for a single entry or a multiple-entry visa valid for 10 years.
If you will be staying three nights or fewer and you will be traveling to a third country, you may be eligible for a free 72-hour transit visa, allowing you to visit Xian (only) without a standard tourist visa.
TELEPHONES
To call the numbers below from the U.S., dial 011 (the international dialing code), 86 (the country code for China) and the local number.
WHERE TO STAY
Lodging (prices below are starting rates for April, which is pretty much the start of high season)
Sheraton Xian North City Hotel, 32 Wei Yang Road, Xian; 29-8886-6888. Just north of the City Wall; convenient to the North Railway Station and Xian Metro's Line 2. Doubles from $84.
Tang Dynasty Art Garden Hotel, 6-1 East Furong Road, Xian; 29-8556-3333. Great location next to the Big Wild Goose Pagoda, with one-story bungalows facing gardens. Doubles from $114.
Wyndham Grand Xian South, No. 208 Cien East Road, Qujiang New Area, Xian; 29-6821-9999. Upscale hotel in modern area of Xian, just south of the City Wall; lots of shopping and restaurants within walking distance, along with the Big Wild Goose Pagoda. Doubles from $118.
W Xian, 333 Qujiang Chi East Road, Qujiang New District, Xian; 29-8966-9999. Design-forward hotel in chic new residential-business district overlooking a lake, southeast of the city center. Doubles from $165.
WHERE TO EAT
De Fa Chang, 28 Pingan Market, Bell Tower Square, Xian; 29-8767-6615. Xian is famed for dumplings, and 80-year-old De Fa Chang offers some of the best, with more than 200 varieties in an array of shapes and forms. Near the Bell and Drum Tower Square. Multicourse dumpling meal about $19.
JiaSan, 93 Bei Yuan Men, Xian; 29-8725-7507. Large, popular venue in the Muslim Quarter, specializing in spicy lamb soup dumplings, made to order. Main dishes from $7.
TO LEARN MORE
---
Get inspired to get away.
Explore California, the West and beyond with the weekly Escapes newsletter.
You may occasionally receive promotional content from the Los Angeles Times.