Weaver D's finds its fame with soul food that rocks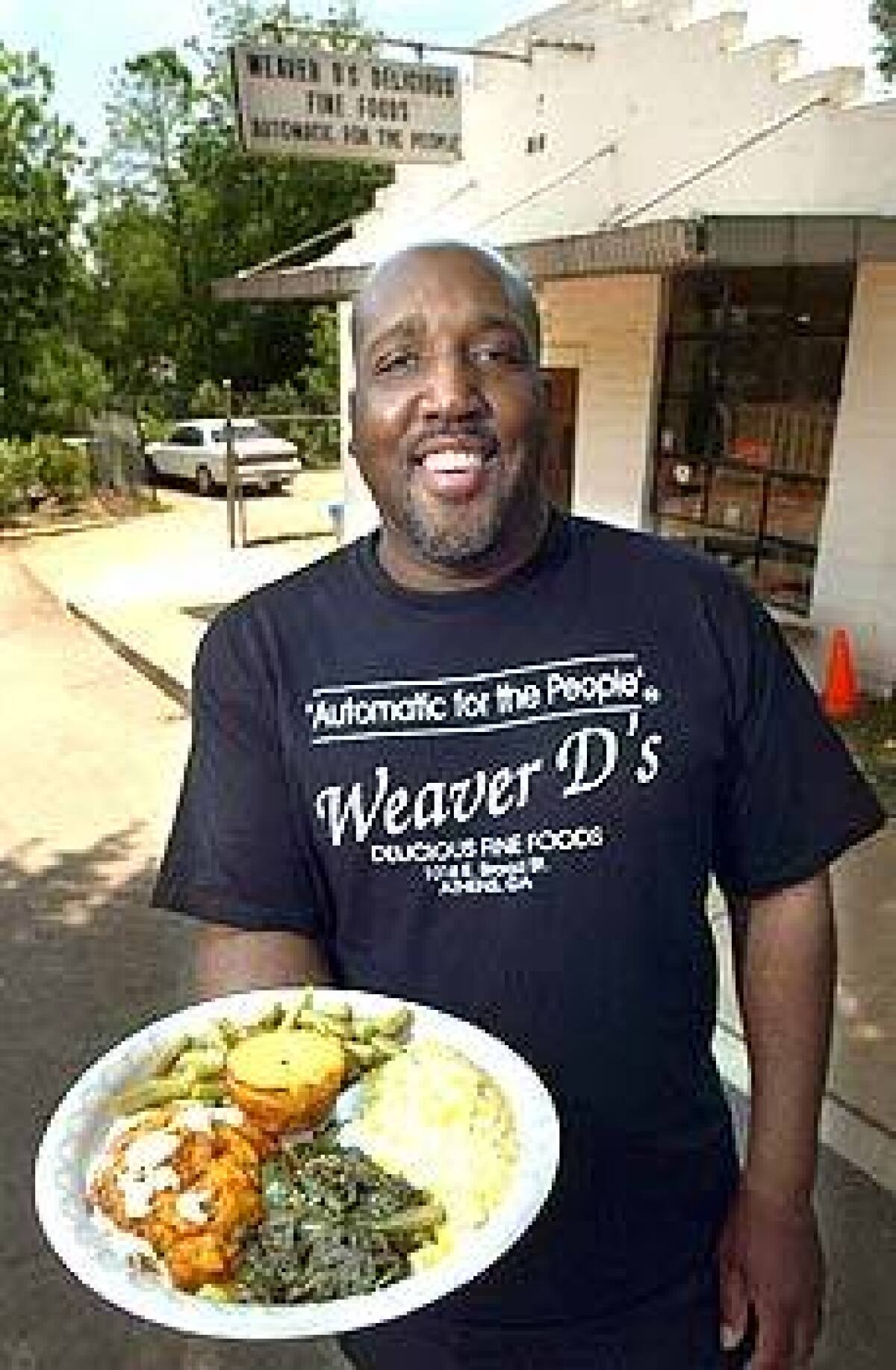 Times Staff Writer
Athens, Ga. —
As Dexter Weaver and I chatted in Weaver D's, his 40-seat soul food restaurant on the outskirts of downtown Athens, his mother called to see how things were going. "I'm going to tell her you thought I should hang up my cooking pots and go to Hollywood," he said.
It doesn't seem such a stretch. A decade ago, Weaver D's Delicious Fine Foods was just a local institution, with Athens native Weaver dishing up collards and fried chicken. His slogan: "Automatic for the people." Good food and quick, efficient service — automatic with a smile.
The slogan is emblazoned on a sign atop the little white cinder-block building at 1016 E. Broad St.
That was before R.E.M., the Athens-bred rock band, came calling. Band members had often dropped by for lunch, nice boys, if a little "scruffy-looking," Weaver recalls.
One day Michael Stipe came with an attorney. It wasn't mac 'n' cheese they were after but permission to use "Automatic for the People" as the title for R.E.M.'s 1992 album, which went on to garner a Grammy nomination.
Weaver wasn't into rock. Motown is his style. And he didn't know that R.E.M. was really big. But they struck a deal. Weaver got "a pretty good amount." And the deal put Weaver D's, then open only six years, on the rock music map. Soon he found himself roasting 7,000 bags of peanuts for a Warner Bros. record promotion.
"My life changed," he says. The world made its way to Weaver D's door. CNN. CBS. MTV. Spin. Some came just to gawk. Some came to see the star-shaped metal sculpture, photographed by Anton Corbijn, that was on the album cover. "People think it's on my roof," he says. In reality, it's in Miami. Maybe, he muses, he'll have one built.
With its communal tables covered with checkered oilcloth, mismatched chairs and walls bedecked with things R.E.M., Weaver D's continues to be a magnet for the band's fans and the curious. At the height of the "Automatic" frenzy, someone stole Weaver's sign, later returning it with a $10 bill and a note apologizing for ripping off "a genuine piece of Athens history." Campaigning in Athens in 1992, Al Gore promised he and Bill Clinton would be "automatic for the people."
Weaver remembers the day a teenage girl from Spain pulled up in a limousine, having won first prize — a trip to Weaver D's — in a contest sponsored by an R.E.M. fan club. Even today, he says, "we have tourists coming here all the time" from throughout the country and Europe. "Fans of R.E.M. are die-hard fans."
The B-52s, who also got their start in Athens, are among Weaver's devotees. "I once sent food to them in Reno by FedEx."
On a typical day, he and his crew serve 300 lunches. They'll also sell you a Weaver D's T-shirt or mug or a copy of Weaver's 1999 autobiography-recipe book, "Automatic Y'all — Weaver D's Guide to the Soul." Weaver is in demand for cooking demonstrations, where he may whip up his signature squash casserole or fried corn. Some Texans approached him about franchising, but he's not interested.
Athens is a big music town, and Weaver caters many of the record release parties. "It's been great, my journey," he says. A big, jovial man of 49 who's something of a cook-philosopher, he adds, "I do believe I'm going to be going a whole lot of places."
As for R.E.M.? "There was a winner already inside of me. Maybe they brought it out."
---
Get our L.A. Goes Out newsletter, with the week's best events, to help you explore and experience our city.
You may occasionally receive promotional content from the Los Angeles Times.