Trouble in party paradise: Boracay Island in Philippines
Manila, the capital of Philippines, is hot, smoggy and congested--you know, a lot like L.A. but with more humidity. A respite from the metro area of 12 million seemed like a good idea. There are 7,000 islands to choose from; I chose Boracay.
(Catharine M. Hamm / Los Angeles Times)
Tourists started discovering Boracay (pronounced Bora-Kai) in the '70s, but its popularity has grown like mad the last 10 years. The 4-square-mile-island is an easy hour flight from Manila. After spending time in the capital, I was ready for something easy.
(Tia Lai / Los Angeles Times)
The prop plane was full of people who were eager to shed their business suits for swim suits. So were my friend Jan and I. We couldn't wait to set eyes on this world-famous destination, but first, we had to take a couple of more modes of transportation to get us from Boracay airport (actually Caticlan) to the island.
(Catharine M. Hamm / Los Angeles Times)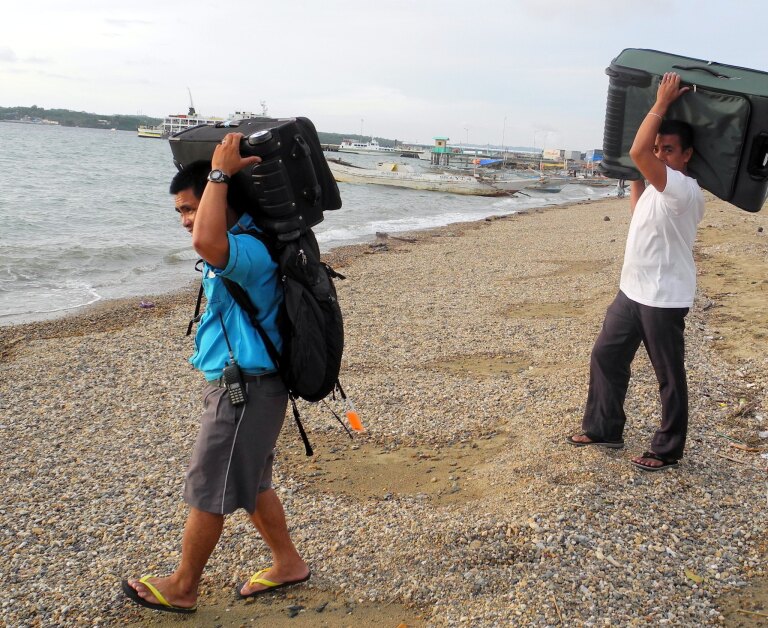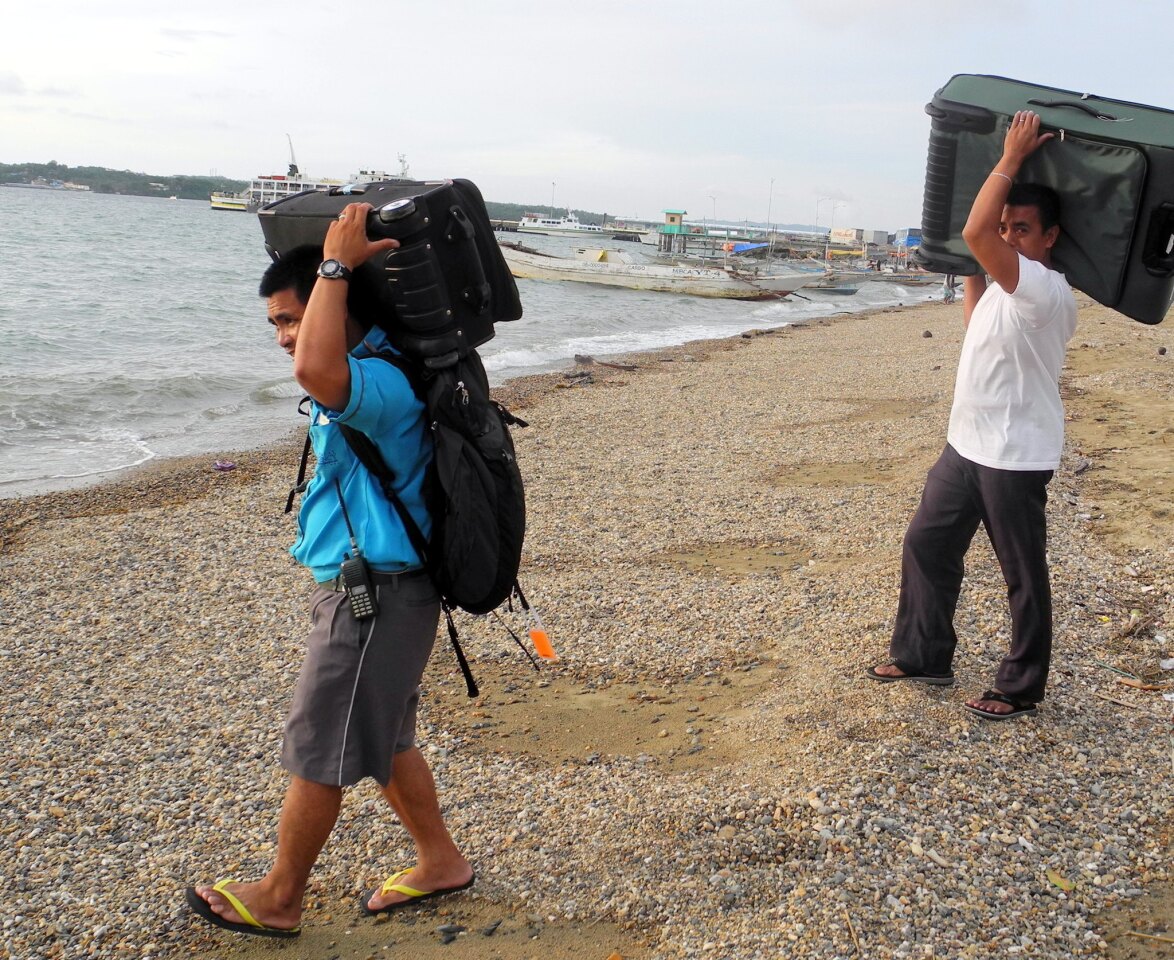 A shuttle bus took us from the airport to the jetty, where porters carried our luggage. It might have been a little heavier than they were used to. We learned, too late, that the weight limit for the flight was 15 kilos, or about 33 pounds. Oops. Big overage charges. I wondered later whether it was some kind of an omen about things that don't work out quite as you hope.
(Catharine M. Hamm / Los Angeles Times)
The captain of our boat must have been as eager as I to get to that little piece of paradise because he drove this vessel like a cigarette boat straight out of "Miami Vice." (Alas, this wasn't a cigarette boat.) We bounced along the waves and were at Boracay town in no time. Another shuttle bus took us through the town, where water from recent rains still stood. It was, after all, rainy season.
(Catharine M. Hamm / Los Angeles Times)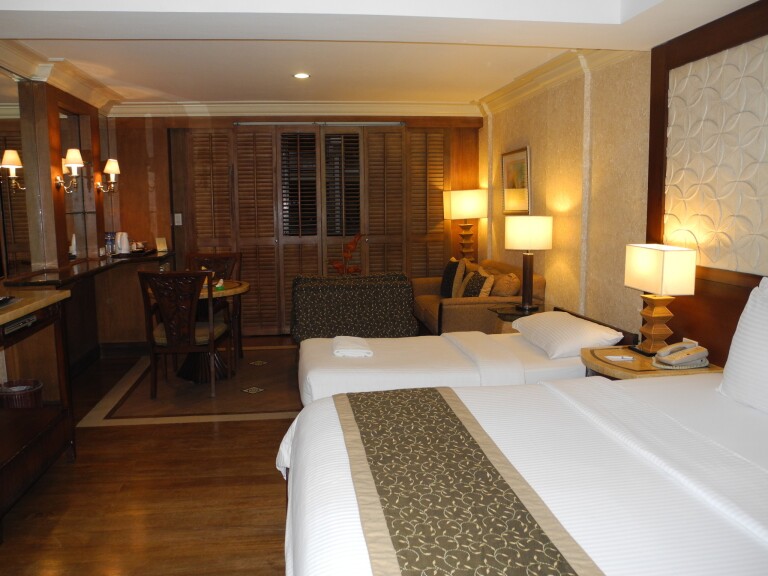 A shuttle bus took us on the last leg to the Regency Boracay, where we would stay the first night of our 48-hour respite. The room had plenty of space to sprawl, so there was no issue with that. But what I discovered next did give me pause.
(Catharine M. Hamm / Los Angeles Times)
I found this placard on the bedside table. Clearly there were some linens that were doing very odd things, and, according to the hotel, they'd be charged for it. But what? And more to the point, what is it that I could be/shouldn't be doing that was so prevalent I'd ruin the sheets? I would soon find out.
(Catharine M. Hamm / Los Angeles Times)
We puzzled over the henna/oil/hair dye thing at Christina's, the hotel's restaurant where we were seated outdoors. It was so humid I checked to see if I had slipped into something a little less comfortable--like a wet wool blanket. I hadn't. From our restaurant seats, we saw a parade of people strolling along the equivalent of a boardwalk. Where were they all going?
(Catharine M. Hamm / Los Angeles Times)
They were going shopping for all manner of items.
(Catharine M. Hamm / Los Angeles Times)
Or they were trolling for adult beverages at what appears to be the world's longest happy hour. At 165 pesos, about $4, those Vodka Moscow Mules were starting to seem pretty appealing.
(Catharine M. Hamm / Los Angeles Times)
Or for a fresh seafood dinner from booths where the entrees were on ice. (Why was the ice not melting when I was?) If that didn't suit, there was a Shakey's nearby.
(Catharine M. Hamm / Los Angeles Times)
That, I learned, was the character of what's called Station 2, one of three stations on White Beach. (Station 1 is ritzier and quieter; Station 3 is for budget vacationers.) I did not need to shop or to have a drink or to have more seafood. I didn't need a henna tattoo or a coconut oil massage, both offered by eager entrepreneurs. (I never solved the hair dye question.) What I really needed was an anti-inflammatory and a good night's sleep, so we retreated to the cool and quiet of the room.
(Catharine M. Hamm / Los Angeles Times)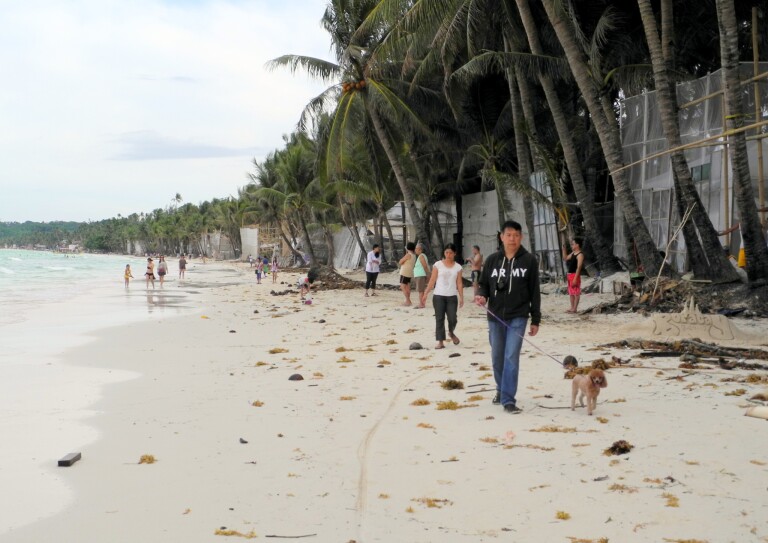 Sleep did help, and I was out on the beach by 7 the next morning. It was already populated with swimmers and dog walkers. Maybe they weren't party people either.
(Catharine M. Hamm / Los Angeles Times)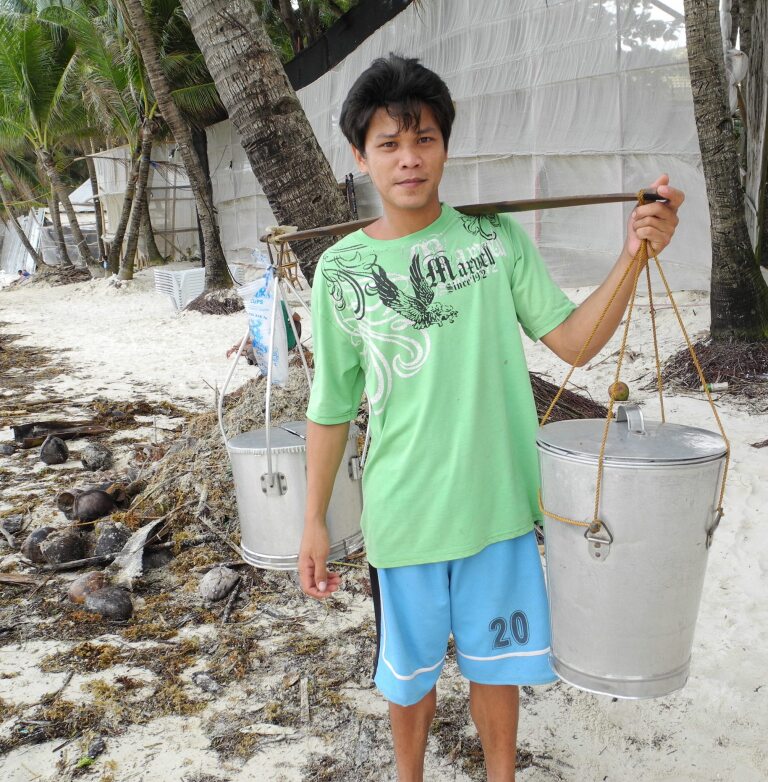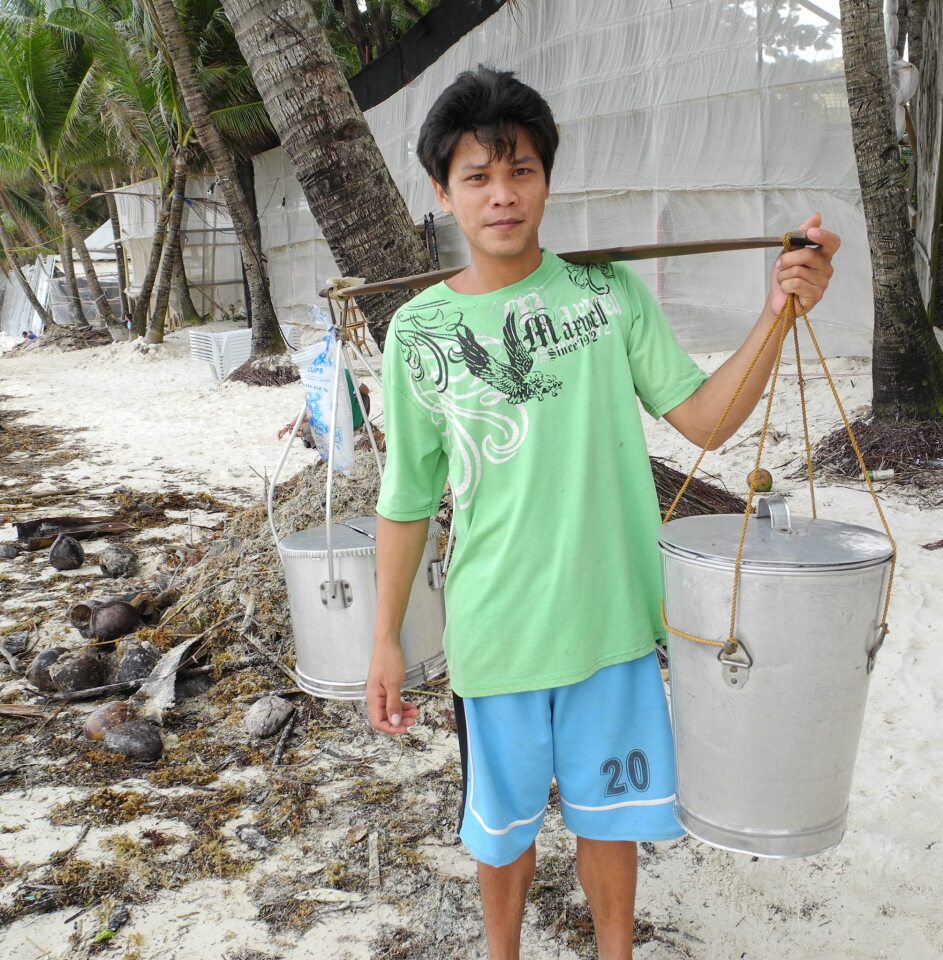 It wasn't too early to make a buck, even in Boracay. This food vendor was ready to feed hungry vacationers.
(Catharine M. Hamm / Los Angeles Times)
And this vendor was trying to sell a variety of pearls--gray, white or pink.
(Catharine M. Hamm / Los Angeles Times)
As the pearl man worked the crowds, the cleanup crew began clearing the detritus from the previous night.
(Catharine M. Hamm / Los Angeles Times)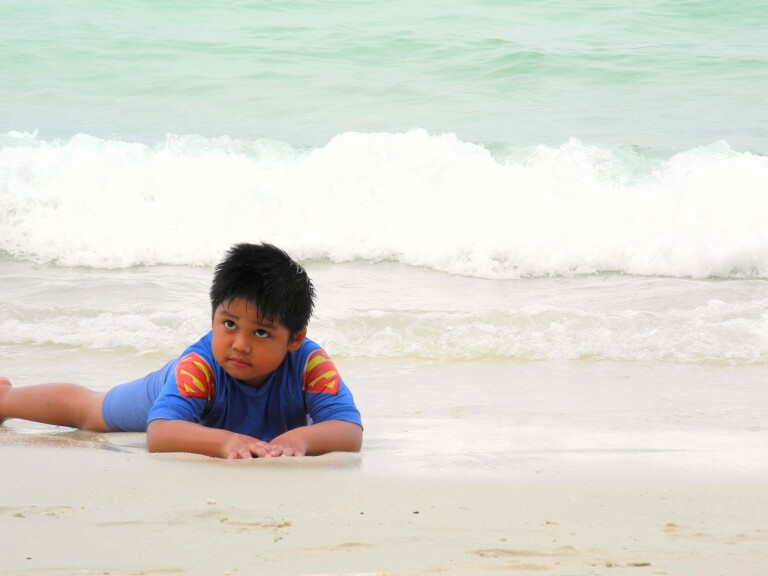 Others were working at playing. Superman had a grand time as the surf rolled in.
(Catharine M. Hamm / Los Angeles Times)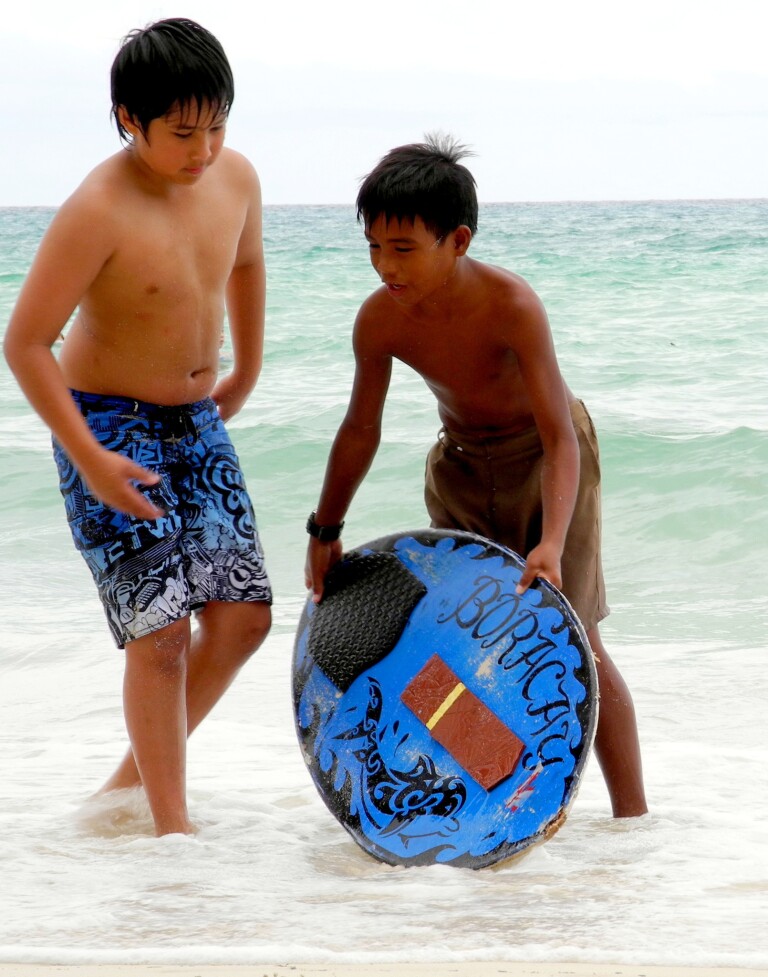 Nearby, the boy on the left wanted to learn the fine points of skimboarding, so his "teacher" was giving him some lessons.
(Catharine M. Hamm / Los Angeles Times)
Maybe I needed a little playtime too. Vendors on the beach were also selling boat trips, parasailing and sunset cruises. I went, instead, to the desk at the Boracay Regency. It arranged a private four-hour boat tour. I braced myself for the cost and then breathed a sigh of relief: $50 for our trip on the Kevin 2.
(Catharine M. Hamm / Los Angeles Times)
We headed toward Crocodile Island, which did sort of look like a croc. Not far from there, we jumped in and snorkeled. It was warm and beautiful, but I also knew that the coral around Boracay has been damaged. After a few minutes, guilt drove me out of the water.
(Catharine M. Hamm / Los Angeles Times)
Crystal Cove Island was our next stop, where visitors checked out the sea caves...
(Catharine M. Hamm / Los Angeles Times)
Some of the attractions included birds (Philippine hawks and eagles, the placards said) which looked as bedraggled as we were bored.
(Catharine M. Hamm / Los Angeles Times)
We voted ourselves off the island and headed back to Boracay. I was hopeful that our destination for the night--Discovery Shores Boracay Island--would turn the tide of my opinion.
(Catharine M. Hamm / Los Angeles Times)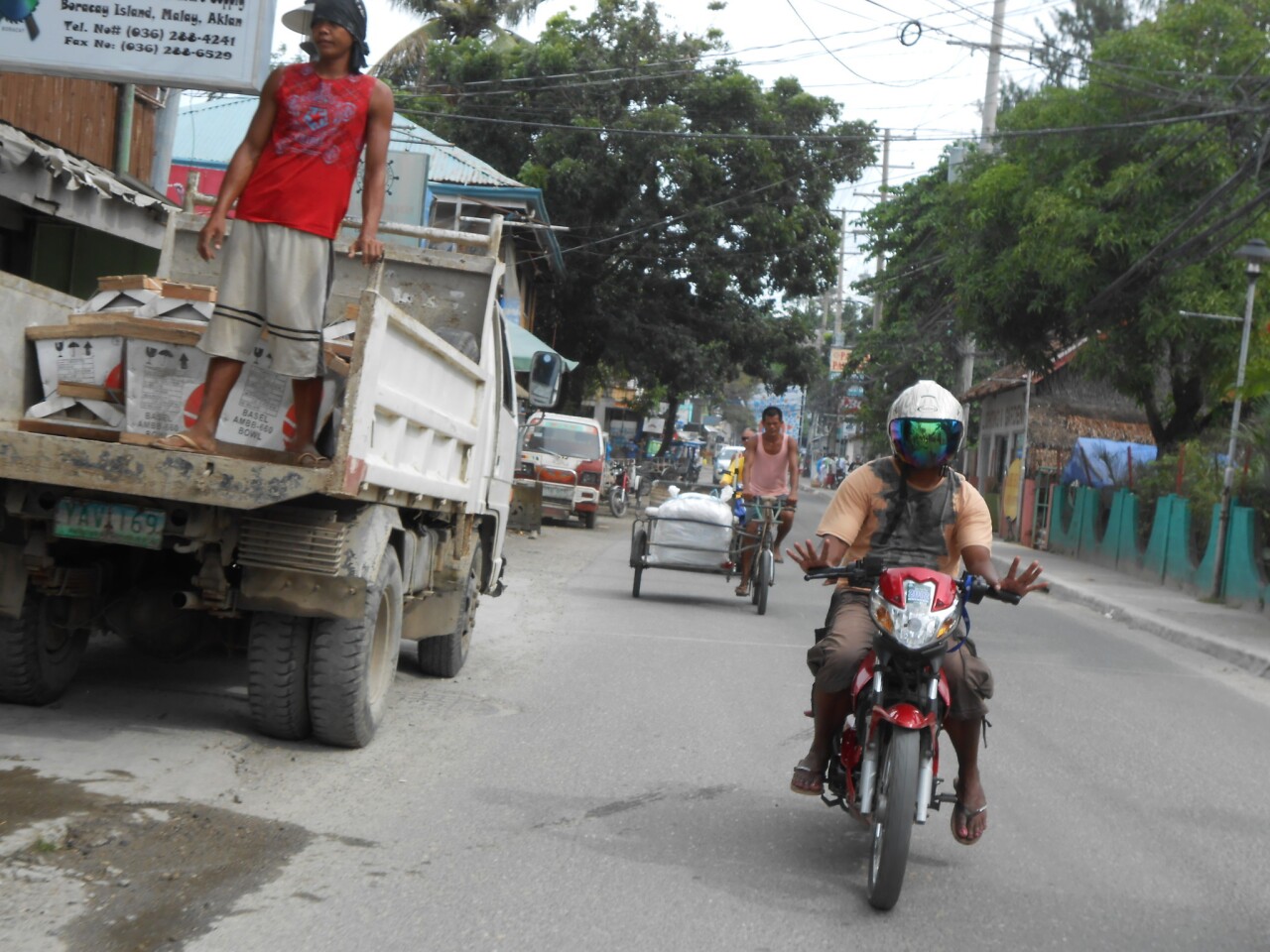 A minivan picked us up and took us to the resort. Everywhere on the island, motorbikes are the preferred form of transportation. And seemingly everywhere on the ever-developing island, something was under construction.
(Catharine M. Hamm / Los Angeles Times)
Travel & Leisure voted Discovery Shores the fourth-best hotel in the world. A spacious sitting room made our accommodations feel more like a villa than a hotel room.
(Catharine M. Hamm / Los Angeles Times)
The bedroom was plain, but the beds were super comfortable.
(Catharine M. Hamm / Los Angeles Times)
Little yellow flowers were dotted around the living room, bedroom and even the bathroom.
(Catharine M. Hamm / Los Angeles Times)
A welcome treat awaited at Discovery Shores, including pandan water, which tasted to me a little bit like sweet tea, which isn't my cup of tea. By morning, insect critters helped themselves to the leftovers.
(Catharine M. Hamm / Los Angeles Times)
When we checked in, the bellman told us a masseuse would be by to attend to our aching feet. "This will perk me up," I thought. But the masseuse was MIA, and we didn't want to miss the last rays of light. After about 45 minutes, we decamped to the beach.
(Catharine M. Hamm / Los Angeles Times)
This skimboarder was trying to get in his last licks before he lost the light. After a drink at the Sandbar lounge and an undistinguished dinner at its Indigo restaurant, I decided to call it a day and get ready to return to Manila.
(Catharine M. Hamm / Los Angeles Times)
Discovery Shores has its own little lounge at the Caticlan airport. As we waited for our flight back to Manila, we had to smile at these visitors who looked as though they'd had a much better time than I.
(Catharine M. Hamm / Los Angeles Times)
Back in Manila that night, I shot this photo from my Makati hotel room. As I contemplated its almost painterly quality, I wondered: Which watercolor did I prefer? This one?
(Catharine M. Hamm / Los Angeles Times)
Or this one? I know which one I wanted it to be. Perhaps 20 years ago, before Boracay and I were overdeveloped, it might have been the right place for me. It is beautiful, and the people are a delight. But as a Californian who lives amid paradise spoiled, I had hoped that Boracay had escaped the same fate. I didn't hate it, but it wasn't a love match, which gives me the latitude to continue the quest--for clean, for quiet, for real.
(Catharine M. Hamm / Los Angeles Times)
BORACAY, Philippines — Can a million and a half people be wrong? That's how many vacationers are expected to visit Boracay Island this year.
Can Travel & Leisure be wrong? That's the magazine that crowned Boracay the best island in the world.
Can TripAdvisor be wrong? That's the website that dubbed Boracay a Travelers' Choice 2013 Winner.
After my visit last year to this island 250 miles southeast of Manila, I decided that, yes, they could be wrong. Or misguided. Or I could be.
I'm guessing that the visitors/voters aren't Californians on the far edge of middle age who fancy themselves beach connoisseurs. Maybe they don't suffer guilt about the poverty or the damage to the environment. Maybe they were smart enough not to come at the height of habagat, typhoon season.
If that's the case, maybe they would enjoy this respite from the smog and traffic and heat and humidity of Manila.
Actually, I enjoyed the respite from the smog and traffic of Manila. (The heat and humidity came with us.) I liked the sands (once they were cleaned each morning) along the renowned White Beach and the bathtub-warm waters. I found the people quite wonderful.
But what I didn't find was the hoped-for piece of paradise that would shoot to the top of my favorite sun and sand destinations.
If Boracay had been a first date, there wouldn't have been a second. We just weren't right for each other. I should have known that almost from the minute I arrived at the hotel.
First a few caveats
The prop plane that deposited my friend Jan and me at the Caticlan airport was filled with eager visitors, all of us ready to strip off the workaday suit after the hour's flight and put on the bathing suit.
But it wasn't quite that seamless. First, there was a boat ride, which reminded me a little of those cigarette boats that go flashing across the waves in "Miami Vice." (This wasn't, I should add, a cigarette boat, but the captain drove it like one.) Then there was the ride to the resort in the back of a van, where we had a view of the water standing in the streets after recent rains and the rows of ramshackle snack shops and houses that lined the roads, which were like pot-holed obstacle courses.
Obstacles overcome, we were soon in our room at Boracay Regency, which had a king bed, another smaller bed and a welcome plate of fruit. And one more thing: a placard on the nightstand that said, "Linens stained with HENNA TATTOO, COCONUT OIL OR HAIR DYE will be charged accordingly."
I was sure it wasn't the linens that would be charged accordingly, but I didn't understand why I would be. Or, more to the point, what would I be doing that would cause me to damage the sheets like this? It was such a problem that the hotel had to laminate the warning. But why?
We got an inkling as we ate dinner at Christina's, the hotel restaurant. From our outdoor perch, glasses of wine in hand, sun casting purplish shadows over all, we realized we were sitting along a sort of promenade. Boracay is divided into three "stations" along this strand of beach. We were in Station 2 (3 being more budget oriented and 1 being more exclusive).
Station 2 that night was home to a company team-building event, where a tent full of people was being entertained by a bad comedian with a high-pitched giggle — so high pitched that I briefly considered a fourth glass of wine, even though I was still on my first.
And then began the parade of people. There was no boardwalk, per se, but there was a constant stream of people along the sand. By the time I finished my very average lapu lapu (grouper), I was ready to find out where they were going and why.
They were going shopping at the stands selling jewelry and gewgaws of all stripes. They were going to party in the numerous bars that promised tropical refreshments. They were going to pick out a lovely seafood dinner from booths where the entrees were on ice.
And they were going for henna tattoos and coconut oil massages, offered by eager young entrepreneurs. It was all a bit overwhelming.
And sad. Children were begging, the occasional mom with a baby and another child with hand outstretched.
We didn't need a henna tattoo or a coconut oil massage, and we didn't want the guilt. We needed air conditioning, a couple of anti-inflammatories and a good night's sleep plus the promise of Discovery Shores, the hotel that had started me on this Boracay fever dream.
Travel & Leisure had voted it the fourth best hotel in the world. Never the optimist, I felt certain — although I don't know why — I'd find my peeps and my place in the sun.
Out on the water
I headed for White Beach early the next morning. The sky was a dull gray, the color of some of the pearls that vendors were already hawking. Workers were clearing the detritus from the sand, while kids and their grown-ups frolicked.
In the growing light, I could already see the paraws, the blue-sailed boats that flashed parallel to the shore. Might as well be out on the water, I thought, and get a feel for the island.
Instead of booking a boat on the beach, I arranged it through the hotel, and later that morning, we boarded the outrigger Kevin 2 and soon were beyond Crocodile Island (which does look a little like a croc) and at a snorkel stop.
I jumped in with my snorkel gear and relaxed a little, until I remembered that the coral that I could now see clearly has been so badly damaged that the Philippine Daily Inquirer reported last year that less than a tenth of it remains in its original state. Coral is critical for marine life. I wasn't helping.
I got out of the water.
We cruised over to Crystal Cove Island, where other visitors swarmed its sea caves and crowded around what were billed as hawks and Philippine eagles. They looked as bedraggled as the island felt. It was time to head for Discovery Shores, which, Travel & Leisure said, would provide "barefoot elegance."
Less welcoming than hoped
It was a bit of a hike to our room at Moorish-looking Discovery Shores, but things were looking up. Our accommodations included a living room, a bedroom and a small kitchen, where everything was dotted with small yellow flowers that contrasted with the brilliant white of the linens and the walls.
Our bellman explained the large water-filled bowl on the floor on which yellow flowers floated: Someone would be by soon to give us a welcoming foot massage. As we waited, we perused the tray of welcome sweets and tried a little pandan water, made from pandan leaves brewed in a light syrup and water. It was a little like the U.S. South's equivalent of sweet tea, which isn't my cup of tea.
The masseuse was MIA, it seemed, so what to do next? We could have gone swimming, but the pool was being repaired so we repaired to the Sandbar. There was no parade here, no one trying to sell us anything (except a Diet Coke and a mojito). We also sat outdoors at the nearby Indigo restaurant. By now I was a creature of habit and again ordered the lapu lapu, which didn't taste appreciably different from the previous night's dish.
We were leaving the next morning to catch an early flight back to Manila so we couldn't sample the spa, but that was OK. No number of spa treatments was going to change my impression of Boracay, a place for partyers or rich people, of which I am neither.
This wasn't a love match — not for me. Maybe 30 years ago when Boracay and I were less overdeveloped.
We said our goodbyes and headed back to Manila, where the smog and traffic and heat and humidity welcomed us with open, sweaty arms. It was good to be back.
---
Get inspired to get away.
Explore California, the West and beyond with the weekly Escapes newsletter.
You may occasionally receive promotional content from the Los Angeles Times.