As the Dodgers-Sox Series begins, here's a guide to Boston for rookies, from the ballpark to the swan boats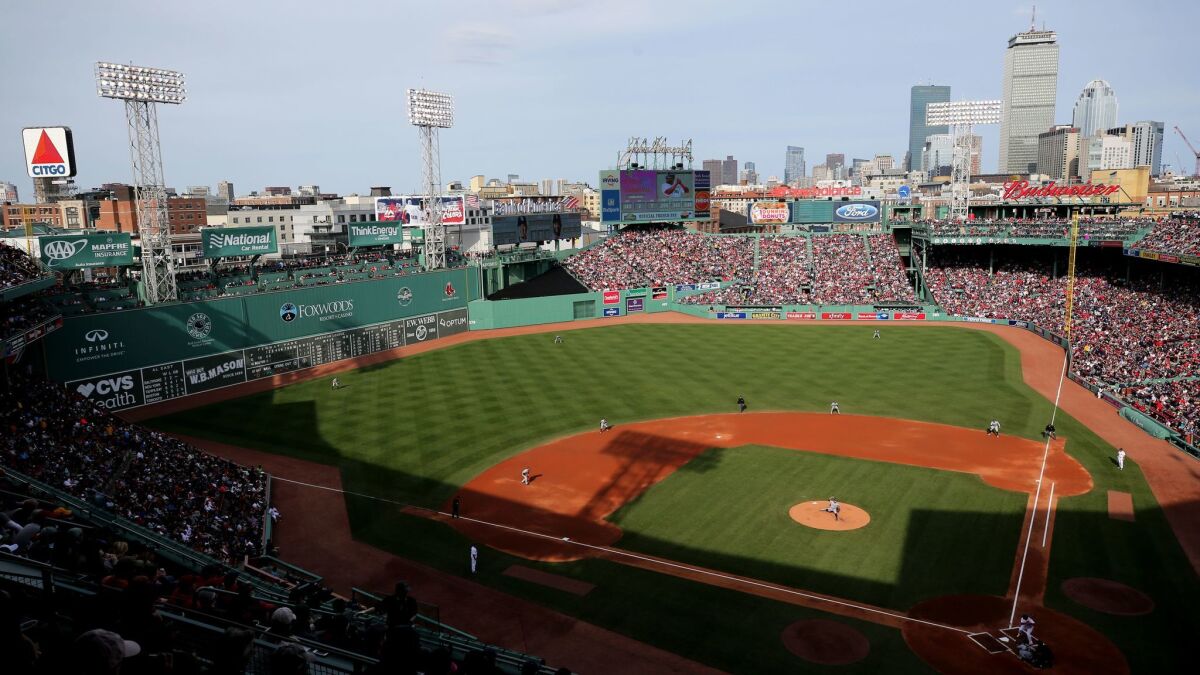 Suddenly, you have Boston in your sights, thanks to the Dodgers' arrival as the team that faces the Sox in the World Series.
You're far from the first. The Massachusetts tribe arrived in the area about 4,400 years ago, followed by a ragtag crew of English Puritan colonists in the 17th century, many former slaves after the Civil War, legions of Irish and Italian immigrants in the 19th century, and a teenage Baltimore baseball player named Babe Ruth in 1914.
As it turned out, Ruth didn't stay long. In perhaps the worst baseball management decision ever made, the Boston Red Sox sent him to the New York Yankees on Dec. 26, 1919 (in a deal that was closed on a golf course in Griffith Park).
But plenty of other people stayed. And millions more come to visit every year.
So what do you need to see? Colonial landmarks. Sites from the fight for independence. And maybe Fenway Park.
Start with Faneuil Hall (built in 1741), which was a site of 1760s anti-British protests that grew into the American revolutionary movement). It might take a minute or two to locate the hall itself amid the hubbub of the modern mall that has grown up around it.
But do be sure to step inside the hall, take a seat as if attending a town hall meeting in 1770 or so, and picture the long history of social and political leaders who have delivered speeches and joined debates on this stage.
Then go back to the tumult. This is one of the most coveted busking spots on the East Coast, so there are usually top-flight street performers there on the cobblestones to juggle, sing, crack jokes and otherwise loosen you up.
You'll also find that Faneuil Hall is one of 16 stops on the 2½-mile Freedom Trail, which traces key locations and events in the run-up to U.S. independence in 1776.
Unless you're bucking for admission to Harvard (well worth touring and just across the Charles River in Cambridge), you don't need to walk the entire trail or memorize all those plaques. When I followed the trail with my family in 2015, the Old State House (built in 1713, site of the Boston Massacre in 1770) was a highlight.
So were the Copp's Hill Burying Ground (great old gravestones) and the Paul Revere House, which is the oldest building in the city, having gone up in about 1680. (Fun fact: Revere had eight children with his first wife and eight more with his second.) Admission to the house is $5 per adult, $1 per child aged 5-17, cash only.
Another worthwhile walking route is the city's Black Heritage Trail, which celebrates Boston's history as an "underground railroad" city and haven for abolitionist leaders before and during the Civil War.
And while you're in the North End, stroll its main drag, Hanover Street, and have a cannoli (pastry with sweetened ricotta cheese). Or have an entire Italian meal. The neighborhood has been an Italian-American stronghold for more than a century, and Mike's Pastry (300 Hanover St. since 1946) is steadily busy. (It's open until 11 p.m. on Fridays and Saturdays, 10 on other nights.)
Boston Common is a broad, pleasant, 50-acre green space that Bostonians trace back to the 1630s and call "America's oldest park." Many of its most attractive features date to the early 20th century, when the sons of Frederick Law Olmsted (he of Manhattan's Central Park) took over the landscaping.
Just across Charles Street you'll find more greenery: the 24-acre Boston Public Garden, where swan boats have been carrying families around the lagoon since the 1870s. The ride shuts down in winter months, but just as baseball dreams are born anew every spring, the swan boats will return April 13, 2019. A ride lasts 12-15 minutes and the fare is $4 per adult, $2.50 per kid ages 2-15.
Since the 19th century, these slow boats have been a fixture in Boston's Public Garden lagoon.
And speaking of parks – let's not forget Fenway, which will host at least the first two games of the World Series on Tuesday, Oct. 23, and Wednesday, Oct. 24. Ticket information is here.
Opened in 1912, Fenway is one of the oldest ballparks in the major leagues, its dimensions dominated by the 37-foot-2-inch-high left-field wall known as the Green Monster.
Even if the Red Sox aren't playing, tours are offered most days. The standard tour lasts an hour and costs $20 per adult, $14 per child.
By the way, the Red Sox like to call Fenway "America's most beloved ballpark," but it's unclear if Yankee fans are included in that polling.
More info on visiting Boston: bostonusa.com.
christopher.reynolds@latimes.com
Follow Reynolds on Twitter: @MrCSReynolds
---
Get our L.A. Goes Out newsletter, with the week's best events, to help you explore and experience our city.
You may occasionally receive promotional content from the Los Angeles Times.