Discovering the open spirit of Rio de Janeiro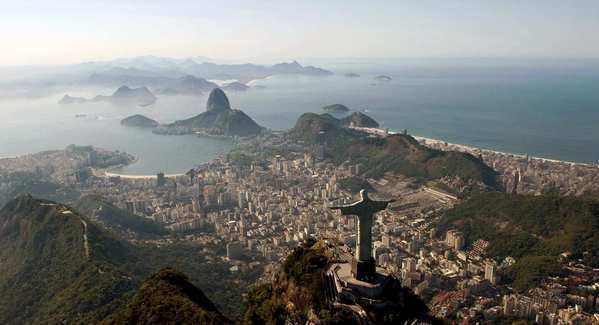 A gigantic statue of Christ the Redeemer overlooks Rio de Janeiro from atop Corcovado mountain. It's one of the Brazilian city's best-known landmarks.
(Visit Brazil.com)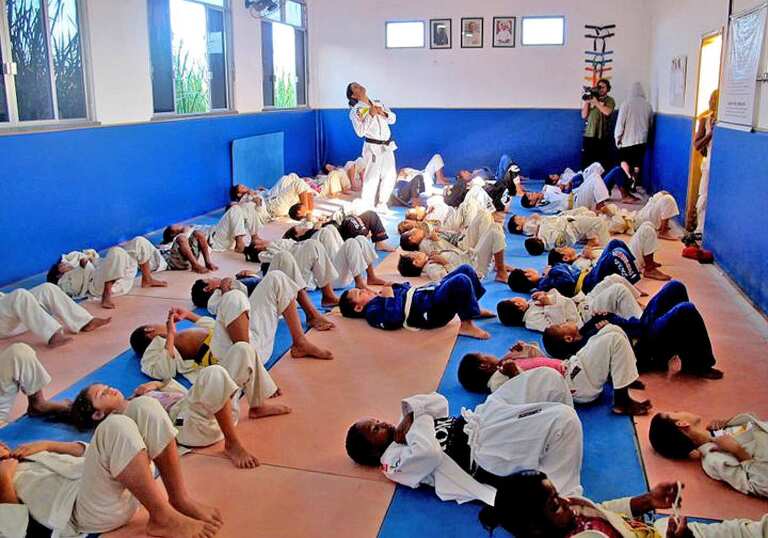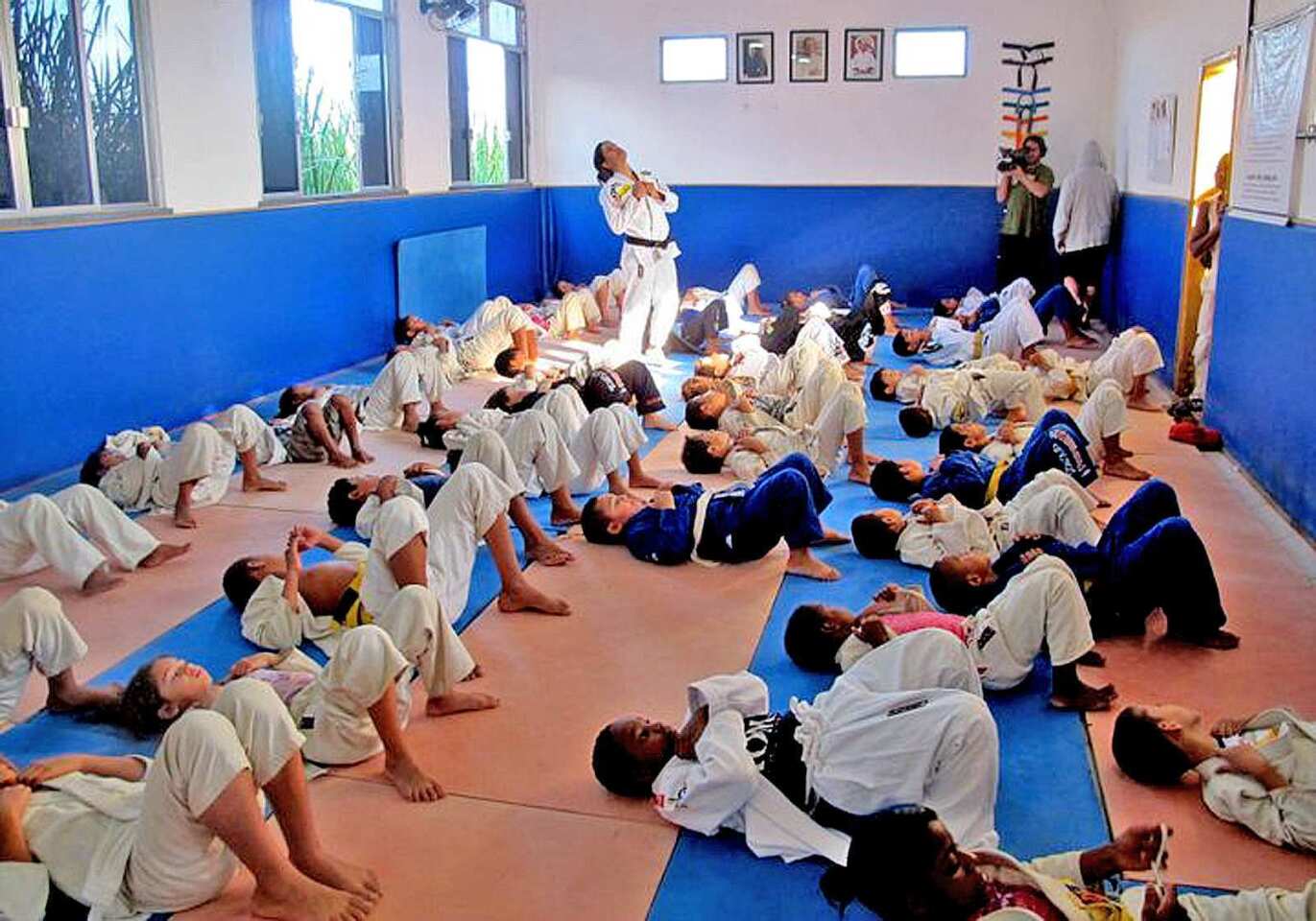 Young Jiu-Jitsu students hit the ground as Instituto Kapacidade founder Kyra Gracie stands tall in Rio de Janeiro.
(Thiago Ghougassian)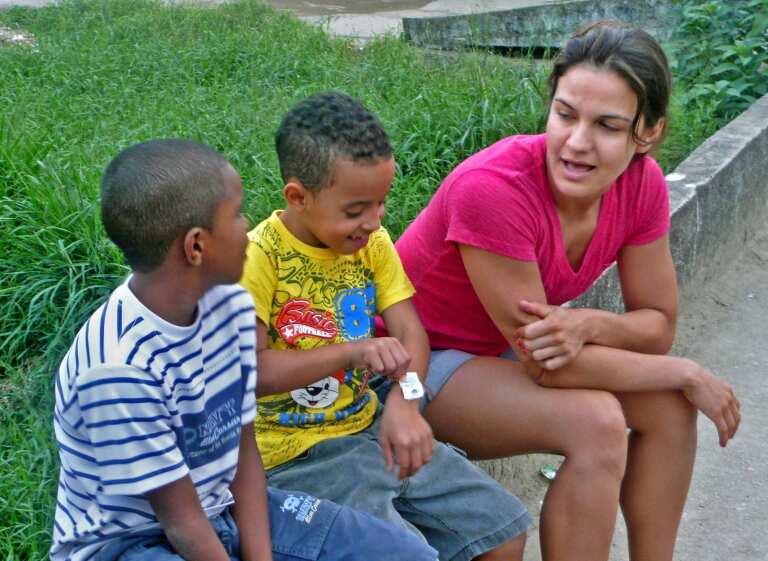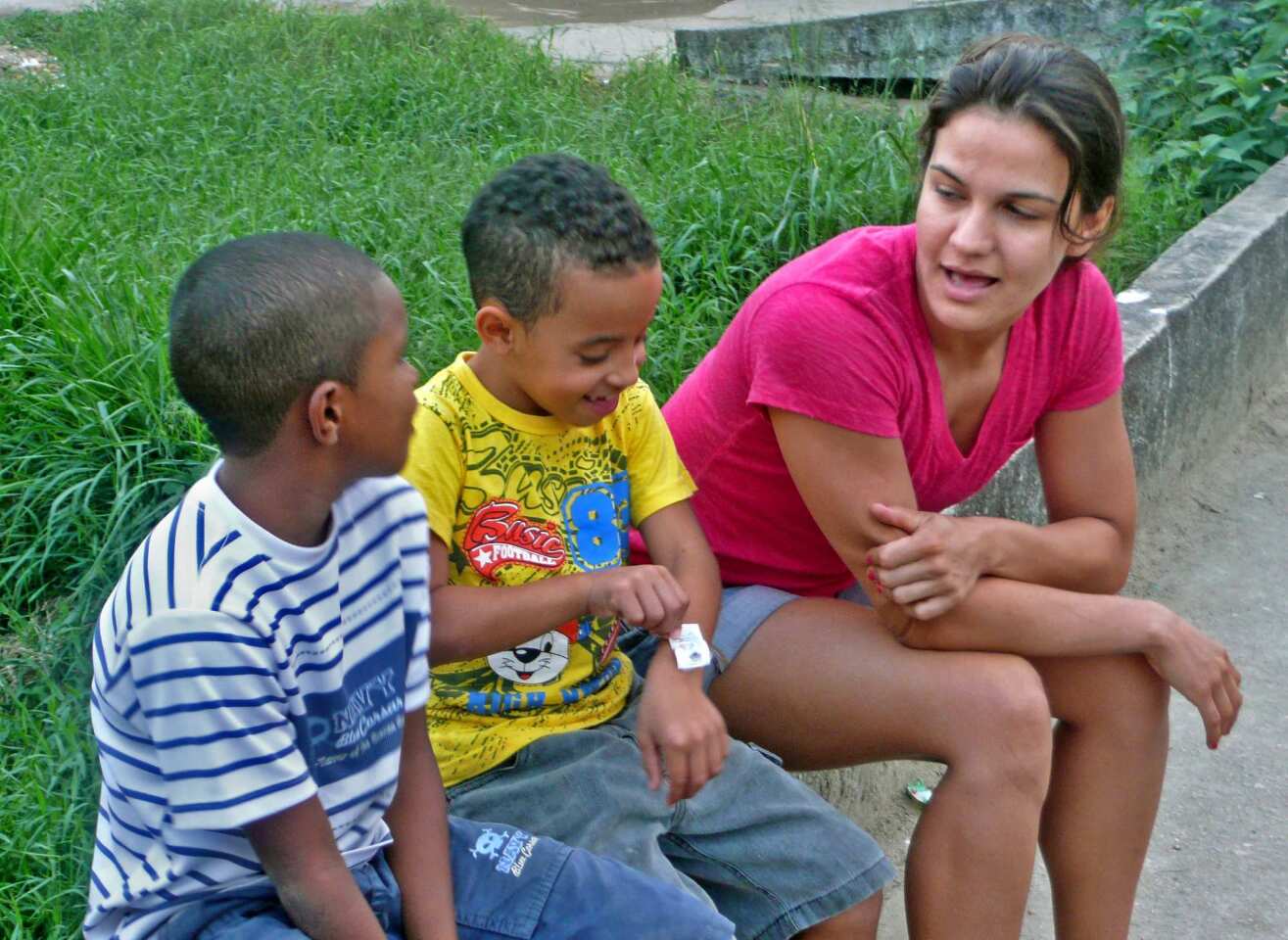 Brazilian Jiu-Jitsu champion Kyra Gracie chats with kids from an underprivileged area of Rio de Janeiro's Vargem Grande neighborhood.
(Lynne Friedman / For The Times)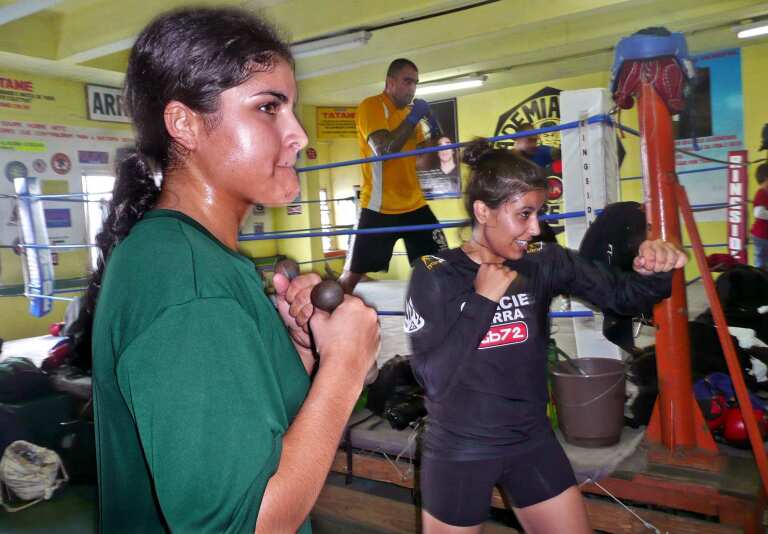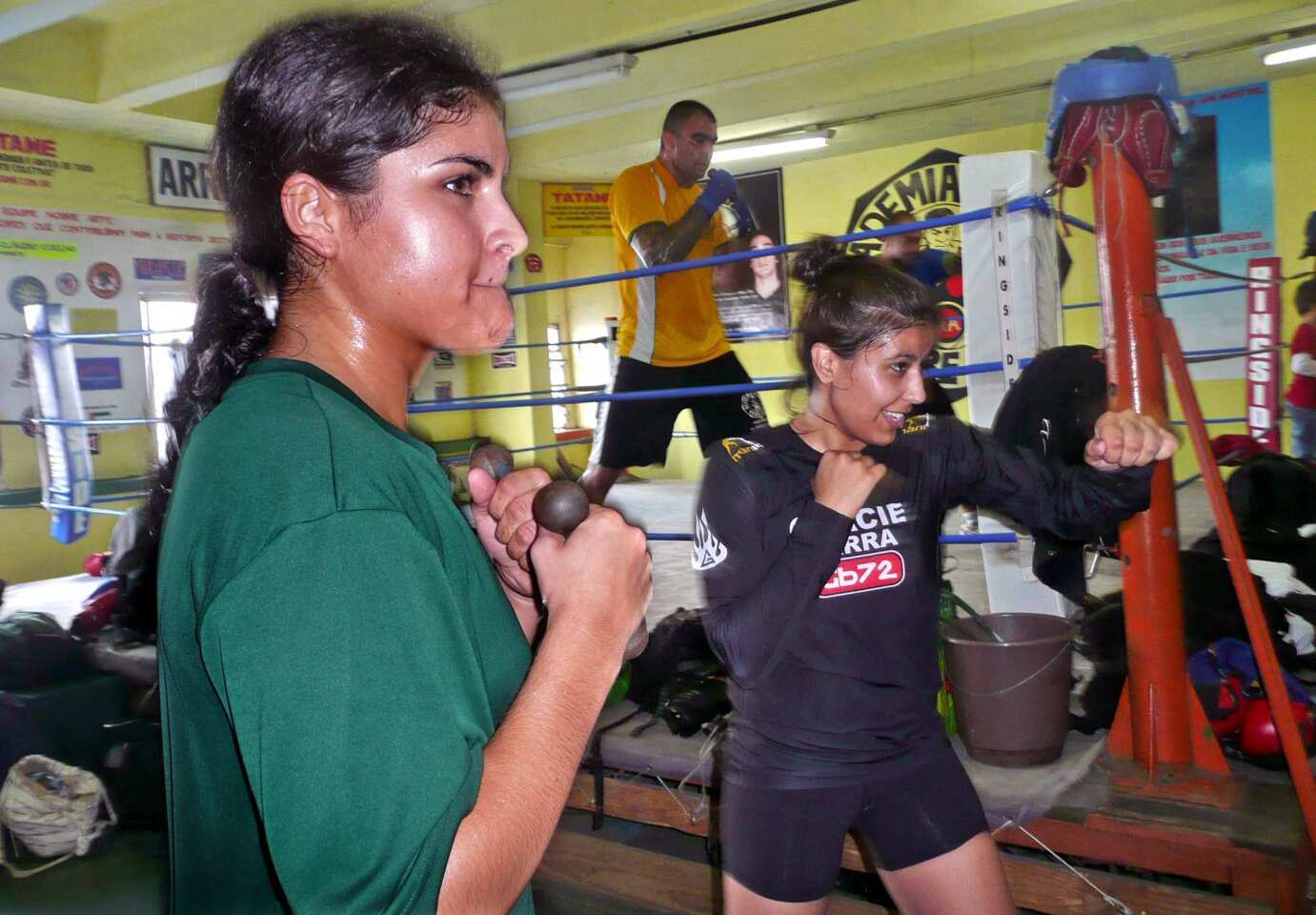 Jiu-Jitsu camp participants Lauren DeVore, left, and Lysset Tapia train at the Nobre Arte gym in Rio's
favela
Cantagalo.
(Lynne Friedman / For The Times)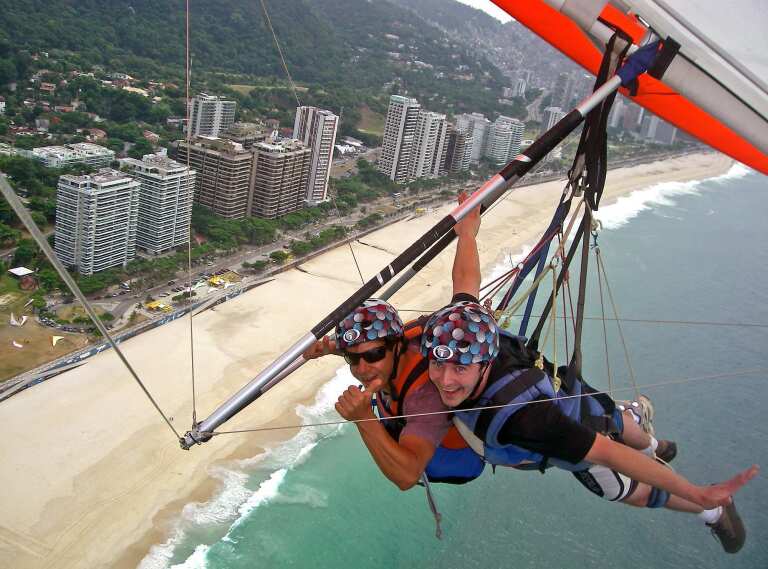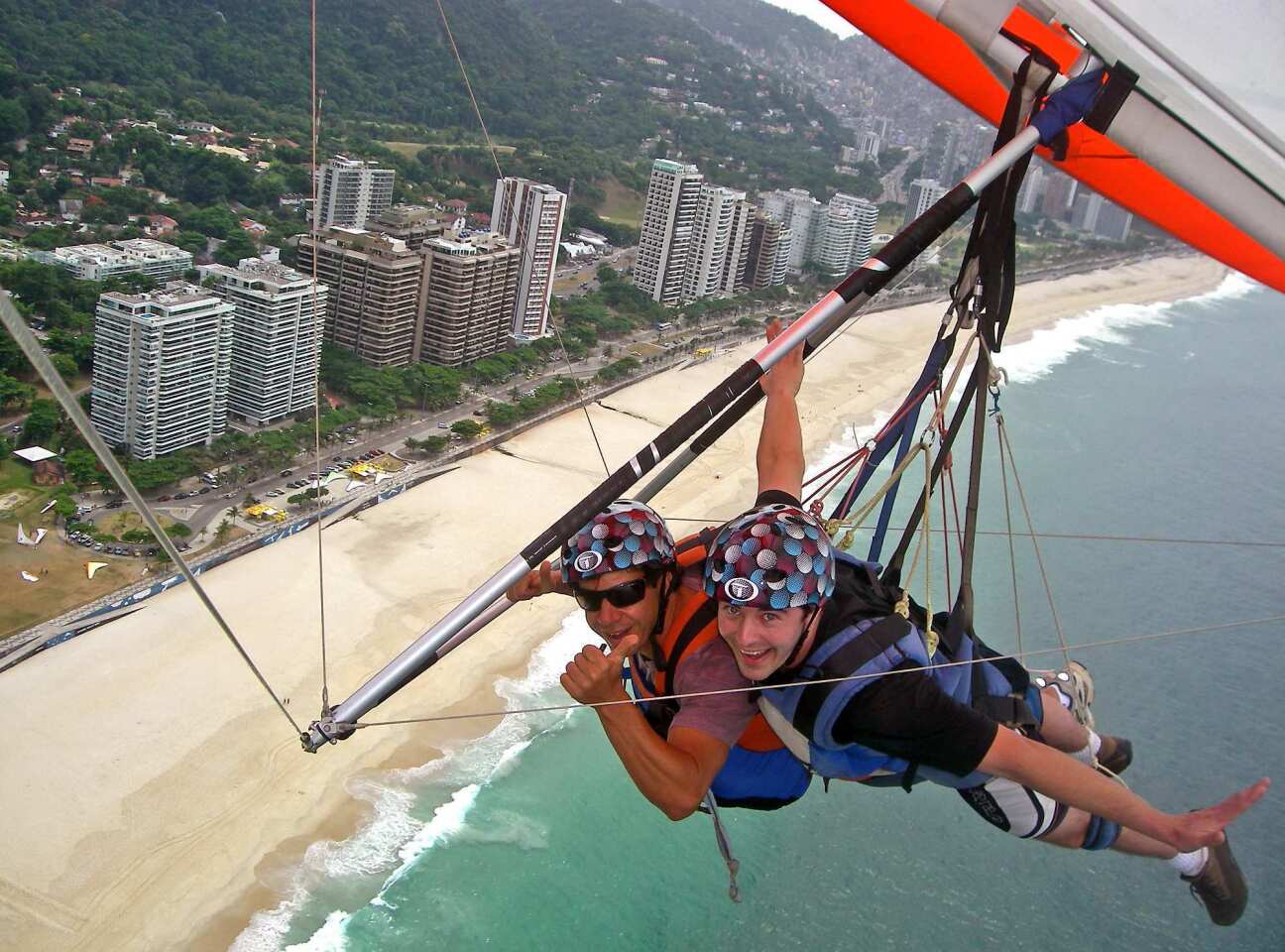 Hang-gliding tours give riders spectacular views of Rio, with the coastline of cliffs, cityscapes and beaches spread out below. Hang on for the ride of your life.
(Ipanema Beach House)
Youngsters enjoy paddle-surfing off Rio's famed Copacabana beach.
(Vanderlei Almeida / AFP / Getty Images)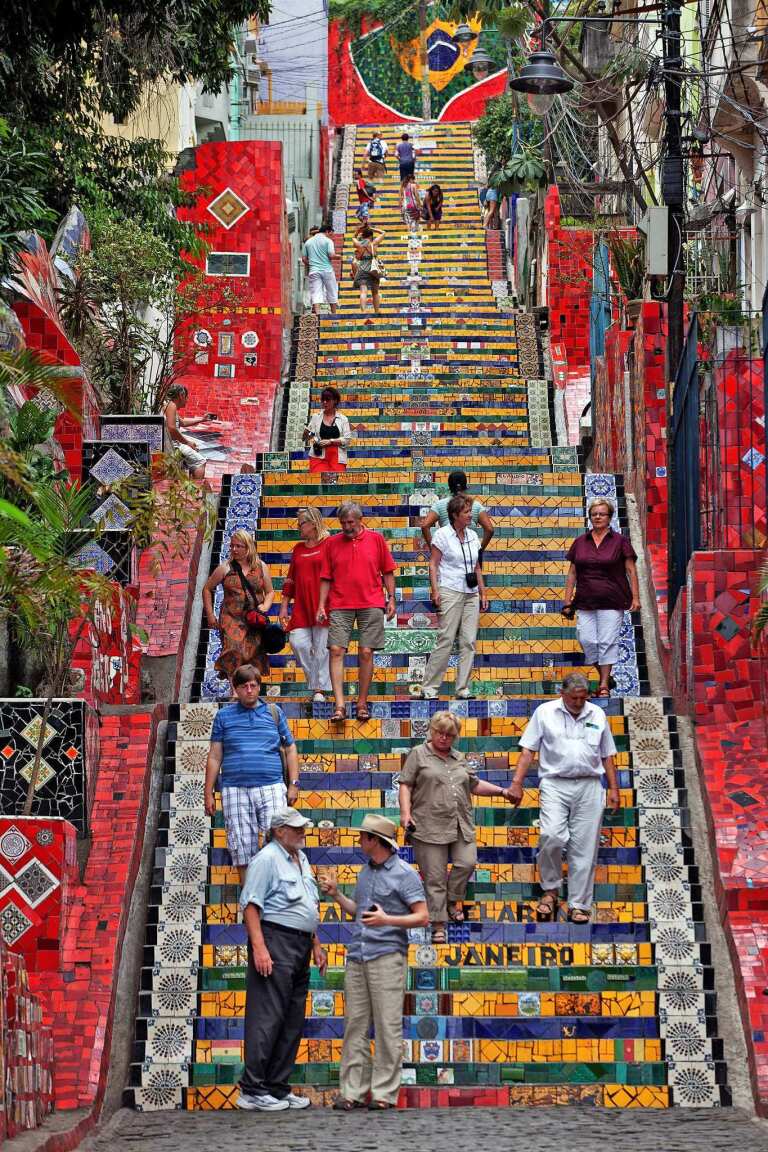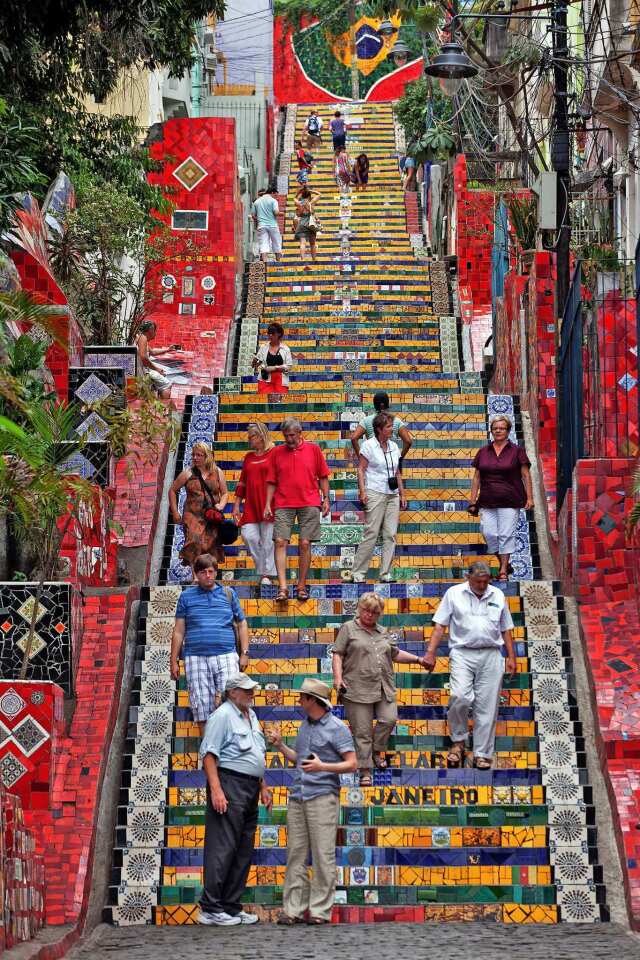 Residents check out the colorful Escadaria Selarón stairway in Rio de Janeiro, the work of Chilean-born painter and sculptor Jorge Selarón. The 250-step stairway, which the artist has been working on since 1990, features more than 2,000 tiles collected from around the globe.
( Yasuyoshi Chiba / AFP / Getty Images)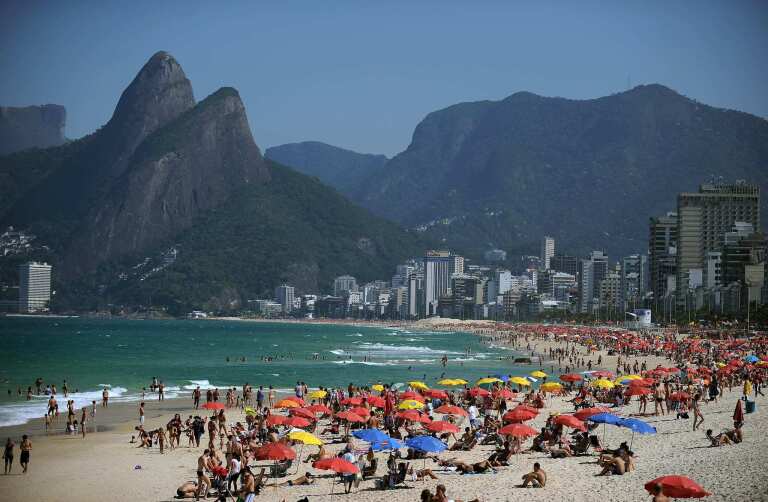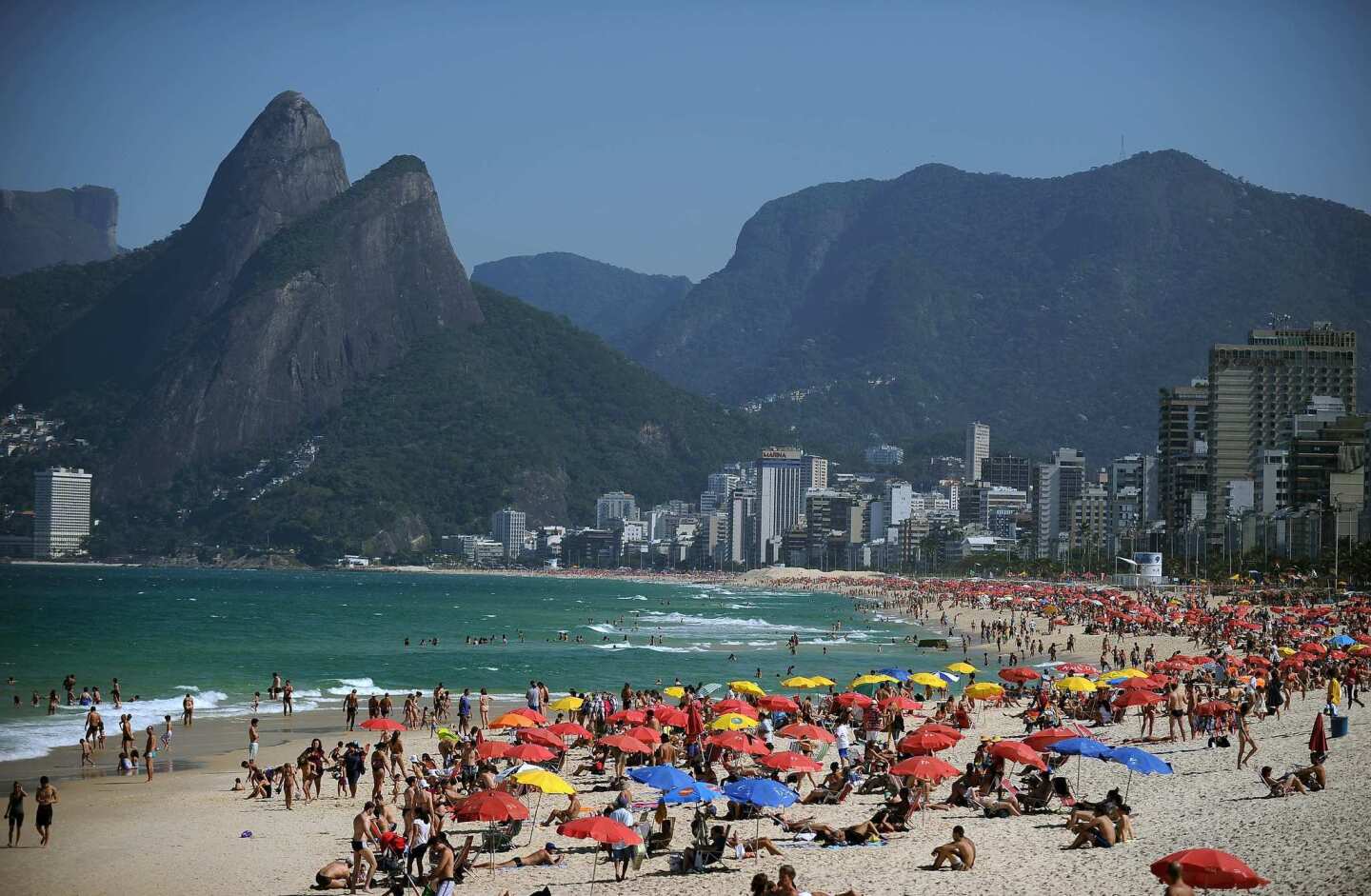 Rio de Janeiro's Ipanema beach is popular with locals and tourists alike.
(Vanderlei Almeida / AFP / Getty Images)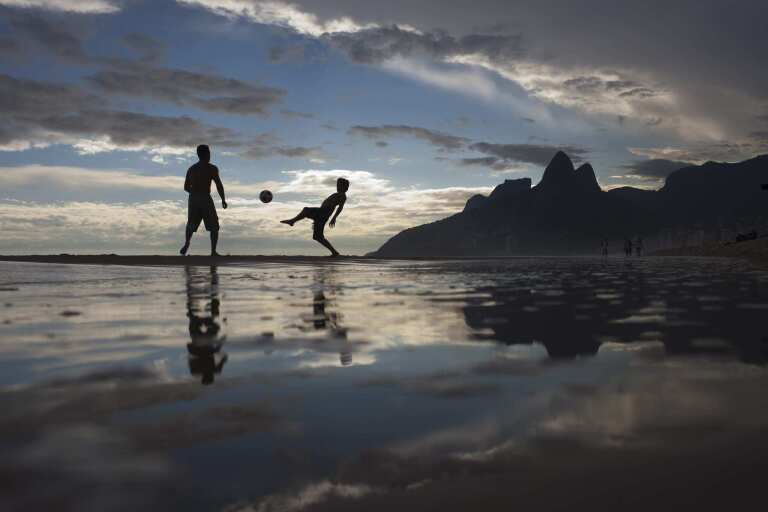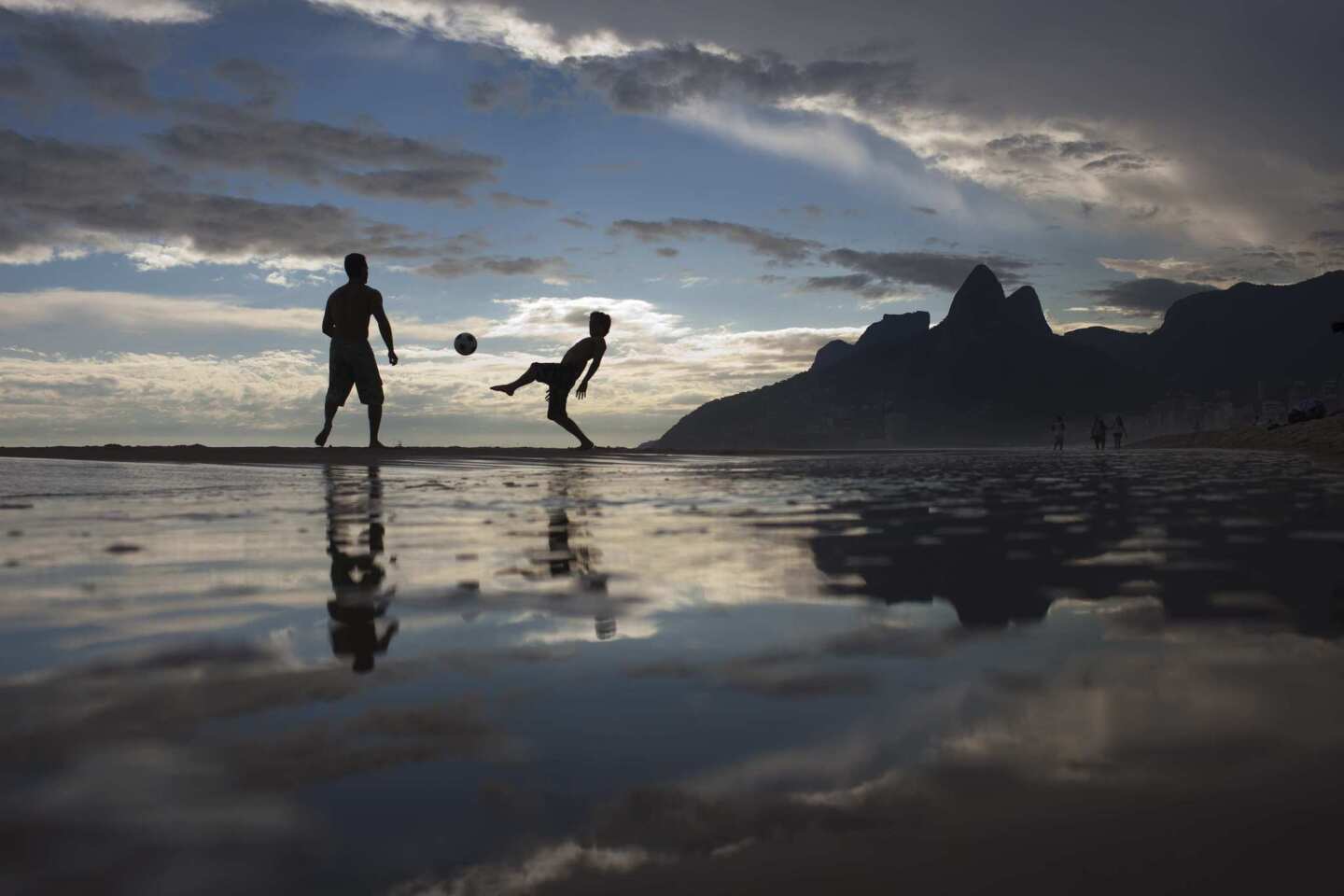 The sun sets on another day at Rio de Janeiro's Ipanema beach.
(Felipe Dana / Associated Press)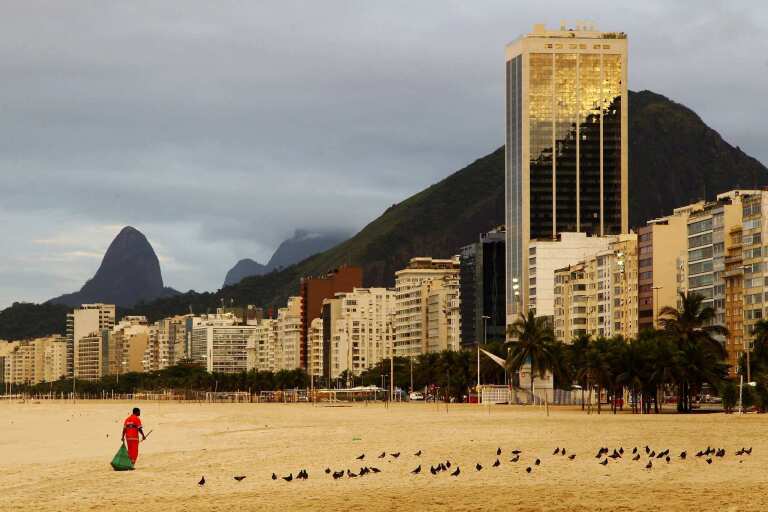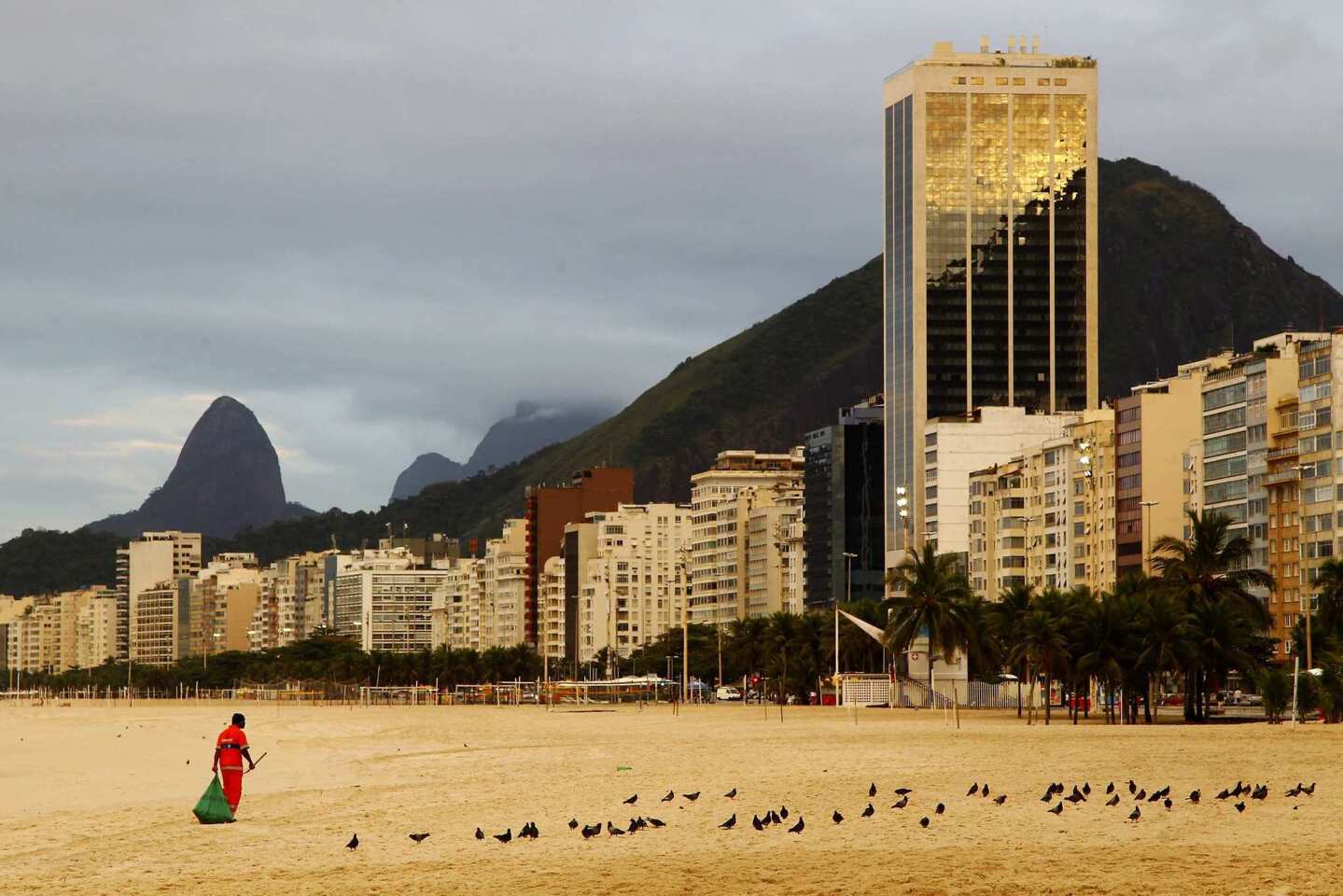 Diffused by cloud cover, morning light illuminates Leme beach in Rio de Janeiro.
(Fernando Quevedo / Getty Images)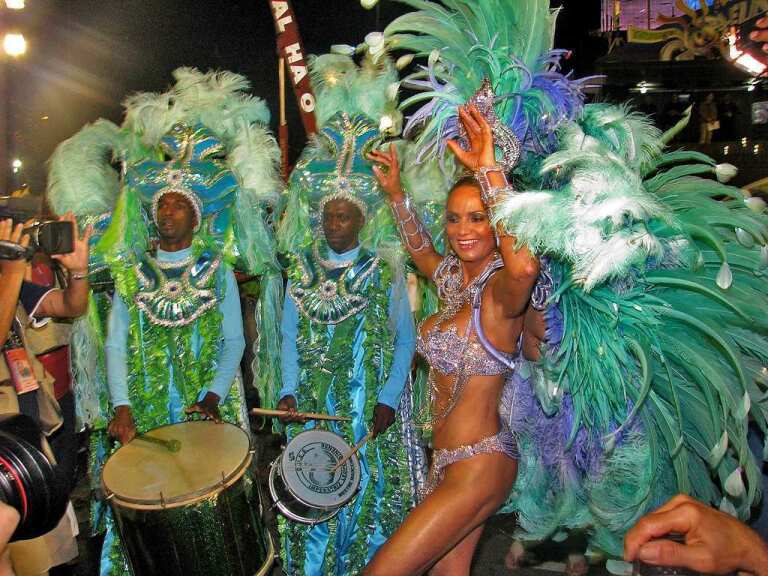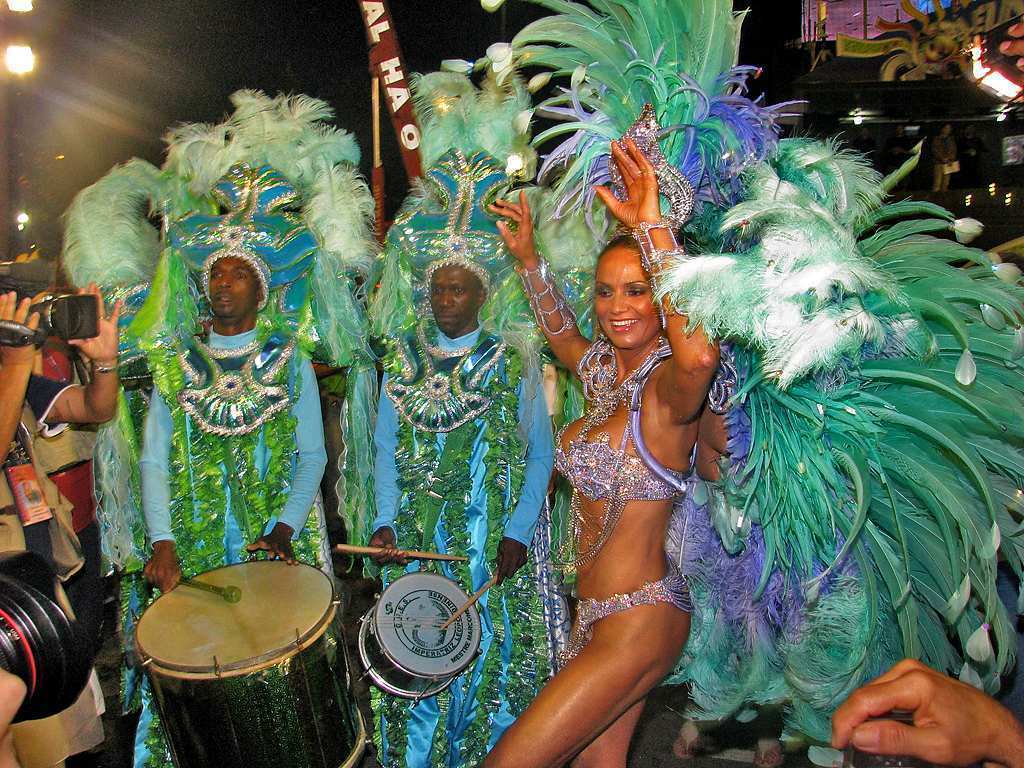 A samba school tries to top its rivals during Rio's Carnival. Samba music was born in the 1920s in Rio's most impoverished neighborhoods. Rooted in the African rhythms brought by slaves, it exploded on the scene when samba schools started dancing their way through Carnival in the 1930s.
( Luiza Brunet)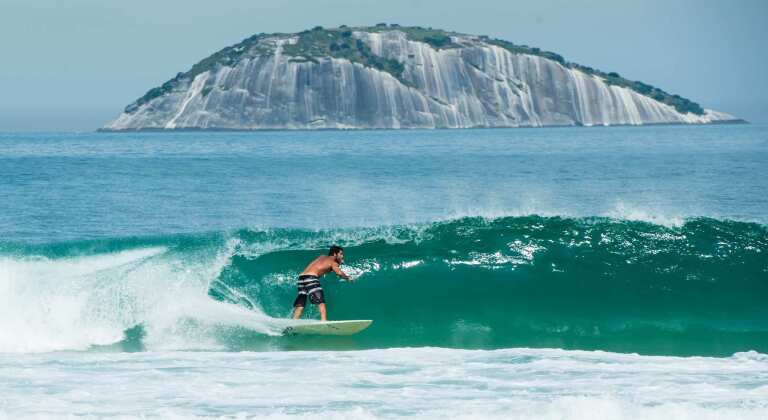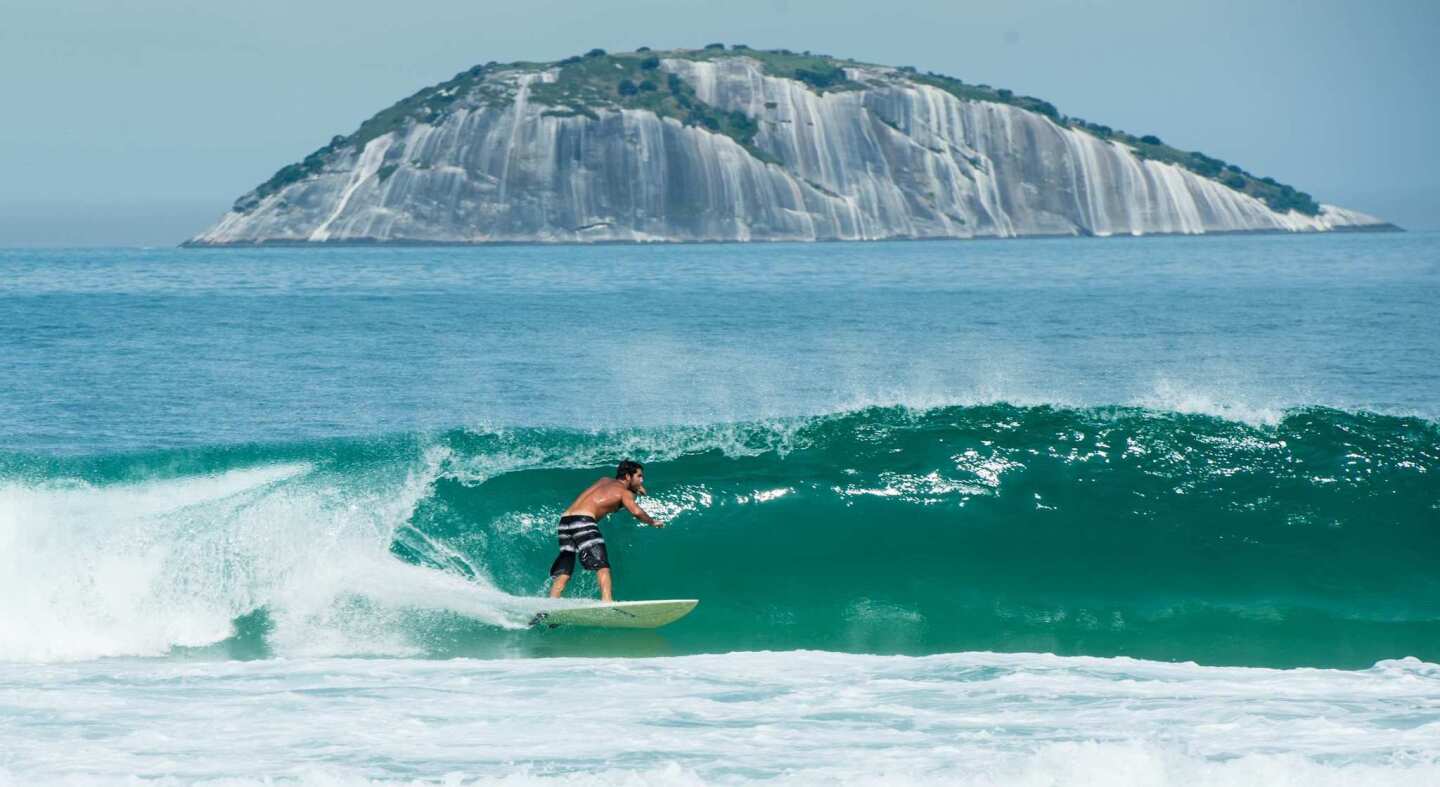 A surfer rides the waves off Rio de Janeiro.
(Ian Gavan / Getty Images for Diageo)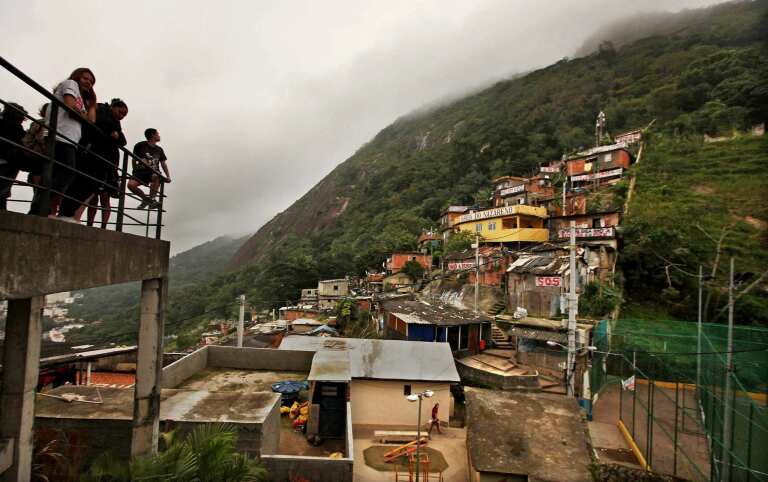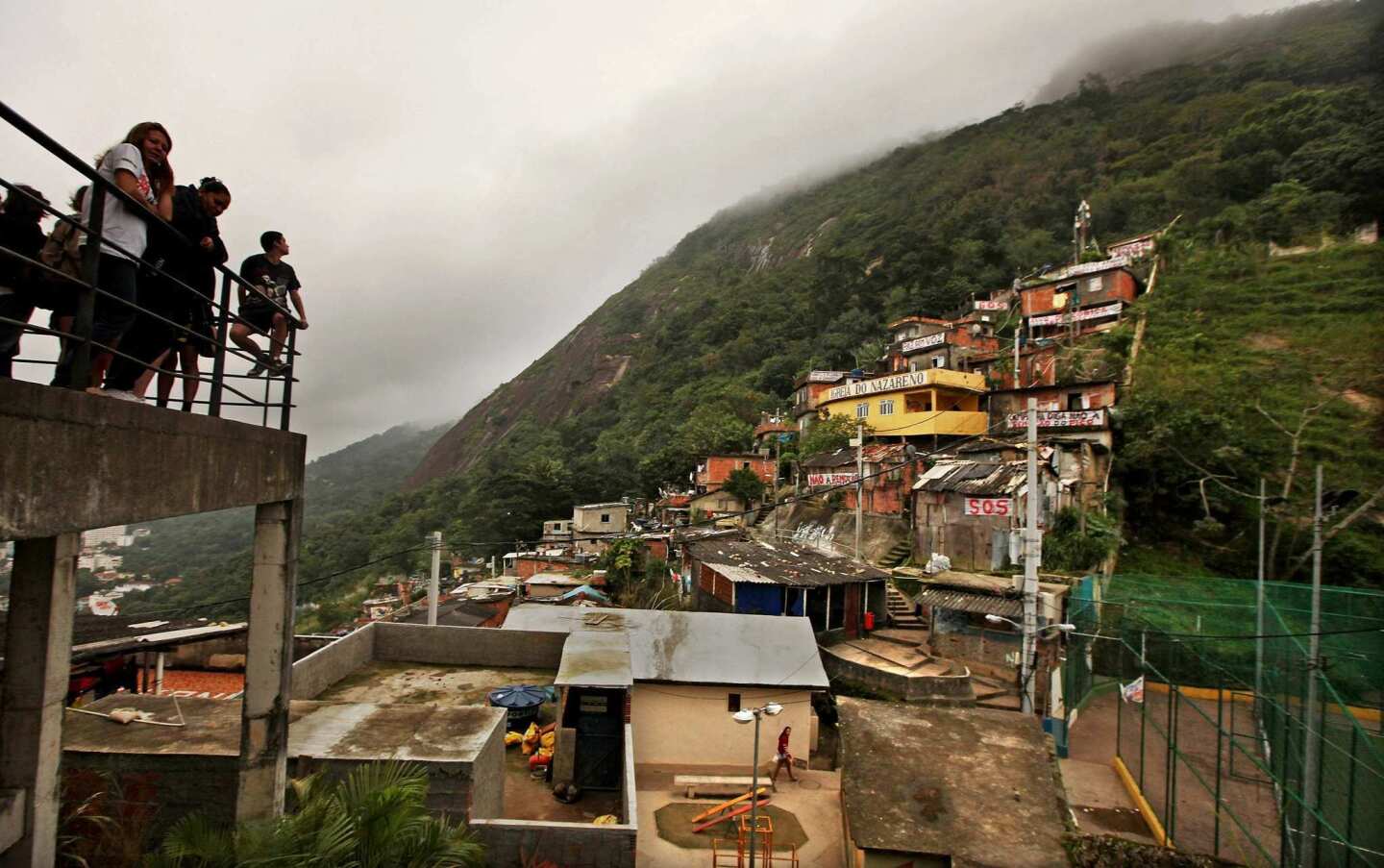 Mist rises above one of Rio de Janeiro's
favelas
, or shanty towns.
(Mario Tama / Getty Images)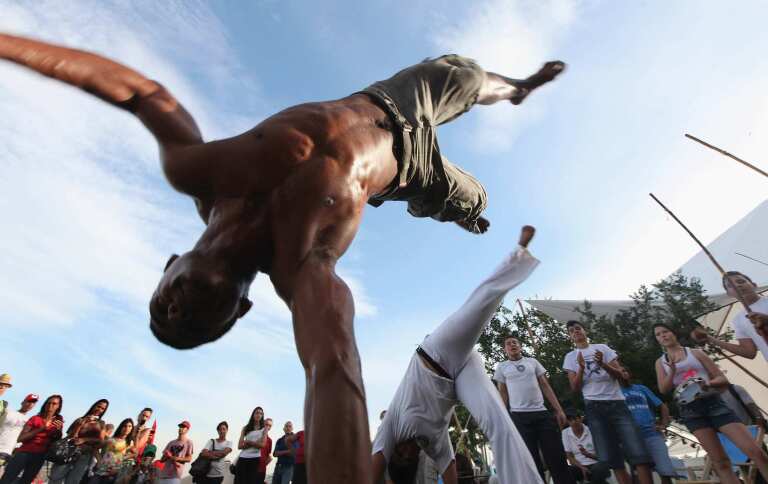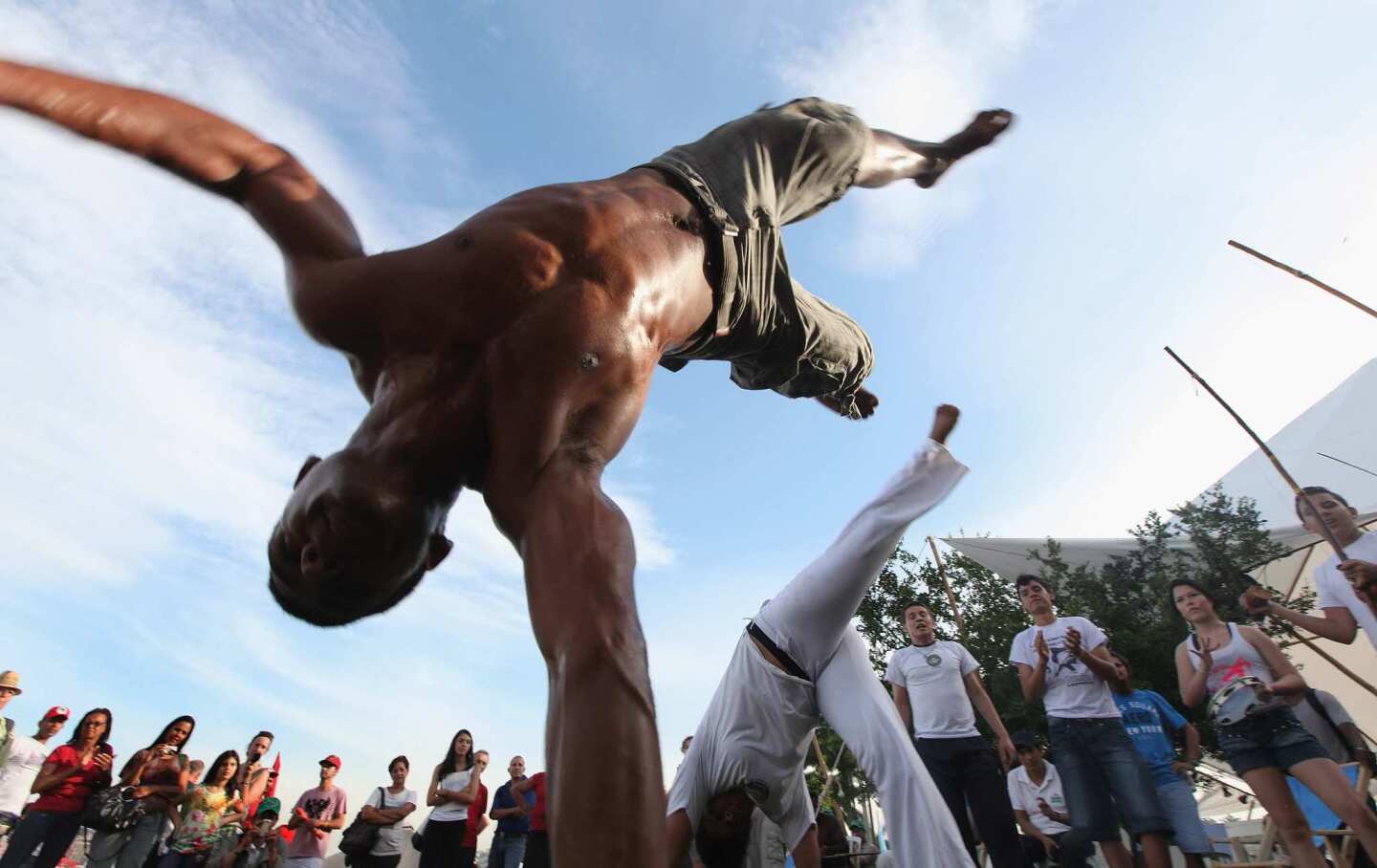 In Rio, Brazilians demonstrate
capoeira,
a martial art that combines elements of dance and music. It is known for its quick and complex moves.
(Mario Tama / Getty Images)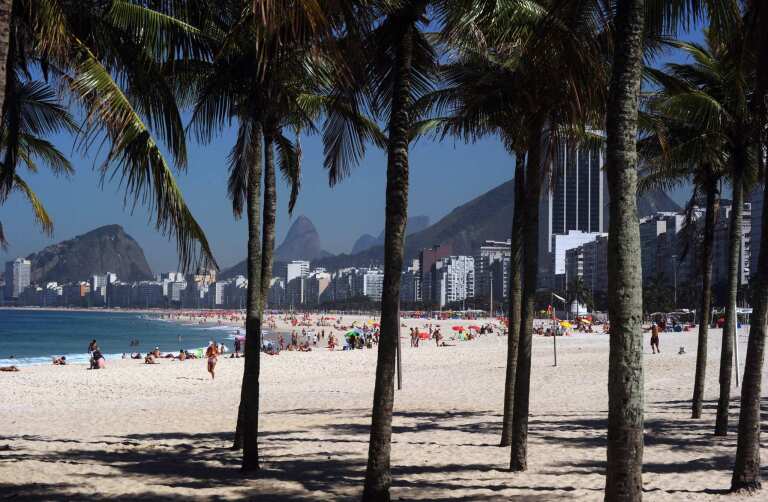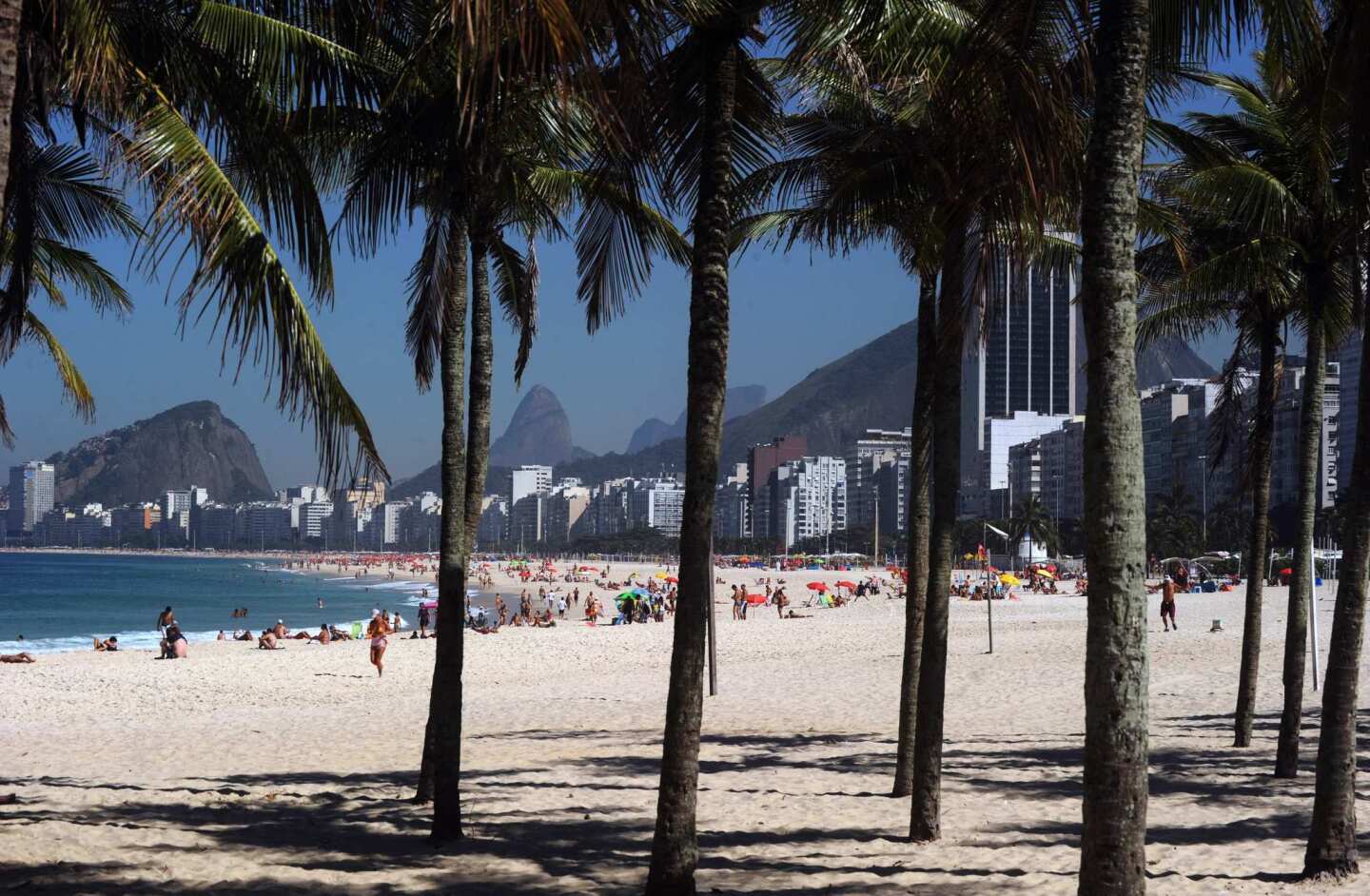 An idyllic scene is presented through the trees at Copacabana beach in Rio de Janeiro.
(Antonio Scorza / AFP / Getty Images)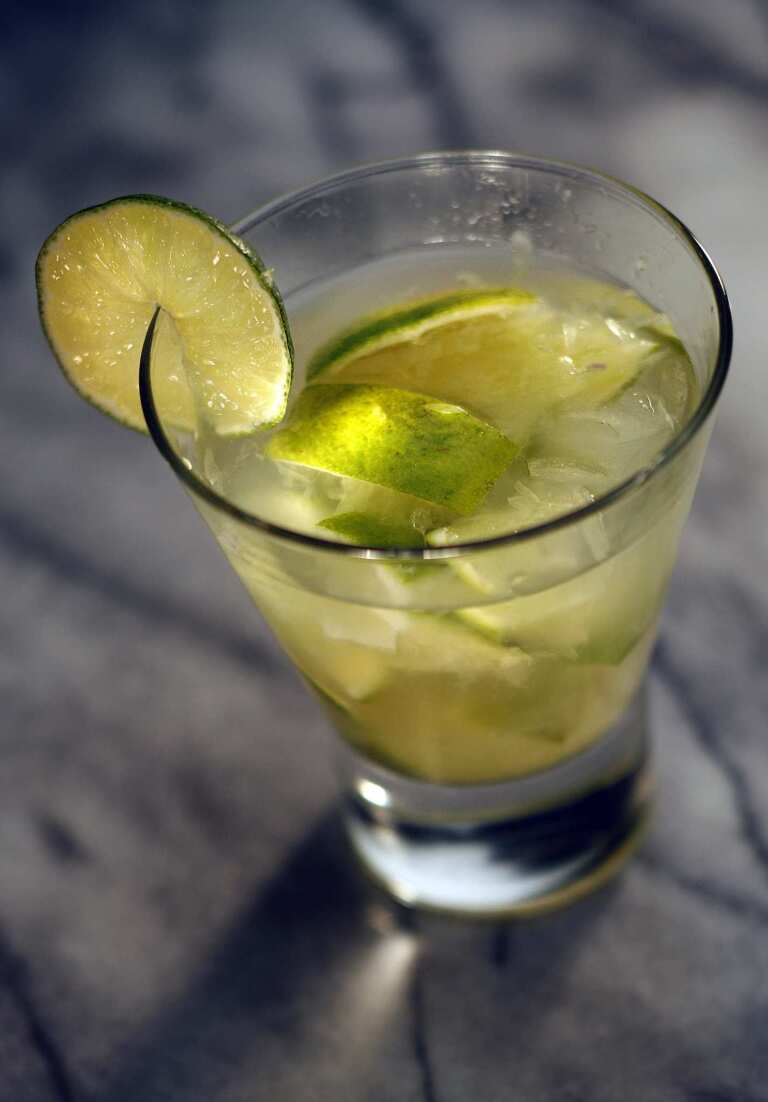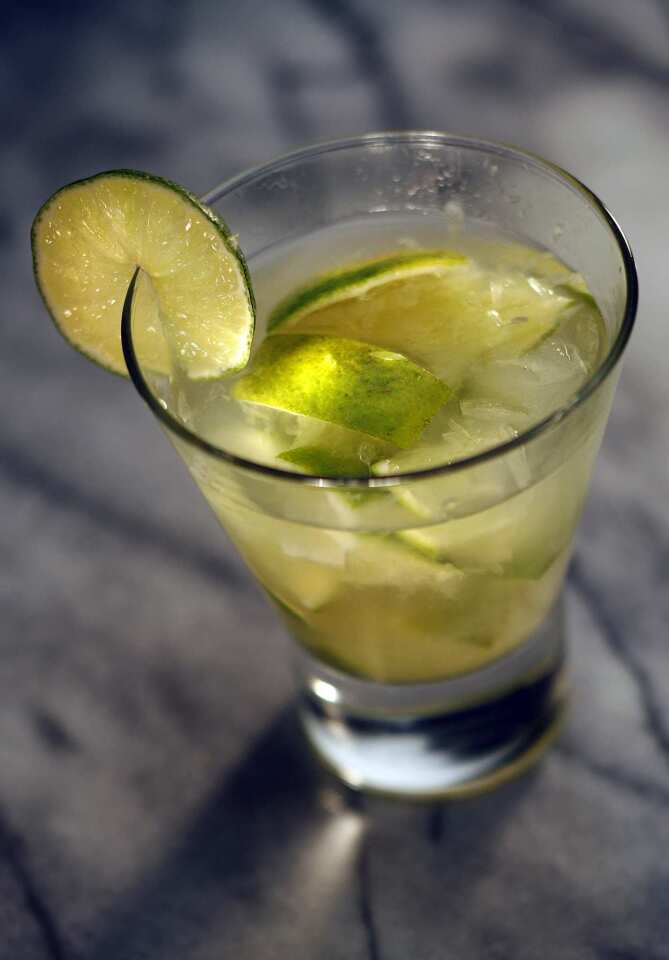 No trip to Brazil would be complete without trying a
caipirinha,
the country's signature drink.
(Allen J. Schaben / Los Angeles Times)
RIO DE JANEIRO — "Should I use violence to restrain you if you want to buy too much?" my Italian roommate asked, seeing my enthusiasm for shopping manifest itself at a Brazilian kitchenware and china shop in Rio de Janeiro's Copacabana neighborhood.
She was perfectly capable of this violence, just as I was capable of defending against it. We were in Rio last year as visiting female martial artists studying Brazilian Jiu-Jitsu with four-time world champion and famed Carioca Kyra Gracie. Nevertheless, I had to think about the violence question, picturing a double-leg takedown in proximity to the china.
Brazilian Jiu-Jitsu is not popular (yet) among women. But Gracie runs an annual international camp specifically for women (https://www.gracieadventure.wordpress.com). Never mind that the four other women in the program were in their 20s and I was, well, not. Unlike me, they didn't leave kids behind as they traveled from different parts of the planet. I went anyway. I love this martial art, and it gave me an opportunity to see Rio de Janeiro differently from the way I might have seen it otherwise.
And I did see it differently. The program, driven by Gracie's desire to promote women in Brazilian Jiu-Jitsu and her outreach to underprivileged segments of the country's population, took us, among other destinations, inside the walls of the favela Cantagalo. With gym bags slung over our shoulders, we wound our way up the steep mountainside streets of what some call a slum or shanty town, headed for a boxing academy.
Inside Nobre Arte, jump ropes banged against the floor as we jabbed and uppercut imaginary opponents. This academy, founded more than 20 years ago by famed Brazilian boxing coach Claudio Coelho, transformed the rundown building, primarily used for drug deals, into a place where kids could focus on training.
Nobre Arte's yellow walls were barely visible beneath the photographs of smiling fighters who have built notable careers here (Royler Gracie, Murilo Bustamante and countless others). Boxing is not a part of Jiu-Jitsu, but combining the two arts, as many mixed martial artists have done, makes for a great fight.
The history of Brazilian Jiu-Jitsu dates to the 1920s, when Carlos Gracie (Kyra Gracie's great-grandfather) and his brother Hélio put their own take on the Japanese arts of judo and jujitsu. They created an ever-evolving system of self-defense that exploits leverage over strength by using techniques that include numerous chokes and arm locks. Different Gracie schools, started by various members of this famous Brazilian fighting family, have now opened in places as far away as Alaska and Slovenia.
Our base was Hotel Tropical on the shores of Barra da Tijuca, a beach town west of tourist destinations Ipanema and Copacabana. Often referred to as Barra, it has been an epicenter of Brazilian Jiu-Jitsu since Carlos Gracie's son, Carlos Jr., founded his academy there in 1986.
Now, it's a middle-class suburb complete with a mega-mall and other suburban trappings. But Barra's natural beauty shows in the form of an 11-mile stretch of white-sand beaches. Although the accommodations at Hotel Tropical were no frills, the view out my window was five star: kite surfers skimming at high speeds over the white caps of Praia do Pepê, a beach named for Brazilian professional surfer and hang glider Pedro Paulo Guise Carneiro Lopes, a.k.a. Pepê, who died in 1991 in a hang-gliding accident.
Not dissuaded by this story of hang-gliding gone awry, I wanted to fly. And the easiest place to catch a ride on a hang glider is São Conrado beach, the landing place for those flying off Gávea Rock in Tijuca National Park. There, at Rio Hang Gliding, I found former national hang-gliding champion Konrad Heilmann, who would take me for a ride.
As we drove up the mountain roads of the world's largest urban rain forest, I saw some of the locals, namely playful capuchin monkeys. Was it my imagination, or were they laughing at us for wanting to strap ourselves to a pair of phony wings and pretend to be birds? No matter. My heart beat loudly as I ran off wooden planks straight into the blue sky.
The only thing suspending me hundreds of feet above the trees and jagged rocks was a minuscule amount of aluminum alloy and some fabric. Yet serenity set in as Heilmann steered the glider over Rio's spectacular coastline of cliffs, bustling cityscape, sandy beaches and the ever-present Christ the Redeemer statue.
Back on the ground, we spent most of our days sparring with the guys at the Gordo Evolve Mixed Martial Arts Academy in Barra, where Kyra Gracie trains regularly. But we also had a chance to train with the spunky little kids in the Vargem Grande area at Gracie's pet charity project, the Instituto Kapacidade, or Institute of Capability.
Known for its greenery and restaurants, Vargem Grande is also home to poorer communities where many residents work long hours as manual laborers or domestic help in Rio's more affluent areas. Kids ages 5 to 16 show up at the institute after school for martial arts instruction and for help with their schoolwork and computer skills.
"Our focus is not only on martial arts and academics, but it is on educating the kids about right and wrong," said Bruno Neves, who co-runs the institute. "We are doing this using Jiu-Jitsu."
Gracie explained. "Sometimes the parents are on buses for three hours a day commuting to and from their job and they don't have time to see the kids," she said. "They have difficulties in school." Along with Neves, she formed the Instituto Kapacidade three years ago. "The kids learn discipline and respect. When they compete in tournaments, they learn the power to control their minds and that can help them in their lives off the mat."
The institute's faded pink and blue mats occasionally had to be kicked back as we showed the kids techniques, rolled around and sparred with them. I don't speak a lot of Portuguese, but the high-contact art of Jiu-Jitsu is a language in itself. These kids in their well-worn gis were all smiles as they practiced an art that might lead them to a national championship or simply to good life skills.
Many Brazilians teeter on or below the brink of poverty, yet even those who sweep the streets are often smiling or singing to themselves. Perhaps it's the Brazilians' cultural value that encourages embracing life. It was hard to walk a block without seeing folks from all sectors of society enjoying food, sports or music.
Samba music, considered a gem of Brazil's national identity, was born in the 1920s in Rio's most impoverished neighborhoods. Rooted in the African rhythms brought by slaves, it exploded on the scene when samba schools started dancing their way through Rio's Carnival in the 1930s. Although I was not in Rio for Carnival, I wanted to check out the samba scene.
Donning dresses (for once) and happily comparing now-exposed Jiu-Jitsu bruises on our lower and upper extremities, the girls and I headed to the Lapa neighborhood, an artsy area that bubbles over with musical venues and bars. Standing on the upstairs balcony of nightclub Lapa 40 Degrees owned by Gracie's friend, dancer Carlinhos de Jesus, we overlooked the nine-piece samba band as it laid the beat for masses of hip-swaying Cariocas. Looking down, I realized that a Brazilian guy was pointing up, motioning for me to come and samba with him. I looked right and left, incredulously.
What the heck. I was in Brazil. That one samba lesson I took as part of my extensive pre-trip "all-things-Brazilian" research might just pay off, and hey, wasn't martial artist Bruce Lee also a cha-cha champion? And what about that dance scene withJean-Claude Van Dammein "Kickboxer"?
It was Jiu-Jitsu fighting that brought me to Brazil, but watching the Brazilians fight for every moment of joy made me understand how this country is climbing up the world's economic stage.
As I sambaed with Crazy Brazilian Guy, I got the rare Fred-and-Ginger-people-are-actually-clearing-a-space-for-us-on-the-dance-floor moment. Our last women's Jiu-Jitsu camp evening was spent in the club, experiencing the boundless enthusiasm Cariocas have for music and life.
---
Get inspired to get away.
Explore California, the West and beyond with the weekly Escapes newsletter.
You may occasionally receive promotional content from the Los Angeles Times.