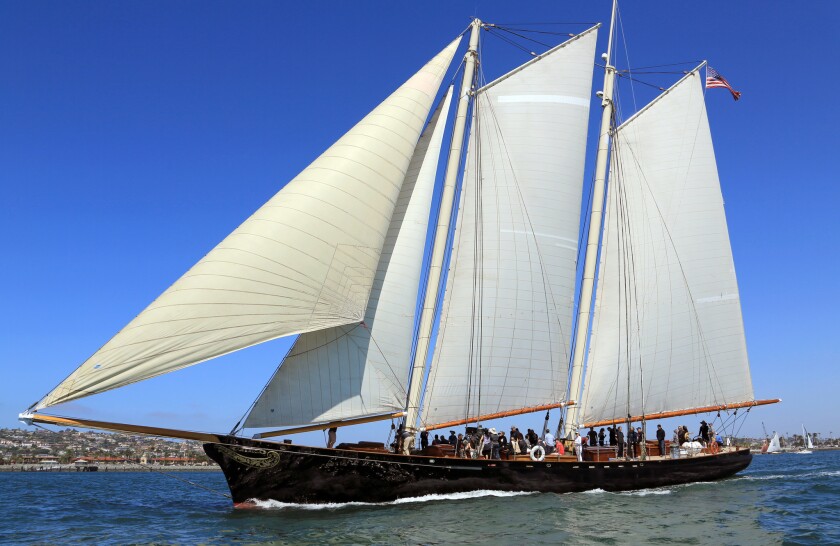 From art and documentaries in the desert to tall-ship schooners at sea to salsa dancing outdoors to the ghouls of Halloween, the weekend will be busy.
Twentynine Palms
The national park and deserts of the Southwest inspire the art at the 26th annual Joshua Tree National Park Art Festival at the Oasis of Mara Visitor Center. Visitors can meet 26 local and regional artists while viewing fine jewelry, wildlife photographs, paintings, pottery and more. Part of the sales will benefit the Joshua Tree National Park Assn., a nonprofit that helps the park's interpretive, educational and scientific programs.
Cost, info: Free. Family-friendly. Dogs on leash OK. (760) 367-5525, joshuatree.org/art-festival
Palm Springs
Cost, info: $11 per program (which may include more than one film). Family-friendly (parental discretion). Only service animals permitted. (760) 292-2149, lat.ms/documentaryfest
Indian Wells
Cost, info: $75. Family-friendly. Only service animals (and animals in training) permitted. (800) 999-1585, indianwellsmusicfestival.com
San Diego
Cost, info: Watching is free. Riding on a schooner (including admission to the Maritime Museum of San Diego) is $70 for adults, $48 for children 12 and younger. Dogs on leash at the viewing area are OK, but no dogs permitted on ships. (619) 234-9153, Ext. 116, americasschoonercup.com
La Mirada
For a break from the flowers and pastel colors of spring, you could turn to Halloween, the macabre and the sixth Spook Show at La Mirada's Halloween Club. Check out costumes, accessories, panels and more from more than 100 vendors. Parental discretion advised.
Cost, info: Free, but register in advance. Mostly family-friendly, but some things may not be suitable for younger children. Only service animals permitted. (714) 367-0859, lat.ms/spookshow
Beverly Hills
Cost, info: Free. Family-friendly. No dogs permitted. (310) 746-4000, lat.ms/dancesundays
Brea
"Click, Clack, Moo," a musical based on the popular children's book about negotiation and compromise, runs for one day at the Curtis Theatre. Colorfully costumed characters interact with the audience. The show's designed for laughs and dancing for children 4 and older.
When: 3 and 5 p.m. April 8.
Cost, info: Adults 18 to 54, $17; seniors 55 and older, $15; children 17 and younger, $13. Only service animals permitted. (714) 990-7722, lat.ms/clickclackmoo
---