19 Images
Touring Cambridge, the country's original college town
Touring Cambridge
By Christopher Reynolds,
Los Angeles Times
staff writer
Hanging around in Cambridge has its drawbacks. You may stub your toe or splinter a heel on the uneven sidewalks. You may discover that
John Harvard
smells funny. You may be arrested for obstreperousness inside your own lodging (see Gates, Henry Louis Jr.). And if you spend enough time among these big, old buildings and bright, young students, you may begin to feel old, or undereducated, or both.
But spend the time anyway.
Whether or not you have a prospective freshman in your family, this country's first college town is full of far more American history, smart shops, cool museums, inviting restaurants and all-around entertainment than your average city of 95,000.
Harvard University
sprawls on about 380 acres at one edge of Cambridge.
Massachusetts Institute of Technology
sits on 168 acres at another edge. The Charles River bends around both campuses, and the tree-lined streets should be exploding with red and gold leaves any day now.
An out-of-towner could easily ignore Boston, just across the river, and spend days just digesting Cambridge. So I did, for three days in September, as thousands of students were settling in for the new term -- about 1,700 freshmen at Harvard, 1,100 or so at MIT, plus legions more at Lesley (also in Cambridge), Tufts (in
Somerville
, next door) and Boston University (just across the Charles). All told, greater Boston boasts about 50 college campuses.
But today's short course is more specific than that. This is Cambridge 101, tuition-free. Your instructor today is a Fresno State alum whose grandfather went to MIT and whose mother went to Radcliffe when it was Harvard's little sister. In other words, I'm still working out whether I should be biased against the place or in favor of it. Class is now in session.
(Christopher Reynolds / Los Angeles Times)
Leavitt & Peirce
1. Everyone has an opinion in Harvard Square, and everyone has an opinion on Harvard Square.
This is where town and gown tangle. Old-timers bemoan the real estate boom that banished much of the neighborhood's Bohemian feel, but newcomers love bumping into big shots who were on CNN the night before. If you don't spot a human statue in a blue leotard striking poses for tips or a PETA activist in a chicken suit, you're looking too hard for Wolf Blitzer.
Harvard Book Store (since 1932) is a great independent bookshop. Leavitt & Peirce (since 1885) still furnishes tobacco and "gentlemen's accessories" (chess sets, for instance). And Out of Town News (1955), the magazine stand and paper peddler in the middle of it all, survived a closure scare in January and continues under new management.
You get folk music at Club Passim, jazz at Regattabar or Ryles Jazz Club, rock at the Middle East Restaurant & Nightclub near Central Square. On Wednesday, a wall notice announces, there's a Queer Town Hall meeting. On Thursday, a Korean martial arts class. On Saturday, choral auditions.
(Christopher Reynolds / Los Angeles Times)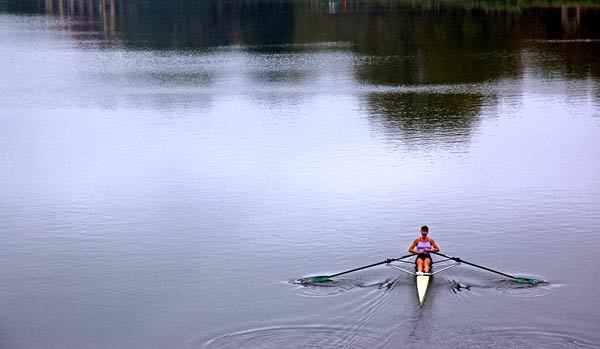 The Charles River
2. If you can't get out on the Charles, you should at least get over it.
At the least hint of decent weather, the rowers and sailors of Cambridge take to the water. You can rent a vessel (Charles River Canoe & Kayak,
www.paddleboston.com
) and join them. Or walk or run or bike along the water's edge. Or stand above the water on the Harvard-adjacent Weeks Foot Bridge and watch the world go by.
(Christopher Reynolds / Los Angeles)
Biking through Harvard Square
3. No matter how much fun it is to say, it's unwise to
pahk the cah in Hahvahd yahd
.
Leave your vehicle far away and dodge the congestion around Harvard Square by exploring Cambridge by foot, bike, bus or subway train. Also, don't say Massachusetts Avenue. (The shorthand is Mass Ave.) And don't call that student store the co-op. (The preferred pronunciation is "coop," as in chicken dwelling.) The proper term for Cambridge residents, if you can say it with a straight face, is Cantabrigians.
(Christopher Reynolds / Los Angeles Times)
Harvard Square
4. You can do Harvard for free, with or without snark.
Founded in 1636, Harvard is the oldest institution of higher learning in the U.S. The sticker price for undergrads is about $49,000 a year for tuition, room, board and incidentals, and the alumni list includes seven presidents. You'll hear more along these lines on the official student-led Harvard tour. It's free, lasts about an hour, and I liked mine. But there's competition.
Since 2006, Unofficial Tours has been offering unofficial "Hahvahd" tours, also led by students, who dish out more attitude and less reverence. (It was an Unofficial guide who reminded me that the Unabomber studied here.) Unofficial tours are nominally free, but guides suggest a tip of $10 per person.
(Christopher Reynolds / Los Angeles)
John Harvard statue
5. Even if all the other tourists are touching the John Harvard statue's toe, you shouldn't.
The 19th century statue sits in the Old Yard, above an inscription that incorrectly credits John Harvard with founding the college in 1638. But generations of freshmen (whose dorms neighbor the yard) have made a tradition of mistreating the sculpture, often in, shall we say, the wee hours.
"I would advise against touching it," said Gary Pelissier, a 21-year-old junior who leads official Harvard tours.
"I know things about this toe that would make your blood curdle," said sophomore Gabrielle Guarracino, a 19-year-old sophomore who leads Unofficial Tours.
(Christopher Reynolds / Los Angeles)
Mt. Auburn Street as it leads to the steeple of Lowell House
6. They have seasons here and snacks to match.
"There's nothing more spectacular than the first snowfall at Harvard," Tessa Lyons-Laing, a 20-year-old junior, told me. "And then it turns to sludgy brown," added her friend Madeleine Bennett, also 20 and a junior.
When the weather's cold, Cantabrigians congregate in coffee houses, including Algiers Coffee House, Crema Cafe and Hi Rise at the Blacksmith House -- all on Brattle Street -- or Darwin's Ltd. on Mt. Auburn Street.
When the weather's warm, they repair to ice cream shops Herrell's on Dunster Street, Lizzy's on Church Street and Christina's Homemade Ice Cream at Inman Square, where I can personally vouch for the orange chocolate scoops.
(Christopher Reynolds / Los Angeles)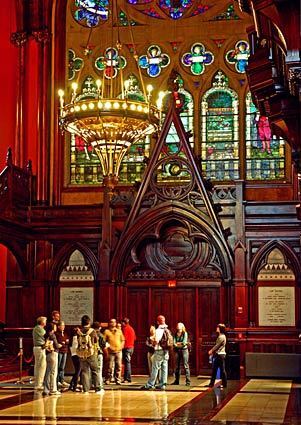 Memorial Hall
7. You never know what you're going to find inside those brick and stone buildings.
That strange shrunken castle in the middle of Bow Street with the odd purple-and-yellow door and the leftover can of Pabst Blue Ribbon by the threshold? Headquarters of the Harvard Lampoon, where writers George Plimpton and John Updike, actor Fred Gwynne and comedian Conan O'Brien have honed punch lines.
And that massive Victorian Gothic building on Quincy Street -- the one with the stone walls, marble floors, walnut paneling, stained-glass windows, Volkswagen-sized chandelier and 60-foot vaulted ceiling?
That's Harvard's freshman dining hall, and all others are banned from entry.
The building is called Memorial Hall, and it was built in 1878 to honor Harvard alumni who fought for the Union in the Civil War. Besides the dining hall, it houses the Sanders Theatre and a transept that feels more churchy than most churches. It's usually open noon to 6 p.m. weekdays.
(Christopher Reynolds / Los Angeles)
Drew Gilpin Faust, Harvard's current president
8. Maybe men are losing their clout at Harvard. Or maybe not.
Partly because it had all-female Radcliffe right next door, Harvard got away without admitting female students until 1977. But now the president's office is occupied by Drew G. Faust, the first woman to land the job. And in 2008-09, women undergraduates narrowly outnumbered men, 3,363 to 3,315.
As for former Harvard President Lawrence H. Summers, who created a stir in 2005 by suggesting that women's brains might be less suited to math and science than men's, he's been forced to settle for work as President Obama's top economic advisor.
Meanwhile, Harvard's all-male, invitation-only "final clubs" have lasted more than a century. The Harvard Crimson has reported that several of the clubs (which sport such names as Fox, Fly and Owl) own Harvard Square real estate worth millions. Because they don't offer clubhouse tours, just glance up at the second-story windows as you stroll on Mass Ave. and Holyoke Street, and imagine the chosen few at play.
(Matt Rourke / Associated Press)
Harvard Museum of Natural History
9. Enough about the pastimes of the rich and well-educated. Let's talk about museums.
Near Harvard Square are two you shouldn't miss.One, especially if you're traveling with kids, is the Harvard Museum of Natural History. It's chock-full of stuffed mammals, centipedes in jars, butterflies under glass, a 42-foot-long kronosaurus skeleton, and 3,000 uncannily convincing glass flowers, painstakingly made by a father-and-son team between 1887 and 1936.
(Christopher Reynolds / Los Angeles)
A Van Gogh self-portrait inside Harvard Art Museum's Sackler building
The other mandatory stop is the Harvard Art Museum's Sackler building. Because the campus Fogg and Reisinger museums will be under renovation for the next few years, curators have chosen favorite pieces from those collections and united them (often in witty combinations) in a greatest-hits art exhibit called Re-View.
In the space of a few steps, you get ancient Roman statuary, 20th century American abstraction, Impressionist masterworks (including a riveting Van Gogh self-portrait) and pioneering photography, including an 1887 motion-study series by Eadweard Muybridge of a topless woman jumping up and down.
(Christopher Reynolds / Los Angeles Times)
A George Washington painting by Gilbert Stuart
10. George Washington slept here.
For about nine months in 1775 and 1776, the Revolutionary War general bedded down at 105 Brattle St., near Harvard Square. About 70 years later, poet Henry Wadsworth Longfellow wound up living in the same home, which is open to the public as the Longfellow National Historic site.
(Gilbert Stuart)
Washington Tower
11. H.W. Longfellow continues to sleep here.
So does Mary Baker Eddy. The poet and the founder of the Christian Science movement occupy just two of the many plots in the immaculately landscaped hills of Mount Auburn Cemetery. If you catch a clear day and it's not winter, head straight for Mount Auburn and climb the 125-foot Washington Tower. From up there you can look down on all of Cambridge, which is especially fun if you went to a state school.
(Christopher Reynolds / Los Angeles Times)
Mr. Bartley's Gourmet Burgers
12. If you must revisit the Cambridge Police Department's globally famous arrest and release of Professor Gates in July, don't go looking for his house.
Instead, shoulder your way into the crowd at Mr. Bartley's Gourmet Burgers (a.k.a. Mr. Bartley's Burger Cottage), a Mass Ave. fixture since Bob Dylan and Joan Baez were chowing down here in the 1960s. The Bartley family likes to keep the menu topical.
Accordingly, you can order the Skip Gates burger (teriyaki sauce, grilled pineapple, onion rings) or the Sgt. Crowley burger (American cheese, sautéed onions, gravy French fries). Your choice. Bear in mind, however, that Gates has been a customer for years and could be behind you in line.
(Christopher Reynolds / Los Angeles Times)
Bikers on MIT's campus
13. Look both ways.
The streets are teeming with not only New England drivers(not known for their congeniality), but also Cambridge pedestrians, which is just a fancy way of saying jaywalkers.
"When I first got here, I would wait for the lights to change," said Kylie Thompson, a 19-year-old sophomore who came to Harvard from Los Angeles. "But I was the only one waiting."
Maybe the locals will think you're a dweeb, waiting for a green light. But sometimes dweebs live longer.
(Christopher Reynolds / Los Angeles Times)
Killian Court
14. And speaking of MIT, it's worth a visit.
The Cambridge campus, just a mile and a half southeast of Harvard on Mass Ave., dates to 1916, when the college moved across the river from Boston.
Unlike the close quarters of Harvard Square and the grittier bar scene near Central Square, the MIT campus and neighboring Kendall Square are full of big, bold and often cold modern buildings designed by avant-garde architects such as Alvar Aalto, I.M. Pei and Eero Saarinen.
Even though you can find several snazzy restaurants and lively pubs in the neighborhood (notice the periodic table menu at Miracle of Science), you couldn't call MIT warm and fuzzy.
On campus, most buildings are known by numbers instead of names, even the grand entrance, a.k.a. Building 7. And though MIT officials claim they operate only one nuclear reactor, half the structures on campus seem likely spots for boron neutron capture therapy or other nuclear chores.
(Christopher Reynolds / Los Angeles)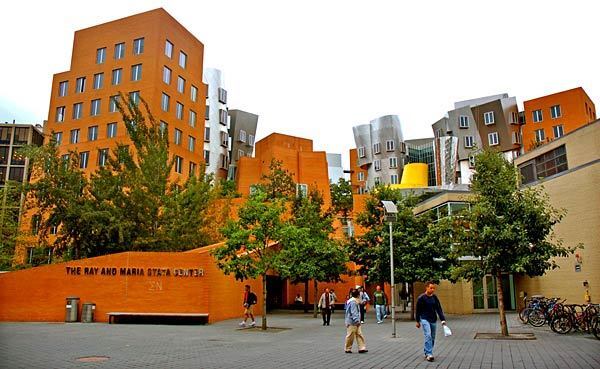 Frank Gehry's Stata Center
Meanwhile, Frank Gehry's towering, tilting Stata Center, completed in 2004, suggests a meltdown in progress. In a good way. There's a cafe inside, along with colorful, oversized photos of striking scenes around the world.
The school (undergrad sticker price: $50,000 yearly) has seven Nobel Prize winners on its faculty, and alumni include astronaut Buzz Aldrin, Federal Reserve Chairman Ben Bernanke, Israeli Prime Minister Benjamin Netanyahu and Tom Scholz, the Boston guitarist behind those killer power chords on that golden '70s oldie "More Than a Feeling."
If you take a student tour like the one I got from 20-year-old junior Lizi George, you'll get to stride down "the infinite corridor," a passage that runs about 300 yards through the spine of the campus. You'll hear that the curved roof of Kresge Auditorium (designed by Saarinen) makes one-eighth of a perfect sphere.
Passing grassy Killian Court, you're almost sure to see a few undergrads playing ultimate Frisbee or juggling. Now ask yourself: Are these sports or thinly disguised physics experiments?
(Christopher Reynolds / Los Angeles)
MIT Museum
15. If you have an extra 45 minutes, check out the MIT Museum.
It's no match for the art and natural history collections at Harvard, but it has a batch of clever devices (robots, holograms), along with a series of displays showing how military contracts helped the institution grow dramatically during World War II and how brainy pranks have pervaded student culture for decades.
Once, in 1994, those wacky kids put a police car on the roof of the campus' Great Dome. In 1982, an MIT frat crew inflated and harmlessly exploded a balloon on the 46-yard line of a Harvard-Yale football game. In 1998, the university's home page was replaced by an announcement that the Walt Disney Co. had purchased MIT for $6.9 billion.
(Christopher Reynolds / Los Angeles Times)
A class at MIT
16. Women might at last be gaining clout at MIT. Or not.
Neuroscientist Susan Hockfield has been MIT's president since 2004, and over the decades, female undergrad enrollment has gradually climbed to 45%. But the numbers are much smaller for grad students and smaller still for faculty -- "the leaky pipeline," they call it.
On the Friday night of my visit, playwright and actress Gioia De Cari addressed that issue (and a few others) in a one-woman show (since closed) at the Central Square Theater -- "Truth Values: One Girl's Romp Through M.I.T.'s Male Math Maze."
Standing before a sold-out audience, De Cari, an '80s MIT grad school alumna, spun and sang tales of desperation, sexism and self-discovery among the numerati. Serious math, she mused, is really thought sculpture, built from the poetry of pattern but comprehensible to only about six people.
At about this point, De Cari grinned wickedly, pulled out her thesis and began reading aloud a passage of stupefying density. Cambridge comedy gold. If you see only one play this year about reflexive nonbinary relations, make it this one.
chris.reynolds@latimes.com
(Christopher Reynolds / Los Angeles Times)