15 Images
Weston Country: Carmel, California
Along a rugged Central California coastline that is a touchstone in American photography, Garrapata Beach offers a lonely landscape that can tempt whoever is holding a camera. Edward Weston, haunting Monterey County in the 1930s and '40s, went on to win worldwide respect for fine-art photography with his meticulous, unsentimental, often nearly abstract images of nature. His sons Brett and Cole also forged estimable reputations in the art. Ansel Adams, who captured iconic images of Yosemite, also lived in the area for the last 22 years of his life.
(Christopher Reynolds / LAT)
An angular rock rises at Garrapata State Park, whose often deserted beach unwinds for two miles — a taste of nature only a short distance south of the cute cottages and high-end retail of Carmel.
(Christopher Reynolds / LAT)
Vegetation glistens in a sea cave at Garrapata Beach. Edward Weston had planned to make money shooting members of local high society when he arrived at Carmel, but that didn't happen — perhaps because the trees, rocks and other natural features intrigued him more than the people..
(Christopher Reynolds / LAT)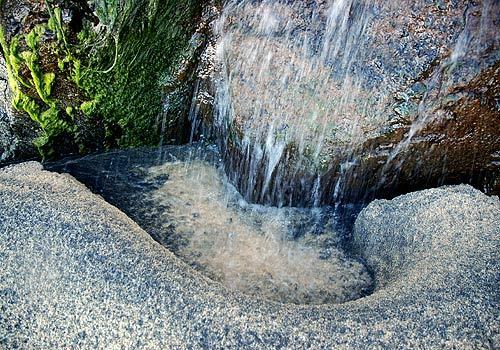 A waterfall sends a rivulet tripping off rocks and onto the sand of Garrapata Beach. Weston would spend hour upon hour at water's edge, composing frames of granite and sandstone, wind and surf, cypress and succulent, seaweed and sand, all the while wrestling with a heavy tripod, and a wooden view camera, and loading 8-by-10 negatives one at a time.
(Christopher Reynolds / LAT)
Strands of seaweed at Garrapata Beach present an unforced symmetry. "Art is based on order. The world is full of sloppy Bohemians and their work betrays them," Weston wrote in one of his journals. He later added, "I get a greater joy from finding things in nature, already composed, than I do from my finest personal arrangements."
(Christopher Reynolds / LAT)
A photographer looks for inspiration at Point Lobos, where Weston found plenty of it in the '30s and '40s. Times staff writer Christopher Reynolds found it worthwhile to head to Point Lobos State Reserve around 9 in the morning, when the light was especially desirable and the parking lot was less crowded.
(Christopher Reynolds / LAT)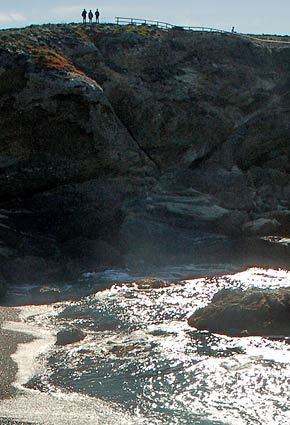 The surf embraces the shore at Point Lobos State Reserve, a feature of a coast that also presented seascapes photographed by Edward Weston's son Brett and wave-lashed Big Sur headlands that drew in to another photographer son, Cole.
(Christopher Reynolds / LAT)
Many memorable works attached to the Weston name are in black and white, but this scene at Point Lobos, where hikers maneuver through green brush atop rocks, seems to cry out for color. "I can't even describe the color the water was this morning," remarked state reserve docent Patty Oglietti. "There is no name for that shade of blue."
(Christopher Reynolds / LAT)
Tide pools are a source of photographic inspiration at Point Lobos State Reserve. Photographer Minor White thought Edward Weston's last Point Lobos photos "may parallel in content the last quartets of Beethoven."
(© David Keaton/CORBIS)
Photographer Kim Weston — grandson of Edward, son of Cole — discusses a landscape with high school students at his Carmel studio. Kim leads workshops and shoots mostly nudes, rarely landscapes. After all, the terrain has been covered, often brilliantly, by Westons before him. "Everywhere I look, there's one of Edward's photos. Or one of Brett's. Or one of my dad's."
(Christopher Reynolds / LAT)
Edward Weston's darkroom on Wildcat Hill remains largely as he left it, with labeled chemical jugs and chemical trays lined up, and family photos here and there. There's also a reproduction of his most famous image, a 1930 still life of a pepper that half-resembles a well-muscled torso.
(Christopher Reynolds / LAT)
Carmel Beach, at the foot of Ocean Avenue, is an opportunity for visitors to interact with the Pacific. And you can follow Scenic Road to the fluttering shorebirds and shifting sands of Carmel River State Beach.
(Christopher Reynolds / LAT)
Chefs focus on their tasks at Cantinetta Luca, where a busy dining room wraps around a shapely bar. Prices up to $64. Lunch and dinner. Dolores Street between Ocean and 7th avenues; (831) 625-6500,
www.cantinettaluca.com
.
(Christopher Reynolds / LAT)
Bodie House, once a writing studio for one of Edward Weston's wives, Charis Wilson, now holds a sitting room, bedroom, kitchenette, compact bathroom and copious art. $150 per night. Weston Private Drive; (831) 624-8111,
www.kimweston.com/wildcat_hill/bodie_house.htm
.
(Christopher Reynolds / LAT)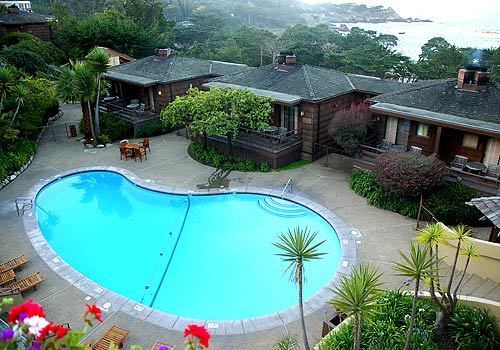 Highlands Inn Park Hyatt Carmel, with doubles from $155, has wood-burning fireplaces and a pair of restaurants. And the views are superb. 120 Highlands Drive; (831) 620-1234,
www.highlandsinn.hyatt.com
.
(Christopher Reynolds / LAT)