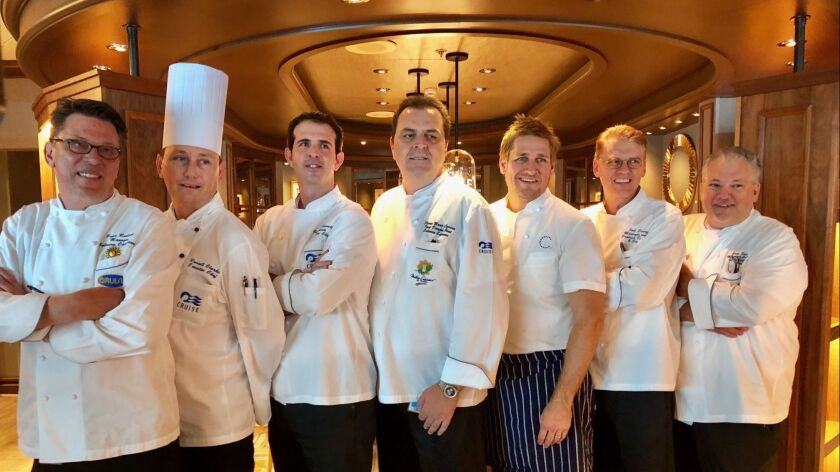 To everything there is a season, including cruise ship menus. Princess Cruises threw a party last week to celebrate its new autumn menu from Australian celebrity chef Curtis Stone.
The event included a six-course meal, wine and dessert. Stone, who owns restaurants Gwen in L.A. and Maude in Beverly Hills, also has luxe dining rooms called Share aboard three Princess ships: Ruby, Emerald and Sun.
The new menu's coming-out party — a three-hour foodie event — took place aboard the Princess Emerald in the Port of L.A. before it departed for Hawaii and Fiji.
Stone and his crew were there to augment Emerald's chefs in the kitchen, which was crowded and pretty hectic. "Whenever a chef changes a menu, it is very stressful," said Pierre-Marie LePrince, executive chef for Princess Cruises.
Stone was reluctant to pause to talk or pose for pictures until several courses had been served.
But he didn't have to be nervous.
Everyone loved the artful dishes. Guests began with an appetizer, followed by salad and handmade pasta, then main courses from sea and land. They finished with dessert.
Among the dishes served were Alaska king crab, Duroc pork chop and almond marzipan cake.
Share is a specialty restaurant; a cover charge of $29 per person includes one selection from each course.
In addition, new Crafted by Curtis dishes will be served in the main dining rooms on all 17 Princess ships. Passengers will find options such as steamed mussels, chorizo and white wine, beef tenderloin tips and mushroom cobbler. These new dishes join favorites chicken-and-leek pot pie and roasted pork belly.
The new menu will be available aboard ships in November.
Info: Princess Cruises, (800) 774-6237, or contact a travel agent
Twitter: @latimestravel
---