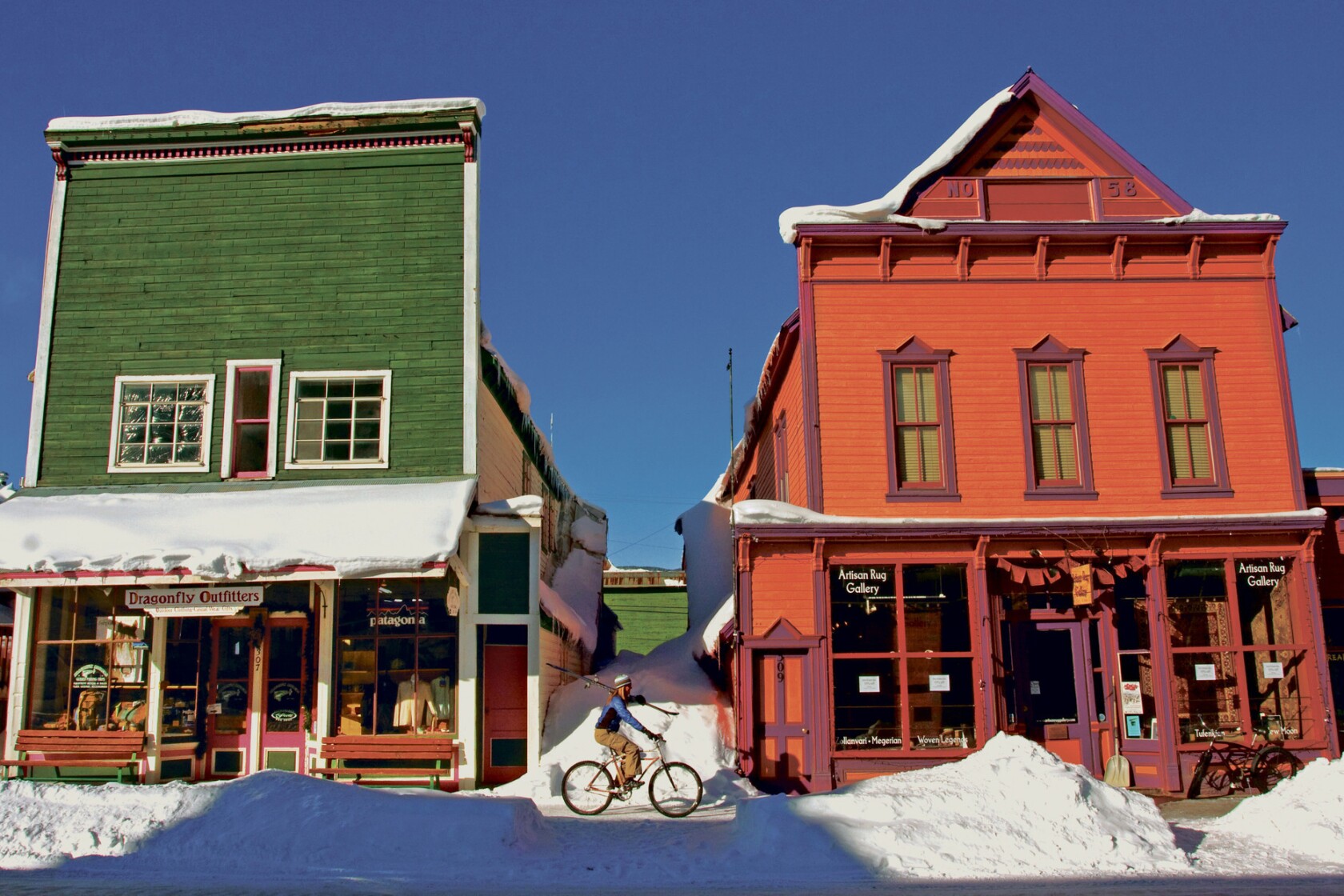 The colorful town of Crested Butte, Colo.
(J.C. Leacock)
Mountaineer Square, at Crested Butte Mountain Resort's base area, is just steps from the ski lifts.
(Nathan Bilow)
On Dec. 13, the folks at Crested Butte hope to break the record for the world's largest Santa ski. Bring your own Santa suit or buy one on site for $20.
(Nathan Bilow)
Downhill through the powder and trees.
(Tom Stillo)
Boarding and skiing on the slopes.
(Nathan Bilow)
Headed down the corduroy, groomed snow.
(Tom Stillo)
Reporting from Crested Butte, Colo. —
It's family ski-trip time, and decisions need to be made about where to go.
Every year my family agonizes over the same details: Where can the teenagers go alone and the young ones attend a hassle-free ski school? Which resort allows skiing and snowboarding? And which has condos at the base of the mountain? Nightlife, but not too much? Are there good demo skis (we are too lazy to travel with our own)? And, frankly, is there a place that won't hobble us financially?
In trying to meet these requirements, we have discovered some wonderful resorts in the West, and last season Crested Butte ranked as one of the family's all-time favorites.
"The Butte," as locals affectionately call it, is one of the more charming ski towns in America. The slopes are steep, the snow is light, the tiny town is a National Historic District and the locals don't mind your being there.
It's a little hard to get to, requiring a change of planes in Denver for a flight to Gunnison, followed by a 30-mile drive through mountains, but this has kept it authentic and affable.
You won't find touristy shops or high-end fur peddlers downtown; Crested Butte is a row of quaint (and I don't use that word lightly), candy-colored, gold-rush era buildings with bespoke bike shops, organic sandwich joints and boho-chic clothing stores. Its residents burst with vitality and athleticism, creating an atmosphere that makes you keen to try everything available, and that's plenty.
____
Crested Butte Mountain Resort is uncrowded, with runs for all levels
The ski-geek stuff: Crested Butte Mountain Resort has 1,547 skiable acres, 3,062 feet of vertical drop, 16 lifts and 121 trails.
It's much larger than people imagine, and it's rarely, if ever, crowded. You can stay at the base of the ski hill or in town three miles away.
We chose the hill and were glad of it. We had a flock of teenagers with us, so we rented a three-bedroom suite in the Lodge at Mountaineer Square.
It was the most stylish lodging we've had in many years of renting ski condos. No carved bears, antler horns or woodsy decor; it was spacious, with a chic leather and granite interior, a dining table for eight and huge picture windows.
In the mornings, we walked to Camp 4 for a double-shot espresso, collected our skis from the ski concierge and headed for whatever run suited our skill levels. There's seemingly something for everyone, including, for the elite skier, more than 500 acres known as Extreme Limits. (The Rambo, at 55 degrees, is said to be the steepest-cut run in North America.)
If Rambo isn't your bailiwick, there are still plenty of cornices to leap off and death-defying shoots to drop into. For regular folks, there are many single blacks, steep groomers and 343 acres of intermediate runs.
Crested Butte's ski school is a piece of cake to utilize. There are no long lines or last-minute frantic hunts for gear. The instructors are mellow and kind, and you know your kids are in great hands.
There are mountain guides for more advanced skiers too, which our adult party made use of. She was so fantastic that we hired her for the next day. She knew the untouched stashes and could calibrate for all levels.
When our thighs started to quiver, we'd meet at the Ice Bar, literally fashioned from blocks of ice. The adults would order Coronas and pulled pork sandwiches; the kids, burgers, and we would eat outdoors looking down the valley.
If you want something more upscale, try Uley's Cabin. One night my husband and I left the teens in the condo with pizza and took an open sleigh (pulled by a snowcat) to eat dinner at Uley's (at $100 a head, I didn't want the kids ordering mac 'n' cheese). It was a romantic meal by candlelight in what was once a bootlegger's log cabin.
Reservations are a must; skicb.com/uleys. For the return ride, dress for the Arctic.
____
Off the slopes at Crested Butte, Colo., zip line, a spa and more await
For nonskiers or those needing a break (like my youngest, who is a slope-slacker), there are adventurous distractions.
—On the mountain, the Crested Butte zip line operates throughout winter (dress warmly) and reaches 25 mph, 35 feet off the ground.
—The Adventure Park, at the base of the ski hill, has miniature golf for the more sedate, a rock-climbing wall, a chairlift-served tubing hill with hair-raising S-bends and turbo-charged trampolines that propel you 30 feet in the air (harnessed in).
—The free Mountain Express Bus runs from Mount Crested Butte to downtown and back every 15 minutes until midnight, so no driving on snowy roads is required. In town there's a Nordic center with 30 miles of track leading into the silent backcountry, and kids 16 and younger ski free.
—If that's not enough, there are dog-sled rides, snowshoe tours and hot-air ballooning.
—Once you are exhausted, limp to the Creekside Spa in town for a neuromuscular massage or a hot stone treatment.
____
Nightlife in Crested Butte, Colo.: A rum distillery, fine dining, more
For a town of 2,500, Crested Butte sure knows how to eat, drink and be merry. The No. 1 place for fun is Montanya Distillers, known for its high-altitude rum distilled in Crested Butte. Tour the distillery or head straight for the bar and choose one of 22 rum cocktails.
Another luxe drinking establishment (adults only) is the Dogwood Cocktail Cabin, with an expansive menu of "house-infused original artisanal cocktails" and "funky small plates." My favorite beverage? The Beetnik, with vodka, beet juice and ginger. Consider it a health boost with booze.
If fine dining is on the radar, one of Colorado's best restaurants is Soupçon, with French American cuisine that is as good as touted. The food, such as crispy seared duck and New Zealand elk steak, is uncomplicated.
For more approachable family meals, the Secret Stash serves gourmet pizza in the old company store building. Its warm atmosphere and inventive pizza ingredients make it a town favorite. Book a table downstairs in the Red Room, where you can sit on the floor. Our pick was the Buddha's Belly pizza, with a sesame crust, Thai green curry base and chicken.
Next to one of the downtown bus stops is the cheap and cheerful Ryce Asian Bistro, with surprisingly authentic Asian dishes.
Another affordable place, although you need reservations for dinner, is the Sunflower. More than just a deli, 90% of its dinner menu features Colorado sourced ingredients. If a kale Caesar salad is your thing, this is your spot.
You don't need to head to town every night. There are several restaurants at the base of the ski hill, including burger joints and Django's, a fine-dining restaurant.
____
If you go
THE BEST WAY TO CRESTED BUTTE, COLO.
From LAX, United and American offer connecting service (change of planes) to Gunnison, Colo. Restricted round-trip fares begin at $404, including taxes and fees. From Gunnison, it's about a 30-minute drive to Crested Butte.
Crested Butte Mountain Resort, 12 Snowmass Road, Crested Butte; (877) 547-5143, skicb.com. Kids 6 and younger ski free. One-day passes: $103 for adults; $57 for kids 7-12 and $93 for teens 13-17; $82 for seniors (65 and older).
WHERE TO STAY
Lodge at Mountaineer Square, 620 Gothic Road, Crested Butte; (800) 810-7669, skicb.com/lodging/mountaineer-square. Doubles from $199 a night, depending on the day of the week and season.
WHERE TO EAT
Soupçon, 127-A Elk Ave., Crested Butte; (970) 349-5448, www.soupcon-cb.com. Entrees from $33. Opens Dec. 17.
Secret Stash Pizzeria, 303 Elk Ave., Crested Butte; (970) 349-6245, www.stashpizza.com. Pizzas from $17.
Ryce Asian Bistro, 120 Elk Ave., Crested Butte; (970) 349-9888, ryceasianbistro.com. Entrees from $12.
WHERE TO DRINK
Montanya Distillers, 212 Elk Ave., Crested Butte; (970) 799-3206, www.montanyarum.com. Open year-round for tastings, tours, cocktails and small plates.
Dogwood Cocktail Cabin, 309 3rd St., Crested Butte; (970) 349-6338, thedogwoodcocktailcabin.com.
TO LEARN MORE
Visit Crested Butte, visitcrestedbutte.com
---