Denver's restored Union Station is a destination unto itself
Denver Union Station's Wynkoop Street facade, The iconic neon sign dates from 1952.
(Karl Zimmermann / For The Times)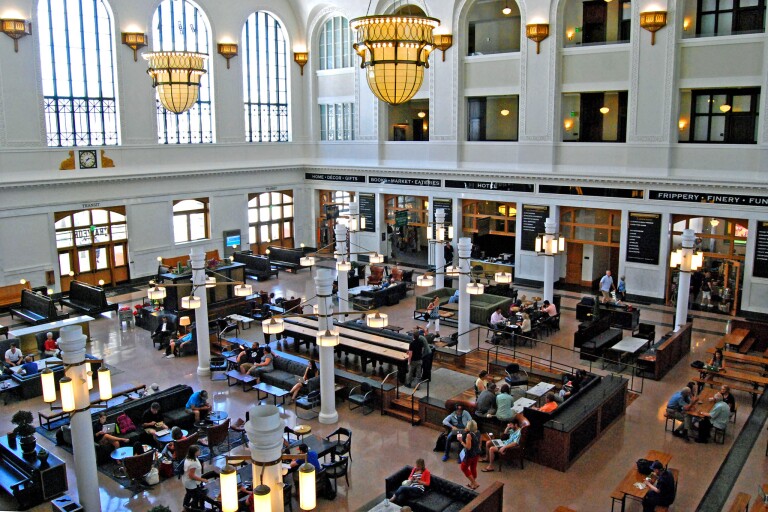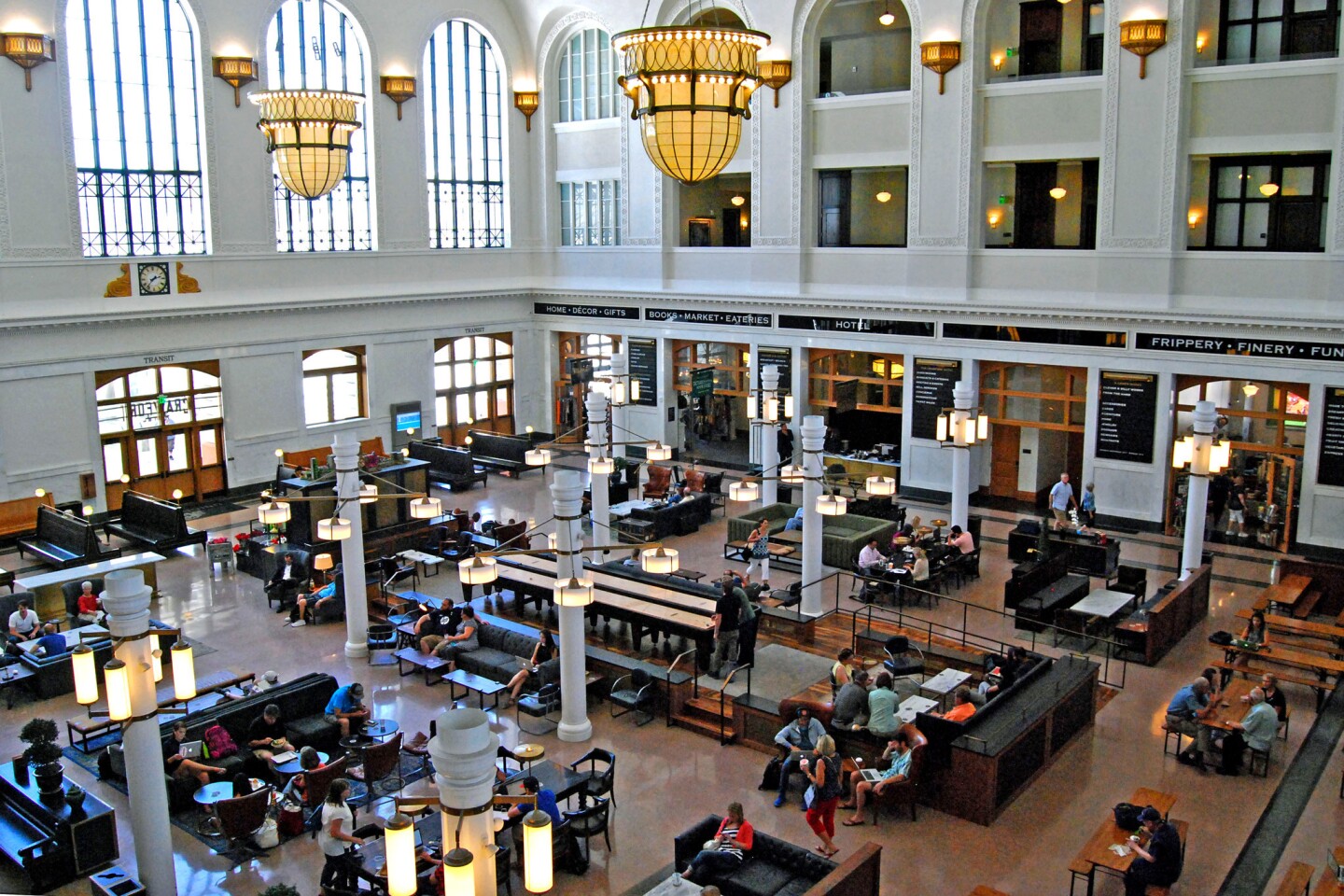 The Great Hall at Denver Union Station showing the Crawford Hotel's reception desk.
(Karl Zimmermann / For The Times)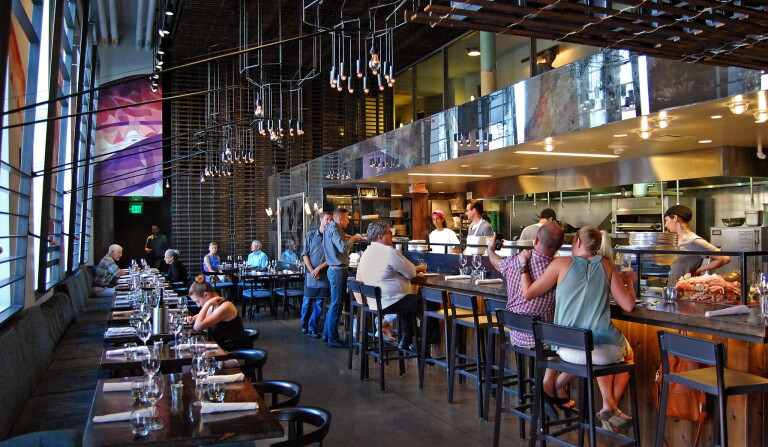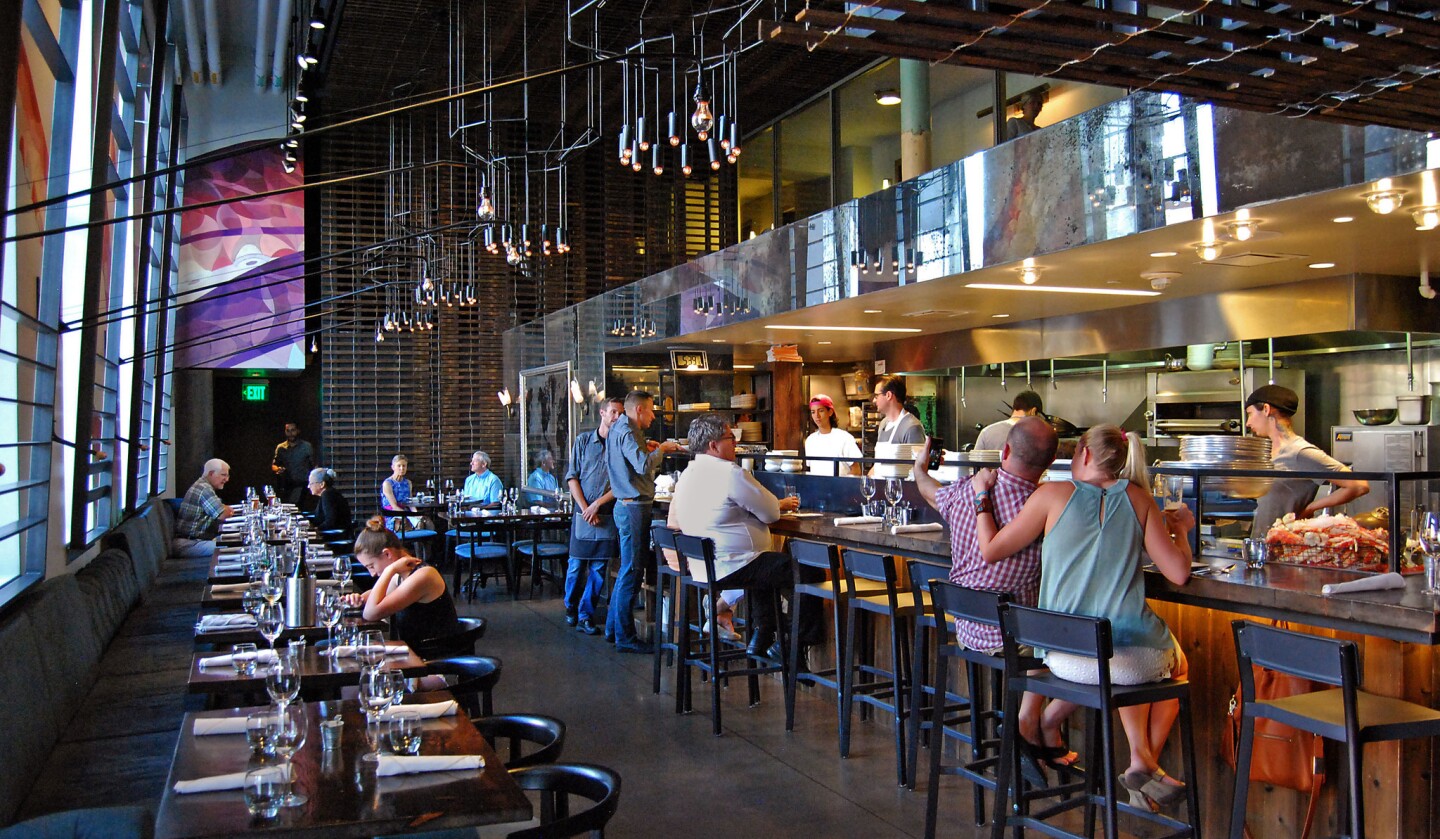 Stoic & Genuine, a seafood restaurant at Denver Union Station that features fresh seafood flown in daily.
(Karl Zimmermann / For The Times)
Bloom is a florist in the Great Hall of Denver Union Station.
(Karl Zimmermann / For The Times)
A Crawford Hotel pullman-style room emulates the luxury of sleeper travel style of another era.
(Karl Zimmermann / For The Times)
The lead service attendant takes dinner orders in the California Zephyr dining car.
(Karl Zimmermann / For The Times)
A photographer in the California Zephyr's Sightseer Lounge awaits the view of the Mississippi River.
(Karl Zimmermann / For The Times)
DENVER —
If you arrive at the city's historic and marvelously restored Union Station, you may not want to leave it.
The station reopened in July 2014 after a 2 1/2 -year closure for renovation and repurposing, a century after it debuted in its current configuration. (The original dates to1881.)
Today it's home to the luxurious and unique (yes, really) Crawford Hotel and an array of restaurants, watering holes and retail establishments, including a branch of the Tattered Cover Book Store, one of the most irreplaceable independent booksellers in the country.
In July my wife, Laurel, and I traveled on Amtrak's California Zephyr, on which we have traveled frequently, and explored Union Station in its new finery.
We had embarked in Chicago at noon the previous day, arriving in Denver early on a lovely, cool morning. We stepped off the train under a new white-fabric canopy, an arrestingly modernistic counterpart to the station's impeccably restored exterior.
There are eight tracks beneath the canopy, but only one is needed for the California Zephyr's east- and westbound arrivals each day. By the end of 2016, three new commuter rail routes will funnel into the station; for out-of-towners, the most important, scheduled to open in spring, is the link to Denver International Airport.
And should the Ski Train to Winter Park, which operated from 1940 to 2009, be resurrected as many hope, there'll be room for that too.
We walked into the station's Great Hall, a bright, white, soaring space that knocked our socks off. It admirably serves as the station's waiting room, with an extensive collection of sofas, chairs and tables, but the Union Station Alliance that planned the restoration also sees it as "Denver's living room." The public is welcome to lounge or play table shuffleboard or use the free Wi-Fi. Or eat and drink.
We got started on that right away, because our early arrival precluded a dining-car breakfast. Happily, Snooze, "An A.M. Eatery" with local roots and an innovative menu, more than made up for that. We chose to sit outdoors on the station's plaza (an option at many of the restaurants) in the warming sun.
We ordered cappuccinos and fresh-squeezed orange juice. I had the house-made corned-beef hash with caramelized poblanos and onion and Laurel sweet-potato buttermilk pancakes with homemade caramel syrup, candied pecans and ginger butter — both house specialties.
The Great Hall is also the Crawford's lobby, so we checked in and left our luggage, because we assumed (accurately) that our room wouldn't be ready for hours.
The hotel has 112 guest rooms, all different in configuration or décor. We had booked a Pullman-style guest room, an appropriate transition from our Amtrak sleeper because the Pullman Co. was once the preeminent operator of sleeping cars. Other options include Loft, funky, creative suites in what had been an unused attic, and Classic, high-ceilinged rooms with expansive windows and Victorian furnishings in what once were offices.
Appropriately, the Pullman rooms overlook the tracks. Built in previously empty mezzanine space, they feature wood accents recalling old-fashioned Pullman cars and framed memorabilia. Some rooms have queen beds tucked into nooks, reminiscent of berths on the old trains.
So many places to eat and drink and so little time. We had a cocktail in the stylish Cooper Lounge, on a balcony overlooking the Great Hall. At the next table was Dana Crawford, the doyenne of historic preservation in downtown Denver who lent her name to the hotel.
Then came dinner at curiously named Stoic & Genuine, with seafood flown in daily: shrimp and grits for Laurel, oysters for me, first on the half shell and then fried.
At lunch the next day at the Terminal Bar, we had our choice of 32 microbrews, all Colorado products. Saved for next time: the highly rated, open-kitchen Mercantile Dining & Provision and a half-dozen more casual places.
"There isn't a train I wouldn't take," poet Edna St. Vincent Millay wrote many years ago, "no matter where it's going." That's still our mantra, though we also enjoyed the smart Union Station and spacious luxury of the Crawford's Pullman-style room.
::
The California Zephyr, like all of Amtrak's Western overnight trains, is equipped with double-deck Superliner cars: coaches, sleepers, a dining car and a Sightseer Lounge with oversized windows and skylights.
The bedroom is the premier sleeping accommodation for two, with a sofa and small table and chair. At night the sofa makes into an oversized berth, and a smaller upper folds out of the wall. A toilet annex can double as a shower.
The "roomette," with facing seats by day and upper and lower berths at night(and no private toilet), can accommodate two but is ideal for a single traveler. There's also a "family bedroom" with multiple berths of assorted lengths and an accessible bedroom.
After the Zephyr's Chicago departure my wife and I spent much of the afternoon in the lounge, renewing our acquaintance with the farms, small cities and towns of rural Illinois and Iowa—a succession of pleasant but unspectacular sights. Because we disembarked in Denver we would miss the great scenery that lay ahead. The train would make a looping ascent of the Rockies' Front Range before plunging into the Moffat Tunnel that cuts through the Continental Divide.
Then would come 235 wondrous miles along the Colorado River, curving through canyon after spectacular canyon, each different: Byers, Gore, Red, Glenwood, Debeque, Ruby. The following day would bring the Sierra Nevadas and Donner Pass, with the end of the line in Emeryville, Calif.
Dining-car meals, included in sleeping-car fares, are, for me, a highlight of rail travel, though Amtrak has been reducing selections, offering the same menu countrywide (regional specialties are now gone) and slipping in flimsier plastic plates. Coffee now may be served in a cardboard cup. That said, our flat-iron steaks were excellent and cooked rare as we requested, and Haagen-Dazs ice cream is, for me, hard to beat even when served in a Dixie cup.
::
If you go
For Amtrak reservations: (800) 872-7245, www.amtrak.com. Sleeping-car space is expensive, with price varying by demand, and can be scarce depending on the season.
Crawford Hotel, (720) 460-3700, thecrawfordhotel.com. Rooms from $275, with modern amenities equal to its elegant historicity.
---
Get inspired to get away.
Explore California, the West and beyond with the weekly Escapes newsletter.
You may occasionally receive promotional content from the Los Angeles Times.