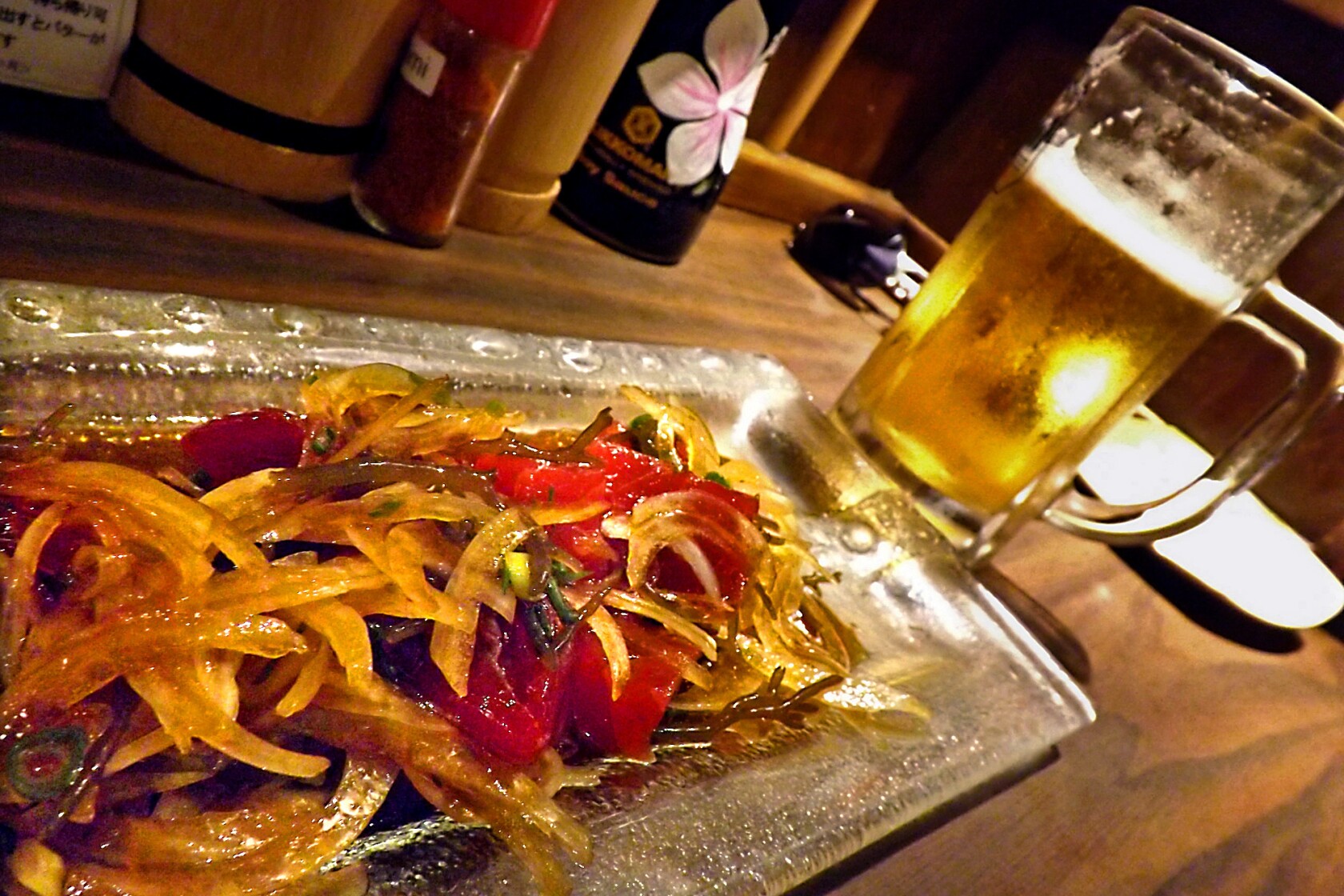 Ahi tuna marinated in Hawaiian poke sauce pairs well with a frosty mug of Japanese beer at Tako-No-Ki, one of several Japanese pubs, or izakaya, in Honolulu.
(Dan G. Hilton )
A rainbow of sashimi backdropped by a sizzling platter of rib-eye whet the appetite at Japanese pub Tako-No-Ki. The name translates as octopus tree, which wasn't a dish on the menu.
(Dan G. Hilton )
The line at Japanese noodle house Marukame Udon forms after breakfast and lasts until dinner, but moves quickly as you watch fresh noodles being cut, cooked, and served to order.
(Dan G. Hilton )
The rear (and only) entrance to Club Genji, a friendly karaoke bar where seasoned hostesses take drink orders, drop off complimentary snacks, and of course bring by the microphone.
(Dan G. Hilton )
Japanese convenience stores sell fast-melting soft serve, bento-box lunches, chilled green tea, and rice balls topped with fried Spam, a Hawaiian twist on a Japanese snack.
(Dan G. Hilton )
Easygoing locals mix with meandering tourists at the Kapi'olani farmers market, a short bus ride up Diamond Head Road from downtown Honolulu.
(Dan G. Hilton )
Through the trees on the windward side of Oahu at Waimanalo Beach.
(Naomi Hayes / Getty Images / Flickr RF)
HONOLULU —
Our regular family visits to Japan to let the kids soak up the other half of their culture had reached the point of diminishing returns. Our daughters yawned through Kyoto, shivered in Sapporo, and longed for the beach.
This year we decided to get our Japan fix on Oahu.
Japanese history runs deep here; they began immigrating to Hawaii in the mid-1800s, and signs of that culture are everywhere. Anyone looking for an authentic taste of Japan will find it in noodle houses that serve udon and ramen, and in cubbyhole convenience stores that sell rice balls, green tea and bento box lunches just as in Tokyo.
Honolulu also has several traditional hostess bars. In Japan, salarymen — white-collar executives — gather in hostess bars to unwind with female companions, modern-day geisha for those on a whiskey budget. Drinks, laughs and karaoke are shared, but that's about it. Traditional hostess bars are supposed to be about subtlety, platonic relationships and karaoke.
These bars have a special place in my heart. After a few years in Japan, I was dragged to a hostess bar in Vancouver, Canada, by a friend and was hooked not on the hostesses but on the vibe. People drank, talked and sang like adults (for the most part).
That proved prophetic: This was where I met Hiromi, the woman who would become my wife. She was slinging drinks and studying English; I was a wide-eyed Island boy. We married eight months later, in 2003, and haven't looked back.
I was looking forward to feeling a touch of nostalgia and eager to experience Hawaii's version of a Japanese custom. I had a feeling it might be better than the real thing: relaxed, inclusive and somehow more fun. In other words, more Hawaiian.
For our grown-up night out, we left our girls, 3, 6 and 8, with their grandmother and a large Hawaiian pizza and set out.
Attracted by the smell of shrimp sautéed in garlic, we stopped at an old, blue school bus at the edge of a building lot on Kuhio Avenue. We stood in line for a pre-dinner snack of 12 plump garlic shrimp on a bed of greens for $12.95.
Our fingers sticky and our breath smelly, we continued on, winding up at Tako-No-Ki, a Japanese pub, or izakaya, on Royal Hawaiian Avenue tucked between a surfboard shop and a massage parlor. Dozens of autographed snapshots of Japanese personalities were pinned to the walls of the entrance.
"It looks good," Hiromi said, not even glancing at the menu.
We walked up the wooden stairs and sat at the sushi bar. The place felt seasoned, as though it had been aging inside a barrel for decades. Owner Minoru Uchida, 60, stood silently behind a counter of glistening seafood and welcomed us with a nod.
"Feels like Japan," my wife said. I agreed.
We ordered rib-eye steak on a bed of sizzling bean sprouts, a succulent and colorful sashimi salad drizzled with Japanese mayo, a mountain of yakisoba on a cast-iron platter, and a large plate of ahi tuna and onions marinated in poke sauce. It was a lot of food, but we savored every mouthful and washed it down with mugs of Japanese draft beer.
Back outside, I noticed a hostess bar down a side street, and suggested a drink. My wife agreed, but only after making me promise not to sing karaoke.
"Deal," I said, knowing I was lying.
From almost the minute we walked in, I knew this stop was a mistake. There was a $20 cover, the place was almost empty, and we endured unwelcoming glances from several women in slinky dresses at the bar.
Then I realized why: It was that other kind of hostess bar, not exactly innocent, good fun. It was not what we were looking for and not very Japanese.
As we exited, a taxi pulled up and I nodded to the driver, an older Asian guy. "Know any good hostess bars around here?" I asked. "Not like this place, but somewhere I can have a drink with my wife?"
He glanced at her. "You want Genji," he said, "about five minutes by car."
We climbed into the cab and after a few minutes arrived at an unlighted parking lot. In the far corner, behind a row of shiny black sedans, I saw a flickering sign for Club Genji. This, the driver told us, is where people — men and women — go to relax and have fun.
The place was packed; there was no cover charge. Every pair of eyes turned toward us, but this time with the glances came smiles. We seated ourselves on well-worn leather seats at a heavy wooden table near the back, and our hostess ambled over. With an unhurried elegance, she spoke to my wife as she handed us menus and left a bowl of salted peanuts.
"This is more like it," I said, glancing around the bar, more a crowded living room than a club. People moved from table to table with the karaoke microphone, and everyone seemed to know someone else.
When our hostess returned with our drinks she asked which part of Japan my wife was from, and the answer sent out a wave of excitement. Minutes later we were introduced to Mamasan Gaye, the owner, and everyone wanted to know how long we were staying and when we would come back.
When it was time to leave we wrote our email addresses on wrinkled napkins for people we had just met.
On the cab ride back to our hotel, I asked my wife how she enjoyed our night out. "It was good but … Honolulu makes me miss Japan."
I knew what she meant.
::
If you go:
THE BEST WAY TO HONOLULU
From LAX, nonstop service to Honolulu is offered on American, Delta, Hawaiian and United, and connecting service (change of plane) is offered on Alaska, American, Delta, Hawaiian and United. Restricted round-trip fares begin at $586, including all taxes and fees.
WHERE TO STAY
Aston at the Waikiki Banyan, 201 Ohua Ave., Honolulu; (855) 718-9908 or (808) 670-3996, https://www.astonwaikikibanyan.com. Affordable character and charm just two blocks from Waikiki Beach. Doubles from $189.
Waikiki Beach Marriott Resort, 2552 Kalakaua Ave., Honolulu; (808) 922-6611, https://www.marriott.com. Modern, comfortable and right across the street from Waikiki Beach. Doubles from $289.
Hawaii Prince Hotel Waikiki, 100 Holomoana St., Honolulu; (888) 977-4623, https://www.princeresortshawaii.com. Island-style decor with floor-to-ceiling windows, close to marina and shopping. Doubles from $250.
WHERE TO EAT
Club Genji, 1785 S. King St., Honolulu; (808) 949-7538. Open daily 11-2 a.m. No cover charge. Friendly, with the atmosphere of a crowded living room.
Marukame Udon, 2310 Kuhio Ave., Honolulu; (808) 931-6000, https://www.toridollusa.com. Udon noodles cut and cooked while you watch; pile on the tempura yourself. $4-$17.
Izakaya Tako-No-Ki, 355 Royal Hawaiian Ave., Honolulu; (808) 926-8256. Authentic Japanese freshness, traditional Japanese sentiment. $12-$18.
Blue Water Shrimp & Seafood Truck, 2463 Kuhio Ave., Honolulu. Street (sea) food at its finest and most succulent, without the drive to the North Shore. $13-$25.
TO LEARN MORE
Hawaii Tourism Authority, 1801 Kalakaua Ave., 1st floor, Honolulu; (808) 973-2255, https://www.hawaiitourismauthority.org
---