There's a post-Katrina joie de vivre in New Orleans
Mardi Gras is the queen of festivals in New Orleans, and Rex is the king of carnival parades. Rex makes its way through the Central Business District of New Orleans.
(Bill Haber / Associated Press)
People gaze at the New Orleans skyline from Algiers Point, across the Mississippi River from the French Quarter.
(Carolyn Cole / Los Angeles Times)
The High Hat Cafe is among the food and drink spots that have popped up along Freret Street in Uptown New Orleans.
(Carolyn Cole / Los Angeles Times)
Chef Phillip Lopez describes the menu at his restaurant Root as "modern American cuisine rooted in old-world flavors." Root is at 200 Julia St. in the Warehouse District of New Orleans.
(Carolyn Cole / Los Angeles Times)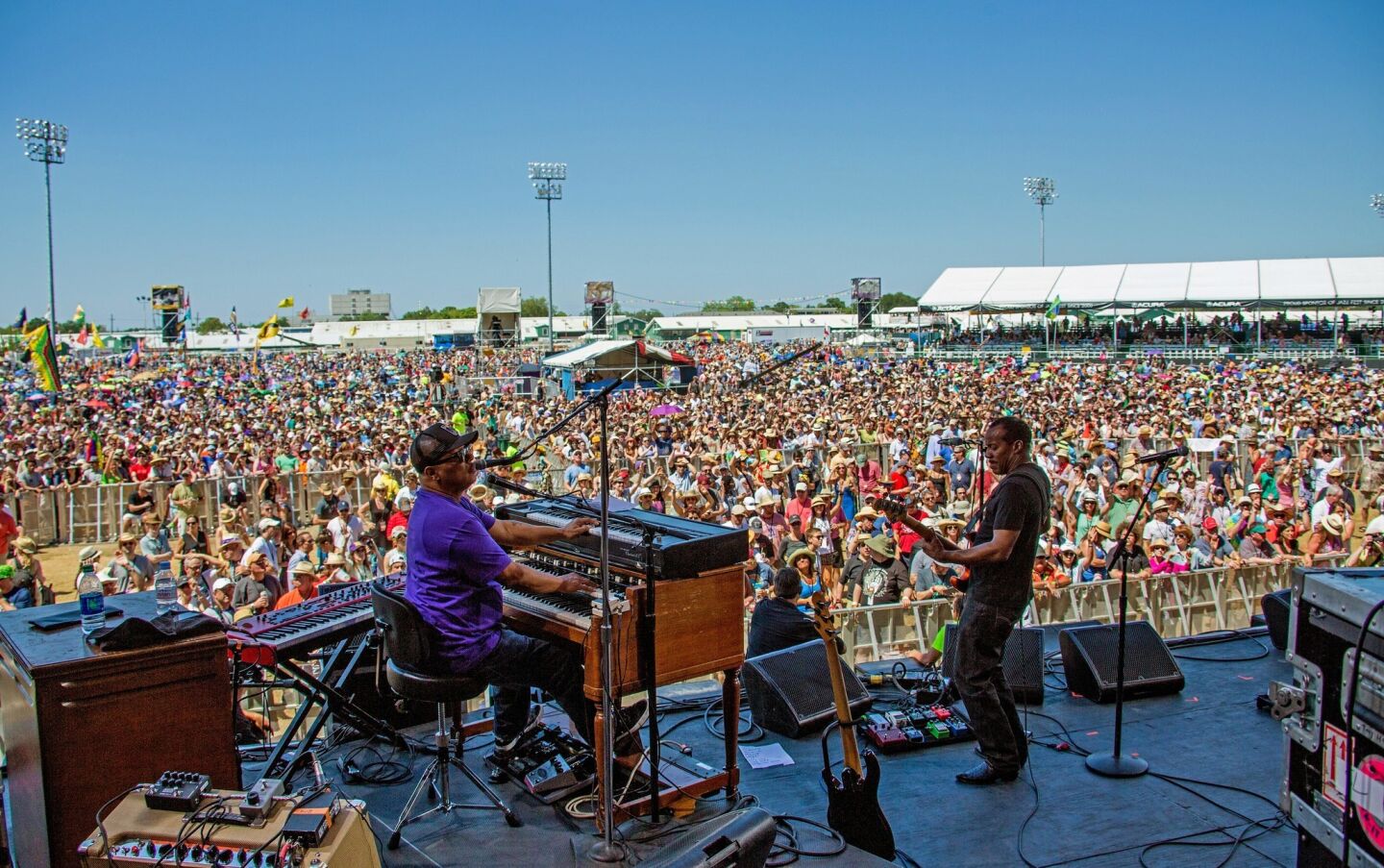 Each spring, fans pack the Fair Grounds Race Course for the New Orleans Jazz & Heritage Festival. Among the performers this year were Ivan Neville and Tony Hall of Dumpstaphunk.
(Douglas Mason / Getty Images)
Eric Clapton was among the performers at the 2014 edition of Jazz Fest in New Orleans.
(Douglas Mason / Getty Images)
Reporting from New Orleans —
In a traditional New Orleans jazz funeral, mourners follow a brass band playing dirges. When they leave the cemetery, the music changes tempo — "Oh, when the saints go marchin' in" — and everyone dances, celebrating the deceased and the gift of life.
It's been something like that in New Orleans since Hurricane Katrina hit on Aug. 29, 2005, and leaking levees almost drowned the city.
We don't forget, but we had to begin again, so we did. Returning residents, joined by young entrepreneurs who moved here after the storm, led the way.
Tourists are discovering a revived city too. There still are issues, of course, but plenty to celebrate. Last year, 9.28 million visitors showed up.
Check out www.neworleansonline.com and www.neworleanscvb.com. And read on for some of the positive changes in NOLA in the last nine years.
Restaurants
On Aug. 28, 2005 — the day before Hurricane Katrina — there were 809 restaurants in New Orleans, excluding fast-food and most chain outlets. Now there are more than 1,412, says Tom Fitzmorris, a.k.a. "Mr. Food," publisher and editor of New Orleans Menu, whose website (nomenu.com) describes it as the "richest source of information about New Orleans restaurants, cooking and food."
Restaurant empires have been built, and James Beard Foundation awards have been won since 2006. Chefs Donald Link (Herbsaint), Steve Stryjewski (Cochon) and Ryan Prewitt (Pêche Seafood Grill) all have won James Beard's Best Chef: South.
This year, Pêche also was named Beard's best new restaurant in the country.
Other recent New Orleans winners of the Best Chef: South award include Tory McPhail (Commander's Palace), Sue Zamenick (Gautreau's and Ivy) and John Besh (Restaurant August).
Besh has opened or bought five more restaurants in the New Orleans area since Katrina: Lüke, Domenica, Pizza Domenica, Borgne and LaProvence.
Phillip Lopez's Square Root opened in April. New Orleans' only prepaid, pre-fixe restaurant ($95 and $150) has 16 seats at a counter. At his Root, a must since 2011, you'll find quirky dishes such as ménage à foie (three types of foie gras, one the texture of cotton candy).
And that's just a taste of what's happening.
Music and musicians
The 500 and 600 blocks of Frenchmen Street are still the heart of the local music scene. New this year is the Louisiana Music Factory, which moved its renowned CD and vinyl store from the French Quarter to 421 Frenchmen.
More live music shows start earlier. Trumpeter Kermit Ruffins quit his Thursday gig at Vaughan's in Bywater because he didn't want to work late. Find him at 8 p.m. or so at the Blue Nile, the Little Gem Saloon and Bullet's Sports Bar.
Big Freedia (a.k.a. Freddie Ross) describes bounce rap, which has been performed in small clubs since the late 1990s, as "a sub-genre of hip-hop, grown out of New Orleans." She has been twerking in various NOLA venues since before Miley Cyrus was Hannah Montana. Freedia won the Big Easy Entertainer of the Year Award in 2014 from the Gambit weekly newspaper.
More upscale clubs have opened, joining trumpeter Jeremy Davenport's Lounge in the Ritz-Carlton. Irvin Mayfield's Jazz Playhouse has settled into the Royal Sonesta Hotel at 300 Bourbon St.
Festivals
It's always been hard to find a weekend when there isn't a festival, but since Katrina, it's almost impossible. Newcomers have joined old standards, and food, music and dancing are what they're all about.
Mardi Gras is the queen of all festivals in New Orleans. (Mardi Gras is Feb. 17 next year, with carnival season beginning Jan 6.) Some folks suggested that it be canceled in 2006. They muttered too that the other biggie, the New Orleans Jazz and Heritage Festival, a.k.a. Jazz Fest, should detour to Houston for a year.
No way, New Orleanians said.
This year, about 435,000 fans bought single-day Jazz Fest tickets to get up close to Bruce Springsteen (here twice since Katrina), Santana, Phish, Eric Clapton and Robin Thicke. It's always the last week of April and the first weekend of May at the Fair Grounds Race Course.
Winner of the numbers game is the four-day French Quarter Festival each April (April 9-12 next year). It's free, so numbers are harder to determine, but word is that this year, 733,000 people jammed the French Quarter to listen to New Orleans and Louisiana performers and stuff themselves at food booths (not free).
The Essence Festival did move to Houston in 2006, but it returned home to New Orleans the next Fourth of July weekend — and stayed. This year, as many as 150,000 attended big-name ticketed concerts in the Mercedes-Benz Superdome, moving to music by Prince, Mary J. Blige and Charlie Wilson, while many thousands more showed for a free outdoor concert and empowerment seminars in the Morial Convention Center. Look for it July 2-6 next year.
Among new festivals are four freebies: the Crescent City Blues and BBQ Festival, the Congo Square New World Rhythms Festival, the Louisiana Cajun-Zydeco Festival and the Treme Creole Gumbo Festival. All are sponsored by the New Orleans Jazz & Heritage Festival and Foundation, the nonprofit owner of the New Orleans Jazz and Heritage Festival.
Parks
New Orleans has two major parks: City Park in Mid-City, and Audubon Park, between Tulane/Loyola and the Mississippi River. City Park, where supply trucks parked after Katrina, has a new miniature golf course, a dog park and a branch of the Morning Call coffee house.
The New Orleans Museum of Art in City Park now throws arty gatherings on Friday Nights at NOMA, 5-9 p.m. In summer, there are Shakespeare, movies, concerts and plays in NOMA's Besthoff Sculpture Garden.
A delightful view at Audubon Zoo is of human kids at the Cool Zoo water park. Next up are new elephant and orangutan exhibits.
Aquatic inhabitants swim in the Great Maya Reef exhibit, new this March, at the Audubon Aquarium of the Americas, beside the Mississippi River downtown. Other additions include Parakeet Pointe, with live birds, and Geaux Fish!, showcasing Louisiana fisheries.
Nearby downtown is the Audubon Nature Institute's buggy walk-through Butterfly Garden and Insectarium, which opened in 2008 in the U.S. Custom House.
Bywater
This is hip central, dubbed "Brooklyn South" because many young New Yorkers have moved to this onetime working-class neighborhood. There's a touch of Bohemia among the Italianate shotgun houses, which experienced little to no Katrina-related flooding. The "gentrification" word is whispered.
There's a buzzy art scene now. St. Claude Avenue is scattered with nontraditional art gallery openings on the second Saturday of the month. Newbie eateries competing with longtime favorites include Booty's Street Food, serving street and truck food from all over the world, and Pizza Delicious.
The first phase of Crescent Park, a 1.4-mile recreational area, opened this winter in Bywater, beside the Mississippi, with pavilions and paths for jogging and biking.
Magazine Street corridor
Stretching six miles from Canal Street to Audubon Park, Magazine Street was once known for its restaurants, second-hand shops and other funky places. Now, it has 85 restaurants, 43 clothing and accessory stores and a dozen art galleries. And, yes, there still are secondhand shops and funk.
Among newcomers since Katrina are Derby Pottery & Tile, known for its reproduction tiles and water-meter clocks; Art & Eyes, which sells cool eyeglass frames and painted silk jackets; and Sucre, a divine French bakery.
Freret Street corridor
Freret's eight blocks between Napoleon and Jefferson avenues in Uptown were almost dead even before Katrina. After Cure opened in 2008 at 4905 Freret, serving fancy cocktails, the area became cool.
There's now a slew of food and drink outlets, shops, a comedy club and coffee shops in those eight blocks. Among the favorites are Company Burger (best burger in NOLA), the original Dat Dog and the High Hat Cafe, catfish and Southern casual.
Streetcars
Capital improvements to the St. Charles Avenue streetcar line should be complete by Sept. 1 (so they say) after major work that disrupted service. A new line from the bus and train station — Union Passenger Terminal — to Canal Street was completed in early 2013, and work on tracks from North Rampart Street to Bywater should begin late this year. These streetcars are desired. The New Orleans Regional Transit Authority has schedules and fares at norta.com.
Lagniappe (Lan-yap, a little something extra)
The Outlet Collection at Riverwalk opened this spring next to the Julia Street Cruise Terminal and the Morial Convention Center.
The National World War II Museum's Freedom Pavilion: The Boeing Center opened in 2013, with airplanes and interactive media. Don't miss Tom Hanks' powerful "Beyond All Boundaries," a 4-D movie. nationalww2museum.org.
---
Get our L.A. Goes Out newsletter, with the week's best events, to help you explore and experience our city.
You may occasionally receive promotional content from the Los Angeles Times.