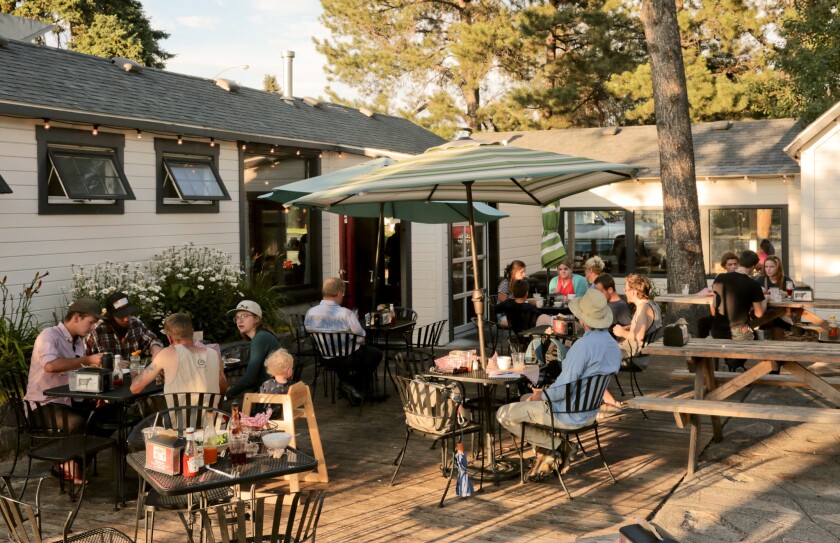 BOZEMAN, Mont. —
Yellowstone has some great small-city neighbors.
To the south, just beyond Grand Teton National Park, there's Jackson Hole, the Aspen of Wyoming.
To the east, Cody, Wyo., where the summer is one long procession of rodeo events and shootout skits.
There's also the tourist town of West Yellowstone, Mont., which is neither beautiful nor cheap but does have many vintage neon signs.
Until my last visit, I hadn't gone north to Bozeman.
Now I wish I had given it more time. Bozeman (population: 39,860) has youthful energy, Old West trappings and immediate access to all sorts of epic outdoor places.
It's home to Montana State University (enrollment: 15,400); the Bozeman Yellowstone International Airport (through which I flew) and the Museum of the Rockies, which has one of the world's leading dinosaur fossil collections.
I'm not going to pretend I spent my time studying up on triceratops and deinonychus. Mostly I ate, drank and slept. And mostly I stayed on Main Street.
Among the highlights:
Breakfast: Nova Café, 312 E. Main St.; (406) 587-3973, www.thenovacafe.com. Top breakfast price is $12.75 for crabcake Benedict.
Lunch: Victory Taco, an Airstream trailer converted into a food truck, sells tacos and ice cream. Opened this year, it sits in the parking lot of the Lark Hotel. www.facebook.com/VictoryTaco
Dinner: Roost Fried Chicken, 1520 W. Main St.; (406) 404-1475, www.roostfriedchicken.com. Salads and sandwiches $7-$8.75, breast $4, thigh $3. A 12-piece family meal (with sides, biscuits and drinks) for $35.
Drinks: Montana Aleworks, 611 E. Main St.; (406) 587-7700, www.montanaaleworks.com. Dozens of beers. Most dinner main dishes $9.95-$24.
Sleeping: Lark Hotel, 122 W. Main St.; (866) 464-1000, www.larkbozeman.com. Opened this year. Summer rates are $178-$259; fall, $129-$229; winter, $129-$189.
ALSO:
Music to watch Old Faithful by
The do's and don'ts of Yellowstone National Park
Yellowstone's steaming, splashing, roaring spectacle is best seen up close
---