No one tells you how great Romania's food is (OK, we will)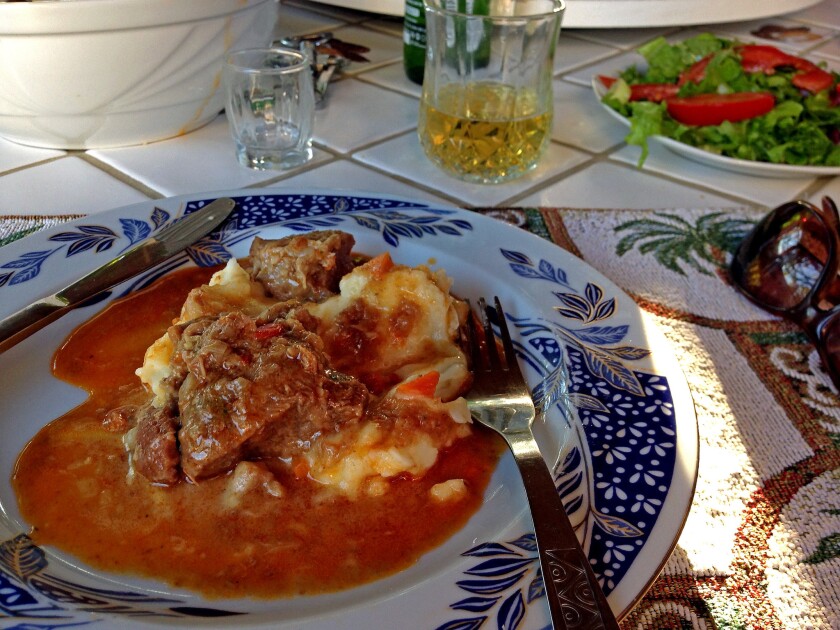 BUCHAREST, Romania —
You probably don't think about coming to Romania for the food, but once you try it, it's hard to believe no one has told you how great it is. Here are some highlights:
Bucharest: We began our culinary adventure in Bucharest at La Ceaunu Crapat with an appetizer board of artisanal goat cheese and sweet red Romanian tomatoes that seemed to melt in your mouth. This was followed by lamb stew and a kind of Romanian doughnut called gogosi, filled with addictive sour cherry marmalade.
Sibiu: Italianate tastes seemed to prevail in Sibiu, and at La Taifas we chose fresh arugula salads with beef carpaccio and grilled mushrooms from a menu filled with pastas.
Sighisoara: We feasted like royalty for two nights at Gasthaus Alte Post in Sighisoara, unable to stray from the chef's tender pork dishes and the fruity Romanian red wines.
Biertan: In Biertan, we enjoyed rich beef goulash at Unglerus Medieval Restaurant, alongside a fortified church.
Alba Iulia: Dinner one night was at Pub 13, housed in the bowels of a castle in Alba Iulia, onetime capital of the principality of Transylvania. We sat in its lively outdoor section on a drawbridge.
Barsana: In Barsana, we ate at the Lia Pension. Dinner began with vegetable soup with spiced meatballs and sour cream garnish, followed by savory beef stew on a bed of mashed potatoes. Like many places outside the capital, the food tasted locally grown.
MORE ROMANIA:
Experience Europe as it once was in rural Romania
Why Prince Charles is preserving Vlad the Impaler's Transylvania, and how you can tour it by train
---
Get inspired to get away.
Explore California, the West and beyond with the weekly Escapes newsletter.
You may occasionally receive promotional content from the Los Angeles Times.