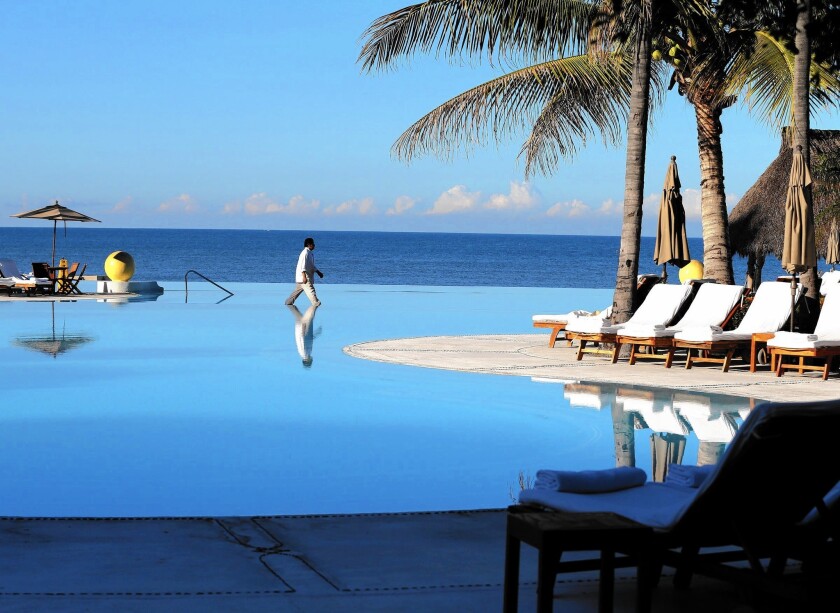 Tower cranes have become a common sight in Puerto Vallarta, Mexico, where the ever-changing skyline reflects the resort's increasing popularity and subsequent building boom as hotels expand, renovate and create new lodgings.
Vallarta has long been a popular destination for tourists, with millions from around the world visiting annually. But the numbers soared in 2014, according to Mexico's Ministry of Tourism, which says there was an increase in travelers, new hotels, flights and cruise ships. Consequently, the report continues, 2014 was "one of the best years for tourism in Puerto Vallarta on record."
Vallarta is an easy destination to reach from Los Angeles, with several flights a day into its easy-to-navigate international airport, Licenciado Gustavo Díaz Ordaz (PVR).
If you're planning to explore the beaches and smaller cities of Riviera Nayarit, Puerto Vallarta makes a good jumping-off point. Spend a couple of days getting a resort fix at one of its all-inclusive hotels, then continue north for some tranquillity.
Here are a few must-sees while you're in Puerto Vallarta:
Downtown: If you have time for only one stop, make it downtown, home to the city's most historic landmarks such as El Malecón, the famous coastal boardwalk. In addition, visit Plaza Principal, the city's top tourist attraction, where you can see concerts, art exhibitions and food markets, and Playa de los Muertos, the best-known beach. See it at sunset, if possible.
Old Town: Some Mexican resort cities, such as Cancún, have no historic core. Not so with Puerto Vallarta. Its picturesque Old Town, known as the zona romantica, has landmarks, galleries, cafes and night life.
Church of Our Lady of Guadalupe: This city icon can be seen in almost any photo of Puerto Vallarta's skyline. Visit it for photo opportunities and to learn more about Mexican culture.
Marina Vallarta: Golfers and boaters will appreciate this large complex on a Banderas Bay beach. But there are also restaurants and shops. The marina has 500 slips.
::
THE BEST WAY TO PUERTO VALLARTA, MEXICO
From LAX, Delta, Alaska and United offer nonstop service to Puerto Vallarta; and US Airways, American, Alaska, Aeromexico and United offer connecting service (change of planes). Restricted round-trip airfare from $428, including taxes and fees.
TELEPHONES
To call the numbers below from the United States, dial 011 (international code), 52 (country code for Mexico) and the local number.
WHERE TO STAY
Grand Velas Riviera Nayarit, 98 Paseo de los Cocoteros Sur, Nuevo Vallarta; (877) 418-2722 (toll-free from U.S.), vallarta.grandvelas.com. High-end, all-inclusive resort with excellent beachfront location and beautiful facilities to match. Rooms are chic with elegant furnishings and bougainvillea-draped terraces that face the sea. Four restaurants to choose from; premium liquors included in the price. From $303 per person, double occupancy.
Hotel Garza Canela, 106 Calle Paredes Sur, San Blas; (323) 285-0112, www.garzacanela.com. Family-run hotel near the center of San Blas has large rooms, a pool and friendly English-speaking proprietors. Excellent Mexican and international cuisine at its restaurant, El Delfín. Rooms from $75, double occupancy.
Santa María Resort, Calle Amapa, Santa María del Oro, Nayarit; santamariaresort.com.mx. Lakefront mountain lodge is 32 miles from Tepic in a quiet valley. Rustic wooden cottages and nicely landscaped grounds with pool. Restaurant and bar. Rooms from $123 per night, double occupancy.
WHERE TO EAT
Maia, 120 Calle Pulpito, 48399 Puerto Vallarta, Jalisco; (322) 222-2597, www.hotelvillamercedes.com/drinks-dining/maia-restaurant.htm. Foodies love this quirky Puerto Vallarta restaurant featuring contemporary Mexico dishes by Hugo Ahumada, executive chef and the restaurant's creator. Interesting menu with dishes such as smoked marlin enchiladas, risotto with guava and lasagna del mar. Near Los Muertos Beach. Entrees from $9.
Cielo Rojo, 6 Calle Asia, 63734 San Francisco, Nay, Mexico; (311) 258-4155, www.hotelcielorojo.com. Small patio restaurant inside a cozy nine-room B&B in this beach town. The cafe prides itself on using only fresh, organic foods. Try the quesadillas with marlin and quinoa or the burritos nopal, each about $6. Entrees from $5.
Emiliano Comida y Vino, Calle Zapata 91 Ote, 63000 Tepic, Nayarit; (311) 216-2010, www.emilianorestaurant.com. Fine-dining restaurant in Tepic, the capital and largest city in Riviera Nayarit. Traditional Mexican cuisine has been modernized with unusual flavors. Entrees from $9.
TO LEARN MORE
Mexico Tourism Board, (800) 446-3942, www.visitmexico.com/en/riviera-nayarit
---