On-foot beer crawling in Vancouver's East Van, the craft beer capital of Canada
East Village, a rebranded part of East Vancouver's Hastings-Sunrise neighborhood, is home to many craft breweries.
(John Lee / For The Times)
Doan's Craft Brewing took over the small space vacated by Powell Street Craft Brewery when it moved.
(John Lee / For The Times)
Doan's Craft Brewing's German-style beers are popular.
(John Lee / For The Times)
Bomber Brewing's Choqlette Porter.
(John Lee / For The Times)
There's still has a grungy, semi-industrial feel to many parts of East Vancouver.
(John Lee / For The Times)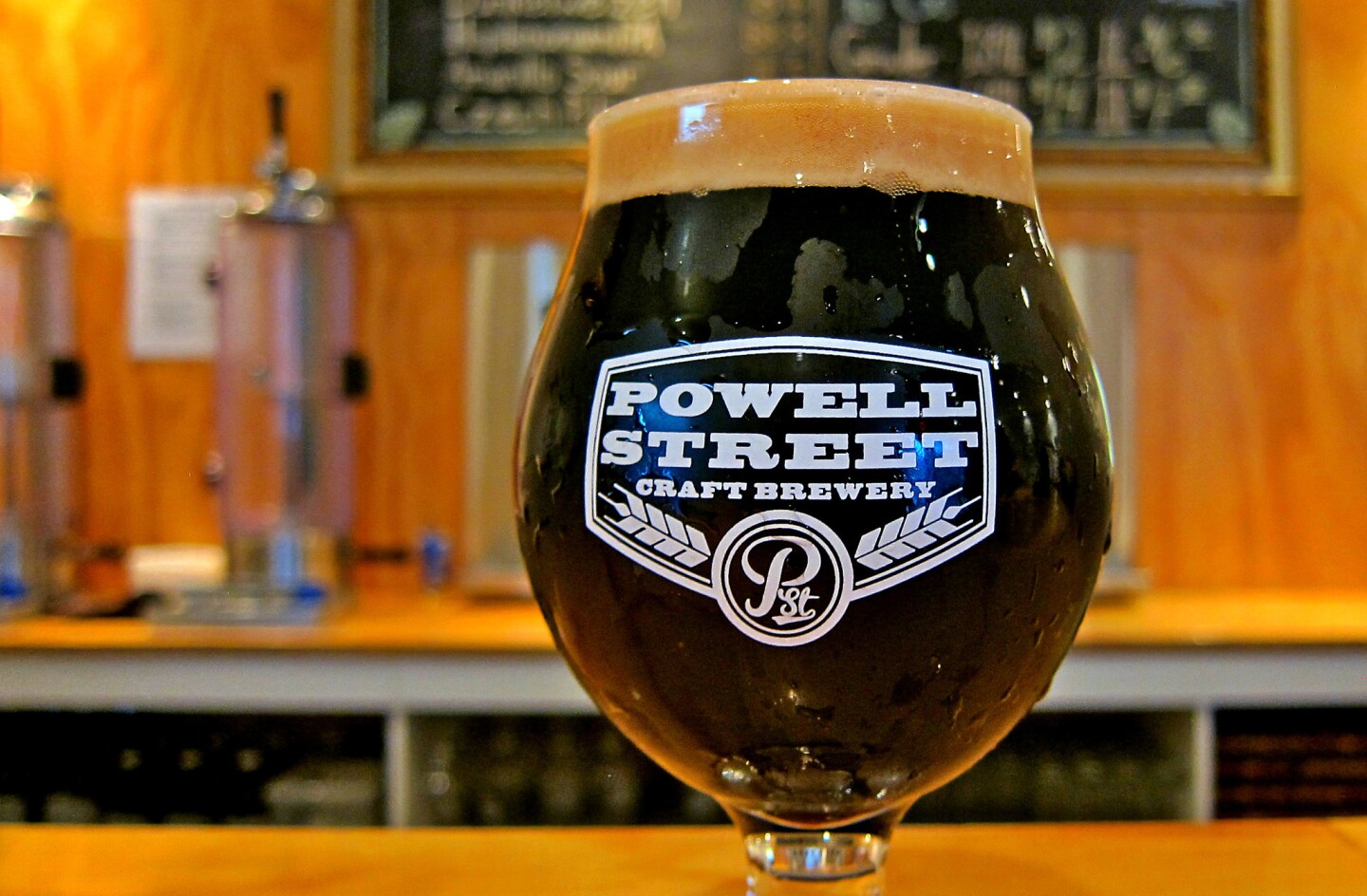 Powell Street Craft Brewery is a favorite with local beer nuts.
(John Lee / For The Times)
Callister Brewing is home to four different nano-brewery operations and has a selection of British-style cask beers. Callister's pub snacks echo a common theme at many of the East Vancouver microbreweries.
(John Lee / For The Times)
Nigel Springthorpe, co-owner of the Brassneck Brewery, has helped stoke the fires of Vancouver's well-regarded craft beer scene.
(John Lee / For The Times)
Draft taps galore inside Parallel 49's popular tasting room.
(John Lee / For The Times)
VANCOUVER, Canada —
It was a rainy afternoon in the East Vancouver area, and I was guzzling a beer that was as dark as the storm-laden sky. The Nut Brown Ale at Off the Rail Brewing was sliding down faster than condensation on an ice-cold window.
This wasn't the only tasting room in East Vancouver worth braving the tempest. With about 20 microbreweries — many less than 5 years old — Vancouver, British Columbia's biggest city is arguably Canada's craft beer capital. And it's this East Van ("Yeast Van" to the locals) brewery district that offers many of the best toast-worthy producers.
At least half a dozen old industrial buildings, radiating from its busy East Hastings Street backbone, have been reclaimed as microbreweries, with more due in 2016. Most offer tasting rooms that double as mini neighborhood bars. And because they're just blocks apart, on-foot beer crawling couldn't be easier.
Off the Rail, on Adanac Street, is the launching point for many. "These are all beers I like — otherwise we wouldn't be making them," brewer Steve Forsyth said when I sidled up to the bar. Forsyth, the former owner of Vancouver's beloved Railway Club pub, opened Off the Rail early this year.
The chalkboard offered seven regular beers and eight small-batch seasonals. After some enthusiastic sampling — a citrusy India pale ale and a nicely malted extra special bitter — the silky Nut Brown won my order.
Back outside, I ran across the street to Bomber Brewing — Choqlette Porter and two shelves of board games make this a cozy bolt-hole — before speed walking north to Callister Brewing.
Callister, which opened in August, is an unusual operation. It shares its facilities with three other nano-breweries, and its ever-changing menu — two new beers were added while I was at the counter — invited adventurous sampling.
I tried a Machine Ales' India pale ale with a grapefruity hop kick as well as two English-style cask ales from Real Cask Brewing — Inky Blinky Stout recommended.
Tasting rooms like these are helping revitalize this traditionally blue-collar, rough-around-the-edges East Van area. Although the arrival of hip stores and eateries has stoked debates about gentrification, there are few arguments against the newly improved beer scene.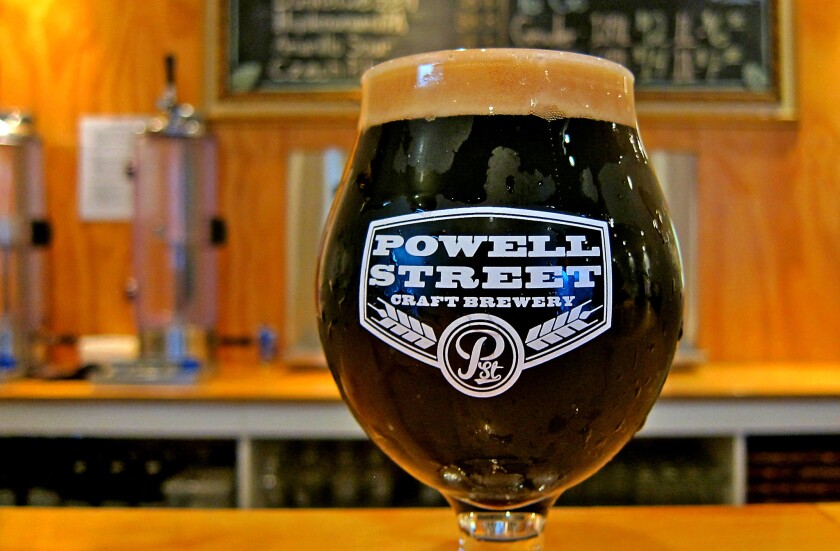 The progress is exemplified by Powell Street Craft Brewery, which opened in a gabled storefront in late 2012. Within months, its Old Jalopy Pale Ale won beer of the year at the Canadian Brewing Awards.
To meet demand, it relocated to larger premises nearby, its former space claimed by Doan's Craft Brewing. Doan's has also started well: Its American Rye Stout won a 2015 British Columbia Beer Award.
Powell Street's Amarillo Sour and Dive Bomb Porter tickled my taste buds, but the dark, doom-laden weather called for something more fortifying.
The velvety Dunkelweizen, like a dry-fruit-packed liquid Christmas pudding, was anointed the day's winning beer. But as a round of hail rapped insistently at the windows, staying for one more seemed like a good idea. Make that two.
::
How East Vancouver's craft beer scene went from dead to thriving
East Vancouver's tasty microbreweries wouldn't be here without the city's insatiable thirst for craft beer, but that wasn't always the case. I arrived as an emigrating Brit in 1999 and found few local producers and almost nothing worth drinking. Vancouverites seemed happy quaffing humdrum brews.
That slowly changed after Nigel Springthorpe took over the Alibi Room bar in 2006 in the city's historic Gastown district, transforming the menu into a cornucopia of great beers from British Columbia and the wider Pacific Northwest.
The Alibi helped trigger a tidal wave of new craft-focused bars — and, eventually, a round of fresh city-based microbreweries. One of these was opened by Springthorpe in 2013.
The Alibi remains popular, but Brassneck Brewery is a must-do for serious beer nuts. It's in a repurposed industrial unit on Main Street in the heart of the Mount Pleasant neighborhood, the city's other brewery district not far from producers 33 Acres Brewing and Main Street Brewing.
I returned to Brassneck recently, where I found a chat-warmed tasting room lined with reclaimed wood and tables topped with fast-draining beer glasses. As I slid onto a stool, I glimpsed the brewery through strategically placed holes in the walls.
I sampled a crisp No Brainer Pre-Prohibition Style Corn Lager and a piney One Trick Pony India pale ale (both first-place winners at 2015's British Columbia Beer Awards) before moving on to a lip-smacking Passive Aggressive Dry Hopped Pale Ale. Vancouver's beer scene has come a long way since I moved here — and there's no going back.

::
Hastings-Sunrise in East Vancouver's brewery district is not just for mom and pop anymore
The busy stretch of East Hastings Street that runs through East Vancouver's brewery district has long been known by the subdistrict moniker Hastings-Sunrise. In recent years, this blue-collar area's laundromats and mom-and-pop restaurants have been joined by cool new stores and eateries.
A hopeful business association has rebranded a section of Hastings-Sunrise as the East Village and is pitching this "new" area to locals and visitors. The name change hasn't been universally popular, but how much has Hastings-Sunrise transformed?
"When I opened three years ago, there were a couple of people a day walking past. That's totally changed," said Stephanie Menard, owner of Tiny Finery, which specializes in jewelry and the crafty creations of 25 local artists. She hopes the area thrives without losing its character.
Ben Tryon, who works at the What's Up? Hot Dog diner, agreed. With punk posters, pinball machines and irresistible dogs (mac and cheese version recommended), the business has won a loyal local following since opening in April.
"I hate the word 'gentrification,'" Tryon said. "The ideal is to be a new business that doesn't change the neighborhood."
Some of the best East Village storefronts aren't even new. Neon-signed Dayton Boots has been hand-making footwear (Johnny Depp owns a pair) since 1946. Its products are coveted by all ages, which also is the case at Baaad Anna's Yarn Store nearby.
This walk-in kaleidoscope of color is staffed by younger knit fans and has a clientele of people in their 20s and older locals. On Wednesday nights, the two groups combine to compare projects and exchange tips.
It's a multigenerational merging exemplified at down-the-street East Cafe. Vintage tables and MacBook Airs suggested a typical hipster coffee shop. But on my visit, half the customers were chatty seniors. The East Village name may yet take hold, but the Hastings-Sunrisers aren't going anywhere soon.
A handy bar-crawling guide for East Vancouver
Starting on Adanac Street, here's a six-pack of East Vancouver breweries, in handy bar crawl order. Most are open daily; check individual websites for hours.
Off the Rail Brewing: A new but already firm favorite. Head upstairs to the tasting room and snag a stool at the bar to try everything from Crazy Train IPA to Derailer Pale Ale. Need some nonliquid sustenance? Hit the cured sausages in the corner.
Info: 1351 Adanac St.; www.offtherailbrewing.com
Bomber Brewing: Extra-special bitter and German-style Märzen are bestsellers at this popular, windowless haunt. There's always something intriguing on the seasonal board, including Old Fat Heater Winter Ale. Brewery tours are available.
Info: 1488 Adanac St.; www.bomberbrewing.com
Callister Brewing: This four-brewery operation serves an ever-changing roster of intriguing beers. Ideal for adventurous sampling. Don't miss the cask-only brews — and be sure to peek at the busy brewery area when you head to the restrooms.
Info: 1338 Franklin St.; www.callisterbrewing.com
Powell Street Craft Brewery: Launched by former home brewer David Bowkett, who relinquished his day job when he realized he was spending every waking hour making booze. There's usually a sour beer or two lurking on the menu.
Info: 1357 Powell St.; www.powellbeer.com
Doan's Craft Brewing: Doan's has made big waves with its German-style beers. Check its events too, including regular Lego nights, in an inviting little tasting room with gallery-quality local art and a vintage video-game machine.
Info: 1830 Powell St.; www.doanscraftbrewing.com
Parallel 49 Brewing: The branding kings of Vancouver's craft beer scene, hence the cartoonish labels on popular brews such as Gypsy Tears Ruby Ale and Ugly Sweater Milk Stout. The tasting room is East Vancouver's biggest and busiest. The neighborhood pub-style ambience helps, as does the longer-than-usual operating hours.
Info: 1950 Triumph St.; www.parallel49brewing.com
::
THE BEST WAY TO VANCOUVER, CANADA
From LAX, Alaska, American, Air Canada, WestJet and United offer nonstop service to Vancouver, and Delta, Alaska, United and WestJet offer connecting service (change of planes). Restricted round-trip fares from $292, including taxes and fees.
TELEPHONE
To call the numbers below from the U.S., dial 1 (the country code for Canada) followed by the number.
GETTING AROUND
After visiting Vancouver's top attractions — including Stanley Park, Granville Island and the University of British Columbia's Museum of Anthropology — take the No. 14 transit bus from downtown to East Vancouver. It takes 20 minutes and costs about $2. Alight at the East Hastings Street and Clark Drive intersection, then take a five-minute, four-block stroll south on Clark to Adanac Street for your first two tasting rooms. To return, take the No. 14 bus at any downtown-bound East Hastings stop. For transit information, see www.translink.ca.
If you have a designated driver, hire a car for the swift eastbound drive from downtown along East Hastings Street. Park on the side streets near Clark Drive.
WHERE TO STAY
East Vancouver has few accommodation options but it's just a short transit hop or car ride from the following downtown sleepovers:
Rosewood Hotel Georgia, 801 W. Georgia St., Vancouver; [604] 682-5566, www.rosewoodhotels.com/hotelgeorgia. The city's "it" hotel has elegant rooms and an excellent restaurant. Doubles from $285.
Skwachàys Lodge, 29/31 West Pender St., Vancouver; [604] 687-3589, www.skwachays.com. This First Nations art-themed boutique hotel includes individually decorated rooms, rooftop totem pole and an onsite gallery. Doubles from $110.
Victorian Hotel, 514 Homer St., Vancouver; [604] 681-6369, www.victorianhotel.ca. Rooms here are clean, comfortable and good value — especially offseason. Doubles with private bathroom from $78.
WHERE TO EAT
East Vancouver's brewery district has some great independent dining options.
Campagnolo Roma, 2297 E. Hastings St., Vancouver; [604] 569-0456, www.campagnoloroma.com. Rustic, family-style Italian dining at a friendly spot for lunch, dinner or weekend brunch. Don't miss the area's best pizza. Entrees $11-$16.
Red Wagon Restaurant, 2296 E. Hastings St., Vancouver; [604] 568-4565, www.redwagoncafe.com. This down-home diner specializes in breakfasts, making it the perfect brewery hangover cure. Expect weekend brunch queues — and don't miss the smoked salmon scramble. Entrees $6-$14.
Tacofino Commissary, 2327 E. Hastings St., Vancouver; [604] 253-8226, www.tacofinocommissary.com. The kitchen for Vancouver's favorite taco truck also serves walk-ins at its storefront eatery. And it's not just fish; try the pork jowl taco and, for dessert, lime curd vaso. Tacos and burritos $4.50-$7.50.
TO LEARN MORE
For trip planning: Tourism Vancouver, www.tourismvancouver.com, [604] 683-2000. For East Village information, www.eastvillagevancouver.ca. For more insights on the city and its upcoming events, see the Inside Vancouver blog (www.insidevancouver.ca).
---
Get inspired to get away.
Explore California, the West and beyond with the weekly Escapes newsletter.
You may occasionally receive promotional content from the Los Angeles Times.