So long, panda cam: Smithsonian museums and the zoo close because of shutdown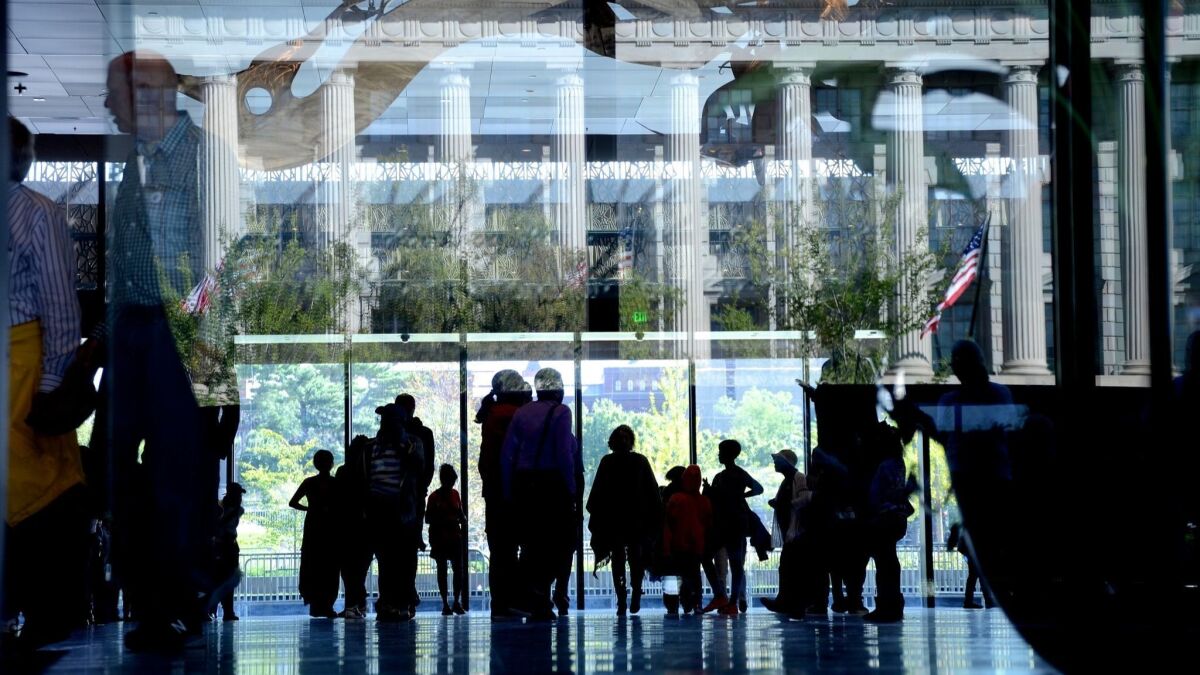 The Smithsonian's museums and the National Zoo have closed.
A Tweet from its account, posted at 5:51 a.m. Wednesday, said, "Due to the Government Shutdown, Smithsonian museums and the National Zoo are closed. We will update our operating status as soon as the situation is resolved. We do not plan to update social media other than to inform you of our operating status."
It had managed to keep its many Washington D.C. public spaces open through the early days of the federal government's partial shutdown, but funding ran out.
Together, those institutions drew 30 million visitors in 2017, about 82,000 per day.
Because they're all free and clustered among landmark buildings in the core of Washington, D.C, the Smithsonian's museums and galleries often make up the heart of a visitor's experience of the nations capital.
"We're just sorry that we have to disappoint tourists," Linda St. Thomas, a Smithsonian spokeswoman, said last week. "The minute we have federal funding, of course we'll reopen."
Thomas said the Smithsonian had stayed open through the early days of the shutdown by relying on "prior-year funds." But she noted that the institution's many museums and galleries are in federal buildings, staffed mostly by federal employees, "and we're not allowed to operate if there's not a federal budget….We were closed for about 17 days in October 2013 for the government shutdown."
Like the National Park Service, which has curtailed operations while leaving most parks open since the shutdown began Dec. 22, the Smithsonian is part of the Department of the Interior.
oor locations generally remain open, although many indoor facilities are closed, including the White House Visitor Center, Frederick Douglass National Historic Site and all visitor centers and indoor restrooms. (Some temporary restrooms have been placed in busy areas.)
"During a shutdown, D.C. is an unreliable place," said Kate Gibbs, representative for Destination DC. "It's a lesson in civics."
Gibbs said Destination DC's website, washington.org, has "a massive list of what is open and what will be unaffected… So if you can't see the Gordon Parks [photography] show at the National Gallery of Art, for example, we encourage you to go to the Newseum and see their collection of Pulitzer Prize-winning photographs."
The National Zoo, which includes about 1,500 animals on 163 acres in Washington's Rock Creek Park, typically closes only for Christmas. Through the first 10 months of 2018, the zoo drew 1.3 million visitors. Despite the shutdown, St.Thomas said the zoo would be fully staffed so that no animals are placed in jeopardy.
The Smithsonian Institution's holdings include 11 museums and galleries on the National Mall and several others in the Washington area, including
christopher.reynolds@latimes.com
Follow Reynolds on Twitter: @MrCSReynolds
---
Get inspired to get away.
Explore California, the West and beyond with the weekly Escapes newsletter.
You may occasionally receive promotional content from the Los Angeles Times.