If you like ancient trees, fish and barbecue, you'll love tiny Big Pine, Calif.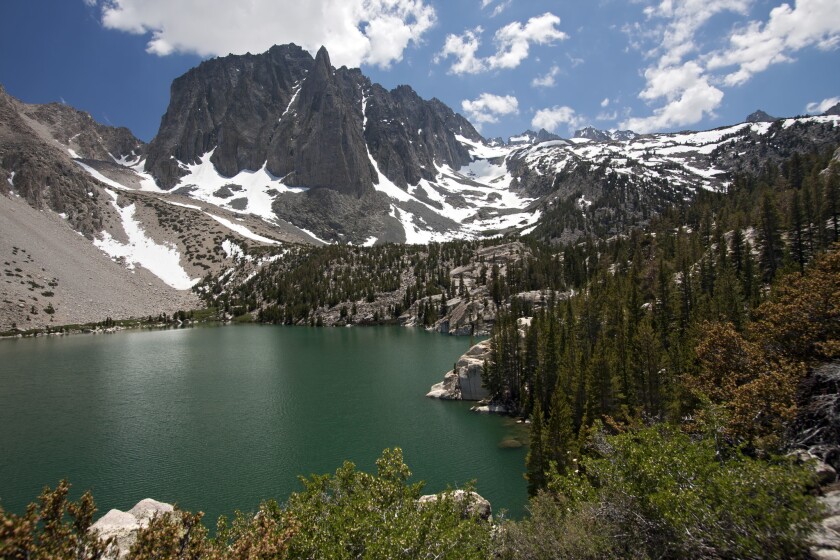 My husband, Paul, likes to fish; I like trees. We compromised over tangy barbecue as we sat at a roadside picnic table in full view of U.S. 395. He would get to experience a new-to-him back-country creek 10 miles west of tiny Big Pine, and I would get an all-day visit at the Ancient Bristlecone Pine Forest, 25 miles east. OK? Deal. The tab: We spent $159 for a night in a basic cabin (no microwave, TV or Wi-Fi, second-hand furnishings) at Glacier Lodge in Big Pine Canyon and $50 for food. Walking in the woods? No charge.
THE BED
The fishing-season opener at the end of April seemed optimal for trying the out-of-the-way Glacier Lodge, which has a handful of rustic cabins and a campground. (The lodge burned down years ago.) The old-fashioned kitchenette/bedroom/tiny bathroom reminded me of the simple cabin my great-grandfather built in Running Springs after World War II.
THE MEAL
Copper Top BBQ in Big Pine draws a crowd to this outdoor-dining-only roadside stop. An alluring aroma wafted from the big grills out front, so we ordered the Big Pine Sampler Platter (tri-tip, pork ribs, quarter chicken) and homemade potato salad. Yum. Far less trendy but dependable: Country Kitchen's hot coffee and hearty breakfasts.
THE FIND
We found hiking, fishing, majestic trees and breathtaking vistas (literally, at these elevations topping 8,000 feet) on either side of Big Pine. My spouse warmed up at the lodge's bountiful trout pond before we set off for the Big Pine Lakes trailhead. The initially easy climb amid the aspen, lodgepole and Jeffrey pines was bracing and beautiful — until it started to snow. The late-April white-out created a pretty picture, but we were chilly in our made-for-summer cabin, and it was too cold to fish the stocked lower Big Pine Creek.
Now it was my turn. East of Big Pine, a winding road led to the Ancient Bristlecone Pine Forest. We admired the artistic beauty of their distorted, polished limbs and exposed roots as we hiked along the Methuselah Trail — and took a deep breath. These hardy trees of the "oldest living forest" like the 9,000- to 11,000-foot elevation.
A ranger explained the unusual cluster of blue and red flags outside the visitor center at Schulman Grove. Each marked a baby bristlecone. Maybe construction, maybe spring rains — something had prompted rare growth within viewing range: "That's someone's Ph.D thesis right there," he said.
THE LESSON LEARNED
We were too eager and a bit too early; we'll come back this month or next.. The Glacier Lodge guestbooks were full of grateful comments about "hot showers" after hiking to the glacier-fed lakes (the nearest is about five miles) in the summer months.
Glacier Lodge, 100 Glacier Lodge Road, Big Pine; (760) 938-2837. Cabins from $159 a night during the week. One wheelchair-accessible cabin. Closed in winter.
Coppertop BBQ, 310 N. Main St., Big Pine; (760) 970-5577. Open 11 a.m.-7 p.m. Wednesdays-Sundays.
Country Kitchen, 181 S. Main St., Big Pine; (760) 938-2402. Wheelchair accessible. Open 7 a.m.-9 p.m. daily.
Ancient Bristlecone Pine Forest. Road may be closed in winter. Limited wheelchair accessibility.
---
Get inspired to get away.
Explore California, the West and beyond with the weekly Escapes newsletter.
You may occasionally receive promotional content from the Los Angeles Times.