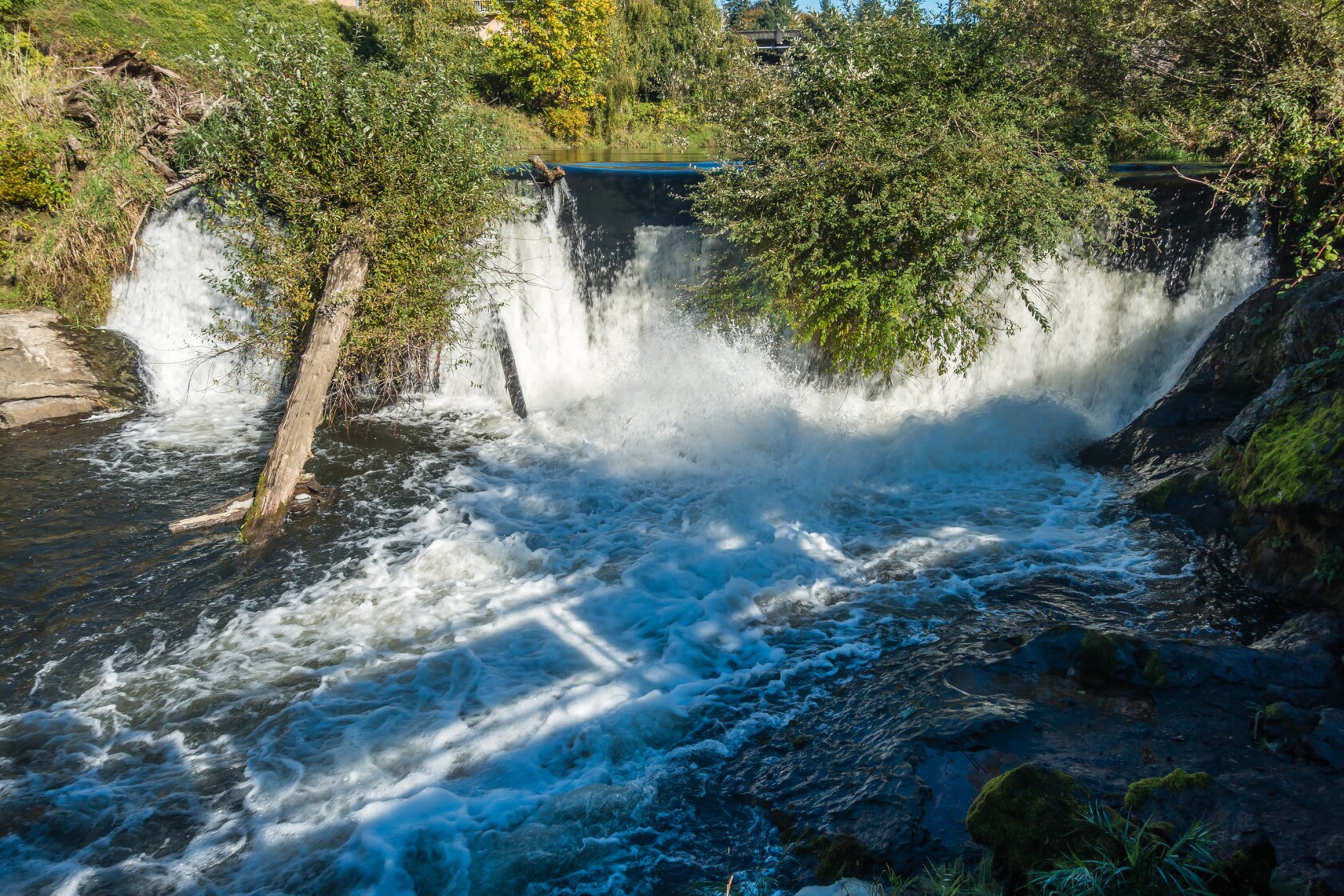 Closeup shot of a secton of Upper Tumwater Falls with busher hanging over the water.
(gmc3101 / Getty Images/iStockphoto)
Richard Beyer's sculpture "The Kiss" is one of several pieces of public art at Percival Landing Park on Puget Sound in Olympia, Wash.
(Brian E. Clark)
Olympia oysters for sale at the Olympia Farmers Market, just a stone's throw from the south end of Puget Sound.
(Brian E. Clark)
Garnished oysters at Chelsea Farms Oyster Bar at 222 Market, an artisanal food hall, in Olympia, Wash.
(Brian E. Clark)
A poached pear for breakfast at the Inn at Mallard Cove near Olympia, Wash.
(Brian E. Clark)
The Inn at Mallard Cove near Olympia, Wash.
(The Inn at Mallard Cove)
When I called Olympia, Wash., home in the 1990s, I used to tell people I lived at the bottom of Puget Sound. That raised a few eyebrows because it sounded as if I was living underwater. A more accurate description would be that Olympia is near the southern tip of the sound, roughly halfway between Mt. Rainier to the east and the Olympic Peninsula to the west. I'm often drawn to this corner of the Northwest to see friends and family, hike in old-growth woods, bicycle rural roads and kayak on Puget Sound. It's also fun to visit brewpubs where I knocked back a few pints when I was a reporter at the Olympian newspaper and check out new places to eat and drink.
The tab: $199 a night, full breakfast included, at the Inn at Mallard Cove, and $20 for lunch at the Fish Tale Brew Pub, including a tasty hefeweizen.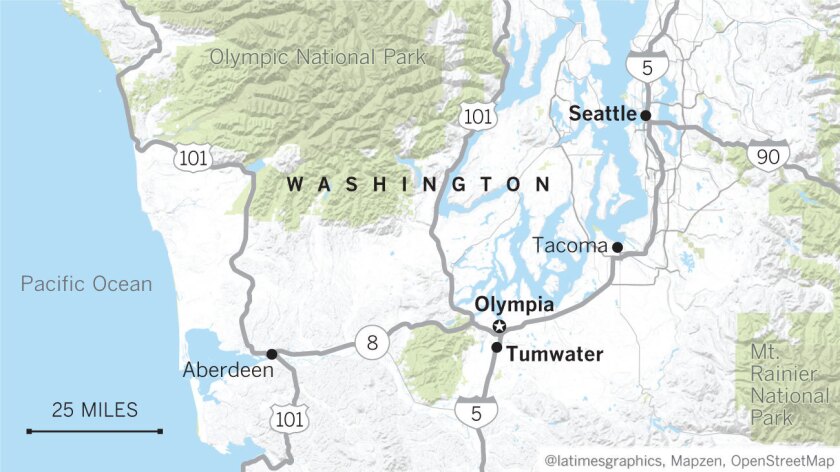 The bed
A coyote, at his post in the middle of a gravel road, greeted me with an annoyed look when I attempted to enter the lane leading to the Inn at Mallard Cove (5025 Meridian Road NE, Olympia; [800] 320-3590) late one night. Then he sauntered off into the deep woods. I awoke the next morning to a splendid view of a small inlet where the waters of Puget Sound rose and fell with the tide. Included as part of a stay at this pleasant inn is an aquatic tour of the Nisqually Delta. Mallard Cove owner Don Malatesta and I paddled at high tide into the Billy Frank Jr. Nisqually National Wildlife Refuge (100 Brown Farm Road, Olympia; [360] 753-9467), home to harbor seals, beavers, weasels, minks, eagles, great blue herons and numerous other birds.
The meal
The Fish Tale Brewpub (515 Jefferson St. SE, Olympia; [360] 943-3650; most items about $10) has been around for more than 20 years in downtown Olympia and had doubled in size since I was last there. The food is as good as I had remembered, and there were lots of brews from which to choose. I had a mouth-watering turkey pesto sandwich with grilled tomato, mixed greens and provolone with pesto aioli on focaccia bread.
The find
When you're in the Tumwater Falls Park gorge (110 Deschutes Way SW, Tumwater, Wash.), next to its impressive series of cascades, the noise from Interstate 5 — just a long stone's throw away — is drowned out. Even though I had lived in Olympia for nearly a decade, I never hiked the trails beside this riotous watercourse on the Deschutes River. My mistake. This section of roiling water, which once powered the region's first mills and the now-closed Olympia Brewery, could be in the depths of wild Olympic National Park rather than next to a freeway. A separate find was 222 Market (222 Capitol Way N., Olympia), a collection of artisan shops and eateries in a former Packard auto dealership in downtown Olympia that includes a distillery, a bakery, an oyster bar, gelateria, broth bar and a gourmet sauerkraut shop.
The lesson learned
Sometimes you can go home again. Just be sure to bring a good raincoat. I had a morning of sunshine when I went sea kayaking in the Nisqually Delta, an overcast sky during my hike in the national wildlife refuge that afternoon and steady drizzle when I went for a walk at Mima Mounds, a series small hills south of Olympia, the next day. After all, this was the Northwest.
---