At Nelson's Duckpond & Lavender Farm, it's easy to unwind out back by the water during the Lavender Festival held annually each July.
(Sara Lessley )
A family enjoys the luxuriant fields at Purple Haze Lavender Farm during the Lavender Festival held annually in July. Rental cottages on two of the farms in the town are available year-round, and most farms have gift shops open year-round as well.
(Sara Lessley )
Festival-goers get into the spirit with floral flouncy hats at the Lavender Festival in Sequim, Wash. each July.
(Sara Lessley)
Pony rides for the younger set at Jardin du Soleil in Sequim.
(Sara Lessley)
Detail of drying lavender at Sunshine Herb & Lavender Farm.
(Sara Lessley)
Flaky, moist salmon with caprese salad from Blondie's Plate.
(Sara Lessley)
A pair of festival-goers find the best seat in the house for the music at Olympic Lavender Heritage Farm.
(Sara Lessley)
Easy ingredients for a frothy, frilly, lavender-infused weekend: Round up three girlfriends, a few purple shopping bags, a love of all things floral and head north to Washington state for the hugely popular Lavender Weekend in sunny Sequim, pronounced "Skwim." We strolled, sniffed, tasted, clipped and sipped our way through five lavender farms in two days in mid-July (this year, July 21-23), plus did serious shopping at the annual festival's street fair.
The tab: $224 a night at the Holiday Inn, excluding taxes and fees; $125 each for food and lavender drinks; $22 each for weekend-long admission to three farms (two others were free) and an undisclosed amount for purchases, including luscious lemon lavender pound cake mix and a deep-purple pashmina scarf.
The bed
Holiday Inn Express & Suites (1441 E. Washington St., Sequim; [360]) 681-8756) is air-conditioned, comfortable and convenient to the highway and downtown. We paid a premium for this high-demand weekend; the Sequim (populaton 7,000) visitor center estimates festival attendance at 30,000.
The meals
At a farm named Purple Haze, the out-of-this-world fresh salmon with caprese salad, accompanied by signature lavender margaritas, was provided by Blondie's Plate (134 S. 2nd Ave., Sequim; [360] 683-2233). We ate outdoors at sunset, while singing (or some of us, dancing) along with a Beatles tribute band. Definitely groovy. For early risers, the Black Bear Diner's (1471 E. Washington St., Sequim; [360] 504-2950) California Bacon Benedict and "Fit & Focused" scrambles were cheerfully delivered by a server who couldn't wait to get back to the festival for Day Two.
The find
It's all about choices: A show farm or a working farm? Distillation demos about lavender oils? A marketplace of culinary lavender ingredients? Lavender craft instruction? Works by local artists? My friends, the lavender veterans, had it strategically mapped out. First, Sunshine Herb & Lavender Farm (274154 Highway 101, Sequim; [360] 683-6453) for its farm-produced products designed to "heal and medicate, add flavor and scent, rejuvenate and calm." Then Purple Haze (180 Bell Bottom Road, Sequim; [360] 683-1714). Think 12 acres of rolling fields, specialty craft booths and fine food and music. Next, scenic Jardin du Soleil (3932 Sequim Dungeness Way, Sequim; [360] 582-1185) for the congenial owner's distillation demos and easy "u-pick," followed by Olympic Lavender Heritage Farm nearby (1532 Marine Drive, Sequim; [360] 683-4475). Try the lavender crafts and lavender ice cream. And last, Nelson's Duckpond & Lavender Farm (73 Humble Hill Road, Sequim; [360] 681-7727). Gulp the chilled lavender lemonade from daughter Tilly at this second-generation family farm.
Lesson learned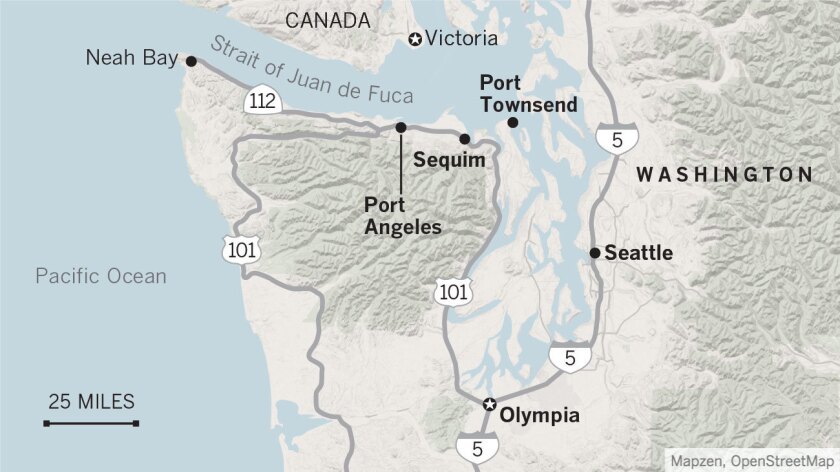 We don't need to wait for festival time to luxuriate in the lavender; on-site rentals offer a year-round option. At Purple Haze, a three-bedroom farmhouse overlooks the fragrant fields, and at Nelson's, it's a barn-style cabin on the half-acre pond. But if it's the aromatic and colorful festival weekend you crave, go early, before the heat and crowds build. And, word to the wise: Wear purple – a frilly skirt, a floral hat or appropriately tinted hair are all part of the colorful fun.
---