It's not always easy to keep a song in your heart, especially if you're a baseball fan and you just watched your team come back from the brink. Again. (I am not, not, not talking about the Rockies/Cubs.)
There's a cure for that tuneless existence, besides swearing off baseball, and it's Nashville, as our most recent entry to our Sites and Sounds series attests. Christopher Reynolds, who plays a pretty mean guitar himself, has been on the trail of the spaces where music reigns. He found plenty of fertile ground while he was there in a city that's about country music but so much more.
Meanwhile, if you need to chill a little, let us suggest Vancouver, Canada, for a little bit of golf and biking before winter settles in.
My name is Catharine Hamm, and I'm the travel editor for the Los Angeles Times. I just returned from a little chill time — I mean that in the metaphoric sense — in the Caribbean. Thanks to Chris Erskine for holding down the fort and delivering a heaping helping of travel news to you.
He follows up on that duty with the news of what's happening with Mammoth's opening in just about a month. (Wow, how can that be already?) Last season wasn't stellar for snow, but is it possible that this will be a rock-'em, sock-'em season?
And if that doesn't knock your socks off, here's a WOW that will — WOW as in the World of WearableArt, the show that started out in a little town in New Zealand and has become a must-have ticket for about 60,000 people.
Then there was the curious news that you can carry cannabis at LAX, which set off a round of inquiry that began with, "But…." Read up to make sure you don't run into a nasty surprise.
All of this and the keys to a safer driving vacation. Buckle up, fun lovers.
How-dee!
If you love music, you must make a trip to the Mother Church, a.k.a. Ryman Auditorium in Nashville. That's a starting point, not an endpoint. "Nashville has music the way Willie Nelson has wrinkles," Reynolds writes in his piece on Music City USA. The weekend he was there so were Journey and Def Leppard, Taylor Swift, Garth Brooks, preceded by Beyoncé and Jay Z. Nashville, it seems, is the Disneyland of music.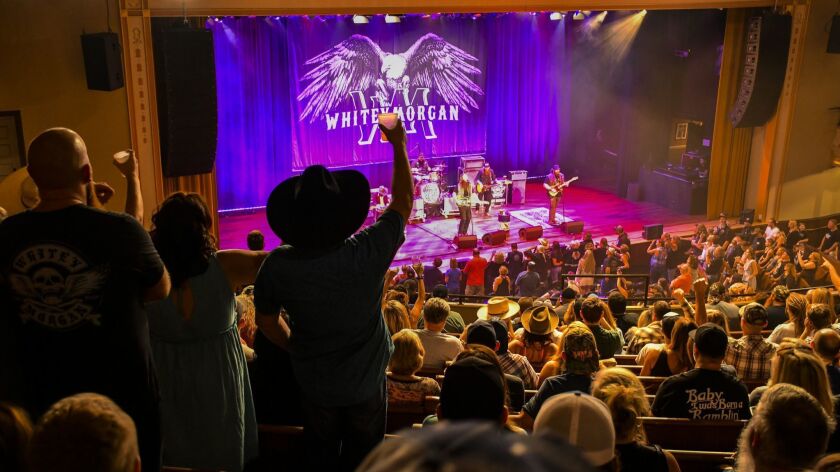 Whoa, Canada
Who knew you, our neighbor to the north, had so many personalities? Writer Ken Van Vechten did.
Travel in the shoulder season — it's not quite summer, it may be fall, and it could be winter — often has surprises, especially in Whistler, which is just north of Vancouver. Not all of them have to do with the weather, he discovered. Some of them include a sale on ski and snowboard gear, a spa and golf and biking. All in all, a great weekend getaway.
I'll wear what she's wearing
OK, maybe not, if the World of WearableArt contains my wardrobe selection. Writer Amanda Jones tells about her experience attending the show in Wellington, where one outfit was so skintight that it required a vacuum to get the model into it. (I may try that with my jeans.)
After Wellington, she and her mom hopped to Nelson, where WOW was born, for a look at the museum and then some quiet days spent in the New Zealand bush in a luxury cabin. Yes, please.
Giving wings to kids
A Bay Area mom dreamed of a vacation at Disney World in Florida for her and her two sons. But a plane ride was out of the question because the boys are on the autism spectrum. Thanks to a program at San Francisco International Airport, such a trip may not be the impossible dream after all. In her All Systems Go column, Yomi Wrong writes about how airports are helping break down travel barriers for those with special needs.
Pot … or not?
This bit of news was hiding in plain sight, Chris Erskine writes: It's the page in the Los Angeles World Airports website that says you can walk around LAX, if you're 21 or older, with 28½ grams of marijuana or 8 grams of concentrated marijuana, thanks to Proposition 64. That notice has been up for a while, LAX officials said. But there's a catch, and it has to do with the ongoing tussle between federal and state law. Read this before you head out.
Look, don't toke
In Las Vegas, you can now visit Cannabition, a new museum downtown, but don't you dare light up. Although marijuana is allowed for medical and recreational use in Nevada, you cannot partake in public. But, Jay Jones writes, the owner hopes to change that one day and then, perhaps, the museum's 24-foot bong can be put to use.
A different kind of high
Meanwhile, Erskine also tells us that the rain that visited our parts this week was also supposed to dust the Eastern Sierra. Ladies and gentlemen, start those snowboards, he writes. Mammoth Mountain has set a Nov. 8 opening. Here's what you need to know (and you'll like the part about $50 lift tickets).
And if you're driving to Mammoth
… or anywhere, you're probably doing it badly.
That's not me talking — it's AllState insurance. After its release last month of "worst drivers in the U.S." listing (it uses frequency of claims as its barometer), I wrote that L.A. drivers were among the worst — not the very worst (Baltimore was No. 200 on a list of 200) but at 194, nothing to write home about.
Then I used the AllState app called DriveWise to see whether I was better than average. AllState execs had warned me that everyone thinks they're better than they are, but I was pretty sure I was/am. And I wasn't/am not. Read about my road to what I hope is vehicular redemption in "On the Spot."
Readers recommend
In the print section of yore, we used to run a column called Readers Recommend. Then came Yelp and TripAdvisor, and that column went away. It's back. Sort of. We want your best tips for restaurants, attractions, hotels and more, and we welcome your ideas about how to be a smarter traveler. Send them to travel@latimes.com with "Readers Recommend" in the subject line.
Ken Brock of Yucca Valley wrote a letter to the editor (you can also share your thoughts with us by emailing travel@latimes.com) about in-room refrigerators. This is worth sharing with the newsletter family:
"Many years ago, when I started traveling, hotels did not have in-room refrigerators, so I brought a cooler into my room. Then, hotels began providing small refrigerators; a nice place to store a drink or a leftover sandwich. Some even had freezer compartments. Then came minibars, but you could still squeeze in a soft drink or two by rearranging or temporarily removing items.
"On a recent trip I was warned at check-in not to place 'personal items' in the fridge, or to even move an item lest I be charged. So I'm back to bringing a cooler for my own stuff."
Thank you, Ken Brock, and can you tell me where I stored my small, collapsible cooler?
A-haunting we will go
It's the most wonderful time of the year … for ghosts and goblins and stuff that can scare our socks off. We offer five places where you can startle yourself, including the Stanley Hotel in Colorado. If you can see it and not think of "The Shining," you can go to the head of the class. If you avoid saying, "Heeere's Johnny," you get extra credit. Sara Cagle's story will help you scare up some fun.
What we're reading
George Hobica, who often writes about pocketbook issues for the Travel section, advises travelers about "sneaky airline fees" and how avoid them. You can catch his money-saving tips in BottomLinePersonal.
It's being called a "digital strip search" at airports. Read about New Zealand's new customs rules that say that if incoming passengers don't turn over the info to unlock their e-devices, if they are asked to do so, they could be fined about $3,300, the Washington Post reports.
And on the lighter side, Candice Rainey has a wonderful piece in Condé Nast's Traveler magazine (the "Inspiration Issue") whose first paragraph made me laugh out loud. The article goes on to detail living the cowboy life on the Colorado plains.
End paper
To subscribe to this and other L.A. Times newsletters, go to membership.latimes.com/newsletters, If you have questions, comments or complaints — about this newsletter, not about life — please send them to travel@latimes.com. And remember, into life a little rain must fall. So be careful on the freeways because, apparently, we weren't doing so hot navigating our cars before the rain moved in. Don't speed and don't tailgate on your driving trip, and, as always, when you return, we'll be here to welcome you home.
---