Can you carry marijuana in LAX? Yes, but it's more complicated than that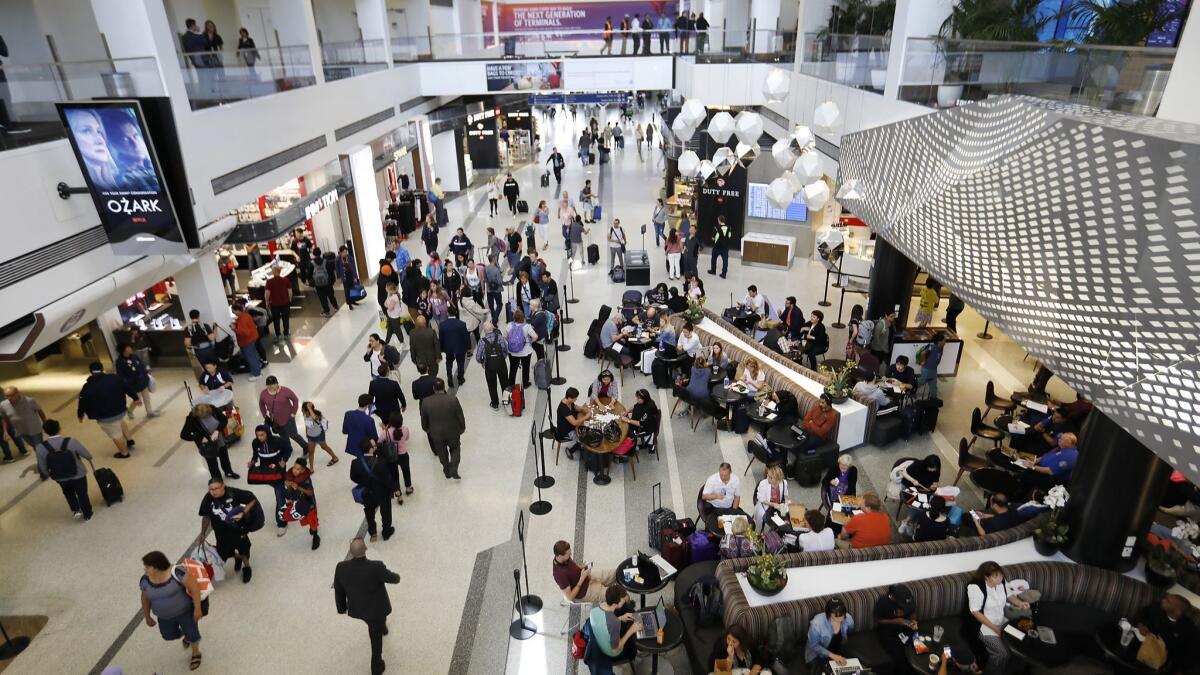 LAX wants you to know this about the marijuana you may be taking with you on your trip: What's legal on the street is also legal in the terminals.
Up to a point.
Travelers can carry the legal amount of marijuana in California — up to 28.5 grams— through the airport areas that are under city supervision, that is up to pre-security checkpoints.
But once you get to a Transportation Security Administration area, which is run by the U.S. government, federal regulations take effect.
Marijuana is illegal under federal law.
Federal law? State law? Which takes precedence when you want to travel with cannabis? »
When you reach your destination, you had better be prepared to face whatever marijuana laws are in effect there.
The issue bubbled up late this week when some sharp-eyed travelers finally spotted the airport's marijuana policy on its website and the internet and local media outlets picked up on it.
Airport officials say nothing has changed since early this year, when the website first posted the policy.
What's changed, apparently, is that someone finally noticed it.
"While federal law prohibits the possession of marijuana (inclusive of federal airspace) California's passage of Proposition 64, effective January 1, 2018, allows for individuals 21 years of age or older to possess up to 28.5 grams of marijuana and 8 grams of concentrated marijuana for personal consumption," the website said. "In accordance with Proposition 64, the Los Angeles Airport Police Department will allow passengers to travel through LAX with up to 28.5 grams of marijuana and 8 grams of concentrated marijuana. However, passengers should be aware that marijuana laws vary state by state and they are encouraged to check the laws of the states in which they plan to travel."
Explaining the discrepancy between state and federal enforcement, Alicia Hernandez, a spokeswoman for the Airport Police told The Times late Thursday, "We are California peace officers and we enforce California law, so if we come across individuals carrying substances that are legal under state law, there is nothing we will do."
The TSA said Thursday that its emphasis is on terrorism and threats to the public safety. That said, the agency noted that if a TSA officer discovers an item that may violate federal law during screenings, the officer will refer it to local police. It's then up to local law enforcement officials to decide what to do.
In addition, the TSA notes:
Marijuana remains an illegal substance under federal law.
The passenger's originating and destination airports are not taken into account.
Airport law enforcement will be notified if marijuana is discovered during screening of carry-on and checked baggage.
Whether or not the passenger is allowed to travel with marijuana is up to local law enforcement's discretion.
Get our L.A. Goes Out newsletter, with the week's best events, to help you explore and experience our city.
You may occasionally receive promotional content from the Los Angeles Times.