Hawaii: 20 Big Island meals for less than $20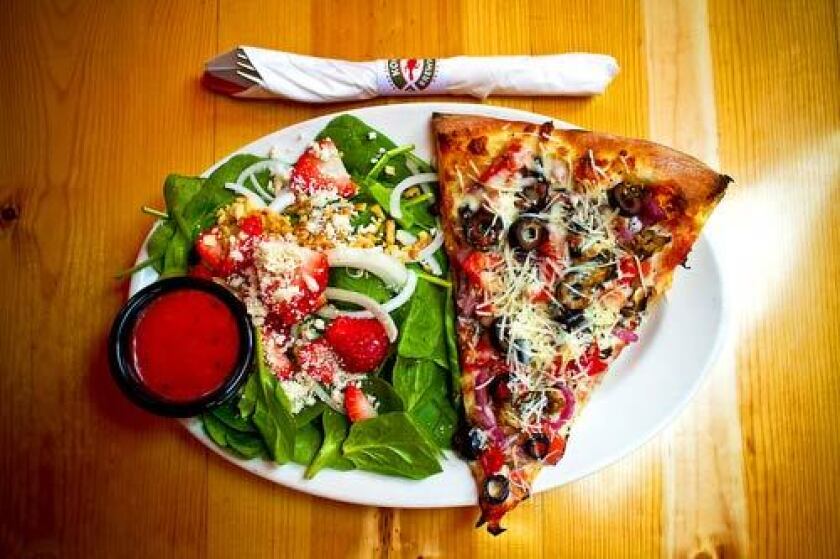 Reporting from Waikoloa, Hawaii —
Fourteen world-class resorts hug the rugged coastline of Hawaii's Big Island. Scores of pricey, high-end restaurants cater to the well-heeled guests staying in them.
So what's a budget-conscious family supposed to do in the face of the $35-a-person breakfast buffet? Go broke?
Not if we can help it. Catch the aloha spirit with us, as we share secrets about great meal deals on the Big Island. We teamed up with local food experts to bring you 20 Big Island meals for less than about $20, just as we did in our earlier surveys of Oahu, Maui and Kauai. Once again, we concentrated on the restaurants where locals dine for inexpensive, traditional Hawaiian fare. And we included a couple of places to splurge where the ambiance is pure tropical paradise.
Providing us with invaluable guidance were chef Vernon Wong, former board chairman of the Kona-Kohala Chefs de Cuisine; Eric Lelinski, executive chef, Sheraton Keauhou Bay Resort & Spa; and James Lightner, hospitality division chairman for the University of Hawaii Center West Hawaii.
Note that some of the restaurants are hard to find. Always call for hours and directions.
1--MANAGO HOTEL
Prices: $5.50-$14.50
Walk into the dining room at the Manago Hotel and you'll swear you've stumbled into a pre-Pearl Harbor time warp. This quaint, third-generation hotel on the slopes of Mauna Loa volcano has been entertaining guests since 1917. Little seems to have changed: The dining room menu is on a pegboard sign, entrees include such diner classics as pork chops and liver and onions, and most dinners cost less than $10. Manago is a dozen miles south of the high-profile Kailua-Kona resort area and decades removed from the hype.
We loved: stepping into Old Hawaii.
We didn't love: the canned veggies.
Hotel Manago, 826151 Highway 11, Captain Cook; (808) 323-2642, https://www.managohotel.com
2--ISLAND LAVA JAVA BISTRO & GRILL
Prices: $6.95-$21.95
Location, location, location — combine that with a good vibe and you have a sure winner. Perched across the street from Kailua Bay, Island Lava Java offers water views, inexpensive healthful food and lots of interesting menu choices. The restaurant began as an espresso shop, then added lunch. Now, owners Jeff and Leslie Fischer open for dinner too, with table service and entrees such as macadamia nut-crusted fresh catch ($21.95). We tried the café for lunch, when it's a casual, order-at-the-counter coffee shop; big sellers are veggie wraps ($11.50) and fish tacos ($13.90).
We loved: the ahi fish tacos, wrapped in delicate, homemade shells.
We didn't love: the noise from the street traffic.
Island Lava Java, 75-5799 Alii Drive, Kailua-Kona; (808) 327-2161, https://www.islandlavajava.com
3--HUGGO'S ON THE ROCKS
Prices: $8.95-$28.95
A postcard-perfect sunset, waves crashing against the rocks, live music and drinks with parasols and lots of rum. That's the vibe at Huggo's on the Rocks, an easygoing café and bar in the main tourist area of Kailua-Kona. The name tells it all: The place balances on the black volcanic rocks that jut out over Kailua Bay. On the Rocks is the little sister of Huggo's, the kind of pricey beachfront restaurant that pummels our budget. But you need not dine at the flagship restaurant when you can wiggle your toes in the sand at On the Rocks and pay half as much. The menu includes tasty pupus — the Hawaiian version of appetizers — salads, pizzas, sandwiches and desserts. Our favorites were the chopped salad ($12.95) and seafood tacos ($11.95).
We loved: the $3 well drinks, wines and domestic beers during happy hour.
We didn't love: the disinterested server we had to chase down for our check.
Huggo's On the Rocks, 75-5828 Kahakai Road, Kailua-Kona; (808) 329-1493, https://www.huggos.com/all/rocksdefault.htm
4--QUINN'S ALMOST BY THE SEA
Prices: $8.75-$23.95
Under the spreading banyan tree sits Quinn's Almost by the Sea. A local favorite, Quinn's bar and fish house has a nondescript façade, a '70s-era bar and a garden patio shaded by a lush banyan with a 40-foot circumference. Quinn's is a family business; three siblings on staff make sure things run right. The crispy fried fish-and-chips plate ($11.75) draws regulars; it's so popular that the restaurant goes through about 1,000 pounds of fish a week, purchased fresh from local fishermen's boats. Many of the dinner entrees are too pricey for this list ($18.95-$24.25), but sandwiches and salads are good buys, if fish isn't your dish. Night owls note: Quinn's is open until 11 p.m.; you can order a full meal from the restaurant until 10:30 p.m.
We loved: tropical landscaping on the outdoor lanai.
We didn't love: the ambiance inside; the restaurant needs a coat of paint and updating.
Quinn's Almost by the Sea, 75-5655A Palani Road, Kailua-Kona; (808) 329-3822.
5--KONA BREWING CO.
Prices: $8-$15
We love this place. If it were easier to find, we'd be ecstatic. When you step into the outdoor patio at Kona Brewing Co., you feel as though you've stepped into a tropical park. Surprise: The restaurant is actually in an industrial park. The management has done a good job camouflaging it, however, and it has a fun atmosphere and good vibe — also, as befits any brewing company, some great beer. But back to food: We tried the daily special, a slice of pizza and a salad ($8) and were suitably impressed with the veggie slice and the strawberry spinach salad, which offered great flavors and hearty portions. Another fave at our table: imu pork sandwich ($10).
We loved: good beer, sizable portions and fun ambiance.
We didn't love: driving in circles trying to find it. Call first and ask for directions.
Kona Brewing Co., 75-5629 Kuakini Highway, Kailua-Kona; (808) 334-2739, https://www.konabrewingco.com
6--ULTIMATE BURGER
Prices: $8.95-$12.95
Big Island native Windy Moore left home for culinary school in San Francisco. Now she's back from the Big City with a plan to offer the best burger on the Big Island. Her upscale fast-food restaurant, Ultimate Burger, may have it. To Moore, "best" means healthful and eco-friendly, so she serves grass-fed beef and locally produced ingredients whenever possible. She also offers lots of choices with her burgers: caramelized onions, Cheddar and Gorgonzola cheese, apple-smoked bacon, jalapeños and avocado. The result is the tasty three-quarter-pound Ultimate Burger ($5.95) that fits her restaurant's motto: "Juicy fun on a bun."
We loved: being able to personalize our burgers.
We didn't love: slow preparation time.
Ultimate Burger, 74-5450 Makala Blvd., Suite E112, Kailua-Kona; (808) 329-2326
7--PINE TREE CAFÉ
Prices: $1.75-$15.95
Heading for the airport? Get one last fix of teriyaki chicken or kalbi (marinated) short ribs at the Pine Tree Café, a Hawaiian-style fast-food joint near Kona International Airport. The 3-year-old, plain-Jane restaurant is devoid of character, but portions are hearty, ingredients fresh and tasty, and it offers dozens of reasonably priced choices. It's in a strip mall with a walk-up order counter, and service is fast. You can pick up souvenirs on the run at the Kona Mountain Coffee shop in the mall.
We loved: fresh, sizable portions.
We didn't love: the lack of ambiance.
Pine Tree Café, 73-4354 Mamalahoa Highway, Kailua-Kona; (808) 327-1234
8--MERRIMAN'S MARKET CAFE
Prices: $10.95-$28.95
Peter Merriman, one of the best-known restaurateurs on the Big Island, opened Merriman's in Waimea a couple of decades ago, and it's been winning awards ever since — including being honored 12 years in a row by Honolulu Magazine as the best Big Island restaurant. It's out of our price range, but who needs it, when we can do the next best thing and eat at Merriman's Market Cafe, a casual sister restaurant in the Kings' Shops at Waikoloa. It specializes in Mediterranean dishes. Dine on tapas (we liked the garlic-truffle fries for $5.95), salads (our favorite is strawberry, tomatoes and smoked bacon for $11.95), pastas, pizzas and meat dishes. The restaurant also has a busy bar and a nice indoor-outdoor ambiance.
We loved: the convenient location.
We didn't love: the mai tais, which were so strong we had to send them back, believe it or not.
Merriman's Market Cafe, Kings' Shops, Waikoloa; (808) 886-1760, https://www.merrimansmarketcafe.com
9--KINGS' GRILLE
Prices: $8.95-$15.95
Tee up for an inexpensive breakfast or lunch overlooking the 18th hole of the Kings' Course at Waikoloa. The Scottish-themed Kings' Grille offers a great view of the landscaped course, with volcanic mountains rising in the distance. The menu isn't terribly varied, but breakfast and lunch staples are available: omelets, sandwiches and salads. We tried a ham, spinach and mushroom omelet ($11.25) and a loco moco, an island favorite that has white rice topped with a hamburger patty, a fried egg and brown gravy ($10.95). The prices were a far cry from the $30 brunches at nearby Waikoloa resort hotels.
We loved: watching golfers struggle to make par.
We didn't love: some of the overly salty dishes.
Kings' Grille, 800 Waikoloa Beach Drive, Waikoloa; (808)886-7600, https://www.waikoloabeachgolf.com
10--ISLAND FISH & CHIPS
Prices: $5.49-$12.99
If you're looking for cheap and quick while in the pricey Waikoloa Beach Resort, Island Fish & Chips will fill the bill. This lakeside food stand in Kings' Shops isn't fancy, and the food is pretty basic: fish and chips ($9.49 fried, $9.99 grilled), salmon burger with fries and a drink ($9.95) and a fish sandwich with fries and a drink ($9.95). But the price and ambiance are great. The stand abuts a golf course lake, colorful koi swim nearby, and there's a two-story patio with tables and a view. So order a quick meal and spend the rest of your day shopping in Tiffany's. Oh, and don't forget to try the banana fritters ($3.99), a sweet guilty pleasure.
We loved: the location.
We didn't love: Most of the food choices are fried.
Island Fish & Chips, Kings' Court, Waikoloa; (808) 886-0005, https://www.waikoloabeachresort.com
11--LUANA LOUNGE
Prices: $9-$18
Spend a lazy afternoon watching the sun sink into the Pacific from the luxurious overstuffed chairs and couches of the Luana Lounge, an indoor-outdoor bar and lanai at the Fairmont Orchid hotel on the Kohala Coast. And don't worry too much about the price. Just make sure you arrive between 5 and 6:30 p.m., when a happy-hour special means pupus (appetizers) and drinks are half-price. Then, for an afternoon at least, you can pretend you have a trust fund and spend every day lazing at expensive resorts. While you're here, stroll the grounds and visit the beach — hey, you're a guest! Our menu favorites were wings ($15, but $7.50 during happy hour) and spring rolls ($10, but $5 during happy hour.) Don't miss the chocolate beignets (think New Orleans), warm and wonderful, made with Kona chocolate sauce and topped with butterscotch ice cream ($9).
We loved: the view and ambiance.
We didn't love: the absence of a sign on the main highway indicating the hotel's location.
Luana Lounge at Fairmont Orchid, 1 N. Kaniku Drive, Kohala Coast; (808) 885-2000, https://www.fairmont.com/orchid.
12--CAFÉ PESTO
Prices: $7.50-$16.95
Our panel of experts agreed: Don't miss Café Pesto. And we second the recommendation. Café Pesto, a light and airy café with branches on the Kohala Coast and in Hilo. have a well-deserved following. They offer healthful, diverse menu items, interesting flavors, pretty presentation and affordable prices. There are salads, pastas and a variety of hand-tossed pizzas; our favorite was the Southwestern ($13.95), a thick-crust pizza heaped with tomatoes, fresh cilantro, barbecued chicken and Big Island goat cheese. The atmosphere is pleasant too. Fresh flowers decorate tables, there's an upbeat soundtrack, and Hawaiian furniture and posters add tropical flavor. We recommend a lunchtime visit, when prices top out well below our $20 limit; at dinner, some entrees are as high as $36.
We loved: the bright, pleasant atmosphere.
We didn't love: waiting for a table.
Café Pesto, Kawaihae Harbor, South Kohala Coast; (808) 882-1071; or 308 Kamehameha Ave., Hilo; (808) 969-6640, https://www.cafepesto.com
13--BAMBOO RESTAURANT & BAR
Prices: $9.95-$18.95
Tibetan parasols, strings of Christmas lights and acres of bamboo screens brighten the picturesque century-old building that houses the funky Bamboo Restaurant & Bar in tiny Hawi at the northern tip of the Big Island. The restaurant is so well known locally that diners drive an hour or more for the grilled fish ($15.95), barbecued pork ($9.95) and Thai coconut prawns ($9.95). The building, once a hotel, later a dry goods store, offers an interesting backdrop for the dining room and upstairs art gallery. Dinner prices are too high to be included in our survey ($13.95-$33.95), but lunch will fit your budget. The restaurant makes a good stop on the way to the Pololu Valley Lookout at the end of the highway.
We loved: exploring the upstairs art gallery.
We didn't love: the slow service.
Bamboo Restaurant & Bar, Highway 270, Hawi; (808) 889-5555, https://www.bamboorestaurant.info
14--KOHALA COFFEE MILL & TROPICAL DREAMS
Prices: $2.75-$6.85
It's not exactly 31 flavors — only 10, actually — but on a hot day, who's counting? Tropical Dreams ice cream, made in nearby Waimea, is an island favorite, and this small shop in the village of Hawi is ideally located for sightseers touring the northern end of the Big Island. Yes, we know, ice cream isn't really a meal. (If you want something more substantial, you can get a burger for $7.25 at the Kohala Coffee Mill, which takes up half this shop.) But if you're in the mood for ice cream, Tropical Dreams is a winner. Try one of the Hawaiian flavors: Kona coffee, macadamia nut or chocolate coconut macadamia nut. It's $3.55 for a scoop; hot fudge sundaes are $6.85.
We loved: the creamy texture.
We didn't love: the lack of some standard flavors.
Tropical Dreams, Highway 270, Hawi; (808) 889-5577.
15--HAWAIIAN STYLE CAFÉ
Prices: $5.95-$10.95
If you're really hungry, visit the Hawaiian Style Café in Waimea for its huge portions — and pay $10.95 or less for them. While you're here, you'll be breaking bread with the locals at a diner that's loaded with character and Old Hawaii flavor. The café, in a rundown strip mall, doesn't look like much from the outside, but the dining room is cute, in a tropical-backwater sort of way. And you won't believe the portions. Looking for a giant Spam Loco Moco (rice, topped with Spam, a fried egg and lots of brown gravy, $7.95)? How about a huge Portuguese sausage and ham omelet ($8.25)? Hawaiian Style Café is open only for breakfast and lunch, so be sure to get here before 1:30 p.m. Besides a giant appetite, bring cash; credit cards are not accepted.
We loved: making friends with the locals.
We didn't love: the cash-only policy.
Hawaiian Style Café, 65-1290 Kawaihae Road, Waimea; (808) 885-4295
16--HULI SUE'S BARBECUE & GRILL
Prices: $10-$22
Find the Big Three — great service, ambiance and barbecue — at this cheerful cafe in a former general store near Waimea. The restaurant, painted bold citrus colors and furnished with a funky assortment of picnic and farmhouse tables and chairs, features fall-off-the-bone ribs ($16), pot roast ($15) and burgers ($12). Barbecue plates include sides such as ranch-dill slaw, baked potatoes, onion rings, veggies and an awesome corn pudding. This is an ideal place to grab a meal if you're driving to Hilo from the Kailua-Kona area or Waikoloa.
We loved: the fun ambiance and the sweet-and-spicy barbecue sauce.
We didn't love: the odd pricing; chili fries, for instance, cost $10, as much as some entrees.
Huli Sue's Barbecue & Grill, 64-957 Mamalahoa Highway, Kamuela; (808) 885-6268, https://www.hulisues.com
17--TEX DRIVE-IN & RESTAURANT
Prices: $3.75-$7.99
Winning our award for cheapest food on the Big Island is Tex Drive-In & Restaurant in Honokaa. Basically a fast-food stand with indoor seating, Tex (short for Texiera, the original owners of the 41-year-old restaurant) serves up local food at low, low prices. It also specializes in malasadas, a sweet, puffy, doughnut-style pastry that's so popular it flies off the baking sheets; the eatery sells 60,000 a month. The food here will fill you up (and probably out) with Hawaiian faves such as Spam Loco Moco ($4.25), Korean chicken plate ($8.99) and our fave, curry stew ($3.75).
As a sign out front says, Tex offers ono kine, Hawaiian slang for "good food."
We loved: the cheap and tasty stew.
We didn't love: the appearance; the diner needs a face-lift.
Tex Drive-In, 45-690 Pakalana St. (at Highway 19), Honokaa; (808) 775-0598, https://www.texdrivein.com
18--NORI'S SAIMIN & SNACKS
Price: $5.95-$13.95
Seven awards hang inside the entrance to Nori's Saimin shop, lauding the tiny cafe for its Hawaiian-style noodle soup. The certificates are from the local newspaper, and that's exactly why we dropped in for lunch one day: Everyone we talked to in Hilo told us that Nori's Saimin rates as one of the most popular local-food cafes in town. The restaurant is difficult to find and not much to look at, but it may be the best noodle shop on the island. You won't find many tourists here. You will find locals who appreciate good value and fast and friendly service. Our favorites were the saimin ($6.69) and ginger pork ($10.75). Be sure to call for directions.
We loved: prices and quantity.
We didn't love: overly salty food.
Nori's Saimin & Snacks, 688 Kinoole St., Suite 124, Hilo; (808) 935-9133.
19--NAUNG MAI THAI KITCHEN
Prices: $8-$16
If you crave pad Thai or tom yum while you're in Hilo, Naung Mai Thai Kitchen is the place. This tidy little café, in an industrial area, offers an attractive lunch special, with curries and stir-fry plates for $7. Dinner prices are reasonable too, with chicken pad Thai for $11. The restaurant is a family operation run by sisters Siriporn Elkins and Sukanya Heideman. The service is fast, and the food authentic. Watch out for lines on Friday and Saturday nights, when the Kitchen gets very busy.
We loved: fast, friendly service.
We didn't love: that some dishes weren't warm enough.
Naung Mai Thai Kitchen, 86 Kilauea Ave., Hilo; (808) 934-7540, https://www.naungmaithai.com
20--HILO BAY CAFÉ
Prices: $7-$22
Fine dining in Hilo? And in a strip mall next to a Wal-Mart? Hard to believe but true. Hilo Bay Café has brought New York cool to this outpost of Spam and poi. The restaurant, which specializes in European-Pacific Rim cuisine, wins our award for Best of Show for several reasons, including its reasonably priced menu. It makes the most of its small space and odd location with chic décor and nice touches, including candles on the tables, linen napkins, leather club chairs and contemporary art. Dishes are creative and beautifully presented; our favorites were the wild salmon appetizer with avocado ($13), mushroom pot pie ($12) and crab cakes with organic greens and wontons ($14). If you want to splurge, try the molten chocolate lava cake with Kona coffee ice cream ($7). The bill here can add up, so take a friend and share.
We loved: the innovative menu.
We didn't love: the café's popularity; it's too crowded.
Hilo Bay Café, 315 Makaala St., Hilo; (808) 935-4939, https://www.hilobaycafe.com
---
Get inspired to get away.
Explore California, the West and beyond with the weekly Escapes newsletter.
You may occasionally receive promotional content from the Los Angeles Times.