Celebrate Jane Austen's legacy in England and in the U.S., but skip the Mr. Darcy T-shirt
I admit it. I've always been smitten with Mr. Darcy. It doesn't matter that he's 204 years old.
Darcy, the romantic lead in Jane Austen's novel "Pride and Prejudice," is tall, rich and handsome — a truly excellent combination.
Consequently, more than two centuries after his creation, he's still The Man for women the world over.
Perhaps that's one reason there's been such a hue and cry this year, the 200th anniversary of Austen's death.
The wildly popular British author, who has been called one of England's greatest novelists, created a host of characters that 21st century readers can relate to — people such as Darcy who seem contemporary despite their attendance at Regency-era balls and afternoon teas.
I marked the anniversary of Austen's death this summer by stepping back into her world with visits to picturesque British locales that inspired her novels, places such as Bath, Chawton and Hampshire, that look much the same today as they did when she wrote about them.
I plan to continue to celebrate next month when the Jane Austen Society of North America, which has more than 5,000 members, gathers Oct. 6-8 at the Hyatt Regency Huntington Beach Resort and Spa to mark the bicentennial of their favorite author's death.
The conference will include the kind of workshops you might expect: "English Country Dancing" and "Straw Bonnet Decorating," for instance. But there will also be lectures such as "Kicking Ass in a Corset" and "Bitch in a Bonnet," with literary experts from around the world.
There will be a Promenade and Regency Ball on Oct. 8, which will draw fans dressed in period costume. Alas, I don't expect Mr. Darcy to attend.
But I certainly kept watch for him during my journey along the Jane Austen Trail.
---
Bath
I arrived in Bath by train early one morning in July. The city, about 100 miles west of London in the Avon River valley, was the setting for two of Austen's novels, "Northanger Abbey" and "Persuasion."
It's easy to see why Austen would write about this city. It's a lovely place full of greenery, striking architecture and pastoral hills. Most tourists come to see its 2,000-year-old Roman baths, the oldest Roman ruins found in Britain.
The town, a UNESCO World Heritage site, is also known for its Royal Crescent, 30 imposing, Georgian-style terraced houses arranged in a semicircle.
Locals are fond of saying, "Paris has its Eiffel Tower, London has Big Ben, Bath has the Royal Crescent."
Austen lived in Bath from 1801 to 1806, when the city became a magnet for members of British high society who flocked here for the mineral waters that still draw visitors.
Both of the books she set here list specific streets and places such as the Royal Crescent (she calls it the Crescent), and it's fun to wander through the town identifying the locations.
It's easy to see why Austen would write about this city. It's a lovely place full of greenery, striking architecture and pastoral hills.
There's also a Jane Austen Centre, a small museum that chronicles her life and times. I lingered in the gift shop, where I found an I-heart-Mr. Darcy tote bag for $10.75 and a copy of his proposal on a compact mirror, "You must allow me to tell you how ardently I admire and love you," for $14.
Then I spotted a souvenir that I found to be rather unsavory: a $14 men's T-shirt with the words, "I am the real Mr. Darcy." As if a woman could be deceived.
My next stop took me to the Pump Room, where Austen characters often met for tea. It's usually crowded with tourists these days.
A tuxedo-clad pianist played tunes such as "Somewhere Over the Rainbow" and "Stranger in Paradise" as I ate scones with jam and clotted cream ($32 for an afternoon tea package).
Hampshire County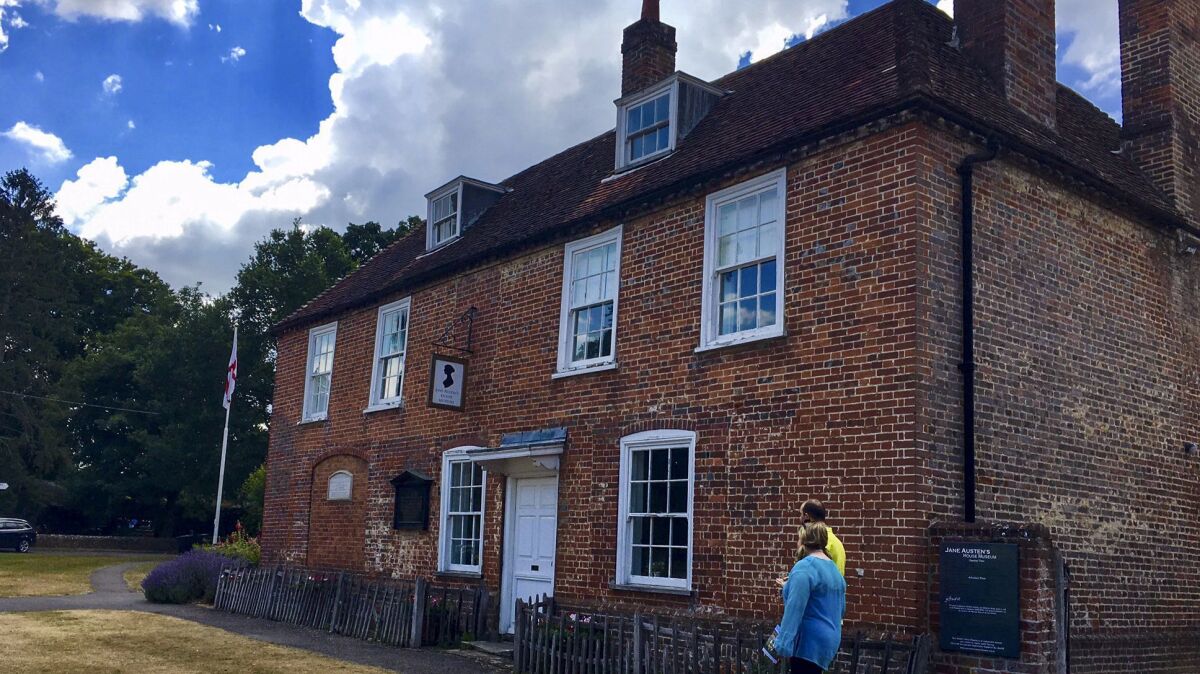 "The world has been falling in love with Jane Austen and her novels for 200 years," Austen expert Louise West said as she showed me around an exhibit honoring the author at the Winchester Discovery Centre.
"It was important for us to reclaim her for Hampshire and tell the world about her," she said.
Although Austen was born in Steventon, Hampshire, completed three novels here, and is buried inside the county's Winchester Cathedral, Bath seems to get all the press about her.
But the people in Hampshire County, 70 miles southeast of Bath, rightfully think of her as one of their own. Memory books at the Discovery Centre and at the cathedral bear comments such as "Dear Jane, thank you for the treasures you've given the world," "You're a feminist I can relate to," and "In loving memory of a wonderful lady. May you live forever through your books."
Winchester offers a natural starting point for Hampshire County visitors, even though it was the end of the line for Austen. She came here to recuperate from a mysterious illness, but died shortly thereafter at age 41. She had six completed novels to her credit, two published after her death.
This ancient city, onetime capital of Saxon kings, is full of handsome Elizabethan and Regency buildings, a hulking 17-foot-tall bronze statue of Alfred the Great, and a medieval replica of King Arthur's legendary Round Table hanging in the Great Hall of Winchester Castle.
Of course, the main draw is the remarkable cathedral, one of the largest in Europe. When I visited, a reporter with the BBC was standing over Austen's grave, a cameraman videotaping him as he spoke about the 200th anniversary celebration.
A nearby brass plaque and a memorial window honor her now, but when she was buried her work was little known and only four people attended her service.
Chawton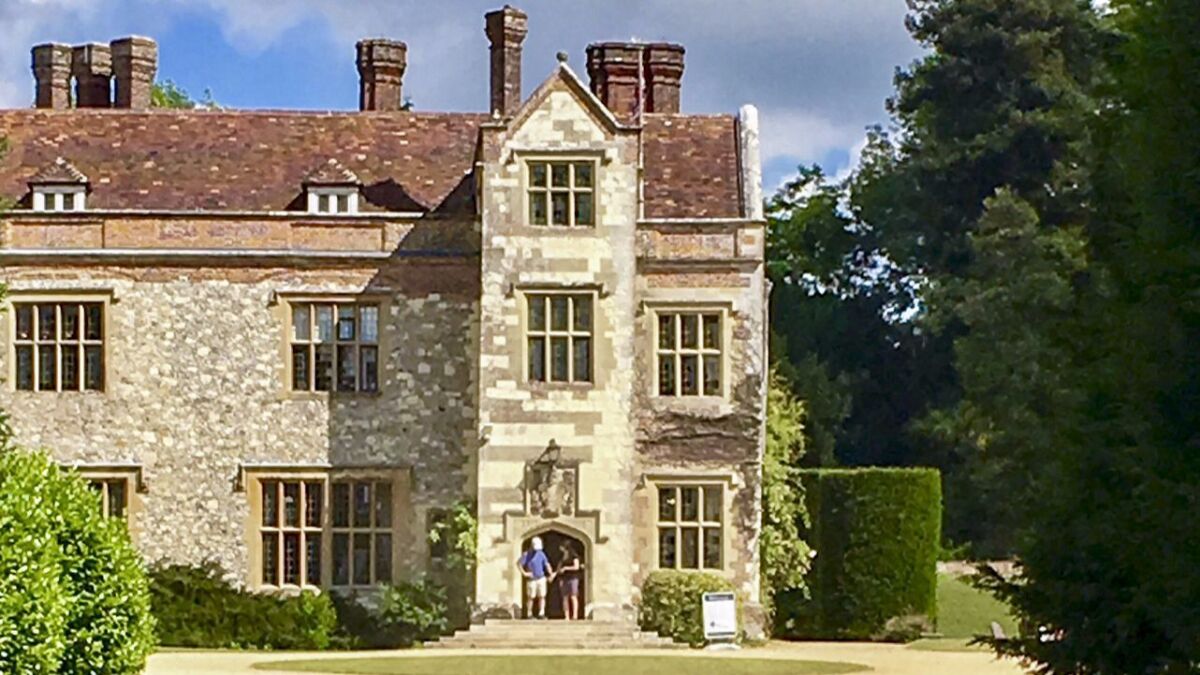 I hopped in a cab for the 16-mile trip to my next stop, a cottage in the pastoral village of Chawton where Jane seemed to spend the happiest years of her life.
This was the prettiest area I visited, lush and green, with manor houses and thatched cottages.
The cabbie dropped me at the Jane Austen's House Museum, where the writer lived from 1809 until 1817. The 17th century red brick building is a must-see for fans, who can stroll its beautiful gardens, ponder her writing desk and quill pen (how did she write six books with one of those?), see her bedroom and play dress-up in Regency-era clothes.
There's also a gift shop and library. No phony Darcy shirts here, I noticed.
A five-minute walk took me to the Chawton House Library, an Elizabethan manor that once belonged to Jane's brother Edward. She referred to it as the Great House and often spent time here.
The building, more than 400 years old, has been renovated, houses an extensive collection of works by female writers and has acres of English-style gardens.
I wandered through its halls, admiring portraits, heraldic stained glass windows and ornately carved fireplaces. A perfect place to run into Mr. Darcy, I thought. But again he proved elusive.
---
Jane Austen at the beach
Two centuries after her death, British author Jane Austen has found the literary distinction and reader popularity she lacked during her life.
Her fans are so passionate, both in England and the United States, that they hold annual balls at which they dress in Regency gowns and hold literary discussions about her works, all in the name of spreading appreciation for her novels.
The Jane Austen Society of North America will gather Oct. 6-8 at the Hyatt Regency Huntington Beach Resort and Spa for "Jane Austen in Paradise," a conference marking the bicentennial of the death of its favorite author.
Highlights will include lectures by Austen experts such as Gillian Dow, executive director of Chawton House Library, and Richard Knight, a descendant of Jane's brother Edward.
There will be Jane Austen-style improv theater, a fashion-arts tea and a promenade and ball.
Most of the events and lectures are still open to the public, barring overbooking.
"Just pay the $30 it takes to become a member, and the registration fee [$370]," said Claire Bellanti of Northridge, president of JASNA.
The organization, with 5,000 members, has grown dramatically since the original gathering of fans in 1979, Bellanti said. "The first meeting was held in New York City and drew 100 people."
She attributes part of the growth to a rash of films made in the 1990s, including the BBC miniseries "Pride and Prejudice" starring Colin Firth as Mr. Darcy. It was shown in the U.S. on A&E."r"
"The films created a lot of excitement."
Why is she so fond of the author?
"She's a natural psychologist who has a way of pinpointing and creating characters that are very real.
"She's also a beautiful writer; her prose is elegant and lovely to read and she has a delightful sense of humor, very wry and dry."
Info: "Jane Austen in Paradise"
If you go
THE BEST WAY TO BATH, ENGLAND
From LAX .
From London, take a train,from Paddington Station to Bath ($43 one way) and then from Bath to Winchester ($37 one way), or rent a car or take a bus.
TELEPHONES
To call the numbers below from the United States, dial 011 (the international calling code), 44 (country code for England) and the local number.
WHERE TO STAY
Gainsborough Bath Spa, Beau Street, Bath; 1225-358-888. Channel your inner Jane Austen at this beautiful downtown hotel in the middle of a UNESCO World Heritage site. Recently named to Travel & Leisure's Hot List, the Gainsborough has an extensive spa with access to natural thermal waters and a staff that makes everyone feel like a VIP. Restaurant, bar, pool. $400 per night, double occupancy.
The Old Vine, 8 Great Minster St., WInchester; 01962-854-616. This 18th century inn, complete with oak bar and a sunny flower-filled patio, has Georgian-style, one-of-a-kind rooms upstairs. Rooms with bath from $194, double occupancy.
The Westgate Winchester, 2 Romsey Road, WInchester; 01962-820-222. You'll pamper your budget at this pub with upstairs rooms, but be prepared to climb narrow flights of stairs. Clean and nicely designed rooms, each with bath. From $110, double occupancy.
WHERE TO EAT
Pump Room, Abbey Chambers, Church Street, Avon, Bath; 01225- 444-477. Jane Austen was a fan of the Pump Room and mentioned it in her novels. You can dine here or have afternoon tea, which starts at $24.50 per person. The menu can't compare to London's top-tier tea services, but you'll get an Austen vibe when you walk in the door.
Royal Crescent, 16 Royal Crescent, Bath; 01225-823-333. Visit this very proper hotel's outdoor patio and garden for lunch or afternoon tea. It's set in the famous Crescent, mentioned in Jane Austen's "Northanger Abbey." Lunch from $24, tea from $45.
Wykeham Arms, 75 Kingsgate St., Winchester; 01962-853-834, email. Get a taste of English pub life at this popular restaurant, bar and B&B near Winchester Cathedral. Sandwiches from $14, main courses such as lamb rump, $26.50.
TO LEARN MORE
---
Get our L.A. Goes Out newsletter, with the week's best events, to help you explore and experience our city.
You may occasionally receive promotional content from the Los Angeles Times.