10 Images
Kauai's Na Pali Coast & Kokee State Park
Hikers must negotiate the often wet and slippery clay of the Pihea Peak trail veiled in fog. At 4,284 feet of elevation, the peak is the highest mountain along the Na Pali coast, and overlooks the stunning Kalalau Valley.
(Thomas Curwen / LAT)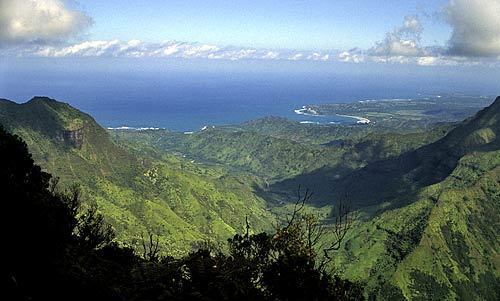 At 4,022 feet, Kilohana, on the eastern edge of the Alaka'i Wilderness Preserve, overlooks the Wainiha River valley, Hanalei Bay and Princeville. The lookout is reached after hiking along a boardwalk along the Alaka'i Swamp Trail.
(Thomas Curwen / LAT)
A young Juncus sprouts in the wet soil of Kokee State Park.
(Thomas Curwen / LAT)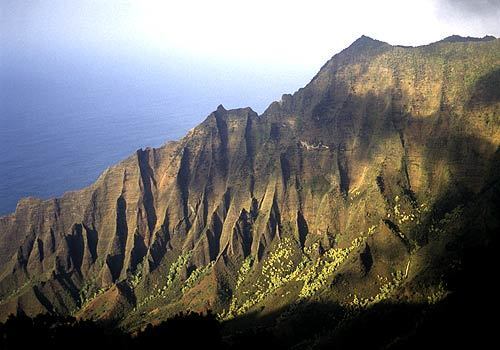 At sunset, the fluted cliffs of the Kalalau Valley rise up in sharp relief. Archaeologists believe that Polynesians settled this valley -- the largest on the Na Pali coast -- when they came to the Hawaiian islands from the Marquesas. Hikers can reach Kalalau from a trail that begins on the east side of the island near Hanalei, or they can drive up from Waimea to the Kalalau Lookout.
(Thomas Curwen / LAT)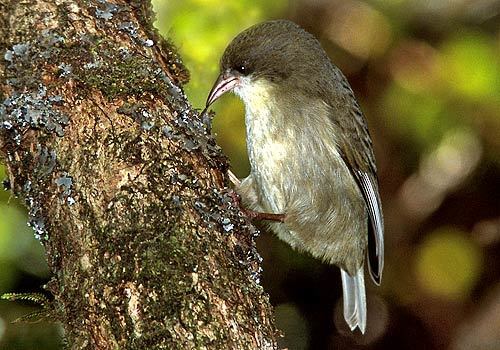 The akikiki was recently placed on the endangered species list; mosquito-borne avian malaria is its primary nemesis. The gray, brown and white bird forages like a nuthatch on the mainland. It has pink feet and a pink bill. It doesn't sing much, but its song is similar to the amakihi's.
(Jack Jeffrey)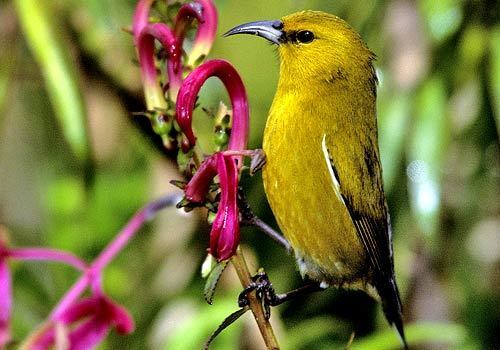 The Kauai amakihi, with its black mask and medium-length, sickle-shaped bill, is a common Kauai bird. A generalist, the amakihi feeds on nectar, fruits and insects gleaned from bark or leaves. Its trilling song — chi, chi, chi, chi — sometimes drops in pitch.
(Jack Jeffrey)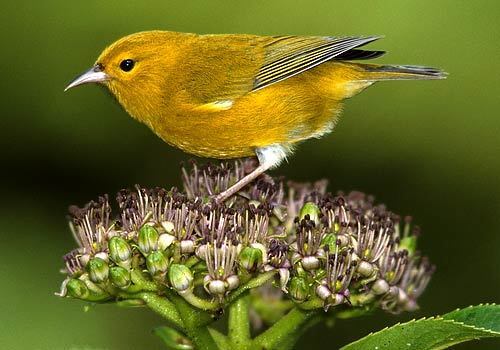 With its bright greenish-yellow plumage, the anianiau is a honeycreeper that acts like an American wood warbler, foraging among leaves and flowers. It has a short, thin, slightly curved bill, and its song is a series of rapidly repeated trills, often doubled-up: cheedle-ee, cheedle-ee.
(Jack Jeffrey)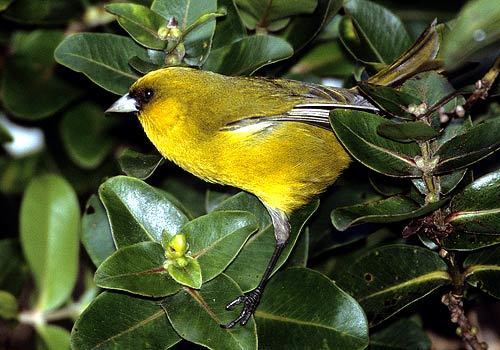 The greenish-yellow akekee is located by its piercing single-note call, and its song — chi, chi, chi — shifts pitch. One of the rarer honeycreepers, the akekee has a bright yellow crown and rump and a black face mask. It uses its slightly crossed bill tips to open leaf buds on the ohia tree.
(Jack Jeffrey)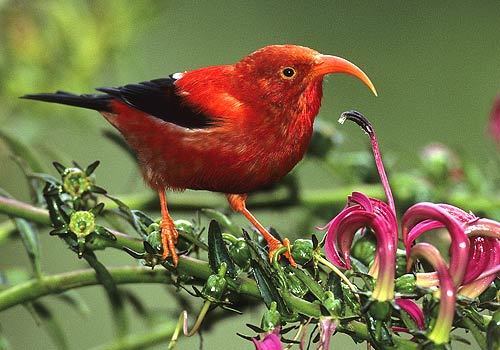 With its scarlet and black coloration, the iiwi is one of the more popular honeycreepers. It has a long bill shaped to fit the curved flowers of the lobelia tree — like a finger in a glove — and its complex song of whistles, squeaks and mechanical sounds is less melodic than the apapane's.
(Jack Jeffrey)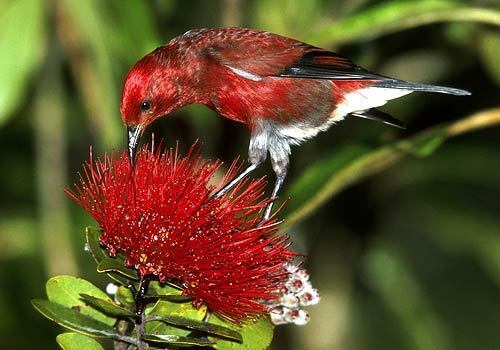 The apapane, a crimson-colored bird, is a quintessential %Hawaiian honeycreeper and is easily seen as it feeds on the nectar of the red flowers on the ohia tree. Its song, mostly in the realm of repeated trills, is punctuated by whistles and bell-like notes.
(Jack Jeffrey)