Laos remakes itself as an adventure center, an evolution that serves the country and its visitors well
A cave in Vangviang in Laos.
(Nicholas Reuss / Getty Images/Lonely Planet Image )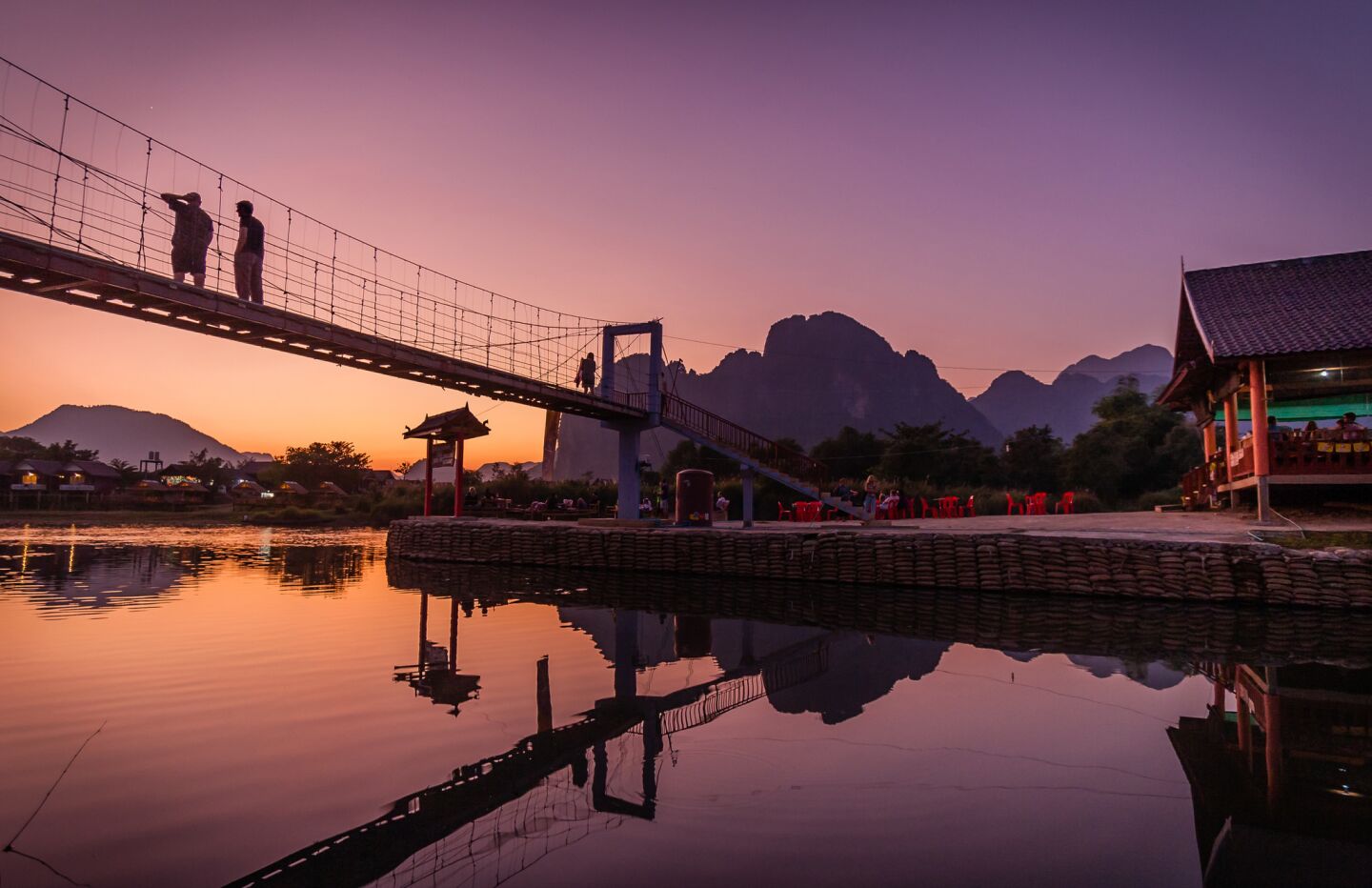 Two tourists admire the sunset from a bamboo suspension bridge over the Nam Song River in Vangviang, Laos.
(Philippe Marion / Getty Images)
Water buffalo with karst mountains in the background in Vangviang, Laos.
(Miha Pavlin / Getty Images)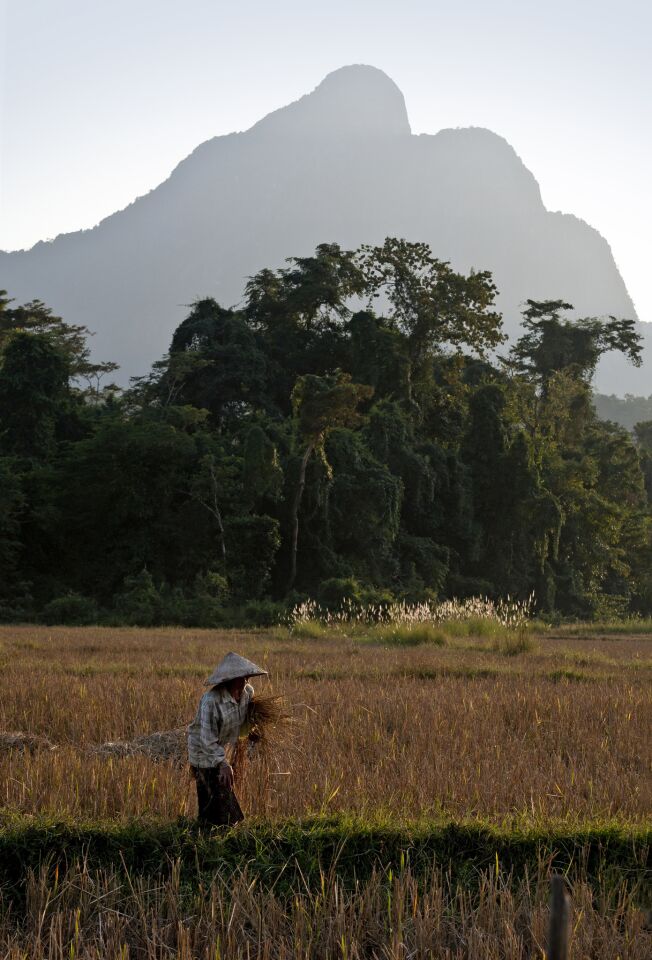 A woman walks in a rice field near karst mountains in the Vangviang area, Laos.
(Margie Politzer / Getty Images/Lonely Planet Image)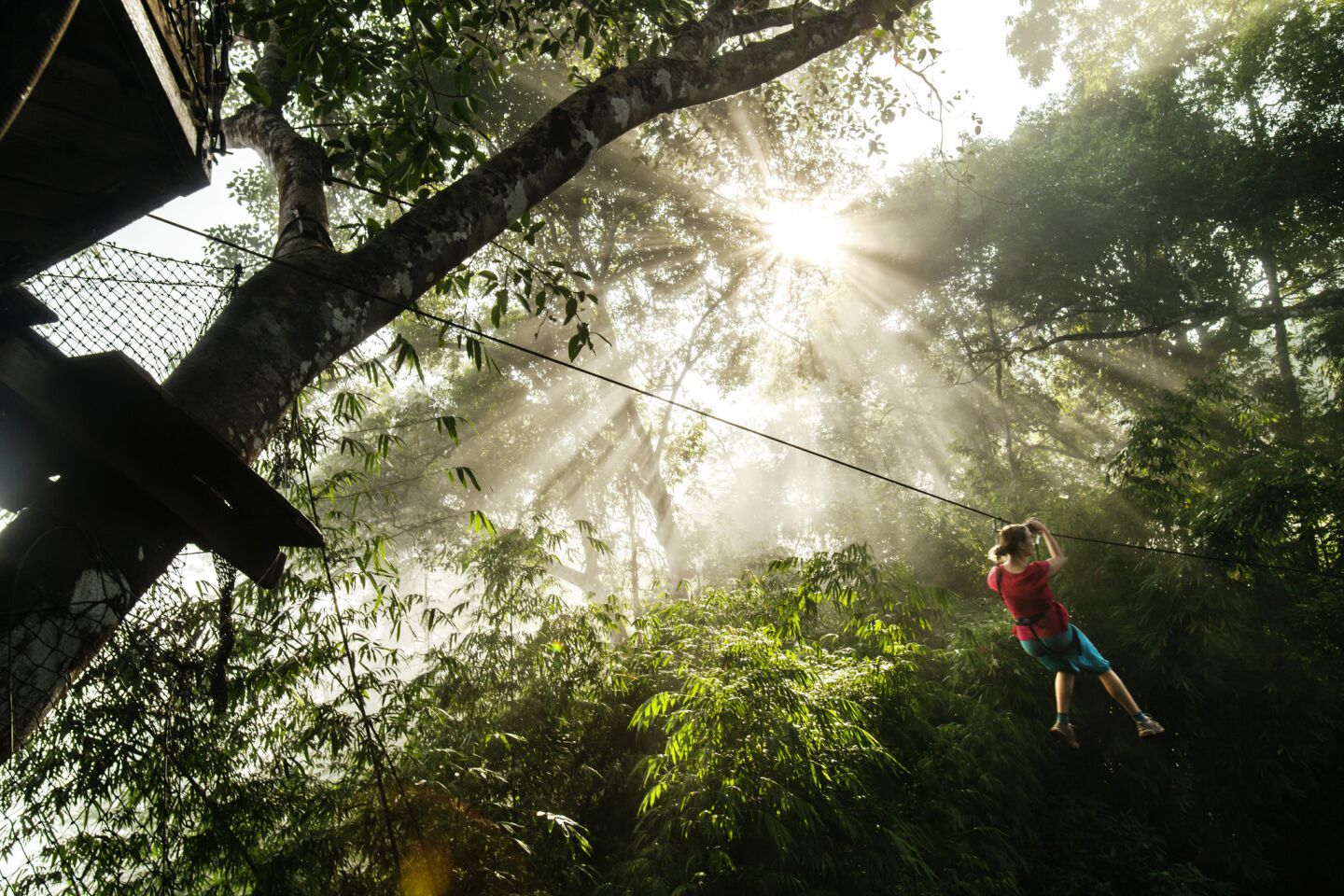 Ziplining in Bokeo Nature Reserve in Laos.
(Tim Gerard Barker / Getty Images/Lonely Planet Image )
A misty morning in Vangviang, Laos.
(zxvisual / Getty Images/iStockphoto)
Vangviang, Laos.
(Lawrence Worcester / Getty Images/Lonely Planet Image)
Reporting from VANGVIANG, Laos —
Vangviang hugs the Nam Song River in front of craggy mountains that stand like sentries in a magic kingdom. In the morning and late afternoon, fog settles below the mountain peaks, turning the small town into an Oriental tapestry.
Vangviang is more than just a pretty face. It's the center for adventure travel in Laos, which has become one of the top destinations in Asia for kayakers and cavers, zip-liners and trekkers and those who seek their thrills in the outdoors.
In 1990, about 14,400 people visited landlocked Laos. By 2015, that number had swollen to 4.7 million. A country the World Bank ranked among the 10 poorest in the world in 1991 is now at 118.
I spent three weeks in February 2017 traversing the country, trekking along the northern border with China and kayaking along the Mekong River on the southern tip near Cambodia.
I started in the middle of the country, going north, then heading south, which seems not to make sense on its face but was faster than traveling north to south or the other way around.
Here's a look at the activities.
Vangviang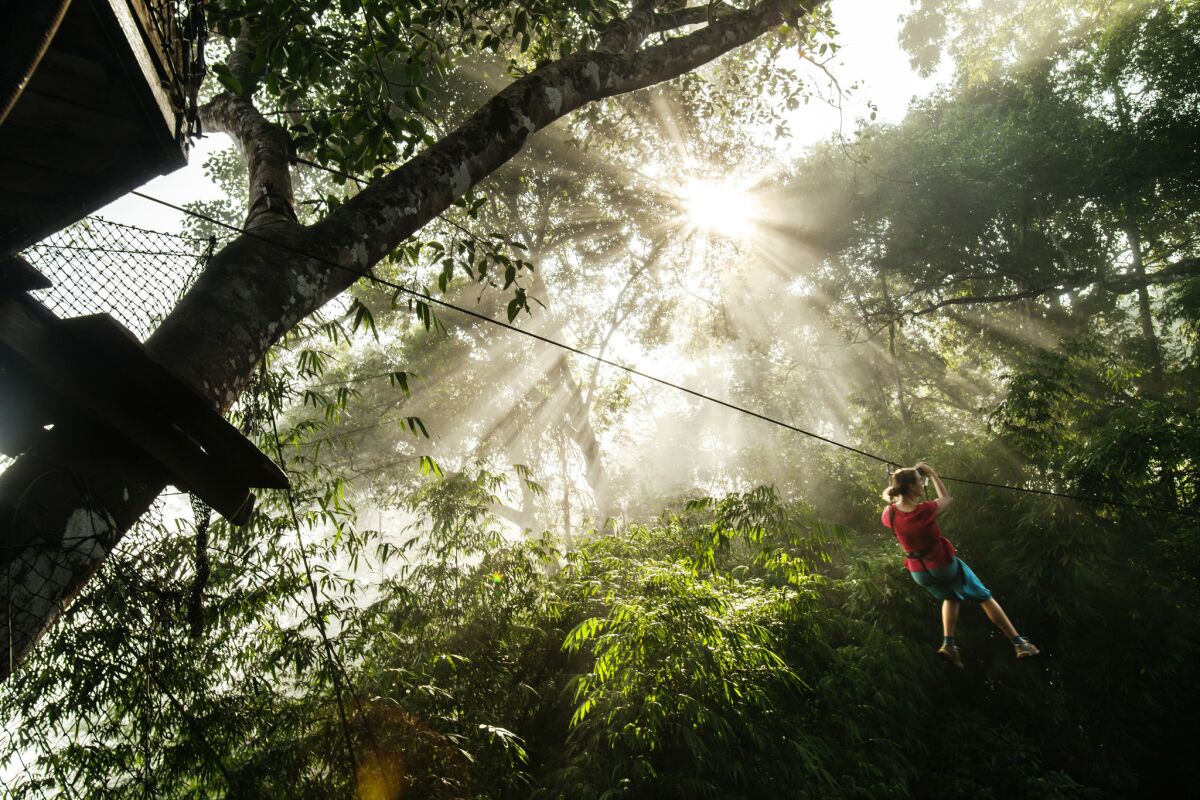 Vangviang, home to about 33,000 people, is about a four-hour bus ride north of Vientiane, the capital. Here's what got my adrenaline pumping:
Zip-lining
This is one of the best ways to see Laos. My afternoon with TCK Amazing Tours, one of Vangviang's dozens of adventure companies, cost about $15.
Unlike other zip-line adventures, this one is not from branch to branch but from branch to branch to branch to branch to branch and so on.
About 20 minutes east of town, I joined 19 South Koreans hiking along a narrow path to a clearing where a makeshift zip-line was propped up. Kom, the guide, showed us what to do; zip-lining takes virtually no skill.
This wasn't so much a zip-line experience as it was a tour of the karsts, the pointy mountains that pepper central Laos. And this wasn't one trip; it was 10. We zigzagged down the mountain like orangutans swinging from trees.
It barely registered on my fear meter. You're locked in three ways, and in the unlikely event of a fall, you would land in heavy vegetation.
Most of the time I wasn't looking down but out. The zip-line covered the 1,200 feet in about 15 seconds. The line also moves you between trees where you get fantastic views of the scenery below. The trees descend down a gorgeous valley stretching clear to the horizon. Fog shrouds distant karsts.
Caving
Laos is honeycombed with caves that look like something out of the Caribbean. Some caves, such as Tham Jang near Vangviang, were used as a hiding place against invading Yunnan Chinese armies in the 19th century.
Most charge 60 cents to $1.80 admission, but that fee is included if you order a tour with guide and equipment, as I did. My one-day caving and kayaking tour with TCK cost about $15.
I joined six Norwegian women and three South Korean men in the back of a van and drove upriver about 30 minutes, across the bridge into the teeth of the karsts.
We stopped at Tham Sang Elephant Cave so named because a stalactite inside the cave looks vaguely like Jumbo.
We gingerly walked barefoot across a rocky path to a small pool near the cave's opening. It was pitch black inside. We were handed a tractor-tire-size inner tube and plopped down in the pleasantly chilly water.
We pulled ourselves easily through the cave by grabbing ropes.
The cave was peaceful but for the commotion from a group ahead of us.
All 30 of us ended up in one place. Then 60 legs started kicking, creating an enthusiastic, well-lighted water fight.
Kayaking
The Nam Song River, once lined with bars selling cheap whiskey, turned into a lethal inner tubing party scene. In 2011 alone, more than two dozen people died, some by drowning, others after crashing into rocks after a swing from a rope.
In August 2012, police closed the riverside bars. Inner tubing still exists but in a much more sober form.
I chose instead to kayak the Nam Song, which was like a leisurely stroll through a park. February is low water season, meaning the Nam Song moves at a crawl.The karsts towered over us to our right. On the other side a quiet village went about its day. A fisherman in conical hat and pole over his shoulder walked along a path under a palm tree. We passed under little bridges. Butterflies fluttered over our paddles.
We traveled about three miles in two hours, all in all — a nice little workout in beautiful weather.
Si Phan Don
Kayaking
Arguably the best place to kayak in Laos is in its far southern tip, about 400 miles southeast of Vangviang in Si Phan Don. The name is Lao for "4,000 Islands" and that's exactly what dots the mighty Mekong River.
During the rainy season, the Mekong, where Laos borders Cambodia and Thailand, swells to eight miles wide.
Dozens of adventure companies have offices on Don Det and Don Khon, the main islands, which boast guesthouses whose hammocks face the river.
This kayak trip includes numerous landings where you can crawl in and around waterfalls and observe daily life in villages, where small children give you high fives and water buffalo roam like stray dogs.
Four hours of kayaking is a workout. But along the way, we stopped in Cambodian waters and saw Irrawaddy dolphins, the gray, bulbous-headed creatures of which fewer than 100 remain.
We also had a chance to look out over Khone Phapheng, one of the largest waterfalls in Southeast Asia. It's about 70 feet tall, but the raging Mekong pours over it at a rate of 390,000 cubic feet per second. (Consider that the average home uses about 10 to 13 cubic feet of water per day, according to the U.S. Geological Survey, and you have an idea of that volume.)
Phongsali
Trekking
Phongsali, about 380 miles north of Vangviang almost to the border with China, is lined with the mountains from the far eastern Himalaya.
Well-marked hiking trails snake all around mountains where hill tribes put you up for the night in basic conditions.
The town of Phongsali is a cloud-shrouded trekking base of 15,000 where temperatures can get chilly and heating can be scarce. But the views of the surrounding mountains are lovely.
Amazing Lao Travel Co. offers treks from one day to two weeks. I took a two-day, overnight trip for about $58 in which I stayed in a village populated with Akha, a hill tribe.
The views were spectacular, the bathroom facilities much less so.
I joined a young French couple, a Hungarian and a French-Bolivian living in Santiago, Chile, in the back of a van accompanied by Boss, our guide, a short, fit Lao who hikes these mountains every day.
We drove about 45 minutes to Lake Nam Ngai, where we took a 30-minute boat ride. We passed one of the six dams the Chinese built and floated by poppy fields left over from the drug trade that fueled this area's economy in the 1960s.
We stopped at a small, muddy landing where we donned our packs and started trekking. Up we went. And up. And up some more, a 90-minute slog that Amazing Lao Travel described as "moderate high to hard."
The hike on this gravel service road wasn't that steep or difficult, but it was relentlessly heavenward. Despite that, the views energized me.
The forest-covered mountains led to a vast green plain that stretched all the way to the horizon. The air felt as fresh as a spring day in Colorado.
We had lunch in the village of Chakhampa, home to about two-dozen structures scattered around a dirt hill and to the Akha, one of 45 ethnic groups in Laos.
Akha women in black leggings and black skirts and heavily embroidered jackets greeted us. Their headdresses were decorated with such items as silver coins, monkey fur or dyed chicken feathers.
Electricity is by generator only. Water comes from a well. Use your imagination about the toilets and the forest.
Lunch consisted of eight bowls: chicken, pork, spicy pork, hard-boiled eggs, two kinds of green vegetables, fish with veggies and chile sauce. The chicken and pork were grilled on an open flame and served in big chunks that would have been a hit in any backyard barbecue in the U.S.
After lunch, we trekked 2 ½ hours more, then began descending into Peryenxang village, another settlement with $50 houses and million-dollar views.
Another feast was presented: eggs, pickled vegetables, vegetable soup, fish heavy with bones and pork made up almost entirely of fat. For after-dinner drinks, the village chief brought out a bottle of lao-lao, a rice liquor, and drank with us all night.
In Laos, the adventure is always just beginning.
If you go
Getting there
From LAX, Air China, Asiana, China Southern, Delta, Korean and United offer connecting service (stop, change of planes) to Vientiane. Restricted round-trip fares begin at $832.
My travel in the interior was by plane, bus and boat.
Where to stay
Garden Hotel, 056 Sihome Road, Vientiane. Clean, lovely. Has a swimming pool and is set back from busy Sihome Road. Also a travel agency. Doubles from $50.
Thavonsouk Resort, Vangviang. Affordable luxury resort right on river with river-view restaurant. Doubles from $50.
Viphaphone Hotel, main road at four-way intersection, in Phongsali. Newly renovated hotel with Western-trained staff. Doubles from $12.
Pan's Guesthouse, Mekong Road, Don Khon. All-inclusive breakfast. Lovely bungalows on river with air-conditioning, mini fridge and hammocks. Will arrange kayaking and motorbike tours. Doubles from $20.
Where to eat
Lao Kitchen, 140/01, Rue Hengboun, Vientiane. Best place for laab, national dish made of duck, chicken or beef with fried shallots, mint leaves, lime juice, roasted ground rice and chiles. Mains $3.50-$9.
In Vangviang, be adventurous and join the locals at the street stalls lining the old abandoned airport. Peruse the steaming pots of rice and vegetables and grills topped with chicken, fish and beef. About $1 to $3 and the beer is cold.
Laoper Restaurant, Phongsali; mains $2-$4. Lao and Chinese food considered best in town.
Chanthounma's Restaurant, Don Khon, is one of the many inexpensive eateries you'll find along the main dirt road and is a mainstay.
TO LEARN MORE
Lao National Tourism Administration, Lane Xang Avenue, Vientiane
TCK Adventures, 115 River Road, Vangviang
Amazing Lao Travel, Homsavang Village, Phongsali District
---
Get our L.A. Goes Out newsletter, with the week's best events, to help you explore and experience our city.
You may occasionally receive promotional content from the Los Angeles Times.