A not-so-elementary guide to Sherlock Holmes' London
Many actors have played the famous detective--here's a sampling of them
Reporting from London —
You probably know the address: 221B Baker St. Some would argue it's the most famous address in London, perhaps even more notable than 10 Downing St., home of the British prime minister.
In fiction, this is the home of Sherlock Holmes, the world's most brilliant private detective, star of stage, screen and countless books. In reality, it's a museum celebrating the character.
I visited England recently in search of Holmes' London, crisscrossing the city to see hangouts made famous by Sherlock's creator, Scottish author Arthur Conan Doyle, and the writers and directors who followed him.
I have just one question: Will the real Sherlock Holmes please stand up?
Is he Basil Rathbone, who made 14 Holmes movies in the late 1930s and '40s? Or perhaps Peter Cushing, who starred in "The Hound of the Baskervilles" (1959), one of the most famous Sherlock films?
Or maybe he is Robert Downey Jr., Will Ferrell or Johnny Depp (portraying a cartoon character in "Sherlock's Gnomes." And then there are contemporary TV actors: Benedict Cumberbatch, star of the BBC series "Sherlock," and Jonny Lee Miller of the CBS TV series "Elementary."
The Holmes character, who debuted in print in 1887, appeared in four novels and more than 50 short stories by Doyle, and has been featured in more films than any other literary personality — nearly 100 actors have played him in 250 productions.
There are so many Sherlocks chasing clues around the British Museum, Lyceum Theatre and Royal Opera House that I'm surprised I didn't run into a film crew when I visited those sites on a walking tour.
I did see a few Sherlockians, however. That's the awkward title avid fans give themselves — that and Holmesians, another title that doesn't exactly roll off the tongue.
True fans belong to organizations such as the Sherlock Holmes Society in London, the Baker Street Irregulars in New York City and a host of other organizations around the world.
There's a website, Sherlockian.net — "The Portal About the Great Detective" — and a fantasy activity called "The Great Game," based on the supposition that Sherlock Holmes and his wing man Dr. Watson were real people and Doyle was just Watson's literary agent.
A lot of people, of course, aren't so fanatical. We just want to learn a little more about the legendary detective. And there are enough of us to make Sherlock Holmes tours a thriving business here.
Most tours, mine included, leave from Piccadilly Circus and scout nearby locations that were mentioned in the books or have been filming sites for movies or TV shows.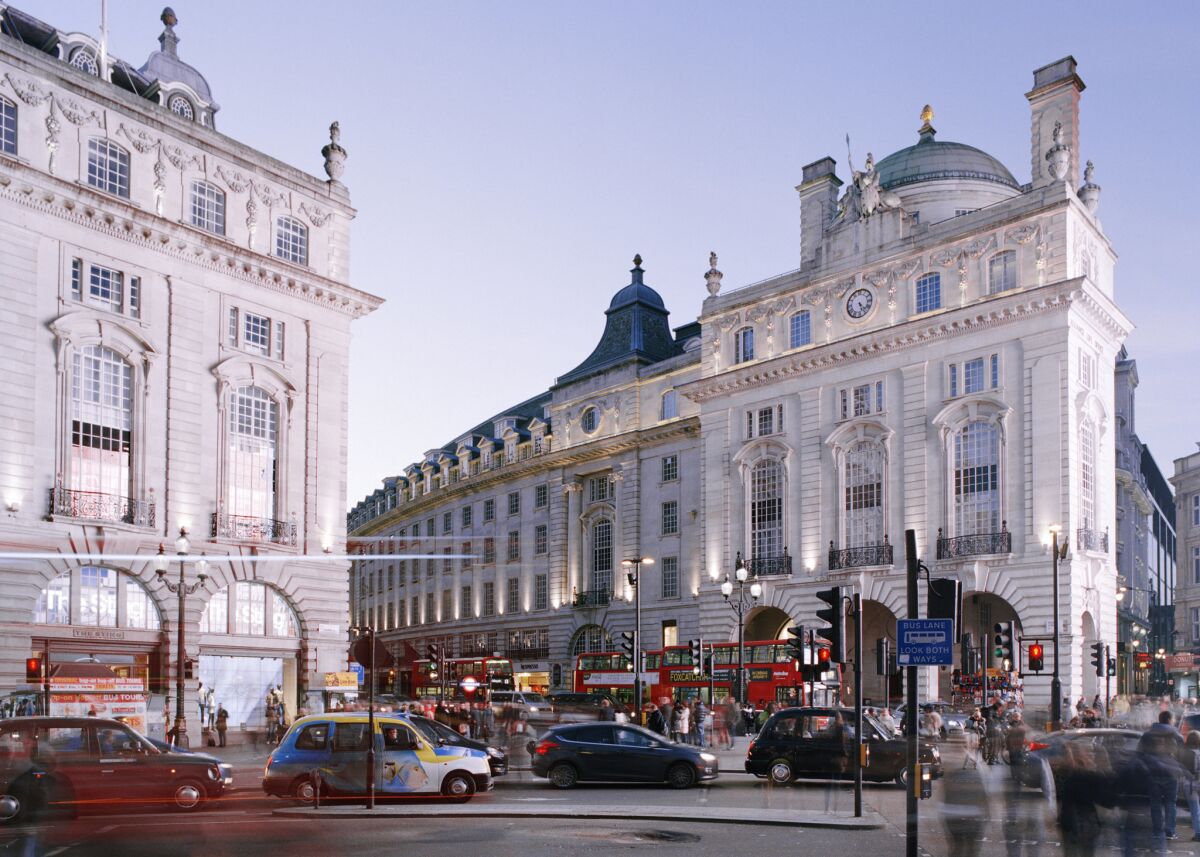 Guides provide a running narrative, chatting about the detective's life and times. He was so famous, said Craig Methven of Brit Movie Tours, that baskets of mail arrived daily asking for his help because people thought he was real.
"Sir Arthur Conan Doyle did everything he could to make people believe he was real," Methven said.
And believe him they did. A bank at Sherlock's address had to post a worker to keep out prospective clients who wanted to hire the super sleuth.
Today many Sherlock tours begin with the words, "Sherlock Holmes was not real," because some people still believe he existed.
My two-hour tour ($17 for adults, $13 for kids; free with London Pass) took us to the Royal Academy of Arts, Somerset House on the Strand and the Royal Society of Chemistry, all places known to Holmes fans.
A hit along the way is the Sherlock Holmes, a Northumberland Street pub where you can get sticky pickle and sausage rolls for $5 or a potted hamhock sandwich for $7.50, then go upstairs to the in-house museum.
This is where Holmes tracked down Francis Hay Moulton in "The Noble Bachelor." The Victorian-style pub, complete with hanging baskets of flowers, has Holmes memorabilia and a detailed re-creation of his Baker Street flat. Take a look, then grab a seat at a table outside, order a pint of lager and watch the world stroll by.
Near the pub you'll see the Lyceum Theatre, featured in the book "The Sign of the Four," published in 1890. Watson and Homes are taken to the theater by a client who has received a note saying: "Be at the third pillar from the left at The Lyceum Theatre at 7 o'clock."
The Sherlock Holmes Museum isn't on walking tours but is a must-see for ardent fans.
You may need a deerstalker hat and a magnifying glass to find it, though. It's allegedly at 221B Baker St., the address where Sherlock Holmes lived and worked. It's actually between 237 and 241 Baker St. I walked up and down the block twice before I spotted it.
It's not often that you find a real place pretending to be the home of a fictional character, but the Holmes Museum has gone to great lengths to construct a believable home for the detective, furnishing a historic Georgian townhouse to look like the flat described in Doyle's books.
The four-story house was constructed in 1815 and was once used as a boarding house. Some of the rooms are shabby and a little hokey, with unrealistic-looking wax figures that resemble characters from the books, but the overall effect is fun. All the rooms in the flat overflow with Victorian-era antiques and Sherlockian paraphernalia, and there's a study reminiscent of the one Sherlock and Watson shared.
You can don a deerstalker hat and pose with a meerschaum pipe for a selfie while you're there.
Buy tickets at the gift shop before getting in line to see the museum ($19.75 adults, $13 kids). Arrive early; the line eventually snakes around the building.
While you're in the area, check out a 9-foot-tall bronze Sherlock Holmes statue at 4 Marylebone Road, near the Tube station. It was erected in the late '90s to commemorate the detective. Keep an eye out for Holmes impersonators in the crowd.
Nearby, you'll also find Madame Tussauds ($38 adults, $30 kids), which is home to realistic wax figures of Robert Downey Jr., in full Sherlock Holmes regalia, and Benedict Cumberbatch of the BBC series. But expect a long line here too.
It's hard to say what Conan Doyle would think of the hero worship that continues to surround Holmes long after the author's death in 1930.
Doyle grew tired of his ace detective and tried to kill him off in 1893 in "The Final Problem," writing that Holmes and his nemesis Professor Moriarty plunged off a cliff during a violent struggle in Switzerland.
But there was so much public outcry —from readers, the royal family and thousands of fans who wore black armbands — that he resurrected him in "The Adventure of the Empty House" in 1903.
My guess is that when the duo got that reprieve Watson said, "Excellent" and Holmes replied, "Elementary."
Sherlock Holmes quiz
Are you a Sherlock Holmes fan? Test your knowledge about the world's greatest detective:
Quiz: Sherlock Holmes Museum (sherlock-holmes.co.uk)
THE BEST WAY TO LONDON
From LAX, British, Air New Zealand, American, Delta, United and Virgin Atlantic offer nonstop service to London. American, United, Delta, Virgin Atlantic, KLM, Lufthansa, Norwegian and Air Canada offer connecting service (change of planes). Restricted round-trip airfare from $617, including taxes and fees.
TELEPHONES
To call the numbers below from the United States, dial 011 (the international calling code), 44 (the country code for England) and the local number.
WHERE TO STAY
The Marylebone, 47 Welbeck St., London; 20-7486-6600. This sleek, contemporary hotel is close to Sherlock haunts, Oxford Street and other high-end shopping areas. Doubles from $372 per night.
Langham Hotel, 1C Portland Place, Regent Street, London; 20-7636-1000. This luxury-class London icon opened in 1865 and was mentioned in three Sherlock Holmes stories ("The Sign of Four," "A Scandal in Bohemia" and "The Disappearance of Lady Frances Carfax"). Doubles from $577 per night.
The Capital, 22-24 Basil St., London; 20-7589-5171. Well-located boutique hotel a stone's throw from Harrod's and a short walk to Buckingham Palace and other city highlights. Doubles from $460 per night.
WHERE TO EAT
The Sherlock Holmes pub, 10 Northhumberland St., London; 20-7930-2644. Victorian-style pub does its namesake proud with an interior that is packed with references to the fictional detective. Upstairs you will find a re-creation of Holmes' famous Baker Street flat. Meals are easy on the budget, with fish and chips $16.
Patty & Bun, 54 James St., London; 20-7487-3188. This casual Marylebone eatery, not far from the Sherlock Holmes Museum, specializes in juicy burgers and subs. Eat in or take out. From $10.
Fish & Chipper, 211 Baker St., London; 20-8245-5424. Authentic English fish and chips at this casual restaurant less than a block from the Sherlock Holmes Museum. Also fried chicken and ribs, plates with French fries from $6.
TO LEARN MORE
Information about events and tourist activities: visitlondon.com
Get our L.A. Goes Out newsletter, with the week's best events, to help you explore and experience our city.
You may occasionally receive promotional content from the Los Angeles Times.