6 Images
London's Dark Corners
The white columns of Christchurch Spitalfields overlook Jack the Ripper territory in the East End of London.
(Gail Fisher / LAT)
Damp dark streets add to the spooky atmosphere in the old city of London like this courtyard, behind the Church of St Bartholomew the Great, lit with a single bulb.
(Gail Fisher / LAT)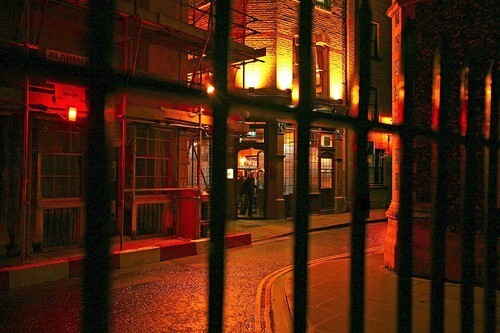 The Rising Sun pub in Cloth Fair, Smithfield, draws passersby from the narrow, cobblestone streets of Smithfield near the Churchyard of St. Bartholomew the Great, one of London's oldest churches.
(Gail Fisher / LAT)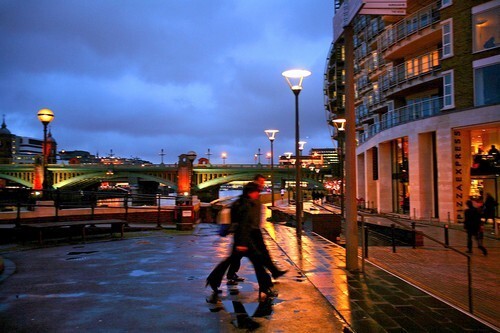 Threatening skies and damp streets add to the atmosphere in London, considered one of the most haunted cities in the world. Southwark Bridge looms in the background in Bankside, just past the New Globe Playhouse.
(Gail Fisher / LAT)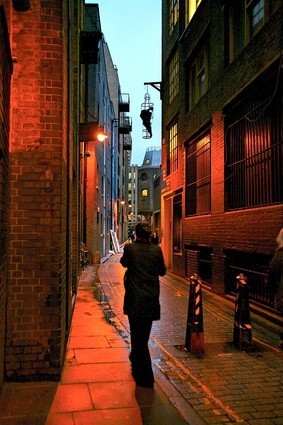 A model of gallows and a decomposing body greets pedestrians who stroll along Clink Street in Southwark near the Clink Prison Museum in London. The museum is on the site of the original prison, where the phrase "in the clink" was born.
(Gail Fisher / LAT)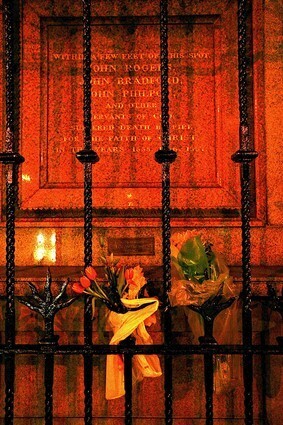 Memorial honors martyrs burnt to death at Smithfield, London, during the gruesome five-year reign of Mary I, also known as Bloody Mary, during the 16th century.
(Gail Fisher / LAT)