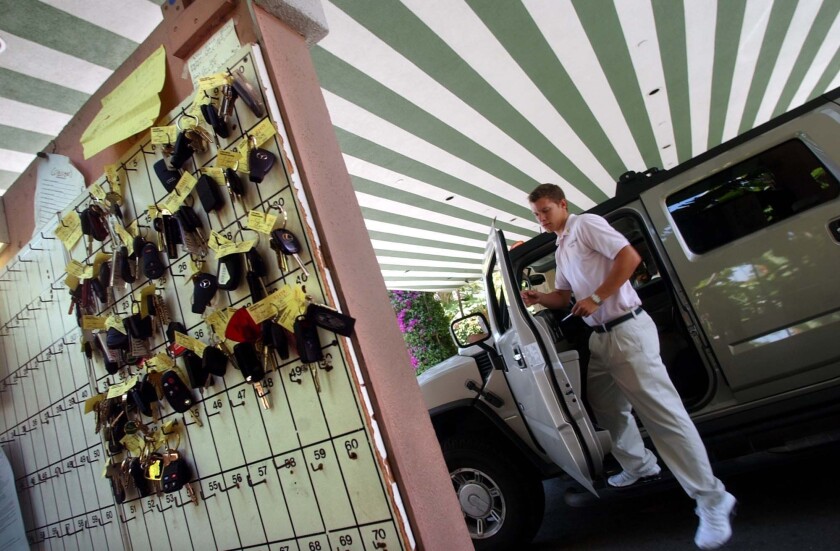 I recently received a nasty little surprise on my bill when checking out of a Memphis, Tenn., hotel.
Tucked in with the room charge and the various taxes were a $20 "resort fee" and a $20 a night charge for "valet service." Never mind that I hadn't used the valet. Or that when I checked in, the front desk clerk didn't happen to mention I was being charged for the service.
Resort fees are nothing new — and there's a new website called
ResortFeeChecker.com to help you find out how much you'll be charged — but they are increasingly common and, arguably, cagier, with surcharges such as an automatic charge for valet service, regardless of whether a guest uses it.
The Federal Trade Commission refers to this as "drip pricing," the practice of revealing prices as the buying process proceeds. The commission sent a warning letter to 22 hotels in November 2012, noting that "one common complaint consumers raised involved mandatory fees hotels charge for amenities such as newspapers, use of onsite exercise or pool facilities, or Internet access, sometimes referred to as 'resort fees.' These mandatory fees can be as high as $30 per night, a sum that could certainly affect consumer purchasing decisions."
Big Cypress Lodge — which opened in April, along with a massive Bass Pro Shops, in downtown Memphis in a huge pyramid that formerly housed a basketball arena — does disclose the fee when booking online.
After selecting dates and a room, a traveler is given an estimated total and told that the figure includes a $40-a-night resort fee. Hover the cursor over the words "resort fee amenities" and an explanation pops up of where that money is going: valet parking, access to the fitness and business centers, Wi-Fi, a basket of snacks, a ride to the pyramid's observation deck and turndown service.
I didn't want valet parking, a basket of snacks, access to the business center (which was still under construction during my stay) or turndown service. But I was charged for it. Add up the cost of what the hotel actually gives a guest for $40, and the ledger clearly winds up favoring Big Cypress.
In a follow-up call, Lana McDonald, the hotel's manager, tried to clear up a few things. Though the pyramid is surrounded by hundreds of parking spaces, valet parking, McDonald said, is mandatory. (I self-parked in spaces about 20 yards from the front door but apparently should not have been allowed to do so.)
But that raised another question: Why would a massive pyramid surrounded by so many parking spaces not allow guests to self-park? I told Big Cypress representatives that it sounded like a not-so-subtle effort to squeeze still more money from the customer; they called it "a convenience for our guests."
Randy Greencorn, who launched the website ResortFeeChecker.com last fall, sees resort fees proliferating.
"Anecdotally, they're definitely going up," said Greencorn, who also operates HotelDealsRevealed.com. "In Las Vegas, pretty much every hotel charges a resort fee now. The prevalence is going up, but so is the amount that's being charged."
Greencorn's biggest gripe with resort fees is when they're often not revealed until checkout; he credited Big Cypress with at least announcing them when booking.
"If you're a consumer and you know what you're getting into, you can at least make the decision," he said.
As with most everything else in travel, waiting for the industry to right itself will probably be a long wait. It is therefore incumbent on the traveler to keep an eye out for charges that seem odd or extraneous and to advocate for oneself.
After spying the valet fee, I respectfully asked how I could be charged for a service I didn't use and wasn't aware of. The fine print was there for me to read on the website, and it was my responsibility to read it.
But I knew I wasn't being unreasonable when the woman to my left, also checking out, overheard the conversation, looked over her bill and expressed similar surprise. The front desk removed the charge from both of our bills.
---