11 Images
Take a vacation on Uncle Sam: What to do with your tax rebate
Las Vegas
You won't spread the love around if you drop your money on the craps tables in Las Vegas. But if you're adamant about a road trip to Vegas, the Automobile Club of Southern California offers a "Rat Pack" package that includes a two-night hotel stay at the Luxor Las Vegas or the Monte Carlo Resort & Casino, plus admission to "The Rat Pack Is Back" tribute show at the Plaza Hotel and Casino. The package starts at about $438 per person.
(Anne Cusack / Los Angeles Times)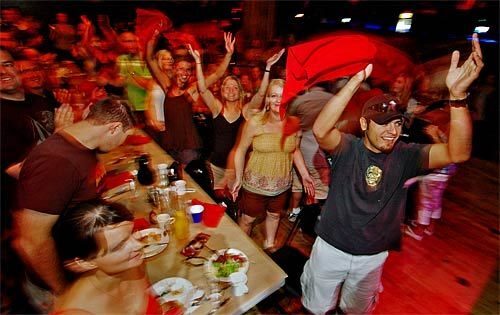 Las Vegas
If you can't afford the big shows in town, there's always the House of Blues where you can eat and make the scene. Tickets: $39 for adults; $20 for children 11 and younger.
(Bill Hughes / For The Times)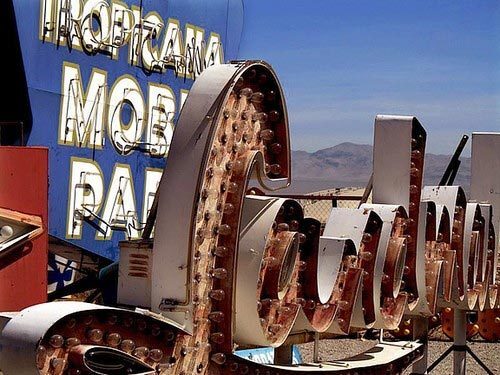 Las Vegas
Craving the bright lights of Vegas but don't have the big bucks? You can visit the
Boneyard Neon Museum
and browse a collection of non-restored historic neon signs that once lit up Sin City's streets. The signs have been donated or loaned by individuals, businesses and sign companies. And if you bring 10 friends for a
tour
, it's only $5 each.
(Robert Ziebell / Cinelandia.com)
Virginia
Take a lesson from Capt. John Smith, the English sailor who, after braving the Atlantic, stepped ashore at Virginia Beach, Va., on April 26, 1607, and ventured north to help colonize Jamestown, one of the first settlements in America. Explore those Old Dominion beaches under an incentive package offered by the Virginia Beach Convention & Visitors Bureau.
The packages, which begin at about $300 per couple and go upward to $1,200 for two, include a two-night stay at one of 25 participating hotels and other niceties such as tickets to the Virginia Zoo, a bottle of Champagne, passes to a dolphin-watching cruise or movie tickets. Airfare is not included. The amenities package varies with the hotels. Details:
www.vbfun.com
.
Runners on the Boardwalk at Virginia Beach, Va.
(L. Todd Spencer / Associated Press)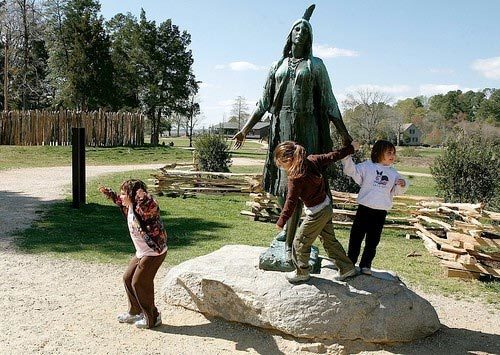 Virginia
You can visit the statue of
Pocahontas
for free on the grounds of
Historic Jamestowne
, site of the actual settlement which celebrated its 400th anniversary last year.
(Mark Wilson / Getty)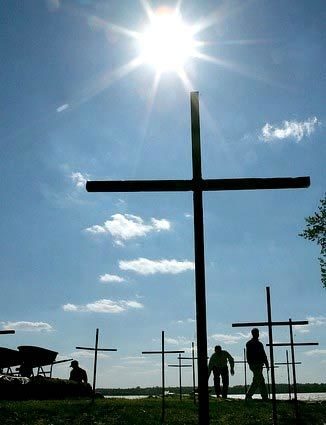 Virginia
Take in some history along with the package deals. On the grounds of historic
Jamestown
, crosses mark the spots where archeologists found human remains dating back to the original settlers who first landed on May 14, 1607.
(Mark Wilson / Getty)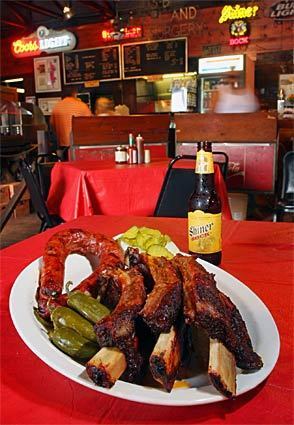 Austin, Texas
Visit
Austin
and you'll have a chance to support two of America's greatest innovations: rock 'n' roll and the blues.
For less than $500 each, including hotel and airfare from LAX, a family of three can spend a weekend in the live-music capital of America. Your little tax deductions, uh, children, can enjoy the miniature train rides at Zilker Metropolitan Park (only $1.75 a ride), or you can visit the Congress Avenue Bridge to see the nightly flight of more than a million Mexican free-tail bats that have made a home of the bridge. (For more ideas, go to
www.austintexas.org
.)
And the music scene in Austin is as hot as a Texas barbecue. Don't miss the nightly blues and rock shows at Cheatham Street Warehouse, a venue that helped launch the careers of such legends as Stevie Ray Vaughan, George Strait and "Little" Charlie Sexton. Details:
www.cheathamstreet.com
.
Check out barbecue and music in Austin at Iron Works BBQ.
(Jack Plunkett / Bloomberg News)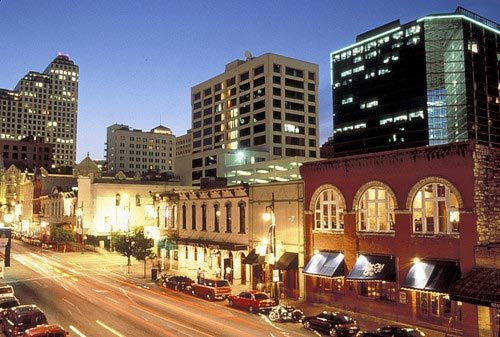 Austin, Texas
For less than $500 each, including hotel and airfare from LAX, you and your family can fly in and browse the 6th Street entertainment district, which draws crowds to its pubs and piano bars, for free..
(Austin Convention & Visitors Bureau)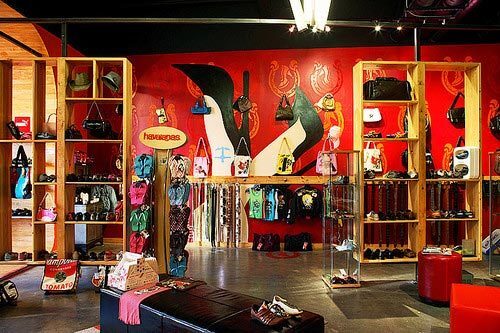 Austin, Texas
You don't need to spend money to look at some of the funky shops in the city's 2nd Street district.
(Austin Convention & Visitors Bureau)
New Orleans
Combine your patriotic duty with good times by spending your refund money where it's needed most:
New Orleans
, the site of the worst civil engineering disaster in American history.
For about $1,200, a joint-filing couple can fly from LAX to New Orleans, stay at a hotel for two nights and rent a car to explore recovery efforts in Plaquemines and neighboring St. Bernard parishes and still have money for a swamp tour.
For about $100 per person, swamp tour operators will pick you up from most downtown hotels, drive you to the Cajun village of Lafitte and strap you into a marsh-skimming airboat. Details:
www.buyneworleanstours.com
.
Trumpeter Marcus Hubbard marches with the Soul Rebels Brass Band down Royal Street in New Orleans last August during the first Friday French Quarter Brass Band parade and concert.
(Spencer Weiner / Los Angeles Times)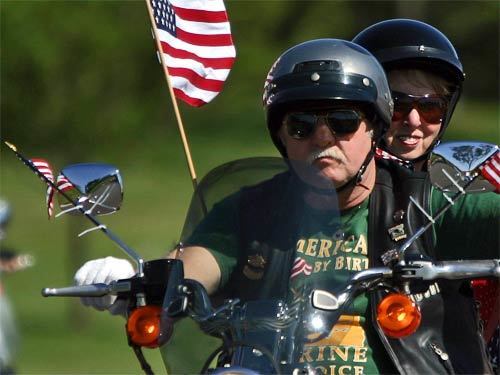 Take a ride on a Harley
Support another great American tradition by riding a Harley.
Wrap your fingers around the throttle of one of these fat, American-made hogs under another stimulus deal offered by the Automobile Club. For about $400, you get the keys to a Fat Boy, a Heritage Softail Classic, a Dyna Wide Glide, a Road King or an Electra Glide for a weekend spin in one of several cities, including Las Vegas, Phoenix, Los Angeles or San Diego.
For those two days, you can ride your Harley until the wheels fall off. The package includes a two-night stay at a hotel, plus motorcycle saddle bags and helmets. Details:
www.aaa-calif.com
.
(Myung J. Chun / Los Angeles Times)