How to cope with the crowds at the West's busiest national parks
What if the entire population of the United States decided to visit America's national parks?
For the record:
1:40 p.m. July 3, 2018An earlier version of this article on how to cope with national park crowding incorrectly identified Kurt Repanshek as founder and editor in chief of National Parks Magazine. He is the founder and editor in chief of National Parks Traveler magazine. The link and the name of the publication have been updated and corrected.
In essence, it did.
In 2017 the parks welcomed 331 million people, almost the exact population of the U.S.
No wonder last summer Yellowstone and Grand Teton national parks sometimes felt like teeming cities, with all the crowding, traffic and frustration that comes with living in a metropolis.
Welcome to July, the busiest month of the year for many of our national parks.
It's easy to tell complainers to visit the marquee parks in the off-season or go to the less-visited parks. But many people can undertake a road trip only in the summer months. Although many of less-visited sites are spectacular, there's only one Yellowstone and one Grand Teton.
Still, aficionados say there are corners of even the most popular parks that are barely explored. Advance research can yield sweet discoveries.
"One of the things I do to avoid crowds in Yellowstone is to canoe into the backcountry," said Kurt Repanshek, founder and editor in chief of National Parks Traveler Magazine. "We put in at Lewis Lake and paddle up to Shoshone Lake. There's just a limited number of campsites, but if you're a canoer or kayaker, it's a tremendous experience."
"If you're determined to go to parks like Yosemite and Yellowstone the trick is to get up really early in the morning, before the day buses arrive," said Kay Scott, who, with her husband David, is author of the "Complete Guide to the National Park Lodges" (Globe Pequot). "These visitors come for the day, and then in the late afternoon they leave and things quiet down."
"Pack your patience," said Andrew White, spokesperson at Grand Teton. "Deep breaths are always a good thing, because you will encounter some kind of delay or crowd in the summer. But no matter where you are in the park you'll probably have a gorgeous view to enjoy."
Here are tips for visiting the West's eight busiest parks in summer:
Yosemite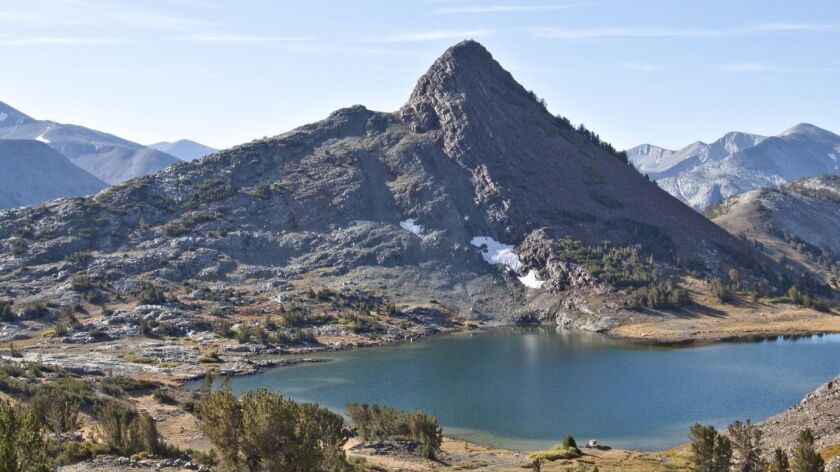 2017 visitors: 4.3 million
Busiest months: May-October, so try to visit Mondays-Thursdays.
Least busy: December-February
Pain point: Yosemite Valley
At Yosemite, the Sierra Nevada reaches its crescendo with a valley, not a peak. California's most visited national park is defined by a single, spectacular feature. Yet the seven-mile-long-by-half-mile-wide Yosemite Valley represents less than 5% of the park's acreage.
"In the summer, go up to Tuolumne Meadows," said Scott Gediman, public affairs officer at Yosemite. He suggests the three-mile hike to Gaylor Lakes, a little-visited trail starting at the 10,000-foot elevation, or the three-mile trail to Dog Lake, at a slightly lower altitude.
"Once you get out on the trails, even in middle of summer, these hikes are wonderful," he said.
A daily shuttle bus in summer takes hikers to Tuolumne as well as to Glacier Point, the park's penultimate viewpoint. The shuttle schedule can accommodate shorter hikes, but you can also do a one-way to Glacier Point and tackle the steep descent to the valley floor in a long afternoon.
To get away from crowds in Yosemite Valley, Gediman recommends the gentle Valley Loop Trail. You'll find a fair number of people on the path that parallels the cliffs on both sides of the valley, but mostly on the eastern half.
"Go west," Gediman said. "There are fewer people west of Yosemite Falls along the base of El Capitan, and then you can come back on the other side below Bridalveil Falls."
Grand Canyon
2017 visitors: 6.3 million
Busiest months: March-October
Least busy: January and February
Pain point: South Rim
Most visitors head to the South Rim of the canyon, where most of the lodging and camping is. Parking lots fill early in summer and road improvements are underway this year, so stay in neighboring Tusayan and take the free shuttle. You won't have views of the void, but Tusayan is cheaper.
You'll need an annual or park pass in hand before boarding the shuttle; you can buy passes at various locations in Tusayan. Once you arrive at the visitor center, additional shuttle routes navigate the South Rim from Hermits Rest to Yaki Point.
"Start your visit by entering the park from the East Entrance at Desert View," said Kirby-Lynn Shedlowski, public affairs officer at the park. "There are fewer people, a huge parking lot and an opportunity to meet with and learn about the 11 traditionally associated tribes of Grand Canyon through a cultural demonstration program."
Grand Canyon regulars dodge the swarm by heading to the North Rim, 10½ miles across the chasm as the crow flies, but 210 miles by car.
"The North Rim is 1,000 feet above the South Rim so it's a little bit cooler," Repanshek said. "The views into the canyon are just as spectacular and you don't have the crowds."
Camping and lodge reservations require planning, the Scotts noted, and they suggest staying in Kanab, Utah, 80 miles from the North Rim.
"It's kind of a central point," David Scott said. "You can use it to do day trips to the North Rim, Zion and Bryce Canyon. The three parks are all in different directions, but Kanab is a cute little town."
From Kanab, Zion Canyon is 41 miles west; Bryce Canyon is 76 miles north.
Zion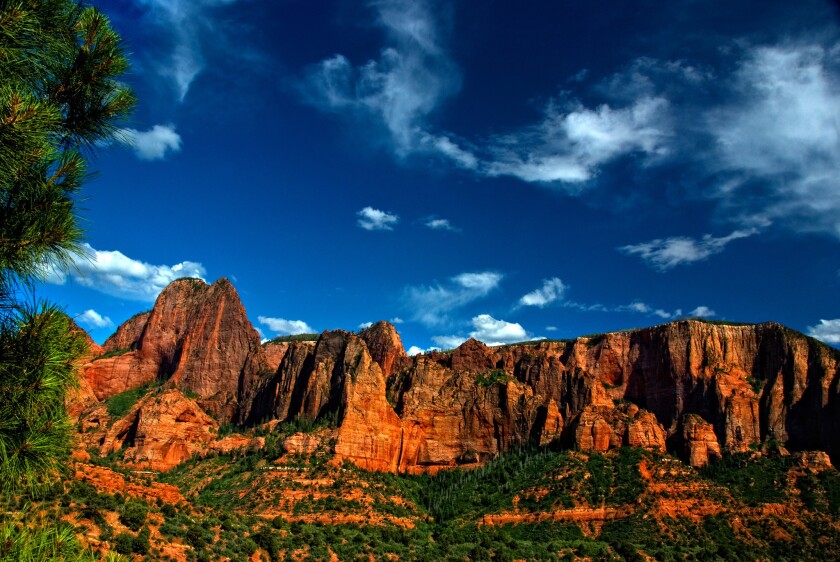 2017 visitors: 4.5 million
Busiest months: March-October
Least busy: January
Pain point: Zion Canyon
Zion visitation increased by 80% in the last three years, after a 25-year average of 2.5 million visitors annually. The fact that nearly all of the park is constrained by narrow Zion Canyon means the impact is acute; this summer it will be even more than usual.
Kolob Canyons in the northwest corner of the park — a place rangers suggest for those seeking more solitude — is off-limits for a seven-month road project. Construction is expected to be completed in November.
"Zion is a more intimate experience, so there's less space for people to move out compared to Grand Canyon," said Alyssa Baltrus, the park's chief of interpretation.
Driving is not allowed in Zion Canyon (except for the lodge's overnight guests), and the entrance parking lot fills by mid-morning. There's a free shuttle from Springdale, just outside the park, to the park entrance, and another from the park entrance to the end of the canyon road at the Temple of Sinawava.
"Park shuttles start running from the entrance at 6 a.m. and the earlier you come the less likely you'll have lines," Baltrus said. "Your overall experience will be with less people and it will be cooler."
Baltrus does not recommend visits from mid-December through mid-February because ice often falls from the canyon's sheer cliffs. Some trails, such as the Emerald Pools and Riverside Walk, will be closed for safety.
Rocky Mountain
2017 visitors: 4.4 million
Busiest months: June-September, so try to visit midweek.
Least busy: December-February
Pain point: Bear Lake Road
"Rocky's visitation has changed dramatically over the last six years," said Kyle Patterson, the park's public affairs officer. A 40% increase in visitors since 2012 means it's now the nation's fourth-most-visited national park, but careful research can lead to less trafficked areas.
Free shuttles operate from the Estes Park Visitor Center (outside the park) to Bear Lake and Fern Lake, two of the most popular trailheads for the high country. You'll need a pass to board the shuttle outside the park, which you can purchase online.
Wild Basin, the entrance closest to Denver and Boulder, often closes as early as 9 a.m. due to traffic congestion.
The park's 48-mile Trail Ridge Road is the highest paved road in any U.S. national park, reaching 12,183 feet. It's a top draw. Sudden shifts in weather — even in summer — can close the road and make trails unsafe, so pay attention to weather forecasts. Parking lots at the Alpine Visitor Center near the summit may be full at midday.
The park's east-side entrances see 80% of Rocky Mountain's visitors, so consider using the Grand Lake entrance, about 30 miles farther from Denver than entering through Estes Park, but you'll see lighter traffic. Timber Creek Campground, on the west side of the park, is usually the last of the first-come first-served campgrounds to fill each day.
Like all parks near large metropolitan areas, Rocky Mountain sees more visitors on weekends. This is particularly true in September, when weekend visitation is 50% more than on weekdays.
Yellowstone
2017 visitors: 4.1 million
Busiest months: June-August
Least busy: November-March (most park operations closed)
Pain points: Main geyser basins, Canyon Village
I was in Yellowstone last summer, when I saw Old Faithful erupt at sunset in front of just a few dozen visitors. The next morning, shortly after 7, I watched it again with an even smaller group.
Exploring in the early morning or in the early evening is key to avoiding the masses. Geysers are a chief reason people visit Yellowstone. Old Faithful erupts every 75 minutes or so, and by late morning the number of geyser gazers swells. The head count numbers hundreds at midday.
Yellowstone is one of the larger national parks, with road access from five points that should help alleviate congestion. Busy corridors remain, particularly the West Entrance, the main geyser basins and the canyon area.
The East Entrance, from Cody, Wyo., is less busy.
Yellowstone does not provide free park shuttles and distances between sites can be long, so planning is important. The park's historic yellow buses are used for two- to 10-hour tours focused on wildlife, geysers or photography; excursions start at $39 for adults.
"One of our favorite locations is the Lake Yellowstone Hotel," said David Scott. "It's quiet, it never feels crowded, it's a much more comfortable area. There are buffalo roaming around."
Yellowstone Lake is less visited during the day, making it a good place to hang when the geysers and falls are crowded, and the adjacent Sandpiper Lodge provides good value.
Another option is to book a private tour, field seminar or educational tour with Yellowstone Forever, the park's nonprofit education and fundraising partner. Programs such as Fall Wolf and Elk Discovery and Yellowstone for Families provide professional tours with a focus on specific subjects.
Olympic
2017 visitors: 3.4 million
Busiest months: June-September, so try to visit midweek.
Least busy: December and January
Pain point: Hurricane Ridge
"The beauty of Olympic is that it's really three different parks," Repanshek said, encompassing glacier-capped peaks, temperate rainforests and 70 miles of beach wilderness. Olympic is also unusual in that no roads traverse the park but instead nip at its boundaries.
It's two hours from Seattle, so it gets lots of day visitors, said Lee Taylor, Olympic's deputy park superintendent.
"People living nearby are coming on their days off, which are usually weekends," Taylor said. "Arrive midweek instead, especially if you're camping. Be an early riser — the park tends to get crowded around 10 a.m. when people from Seattle start to arrive."
Winter storms damaged Olympic Hot Springs Road, which is closed indefinitely to vehicles at Madison Falls. Pedestrians and bicycles can still use the road to see where the Elwha Dam was removed in 2012, allowing visitors to see how the area has been restored.
Of the three main rainforest areas accessible by car, Queets is the least busy because it's harder to access. Look for elk and spawning salmon on the 2.8-mile Sam's River Loop trail. The park's wild beaches are busy near parking areas, but if you're willing to walk a mile you'll find seclusion, Taylor said.
Grand Teton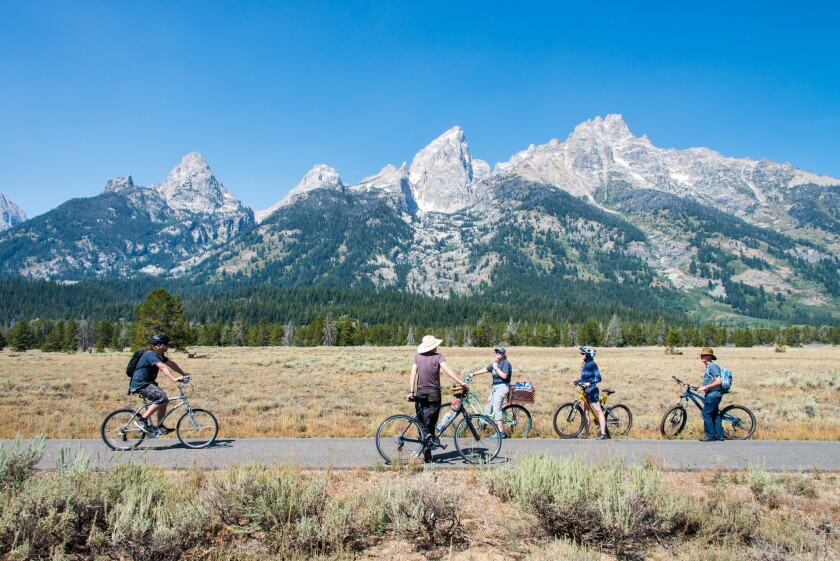 2017 visitors: 3.32 million
Busiest months: June-August
Least busy: November-April
Pain point: Jenny Lake
Much of the activity in Grand Teton revolves around Jenny Lake, where the trademark view of the park's namesake granite spire rises abruptly across the water from the main visitor center.
Congestion has been exacerbated during a $19-million rehabilitation project to renew the visitor center, trails and viewing areas, but it's expected to be largely completed by year-end.
"But even without the construction, it will still be busy next year," Andrew White, the park spokesperson, said. "It is our most popular location."
The boat shuttle across Jenny Lake runs 7 a.m. to 7 p.m. in summer. The first boat is less crowded, and the crossing is discounted from $15 to $5 (cash).
The park has more than 15 miles of multi-use pathways, and you can bike the 21 miles from Jenny Lake to Jackson, the resort town just outside the park's southern entrance.
Trails to the lakes, especially String Lake, are Grand Teton's busiest, so if you can, head to the back country, White said. He also recommended Flagg Ranch, a 24,000-acre parcel also managed by the park service, sandwiched between Grand Teton and Yellowstone.
"That six-mile stretch of land between the parks gets overlooked," he said. "There are cool trails, hot springs and float opportunities."
Glacier National Park
2017 visitors: 3.3 million
Busiest months: June-August
Least busy: November-March
Pain point: Going to the Sun Road
In July 2017 Glacier set a record: 1 million visitors, the most in a Western national park in a single month. The cluster occurs because a good part of the park is usually closed into June, while snow is being cleared. When the entire park is open and accessible, visitation is compressed into a shorter season.
Glacier's Going to the Sun Road, linking the west and east sides of the park, opens between mid-June and mid-July, depending on the snow. A free shuttle system leads from each side to the Logan Pass Visitor Center near the center of the park, and both routes reach higher into the park as the snow is cleared.
The shuttle system exceeded capacity last year, with waits sometimes more than two hours for a ride, said Lauren Alley, Glacier's public information officer.
"Last year we started tweeting out parking information and congestion updates. You can pull up a week's worth of Twitter feeds [@GlacierNPS] and see where the lots are filling each day, and at what time."
---
Get inspired to get away.
Explore California, the West and beyond with the weekly Escapes newsletter.
You may occasionally receive promotional content from the Los Angeles Times.