National parks where you can find solitude in summer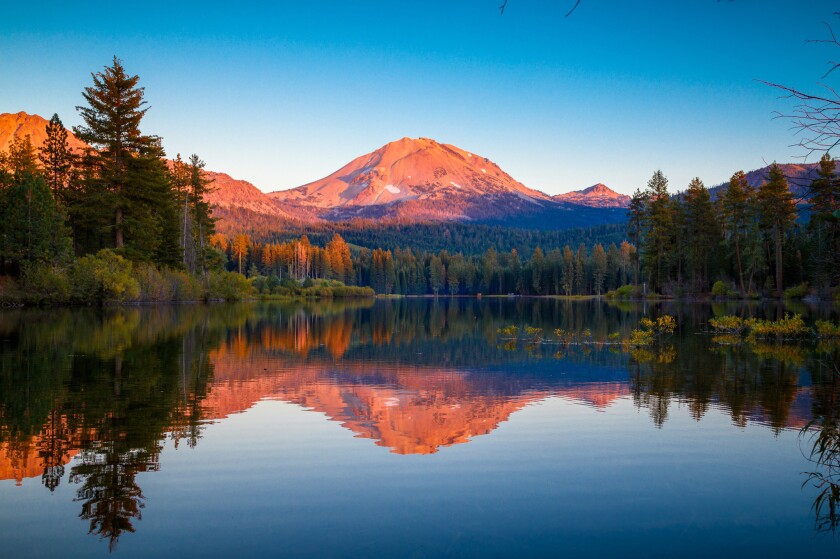 America's most popular national parks receive more than 100,000 visitors a month during summer. But other parks fly under the radar.
Visitors to lesser-known parks can enjoy uncrowded scenic areas, unpressured ranger interactions and may be able to camp without a reservation. These parks are more remote, and services may be limited. Here are a few:

For the record:
1:45 PM, Jul. 03, 2018An earlier version of this article on how to cope with national park crowding incorrectly identified Kurt Repanshek as founder and editor in chief of National Parks Magazine. He is the founder and editor in chief of National Parks Traveler magazine. The link and the name of the publication have been updated and corrected.
Lassen Volcanic
Lassen Volcanic, replete with mountain lakes, alpine meadows, boisterous fumaroles and four types of dormant volcanoes, is one of the West's overlooked national parks. It gets barely a tenth of the annual visitors Yosemite does, perhaps partly because Lassen, in Northern California, is about 2½ hours farther up the road.
Lassen has more than 150 miles of hiking trails, including the five-mile round-trip ascent of Lassen Peak, which last erupted in 1917.
North Cascades
October marks the 50th anniversary of Washington's North Cascades, but it remains undiscovered for most Americans, averaging less than 30,000 visitors annually.
The park, dotted with craggy peaks climbing to more than 9,000 feet, has more than 300 glaciers, making it the most heavily glaciated place in the lower 48. A diverse ecosystem supports 75 mammal species and 200 species of birds.
"North Cascades never seems crowded," said David Scott, who with his wife, Kay, is author of "The Complete Guide to the National Park Lodges" (Globe Pequot). "It's kind of out of the way near Canadian border, but it's one of the best parks in the country."
Capitol Reef
Capitol Reef, in the shadow of Zion, Bryce Canyon and Arches, is often overlooked, but the nearly 100-mile-long reef — a geological wrinkle known as the Waterpocket Fold — contains rock formations, petroglyphs and an old Mormon settlement dotted with fruit trees. Although visitors are increasing quickly — the park hosted 1.1 million in 2017 — it's possible to find solitude and quiet.
"If you hike 10 minutes out on the trail, you'll be alone," said Kurt Repanshek, founder and editor in chief of National Parks Traveler magazine.
Great Basin
Celebrate seclusion and silence at this under-explored park in eastern Nevada, with environments that include the largest desert in the U.S., sage-covered foothills and mountains high enough to cradle a glacier. Groves of hardy bristlecone pines — the world's longest-living tree — flourish above 9,000 feet, while caves riddle the underground.
Night skies are unimpeded by light pollution, guaranteeing spectacular views of the Milky Way. It's 234 miles west of Salt Lake City, and Great Basin sees only about 150,000 visitors a year.
"We just did our third trip here in late May," David Scott said. "The Wheeler Peak Scenic Drive goes up to about 10,000 feet, and there were probably just six people there at the top."
National Monuments of the West
With some exceptions, America's national monuments provide a less crowded experience than the marquee parks. And they can be just as diverse and rewarding.
You could expect Dinosaur National Monument, straddling the border of Utah and Colorado, to be all about fossils, but you can also disappear into this canyon-riven landscape on a four- or five-day raft trip on the Green or Yampa rivers.
At Lava Beds National Monument in Northern California, the volcanic landscape is home to ancient craters, lava tube caves and stark vistas.
In New Mexico, White Sands National Monument protects the world's largest gypsum dune field, sheltering animal species that have adapted to the blinding sands by losing their color.
Tips for visiting the national parks in summer
The National Park Service website provides planning tools, links to park concessions (lodging, vendors), maps, suggested driving routes and trails, and information on each park's history, flora and fauna that will make your visit more enjoyable.
Some parks (not all) use Twitter and Facebook to communicate traffic issues, full parking lots and road construction.
You can buy passes in advance for some parks. This will save you time at the entrance; in others it will allow you to board free shuttles outside the park boundary.
Visit the most popular sites outside midday hours; head onto remote trails as the day-trippers arrive.
Stay alert to weather changes that may impact hiking or other activities.
Parking lots and roads will be busy. Consider using park-provided public transportation or bikes to get from place to place.
Travel before Memorial Day or after Labor Day, when parks are generally less busy. Services and lodging tend to shut down at most parks going into the off-season.
---
Get inspired to get away.
Explore California, the West and beyond with the weekly Escapes newsletter.
You may occasionally receive promotional content from the Los Angeles Times.