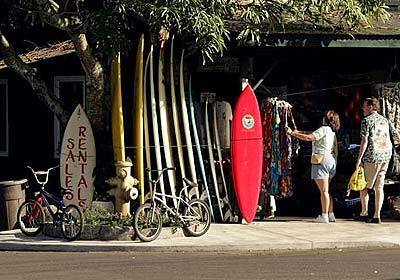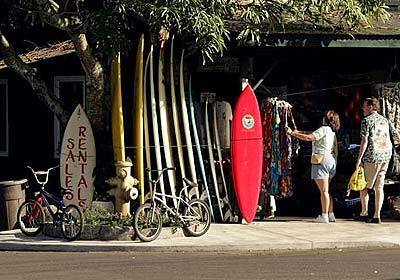 The North Shore of Oahu has long been known as the Mecca for surfers around the world.
()
Huge waves, perfect sunsets and a feeling of isolation go hand-in-hand in an area that is now famous for being the location for the television series "LOST."
()
Turtle Bay
Resort is the only high-end hotel property on the North Shore, where slow growth competes with local sentiment ("No Mall at Shark's Cove" signs dotted the highway) and the island's indigenous history.
()
Oahu's Waimea Valley Audubon Center is a nature preserve, but swimming by the falls (as seen on "Lost") is allowed.
(Mark Boster / LAT)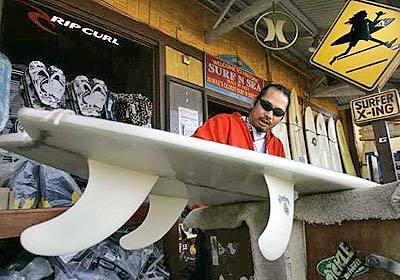 Richard Samiley scrapes the wax off a surfboard being prepared for consignment at the Surf 'N Sea shop in Haleiwa. Surfers - the area's biggest subculture - are drawn to the North Shore for the awesome winter waves.
(Mark Boster / LAT)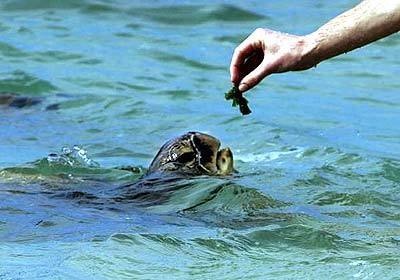 A giant sea turtle surfaces for a moment to snack on a bite of seaweed dangled by a visitor at Chun's Reef on the North Shore.
(Mark Boster / Los Angeles Times)
At the end of another mellow day, the setting sun entrances a tourist at Haleiwa Beach on Oahu's North Shore, a place of laid-back living and lovely vistas.
(Mark Boster / LAT)
When the sun goes down, surfers beach their boards for the night and head to such watering holes as Kainoa's Sports Bar in Haleiwa for a friendly game of pool and to swap tales of memorable rides.
(Mark Boster / LAT)
A surfer glides down the face of a wind-blown wave at Sunset Beach on the North Shore of the Hawaiian island of Oahu. This less touristy area of Oahu is a longtime mecca for surfers.
(Mark Boster / Los Angeles Times)
On the
ABC
show, the characters - including Charlie (Dominic Monaghan), left, and Hurley (Jorge Garcia) - are stranded on a remote tropical island. Of course, civilization is just outside camera range.
(Mario Perez / ABC)