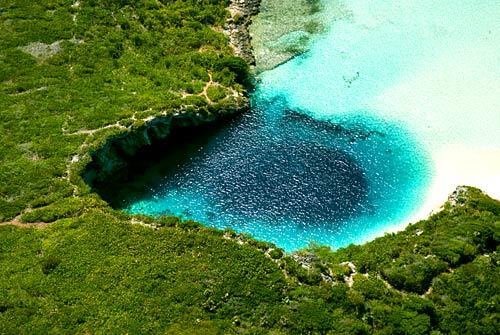 11 Images
Offbeat Traveler: Dean's Blue Hole in the Bahamas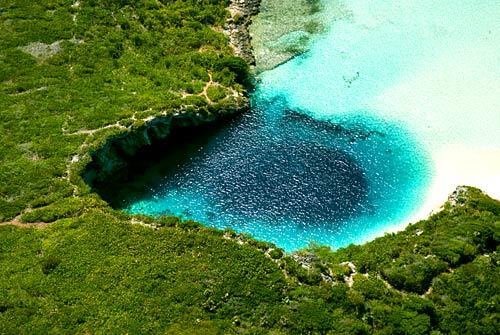 There may be bigger and more impressive blue holes, but Dean's Blue Hole on Long Island in the Bahamas is the world's deepest at more than 600 feet deep.
Blue holes, named for their vibrant color as seen from above, are subsurface voids that contain fresh, marine or mixed waters that extend below sea level. They are open to the surface and may provide access to submerged caves.
-- Kelsey Ramos, Los Angeles Times
(Bahamas Ministry of Tourism)
Dean's Blue Hole is located west of Clarence Town on Long Island. It is almost twice as deep as any other explored cave in the Bahamas, according to the Bahamas Journal of Science.
(Jiwoo Park)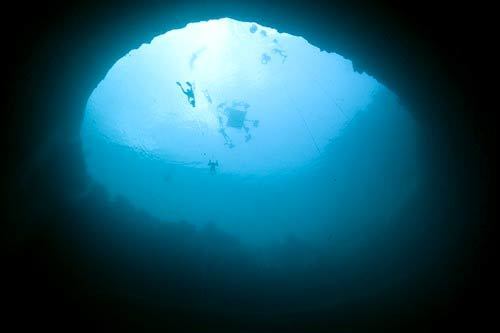 In April 2008, William Trubridge broke his own freediving world record from 2007, swimming 86 meters (282 feet) into Dean's Blue Hole without fins.
Trubridge is the director of Vertical Blue Freediving School and Team, which leads dives into Dean's Blue Hole.
(Frederic Buyle)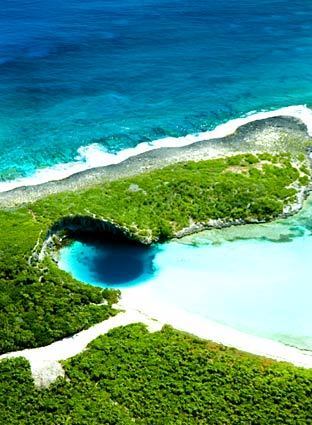 Blue holes are formed by erosional processes. They can be carved out by high and low sea levels from glacial periods, carbon dioxide from rainwater or hydrogen sulfide from organic matter drawn in by tides.
(Bahamas Ministry of Tourism)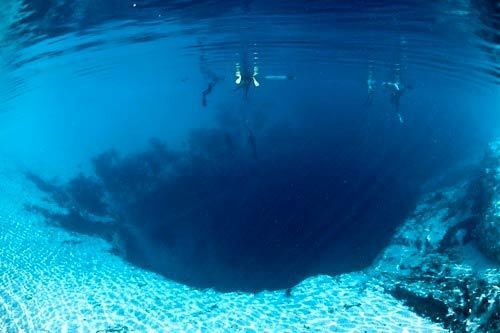 A side view of the blue hole with free divers close to the platform on the surface during the 2009 Vertical Blue Invitational free-diving competition in April.
(Frederic Buyle)
Canadian free-diving champion William Winram descends into Dean's Blue Hole during the 2009 Vertical Blue competition. Winram is competing in the free immersion event, in which a diver pulls himself down and back up to the surface using a guide line. He set a Canadian and Pan-American record of 90 meters (296 feet) during the dive.
(Frederic Buyle)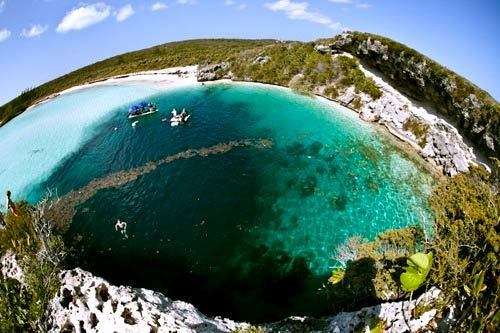 A panoramic view of Dean's Blue Hole from the eastern cliff wall.
(Frederic Buyle)
Here, Tomoko Yamanouchi grabs a national free-diving record for Japan in Dean's Blue Hole. She competed in the constant weight event, in which divers can use fins but not the guide line or weights.
(Frederic Buyle)
There are never any swells or waves inside Dean's Blue Hole, which makes for exceptional visibility – usually between 15 to 30 meters (50 to 100 feet).
(Bahamas Ministry of Tourism)