What do you do after the Louvre? Here are 10 little-known museums in Paris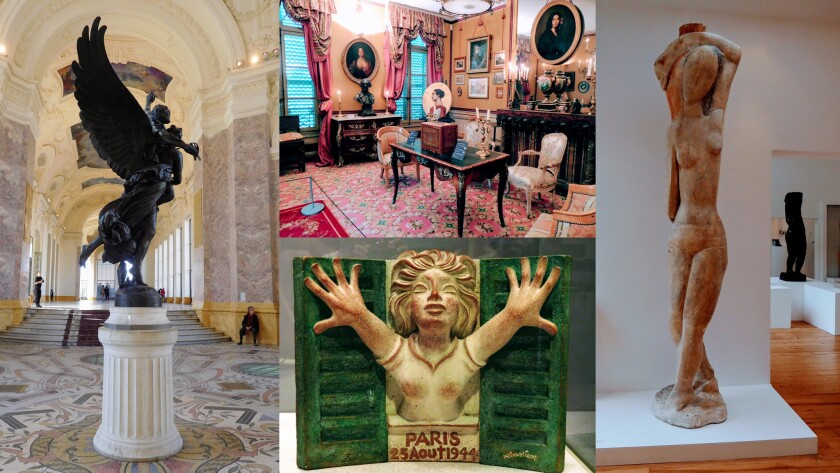 Reporting from Paris —
The Louvre, the Pompidou and the d'Orsay in Paris are giant "must-sees" and, of course, you must visit them.
Smaller gems such as the Musée de l'Orangerie and the Jeu de Paume are top destinations too.
But I had visited them on past trips, so I was up for discoveries. What I found was an assortment of small, quiet museums in neighborhoods throughout the city. Many have small cafes where you can stop for lunch or a snack.
Here are some of the best, all owned and operated by the city of Paris. It's free to visit their permanent collections, but there may be a small charge for temporary exhibits. All are open from 10 a.m. to 6 p.m. daily except Mondays and bank holidays. You can find more information at the official city of Paris website.
Cognacq-Jay Museum
Ernest Cognacq (1839-1928), founder of the now-closed Samaritaine department store, was a philanthropist and collector of 18th century art. He bequeathed his collection to the city of Paris and, according to his wishes, the museum incorporates his name and that of his wife, Marie-Louise Jay.
The magnificent building housing his collection is in the heart of the Marais quarter and is a rare example of a Rococo-style townhouse built at the end of the 16th century. It is exquisitely restored and one of the loveliest museums in Paris.
Paintings, drawings, sculptures, furniture and porcelain are beautifully displayed on four floors surrounding a courtyard. Artists represented include Boucher, Fragonard, Greuze, Rembrandt and Rubens.
Info: Cognacq-Jay Museum, 8 Rue Elzevir
Petit Palais
This light-filled Art Nouveau cream puff of marble and gilt is one of the most beautiful buildings in Paris. Its ornate rotunda is filled with mosaic-tile floors, marble walls, vaulted ceilings covered with allegorical paintings, and wrought-iron staircases that are works of art themselves.
The museum contains a remarkable collection of sculpture, jewelry, furniture and mostly French paintings, including canvases by Courbet, Monet, Cézanne, Ingres and Delacroix. A peristyle surrounds a quiet octagonal garden with palm trees and a cafe.
Outside facing the Seine is a sculpture of Winston Churchill by Jean Cardot.
Info: Petit Palais, Avenue Winston Churchill, between the Seine and Avenue Champs-Élysées
Musée Zadkine
Sculptor Ossip Zadkine (1890-1967), a Russian Jew who moved to Paris in 1910, lived here in the Montparnasse district for nearly four decades.
His bucolic home, studio and garden are tucked behind a five-story building and are easily missed, so be sure to watch the street numbers.
His sculptures — graceful elongated figures with clean lines and simplified features — are artfully placed in the light-filled gallery and five tiny white rooms nestled among the trees in the small leafy garden.
Info: Musée Zadkine, 100 Bis Rue d'Assas
Museum of Romantics
Ary Scheffer (1795-1858), a painter and leading figure of the Romantic movement, painted here in his home, where he also entertained artistic and literary elites such as George Sand, Chopin, Delacroix, Rossini and Dickens.
The house remained in his family until 1983, when it became a city of Paris museum dedicated to artists, writers, musicians and dancers of the first half of the 19th century.
On the ground floor are memorabilia, furniture and portraits that belonged to writer Sand; the second floor showcases Scheffer's works.
To the right of the house is a rose garden and quiet outdoor tearoom, an ideal spot for a cup of tea and pastry in nice weather.
Info: Museum of Romantics, 16 Rue Chaptal
Museum of General Leclerc and Paris' Liberation
This museum and its companion, the Musée Jean Moulin, opened in 1994 to celebrate the 50th anniversary of the liberation of Paris.
The exhibits trace the history of the three "companions of the liberation" at the end of World War II: Gen. Philippe Leclerc de Hauteclocque, Jean Moulin and the City of Paris.
Exhibits related to major periods of the war are presented: France during the war, Paris under German occupation, the resistance in Paris, the Vichy government and the occupying forces.
The displays, personalized with information about the items and photos of people who owned them, make for a very moving experience.
Info: Museum of General Leclerc and Paris' Liberation, 23 Allée de la 2e D.B.-Jardin Atlantique (above Montparnasse train station)
Victor Hugo's House
Victor Hugo (1802-1885) was 30 when he moved into the second floor of this house with his wife, Adèle Foucher, and their four children. He had already enjoyed widespread success with his novel "The Hunchback of Notre-Dame."
Visitors can see his rooms overlooking the Place des Vosges and the desk where he wrote "Les Misérables" (standing up, as always).
The museum was founded in 1902 with sizable collections donated by his grandchildren.
Info: Victor Hugo's House, 6 Place des Vosges
Museum of Modern Art
This museum, like the Pompidou Centre, is home to 20th century art, but visiting here can be more pleasant because there are often no crowds. It also is in an incredible setting overlooking the Eiffel Tower.
Two paintings by Henri Matisse are housed here: "La Danse Inachevée" (The Uncompleted Dance) and "La Danse de Paris."
In 1990, they were discovered in Matisse's studio in Nice, and today both are on display in the large gallery off the entrance hall.
The museum, except for the Matisse canvases and the area for temporary exhibits, is closed for renovations until November.
Info: Museum of Modern Art, 11 Avenue du Président Wilson (in the Palais de Tokyo)
Cernuschi Museum-Museum of the Asian Arts
The beautiful building and museum sit on a tree-lined street outside one of the gates of Parc Monceau in the 8th arrondissement.
It is the former home of Italian banker and Asian art collector Enrico Cernuschi (1821-1896), who bequeathed his residence as well as his collection of about 5,000 works of Asian art to the city of Paris.
Chinese art, funeral statuary, painted 8th century silks, Neolithic pottery, ancient Persian bronze objects, a two-story bronze Buddha from Japan and examples of calligraphy are all part of the holdings.
Info: Cernuschi Museum-Museum of the Asian Arts, 7 Avenue Vélasquez
Bourdelle Museum
Sculptor Antoine Bourdelle, who lived here in the Montparnasse district from 1885 until his death in 1929, wanted to create a museum showcasing his work and the creative process, as his teacher, sculptor Auguste Rodin, did before him.
His wife, Cleopatre, daughter, Rhodia, and her husband made his wish come true when the Musée Bourdelle opened in 1949.
His work is beautifully displayed in his apartment and gardens and a new arcade gallery. Among the sculptures on display are the "Monument to General Alvear" and the "Dying Centaur" in the street-side garden, and the "Herakles Archer" in the peristyle.
Info: Bourdelle Museum, 18 Rue Antoine-Bourdelle
Balzac's House
Writer Honoré de Balzac lived in this modest house with a courtyard and garden, set on a hillside in Passy from 1840 to1847.
He wrote "The Human Comedy" in this house, the only one of his many residences still in existence. The city acquired it in 1949.
Many of Balzac's belongings were dispersed after his death in 1850, but the museum does have his chair, a Henri II writing desk where several of his volumes were written, a turquoise-studded cane and his tea kettle.
Also on display are mementos, pictures, engravings, original publications, manuscripts and illustrations.
Info: Balzac's House, 47 Rue Raynouard
Already a subscriber? Thank you for your support. If you are not, please consider subscribing today. Get full access to our signature journalism for just 99 cents for the first four weeks.
---
Get inspired to get away.
Explore California, the West and beyond with the weekly Escapes newsletter.
You may occasionally receive promotional content from the Los Angeles Times.